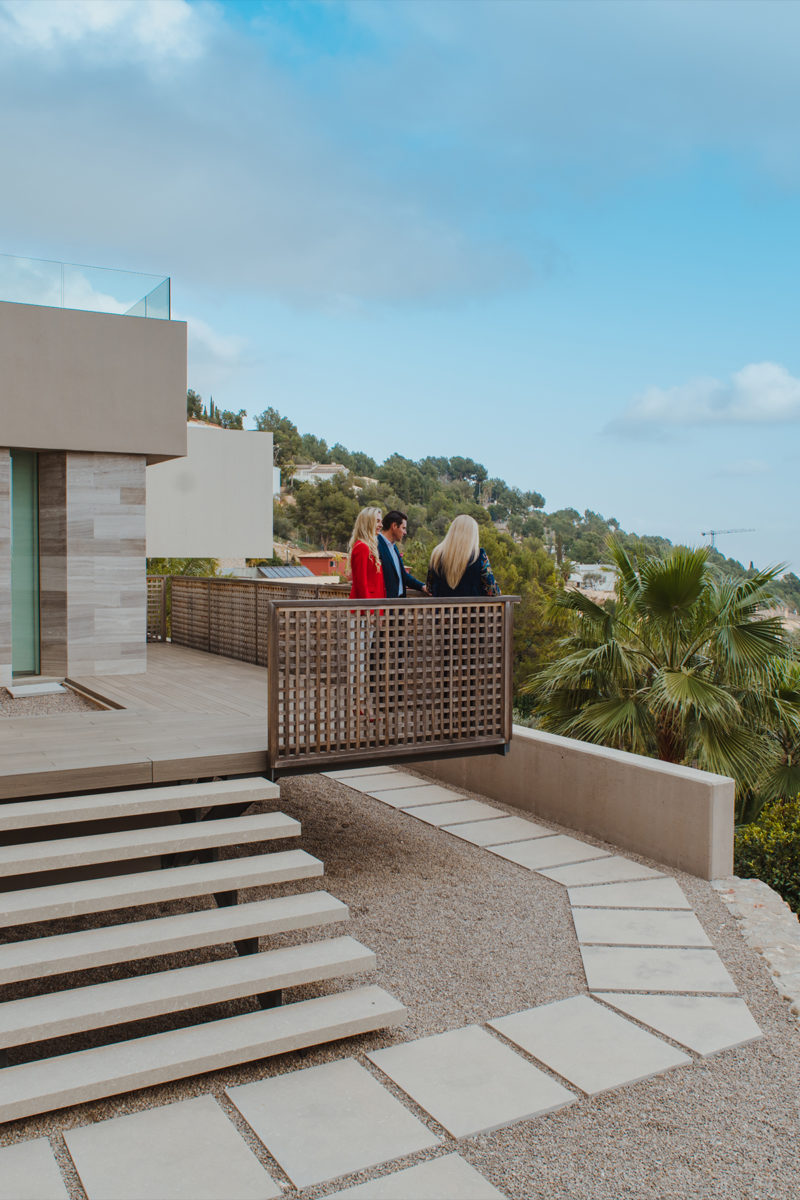 When looking at buying a home in Mallorca, the first thing you need to do is to choose a knowledgeable and trustworthy real estate agent. A good agent is invaluable to you when you're looking to buy a property on the island, especially if you're coming from outside Spain and your knowledge of the Spanish language is limited.
It can be easy to get sucked into the idyllic clear sandy beaches and sunshine in Mallorca and not take the care to do the research. However, you are in a much stronger position if you go with a reputable real estate agent that knows the local market and how it works.  You are about to embark on one of the most exciting stages in your move to Mallorca so it pays to go with a real estate agent that will really take care of you and invest in your needs.
From hundreds of real estate agencies in Mallorca, editor Dr Helen Cummins and her team have selected below only those who demonstrate a high level of local knowledge. Helen has worked with many of the below on a personal and professional level and can vouch for their dedication to hard work and excellent service.
You'll find below that each real estate agency is categorised by the area they're specialist in. That way, you are guaranteed to receive the most accurate information and knowledge related to your future property.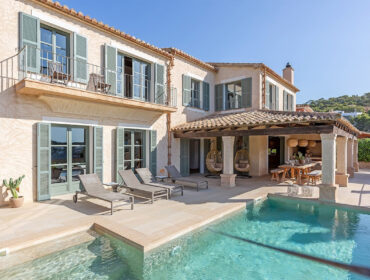 Discover the best Mediterranean villas for sale in Mallorca handpicked by Dr. Helen Cummins and team of local property experts.
How do I find a reliable real estate agent in Mallorca?
Luckily in Mallorca, there are plenty of reliable real estate agents that'll do a fantastic job at finding you your dream property. If you know already where you'd like to live on the island, we'd recommend choosing a local agent. Buying a property in somewhere like Deià will differ massively from somewhere like Port Andratx. Particularly if you're looking at moving to to the Serra de Tramuntana, it's important to choose a real estate agent that is based there. Knowledge of village life, the local architecture and planning laws will be invaluable to you, so always make sure your agent has at least five years of local insight.
Another important thing to look out for is the API accreditation which means the agency is registered officially.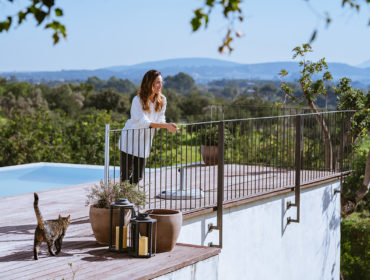 Finding your dream holiday home is fast and easy with this essential guide to the best places to buy property in Mallorca.
Do they speak my language?
If you're looking to buy property in the Balearic Islands and you don't speak Spanish you'll have no problem speaking in your native tongue, whether that be English, German, French or Swedish. The real estate workforce in Mallorca is diverse, bringing talent from all over the world. It is not uncommon to speak with a real estate agent that is at least bilingual, with the majority of them being polyglots.
The service on offer
When you choose a real estate agent in Mallorca, the majority of them will offer you more than just finding a property. They will take you through the available properties that fit your criteria and budget, accompany you on viewings, show you the local scene and see you through the transaction process. Many of them will have a legal department and can help you with organising a mortgage. In terms of settling into the lifestyle here, some agents are also known to take their clients out to lunch, recommend schools and favourite hiking trails. This is what makes real estate in Mallorca particularly special. Many agents have moved from overseas to the island and so understand the journey it takes to feeling at home on Mallorca.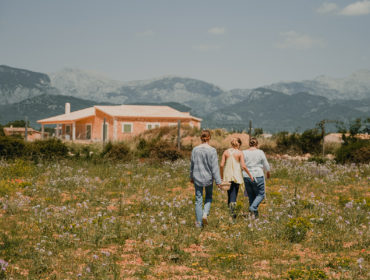 Make the change and move to Mallorca today. Here we give you an honest, local guide to what you can expect upon relocating to Mallorca.
Real Estate Agents in Palma de Mallorca
If you're looking to purchase property in Palma, then you'll be spoiled for choice with the amount of real estate agencies based in the city. On many of the streets surrounding El Borne and the Cathedral, there is practically a real estate agent on every corner. Key players Engel and Völkers and First Mallorca have offices in the city, as well as boutique agents specialising in city apartments. However, with the neighbourhood of Son Vida peaking at some of the most expensive property in Mallorca, the majority of Palma real estate specialise in high-end villas and sea-view apartments.
Top real estate agents in Palma de Mallorca
Javier James (Son Vida)
Together with his life partner Montana, Javier James has created a personalised boutique property experience unique to Mallorca. Their agency based in Son Vida is for the privileged few who desire a property in Mallorca which outshines anything else you've seen on the island. Javier made his mark initially in professional golf which has allowed him to create a very interesting network of local and international business contacts.
Find out more about Javier James by visiting his hc/ portfolio below.
Sandberg Estates (Santa Catalina)
Sandberg Estates have over 20 years experience in Mallorca's luxury real estate sector, helping buyers from all over the world find the right property for them. Founders Piers Lloyd-Cox and Michael Schwalbach both grew up in the southwest of Mallorca so understand what is involved in helping you feel settled. They come highly recommended for their local insight and portfolio of high-end properties.
Find out more about Sandberg Estates by visiting their hc/ portfolio below.
Mallorca Gold (Son Vida)
This boutique agency run by Daniel Washke is based just outside Palma, close to Son Vida. Mallorca Gold only specialise in luxury properties, specifically those that are priced at two million euros and above. Their main focus is in the southwest, with a portfolio of incredible properties in Port Andratx, Son Vida and Bendinat.
Find out more about Mallorca Gold by visiting their hc/ portfolio below.
Reiderstad Invest Real Estate  (Santa Catalina)
Pop into the warm and welcoming Reiderstad Invest, a Swedish real estate agency specialising in luxury properties in Mallorca. They ensure that the process to buying your new villa or apartment is chilled and calm. Founders Fredrik Reiderstad and Sofia Sandén await your visit in Palma's trendy neighbourhood, Santa Catalina.
Find out more about Reiderstad Invest by visiting their hc/ portfolio below.
SkandiaMäklarna (Santa Catalina)
Since being launched in the late 1980s, SkandiaMäklarna has been one of Sweden's leading real estate agencies and accounts for over 90 offices across Sweden and Spain. Their one office in Mallorca is in Santa Catalina, where you'll receive an experienced service available in not only Swedish, but other languages too.
Find out more about SkandiaMäklarna by visiting their hc/ portfolio below.
Real Estate Agents in the Southwest of Mallorca
The southwest is home to some of the hottest property in Mallorca calling real estate agents from all over Europe to set-up base here. It is a magnet for those looking for property with perfect sea-views positioned within a short distance from Palma and its international schools. Second-home buyers are particularly drawn to this area in places like Santa Ponsa and Port Andratx. This has lead to the market evolving with the international market at its centre. English, German and Scandinavian buyers will find no problem in receiving a service similar to what they would in their home countries.
Top real estate agents in the Southwest
Imperial Properties (Santa Ponsa)
Imperial Properties are a luxury real estate agency in Mallorca with offices based in Santa Ponsa, Palmanova and Illetas. They are established on the island since 1985 and have the local knowledge to shortcut your property search effectively. Their speciality is in the southwest of Mallorca, buying and selling luxury properties with beautiful sea views.
Find out more about Imperial Properties by visiting their hc/ portfolio below.
Mallorcasite Real Estate Agency  (Santa Ponsa)
Founders Daniel Arenas and Gloria Rodríguez Martín are the owners of MallorcaSite, a small boutique agency who devote all their time to hunting for the right properties. They have some of the best connections on the island to find you exactly what you're looking for. They don't disappear when the search is over either, and help you settle in well to slow living in Mallorca.
Find out more about MallorcaSite by visiting their hc/ portfolio below.
Mallorca Se Vende (Santa Ponsa)
Run by Dutchman Dennis Heer and partner Vanessa Ávila, Mallorca Se Vende bring together over 20 years of experience in the real estate industry. Browse an exclusive portfolio of high-quality properties that stretch across Mallorca's southwest coast, from Andratx to Son Vida. They also work with other local agencies to increase your chances of finding your dream property.
Real Estate Agents in Central Mallorca
Real estate in the centre of Mallorca is defined by open land, vineyards and mountains. Therefore, the area appeals to a slightly different type of buyer who prefer nature over Mediterranean Sea views. While historically the centre has always fallen behind other regions, real estate is picking up as more people strive to live the SLOW lifestyle. There is no better place than somewhere like Santa Maria or Alaró to settle down and live surrounded by pure, uninterrupted countryside. Local markets, small plazas and little churches are what make up rural living, and a real estate agent with good, local knowledge will be able to paint an accurate picture of what to expect.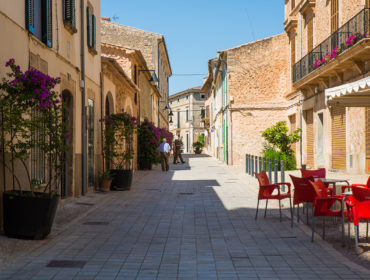 Your guide to Santa Maria in Mallorca. We cover all the highlights of living in this small town giving you insider tips from a locals perspective.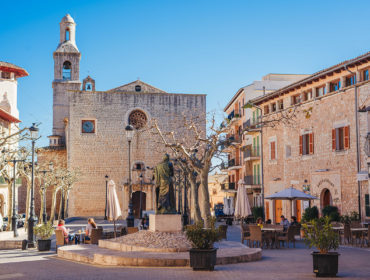 Find out all you need to know about Alaró in Mallorca. From living in the area to the town's best hotels, restaurants and local events.
Top real estate agents in the centre of Mallorca
Living Blue Mallorca (Santa María)
With offices in Alaró, Santa Maria and Port de Soller as well, Mandy Fletling and her international team know a thing or two about country living. Living Blue Mallorca provide a 360-degree service, from first viewings and negotiations to the changeover of water and power supply.
Find out more about Living Blue Mallorca by visiting their hc/ portfolio below.
Living Blue Mallorca S.L.

Mandy Fletling and her team specialise in property in the Tramuntana, connecting you with fincas and country estates.

Plaça de la Vila 13, Alaró
Plaça de Hostals 8, Santa Maria del Camí
Paseo Es Través, 25, Puerto de Sóller
Carrer de Plaça 30, 07630 Campos
Carrer de Bonaire, 13, 07012 Palma +34 971 510 609
Real Estate Agents in the southeast of Mallorca
This part of the island is not only characterised by its good connection to Palma de Mallorca and lively hotspots, but also by the amazing beaches close by. Its rural and rustic which is reflected in the traditional fincas and country houses that are found here. Opportunities to renovate come up frequently and plots of land to build on too. However, as with all rural areas of Mallorca, knowledge of the area is key to understanding what your options are. Speak to a local real estate agent who can talk you through the process. Recommended buying areas include Santanyí, Cala d'Or and Portocolom.
Top real estate agents in the Southeast
Lucie Hauri (Santanyí)
With over 30 years' experience behind her, Swiss-German Lucie Hauri is regarded as one of the best in real estate in the southeast. Not only does Lucie prioritise connecting you with your dream property, but she also values the lifestyle you experience in Mallorca too
Real Estate Agents in the northeast of Mallorca
The northeast is where you'll find a lot of real estate interest, particularly around the towns of Alcúdia and Puerto Pollensa. International buyers tend to invest in second homes here or buy property to rent to cyclists and hikers. The property sector is strong in this part of the island thanks to its wild outdoors and proximity to the Serra de Tramuntana. Buyers in love with the mountains and active lifestyle will feel a natural pull to this area of Mallorca. However, it does come at a price. Places like Formentor and Pollensa sell for some of the highest prices on the island.
Top real estate agents in the Northeast
Morgan & Morgan (Pollensa)
Morgan and Morgan work differently than most other real estate agents, opting for the label 'property finders' instead. One key difference is that founder Leigh Morgan and his wife Pille, work solely on behalf of the buyer and never the seller. They have access to a range of beautiful properties, many before they even appear on the market. And if they can't find one you? Then they'll help you build one.
Find out more about Morgan and Morgan by visiting their hc/ portfolio below.
Kensington Pollensa  (Pollensa)
Susanne Rodermann has not only over 20 years of real estate experience, but she's also a certified Feng Shui consultant. Therefore, when it comes to understanding how you want to feel in your home Susanne is one of Mallorca's best real estate agents to talk to. She can help you choose a property that makes you feel good inside and out.
Find out more about Kensington Pollensa by visiting their hc/ portfolio below.
CCC Real Estate (Cala Ratjada)
Anker Köhler and her 10-strong team of professionals at CCC Real Estate, advise to dream big when it comes to buying a property in Mallorca. In addition, to sales and long term rentals, the agency works with carefully selected partners in fields of financing, insurance and investment.
Find out more about CCC Real Estate by visiting their hc/ portfolio below.
Real Estate Agents in the northwest of Mallorca
The picturesque villages of Sóller and Deiá and their surrounding areas are characterised by high-demand. It is peaceful here and buyers who have looked at real estate in other areas of the island will notice the difference once they step foot in the northwest. Real estate agencies are largely boutique and specialist, with some presence from the bigger players. Local knowledge is key to finding the right property here, as much of the area is UNESCO protected. Therefore, when choosing a real estate agent, be sure to talk to someone who understands the village you're looking at and its traditional way of life.
Top real estate agents in the Northwest
Casas Mallorca (Sóller)
Founded over 25 years ago by Gerhard and Regina Maurer, Casas Mallorca is a leading island real estate agency based in Sóller. Firmly established within the local property market, their aim is to get you through the process and out the other side smiling. They prioritise open conversation throughout the process of buying or selling a property and strive to make you feel at ease every step of the way.
Find out more about Casas Mallorca by visiting their hc/ portfolio below.
The big players in Mallorca
At helencummins.com we bring together over 20 years' experience of living on the island. Dr Helen Cummins, owner of abcMallorca, moved to the island in 1999 and has never looked back. Here, with the help of her in-house property experts, Helen has brought together the very best of real estate in Mallorca. The agents you can trust to see the process through with professionalism and efficiency.
Some of the real estate agencies have offices all over the island covering multiple regions, while others are smaller and more specialist. However, the one constant is that all of them select luxury properties and have a long history of happy clients now living the Mediterranean dream in Mallorca.