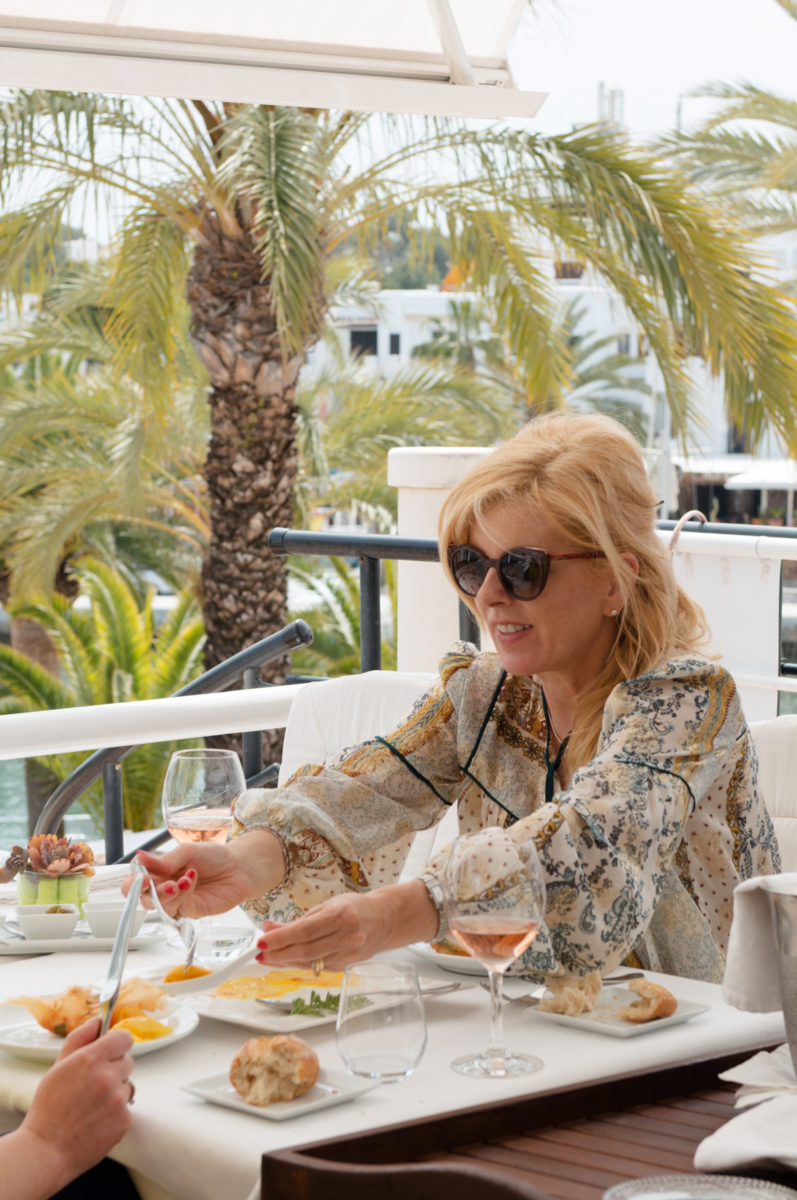 With a name translated as Golden Bay, you'd be forgiven for thinking Cala d'Or is just another tourist beach resort. Take another look however, and you'll see this southeast town has more depth. A superb modern yacht club and marina, several quality boutiques and eateries, and upmarket surroundings lift it above the ordinary.
Immediately striking is the different building style in this part of Mallorca. Cala d'Or, with its white architecture, could belong in neighbouring Ibiza. Back in the 1930s, drawing inspiration from his native island, Ibizan Architect Josep Costa Ferrer designed the first building plans. The contemporary result is known as the White Town; a collection of low-storey houses shimmering in the Balearic heat.
Inject a succession of breathtaking sunsets and living in Cala d'Or is a quintessentially Spanish experience. The jewel of the east coast is centred around the five pine-fringed coves of Cala Gran, Cala Ferrera, Cala Esmerelda, Cala Llonga and Cala Serena.
Those who purchase property in Cala d'Or benefit from year-round tourist rental licenses, and solid demand for holiday properties. Unlike some other resorts, Cala d'Or is classed as a non-saturated coastal zone, meaning opportunities for profitable investing are potentially higher.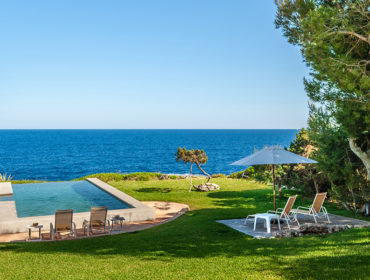 Buyers choose Cala d'Or for its sea view villas and apartments near the beach, with frontline villas very rarely exceeding €5.000,000.
Good to know about Cala d'Or
Local Language
A mix of nationalities comprise the population of Cala d'Or. German, British and French residents mainly make up the foreign sector, and these languages are commonplace. Catalan is the official language in the municipality of Santanyí, to which the village belongs, but Spanish (Castellano) is also widely spoken.
Main Industry / Commerce
Tourism has grown rapidly in this area since the 1930s. One of the first major resorts in Mallorca, Cala d'Or continues to attract holidaymakers, mostly from Western Europe. What was originally a fishing village has transformed into a nautical destination thanks to the modern marina development. Attracting yacht owners to its 563 moorings throughout the year, it plays an important role in the economy of Cala d'Or.
International Schools
Tennis stars of the future enrol at the Rafa Nadal Academy, located a 30-minute drive from Cala d'Or in Manacor. Alternative international schools are situated in and around Palma. Baleares College, Agora Portals, The Academy, King Richard III College, Queens College and Bellver College are all roughly an hour's drive away, accessed along the Ma-19 motorway.
Distance
55-minute drive from the airport
60-minute drive to Palma
75-minute drive to Port Andratx
30-minute drive to Manacor Hospital
Transport
Bus: TIB bus service 501 makes multiple stops enroute to Palma. Total journey time is approximately 90 minutes.
Parking: There is plenty of free on-street parking all around town; just avoid the blue marked bays, which only allow for a 30-minute stay.
Taxi: Getting a cab is straightforward in Cala d'Or – Taxis Cala d'Or have several designated stands dotted in convenient spots around town.
Mondragó Natural Park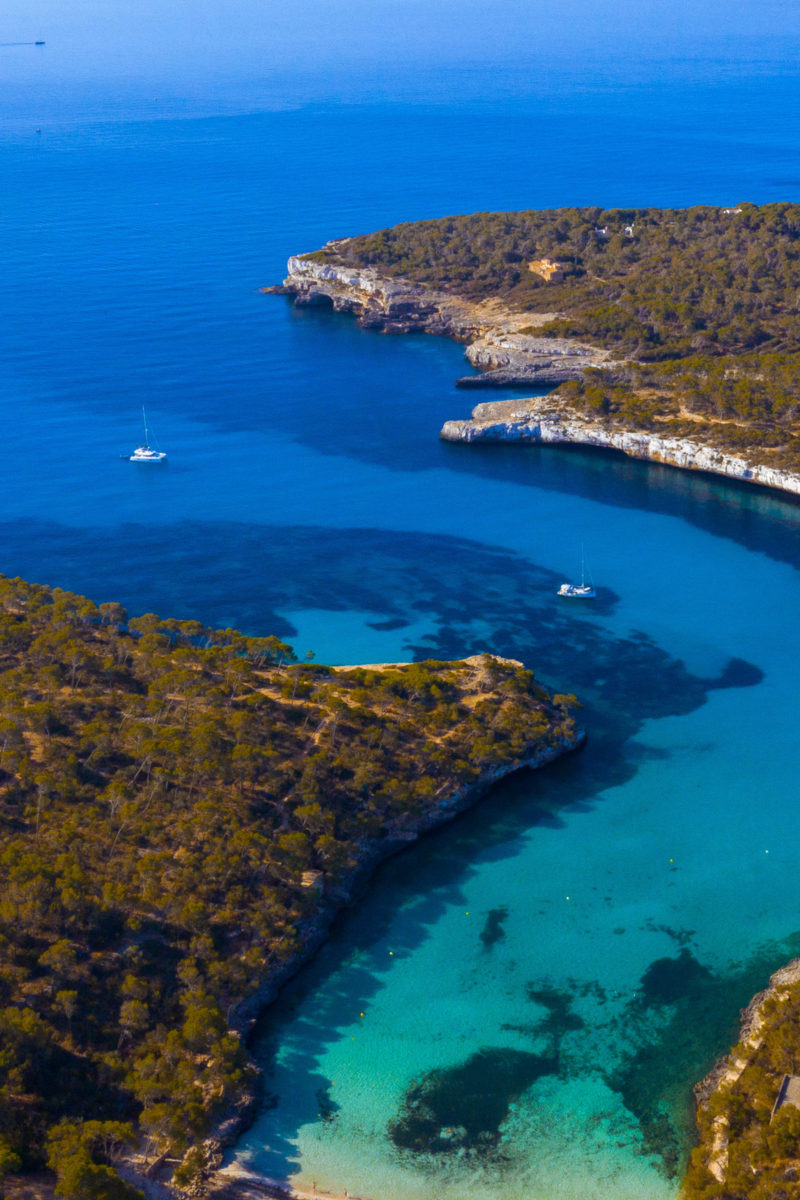 If your idea of beach paradise comes free of buildings and sun loungers, you'll be in heaven at Cala Mondragó. Eight kilometres south of Cala d'Or lies the Mondragó nature reserve, making for a perfect excursion. This 700-hectare area boasts stunning natural beauty and ecological value, begging to be explored on foot or bike.
Four different signposted paths – each taking between 15 and 40 minutes to complete – wind through coastal forests of olive and pine, past lagoons and Mediterranean flora and fauna. Various points give rise to spectacular views where the beauty and diversity of the coastline can truly be appreciated.
The jewel in the crown of Mondragó, though, has to be its azure seawater. Crystal clear, it contrasts dramatically against the backdrop of greenery and white sand. While wonderfully unspoilt the main cove of Cala Mondragó can get busy in summer, so it pays to walk some 400 metres further to S'Amarador: this neighbouring beach is equally ravishing, but quieter.
One benefit of spending time in Cala d'Or out of season is the park is open all year round, meaning you can escape to nature anytime you wish. An information centre provides visitors with knowledge and puts on exhibitions throughout the year, plus there are children's playgrounds, picnic areas and two car parks.
Cala d'Or in photos
fg_lazyload
Cala d'Or
Cala Ferrera
Nautical Club Cala d'Or
Mondragó Natural Parck
Cala Ferrera
Cala Mondragó
Cala Gran
Cala Gran
Cala Mondragó
Experience Cala d'Or
Grab your Heidi Klein bikini and your Dita shades because you're about to land in beach heaven. There are several picturesque bays in Cala d'Or and each has its own special appeal. Since you're not limited to just one stretch of sand, you can explore the chain of inlets at leisure, pausing for refreshments to fuel some serious lounging sessions.
Start the day at central Cala Llonga next to the harbour. Morning – before it gets too warm – is an ideal time to take in the expansive views at 18th-century fort, Es Fortí, situated on the headland. Reward your explorations with a sunny late breakfast overlooking the marina at the Yacht Club, before taking the 15-minute stroll along to Cala Gran. There are plenty of amenities to keep you comfortable at this Blue Flag beach, including sun lounger hire and simple bars and restaurants.
When you're ready for a change of scenery, take your pick from the trio of beaches Cala Ferrera (flanked by pines), Cala Esmerelda (small but beautiful) and Cala Serena (calm and compact), a little further along the coastline. All offer clear turquoise waters and pristine white sand. When the languid Balearic afternoon begins to slide into evening, it's time to contemplate where to go for a sundowner; east coast sunsets are some of the best in Mallorca.
Events in Cala d'Or
Night Markets
On Thursday and Sunday evenings in summer, night markets are held in Cala d'Or. Here you can stroll around stalls selling local delicacies, jewellery, arts and crafts at leisure. Cala Egos is the location of Thursday's market, and Sunday's takes place at Plaça Costa, close to the marina.
Festival de Jazz de Cala d'Or
There really is dancing in the street when musicians play in the town's pedestrian areas. Late May or early June sees the arrival of Festival de Jazz de Cala d'Or. For six days performers bring music to outdoor spaces and hotels, conjuring a lively summer atmosphere to the sublime sounds of Jazz.
Santa María del Mar
Every self-respecting coastal town in Mallorca has its own festival honouring a patron saint of the sea, and Cala d'Or is no exception. The celebrations centre around a religious procession dedicated to Our Lady of the Sea, and blessing of boats in the marina. Street markets, amusements and a splashy firework display are also enjoyed during this week-long August event.
Restaurants in Cala d'Or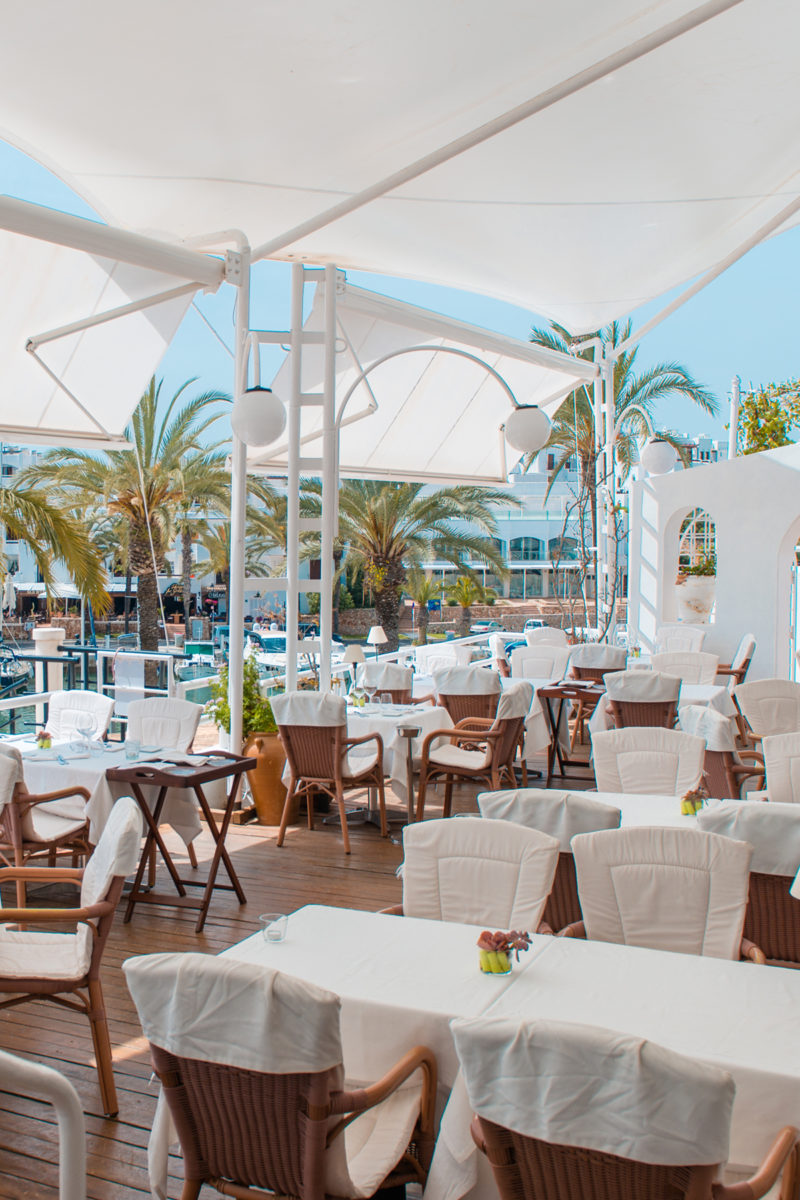 Variable quality best describes the large Cala d'Or restaurant scene, so it pays to be discerning. Yacht Club Cala d'Or is a safe bet for fresh Mediterranean cuisine at reasonable prices, with stunning harbour views. Likewise, the French-owned Port Petit is blessed by a lovely harbour backdrop. Established as a Cala d'Or favourite in the late 80s, this well-positioned place comes highly recommended for good food and professional service.
Also located within the harbour, Proas is a well-established restaurant serving Mallorcan specialities in a friendly atmosphere. Fresh fish features heavily on the menu and there are al fresco terraces on both the ground and upper levels.
If you feel like dressing down for dinner and savouring fusion food, this one hits the spot. A minutes' walk along the front is Restaurante Botavara, one Cala d'Or villa owner told us he had his first meal in the resort here in 1987, describes Botavara as "a good no nonsense fish restaurant – consistent food and excellent service – always busy. It is usually flagged as King Juan Carlos' favourite restaurant."
After enjoying great success in Portocolom, the owners of Sa Llotja have opened in Cala d'Or. No expense has been spared on the spacious premises of this harbour-view restaurant, complete with large open-air terrace. Sa Llotja Cala d'Or strives to offer the same gastronomic and service standards as its highly regarded counterpart.
Tucked away in the streets behind Cala Gran, Ca'n Trompé is a wholly unpretentious, traditional restaurant. Patrons return time and time again to indulge in authentic Spanish and Mediterranean cuisine without the tourist price tag.
Nightlife in Cala d'Or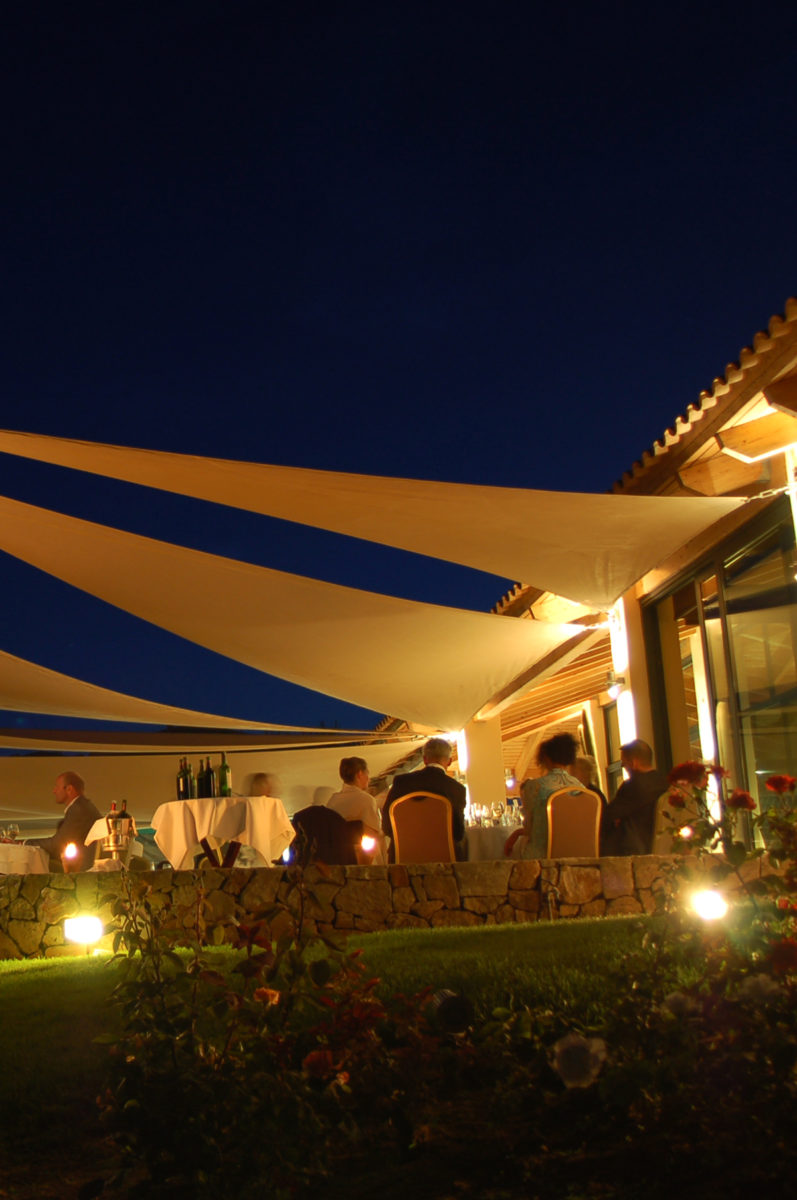 Cala d'Or strikes the right tone at night. Club 18-30 territory it isn't, but neither is it overly quiet. There are plenty of lively bars for those who just want to have fun. And of course, all the surrounding white architecture adds a touch of Ibiza to the atmosphere.
Take in the sunset with a cocktail at the Skylounge at Hotel Monsau, which features DJ sets and parties throughout summer. Less cool, more kitsch is tropical-themed Mabu-Hay. This Polynesian bar in Avenida Bèlgica serves fun, elaborate drinks featuring much fruit and sparkles.
There are several lively venues attracting a young, drinking clientele in town; Betty's Music Bar and Time Out are two. But if you'd rather escape the holiday crowd, it's best to stick to the low-key cocktail bars mainly dotted around the marina.
The Quarterdeck is a nautical-style cocktail and gin bar in the marina which feels more upmarket than some of the touristy spots. Also in the harbour and ideal for a pre or post-dinner drink is Waves Bar & Deli, playing upbeat music to set the tone for the evening.
If you prefer to take a trip out of town, try Restaurante mÁxime at Vall d'Or Golf Club. On Friday evenings in summer it hosts fun, sociable buffets, usually featuring music and dancing depending on the number of tables.
Hotels in Cala d'Or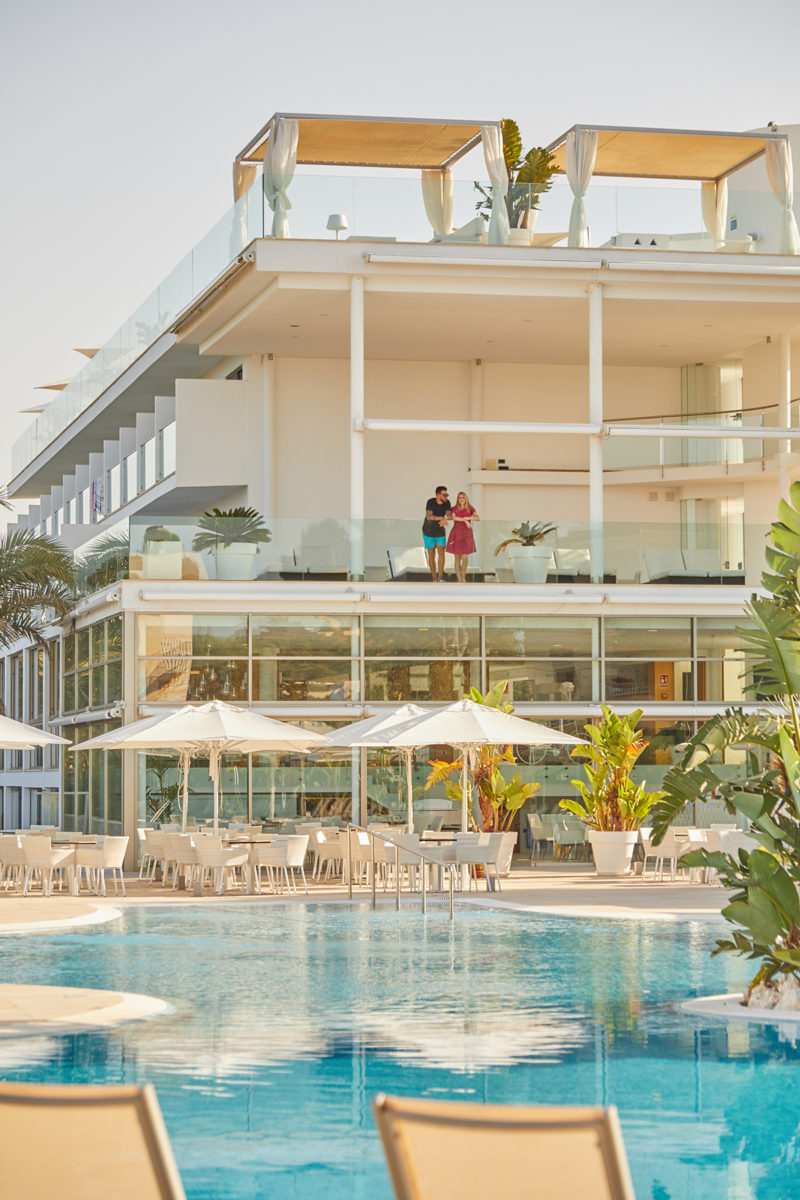 Spend a weekend in Cala d'Or and you'll have a multitude of hotel options to pick from. With such a wide diversity on offer, it pays to know the best.
Meliá Cala d'Or Boutique Hotel
Well-landscaped Mediterranean gardens are one of the best things about Mallorca hotels and Meliá Cala d'Or doesn't disappoint. The green gardens provide a calm space in which to unwind, in between taking dips in the large outdoor pool and visiting the spa. Rustic touches add warmth to the Modernist surroundings of this five-star stay located 200 metres from Cala Gran.
Monsuau Cala d'or Boutique Hotel
It's adults only at the Monsuau, a peaceful getaway situated between Cala Ferrera and Cala Serena. Though chilled out by day, the hotel's Skylounge gets lively during summer with regular parties and DJ sets. The avant-garde building wouldn't look out of place in Miami, adding a dose of style to the Cala d'Or hotel scene.
Property in Cala d'Or
Less populated and markedly cheaper than the southwest, the east coast has a lot to offer potential buyers. As the largest resort in this region, Cala d'Or boasts many amenities conducive to longer-term living.
Property plots tend to be generous and views thankfully lacking in high-rise buildings, due to building regulations that have kept hotels below multiple storeys. According to the Engel & Völkers market report 2019/2020, villas and fincas sell at an average price of 1.35 million Euros in this area.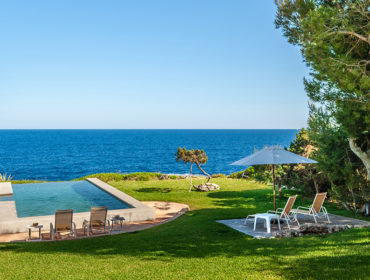 Buyers choose Cala d'Or for its sea view villas and apartments near the beach, with frontline villas very rarely exceeding €5.000,000.
Business & work in Cala d'Or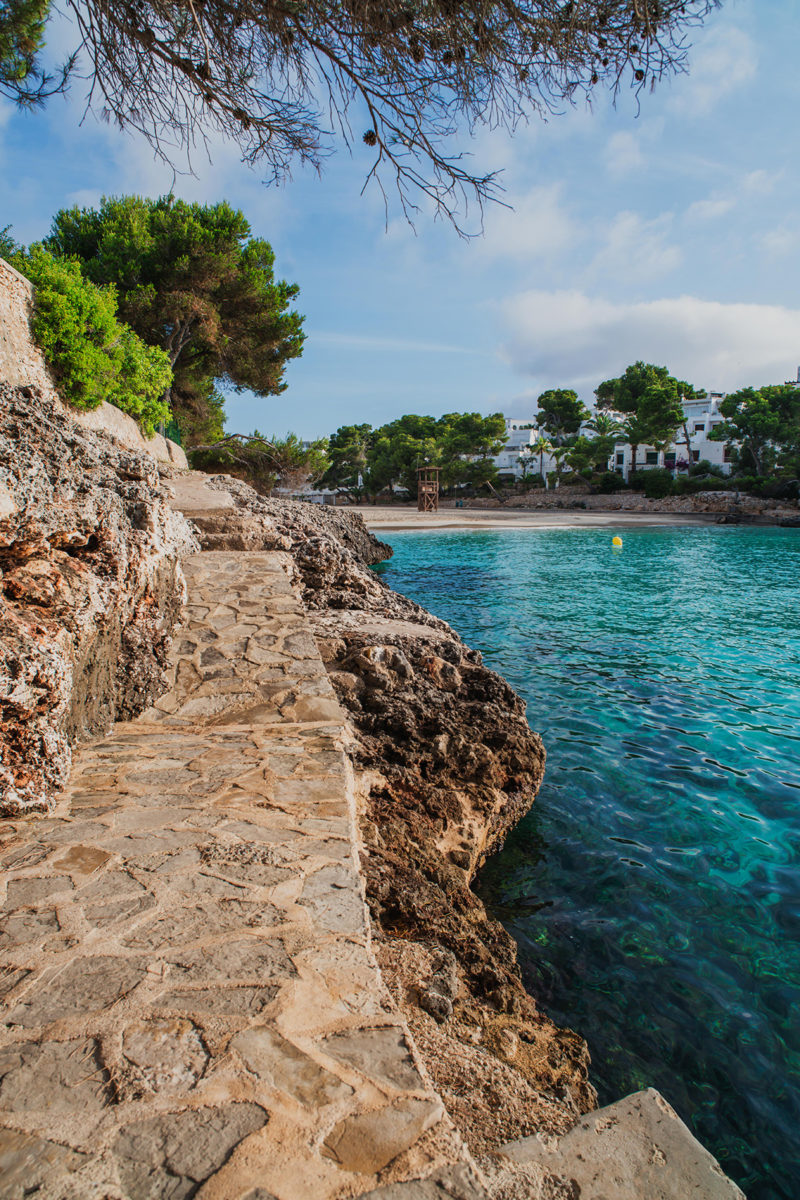 Cala d'Or is the most populous and most important economic centre in the municipality of Santanyí, and its lifeblood is tourism. Every earning opportunity is therefore linked to provisions for vacationers, though this need not equate to the cliché of moving to Spain and running a bar. Those with skills in the leisure and hospitality industry shouldn't struggle to find work, but the seasonal nature of a destination such as Cala d'Or can't be stressed enough.
Potential investors can derive income from apartment and villa ownership. A dynamic property market has led to the rise of several multilingual estate agents in town and the holiday rental market is similarly big business. While the whole town can be considered stable and solid, the areas around the marina and Cala Gran are particularly sought after and promise excellent returns for villa rentals in high season.
The reality of Cala d'Or is that it was built on tourism and as such, quietens down considerably in the winter months. The hour-long journey into Palma to conduct business is considered worth it by many residents. Fewer crowds, less stress, more space and more affordable living are all benefits of living in the southeast.
People: Locals & celebrities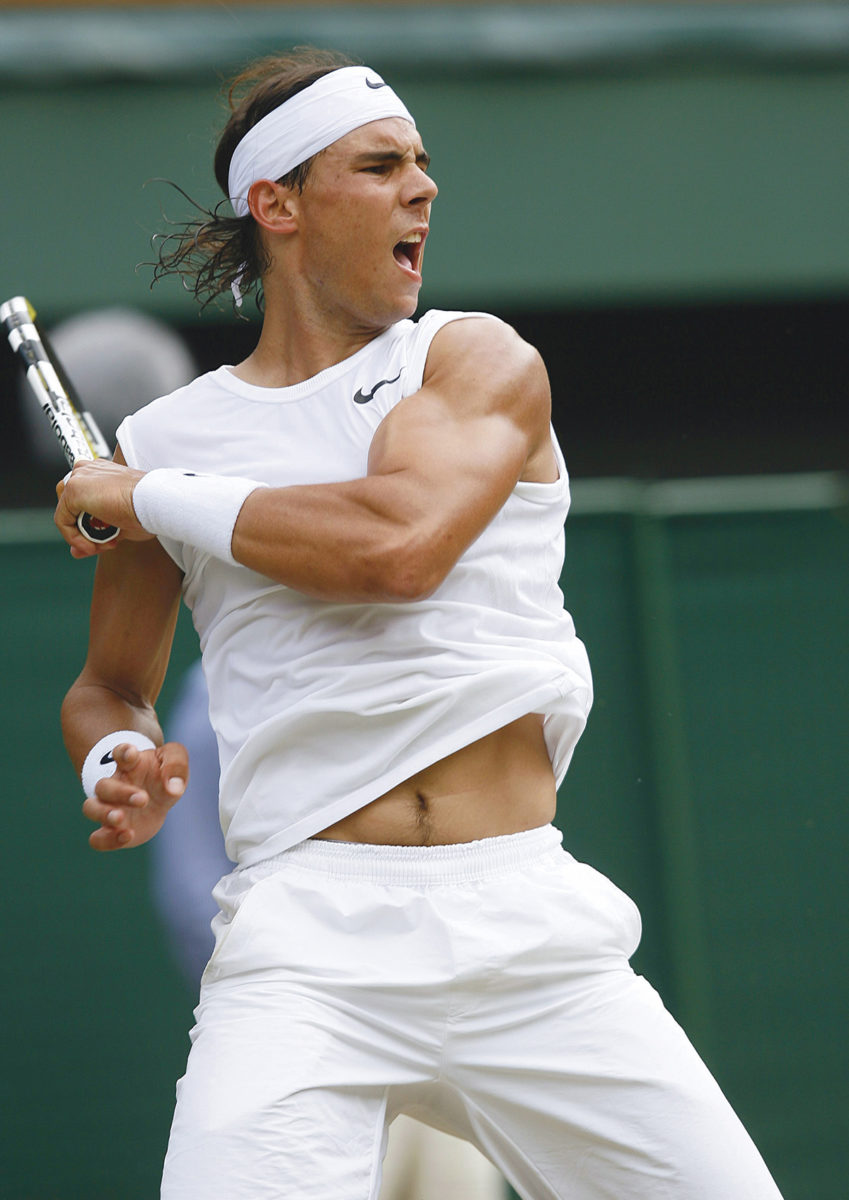 Eternally popular with families, a great many northern Europeans own apartments and villas in Cala d'Or. However, with more than 3,500 permanent residents, there is life here year round. The majority of hotels and eating establishments close down in the winter months and the tourists disappear, leaving inhabitants to enjoy their region free from crowds.
It's exactly this undisturbed environment that seems to attract many figures in the public eye to East Mallorca. German footballer Toni Kroos is often spotted in Cala d'Or itself, and a few other German celebrities vacation or own property in the area, including TV chef Tim Mälzer. Mallorcan tennis legend Rafa Nadal spends much of his time further north, and Boris Becker chose to invest in land near Artà.
Last Word
In recent years, Mallorca's east coast has been touted as 'the' up-and-coming region. Long established Cala d'Or, with its excellent infrastructure, solid rental prospects and relative proximity to the airport, is one of the safest bets for property ownership in the area.
Stunning Blue Flag beaches, abundant natural surroundings and an attractive marina all contribute to the appeal of this less populated zone. While Palma lies further away, improvements to the Ma-19 motorway between Campos and Llucmajor have helped ease traffic congestion. Though the former fishing village lacks the connectivity enjoyed elsewhere, it compensates with peace and a greater sense of space.