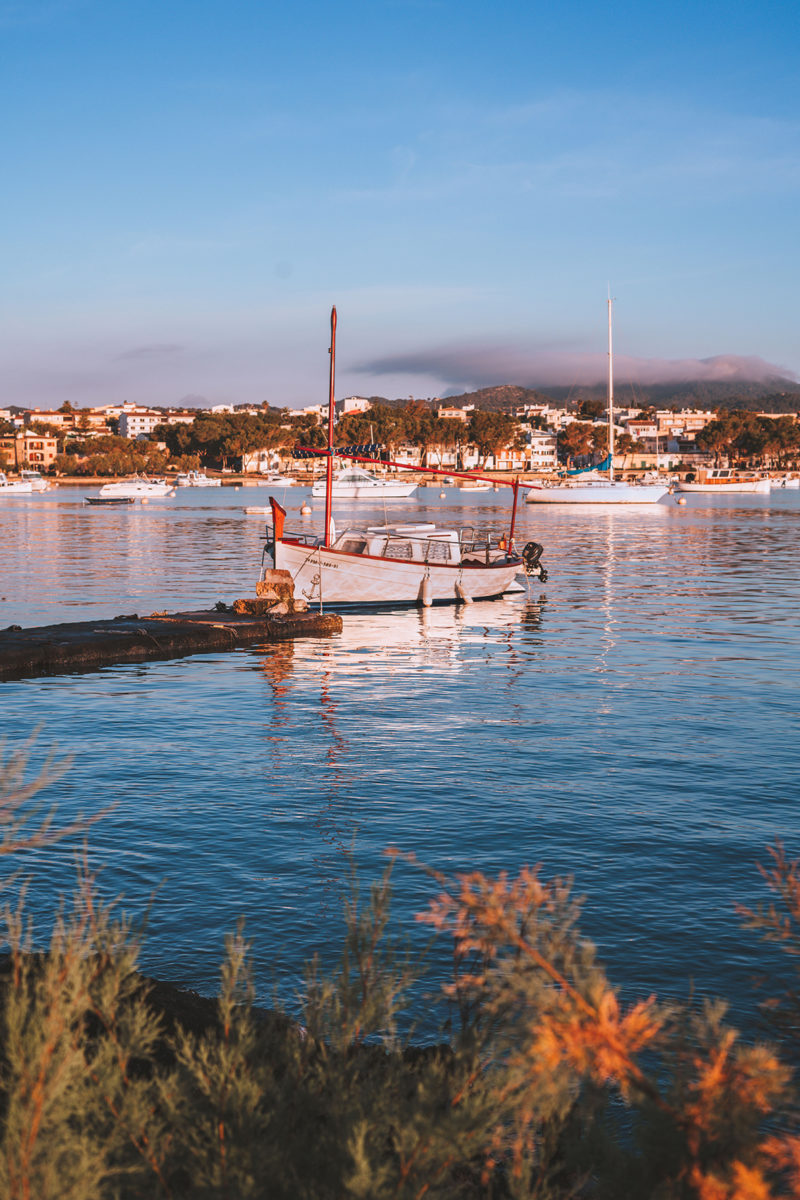 This quaint small town is an ex-fishing port with a history rooted in trade, especially the export of wine grown nearby in the Pla i Llevant vineyards. Portocolom was named after Christopher Columbus, who was (supposedly) born here, which adds to the maritime nostalgia and nautical feel still present today.
Re-established as a peaceful tourist resort but still honouring its maritime past, Portocolom has not succumbed to the commercialisation other resort towns have suffered in Mallorca, it has merely adapted to its growing popularity. Little fishing boats bob in the harbour, next to luxury yachts and charter vessels. Cute pastel-coloured houses sit frontline, and seaside restaurants offer the perfect vantage point for boat and people watching. The infrastructure has developed over time to the benefit of its year-round inhabitants – a mixture of nationalities and Mallorcan natives who all enjoy the sense of tradition and natural beauty of the coastal town.
Property in Portocolom caters to all styles and budgets, from apartments in need of a facelift, to grand fincas on large plots, although prime positions on the waterfront or hillside near the Vall D'or Golf Course do come at a premium.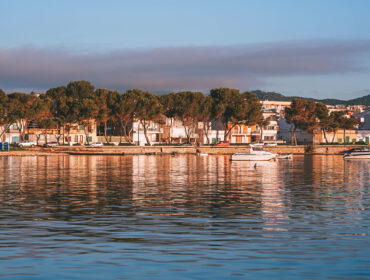 If mountain and harbour views are what you dream of then Portocolom should be on your property radar. See properties for sale here!
Good to know about Portocolom
Local language
Mallorquin is mostly spoken, but Spanish (Castellano) is prevalent too, and with a number of German and English residents you will frequently hear these languages as well.
Main Industry
Boasting the largest natural harbour in Mallorca, Portocolom has historically prospered from the bounties of the sea and as an export hub, mainly supplying local wines to France. However, as the town has grown in popularity as a holiday destination, the local economy is based more on tourism and hospitality today than it is on fishing.
International Schools
The Rafa Nadal International School (RNIS) is approximately 20 minutes away in Manacor, catering for boys and girls aged 3 to 18 years. Tudor Rose British College is an English International School for Infants, Primary and Middle School (1 to 12 years) in nearby Porto Cristo.
Distance
50-minute drive from the airport
1-hour drive from Palma centre
28-minute drive to Manacor hospital
1-hour drive to Son Espases hospital
Transport
Portocolom is located in the southeast of Mallorca and the easiest way to get around is definitely by private car. From Palma the interurban 512 TIB bus runs approximately every hour via Felanitx and is a 1 hour 15-minute journey. Unfortunately, there are no direct bus links from the airport to Portocolom, so one must travel to the main station in Palma's centre first. Additionally, each municipality has its own dedicated taxi service, and Taxi Portocolom services the entire Felanitx area. A taxi to/from Palma will cost around 70 euros.
Baños de Cleo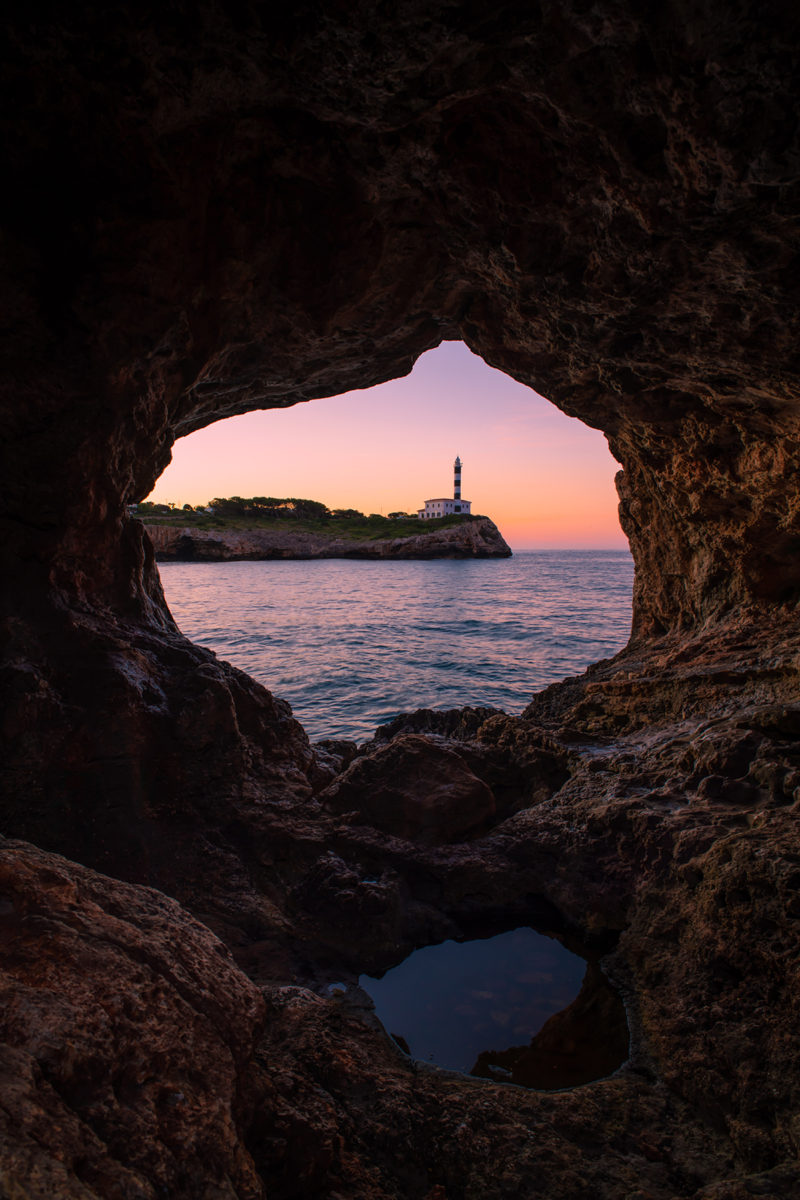 Along the stretch of rocky cliffs from Playa s'Arenal to the iconic lighthouse on the Sa Punta bluff, are a series of craggy inlets etched by the waves over hundreds of years. As a result of the erosion, wonderful natural pools have been created in the rocks, filled with crystal clear water. These pools are known as 'Baños de Cleo', or, 'Cleo's Baths', and are well worth somewhat of a cliff-face scramble to get to. Access paths have formed organically over the years, with the addition of carved steps and metal ladders for an easier passage, but sturdy footwear is recommended.
Spend a day here watching the to and fro of the boats in the harbour, sunbathe on the natural terraces, and if you're feeling adventurous, cool off with a cliff jump into the sea. Admire the way the light dances around the rock formations and be sure to take your snorkelling gear to observe the schools of fish and sea life in the pools.
Portocolom in photos
fg_lazyload
Portocolom
Portocolom
Portocolom lighthouse
Sunrise at Portocolom
Portocolom lighthouse
Portocolom lighthouse
Sunrise at Portocolom
Portocolom
Portocolom
Portocolom
Experience Portocolom
With its distinctive wide blue and white stripes, the Portocolom Lighthouse is an iconic feature of the town. Walking from the village up to where it sits on the Sa Punta cliff is a great way to get the blood pumping and the sea air into your lungs, not to mention the reward of breath-taking views from every angle.
Make your way back into town to peruse the quaint shops and explore the village's many hidden corners by foot. On a Tuesday or Saturday, you can take a stroll through the market stalls of local fruit and vege, handicrafts, clothing and artwork.
If a relaxing day spent by the sea is more to your liking, Cala Marcal is a lovely well-maintained Blue Flag beach just south of the marina and village. The soft sand and shallow water make it ideal for children. For a little more action in the water, Mallorca Diving School offers guided dives around the many stunning east coast calas, as well as paddle boarding, snorkelling and caving.
As the afternoon creeps into evening, wander down to Es Riuetó, the historic pier adorned with pretty pastel-coloured houses and admire the cute traditional Llaut boats tethered dockside. Round off the day by treating yourself to a meal of freshly caught seafood from one of the authentic restaurants dotted along the Portocolom promenade.
Events in Portocolom
Dia del Carme
The Verge del Carme, Our Lady of Mount Carmel, is the patron of fishermen and the Spanish Navy and is celebrated across the coastal towns on July 16. In Portocolom there is a beautiful celebration involving a procession carrying the virgin by boat and on land, culminating in delivering her to the lighthouse and evening mass.
Fira Gastronomica D'es Pop
Over the last weekend of June Portocolom is a foodie's delight as the town really comes alive for the "Fira Gastronomica D'es Pop". At this gastronomic fair, the restaurants of Portocolom prepare special menus showcasing octopus as the star ingredient, or 'pop' in Catalan.
TriStar Mallorca Triathlon
Every April this triathlon draws over 600 participants and a large number of spectators to Portocolom. The popular event covers two distances –111km and 55.5km.
The Rockin' Matxin Festival
With the union of the Matxin Festival and the Rockabilly Portocolom Festival in 2011, this concert sees the best local Mallorcan rock talent taking to the stage. The picturesque seaside venue also hosts a range of stalls including tattoos, clothing, custom motorcycle clubs, food, and other entertainment.
Restaurants in Portocolom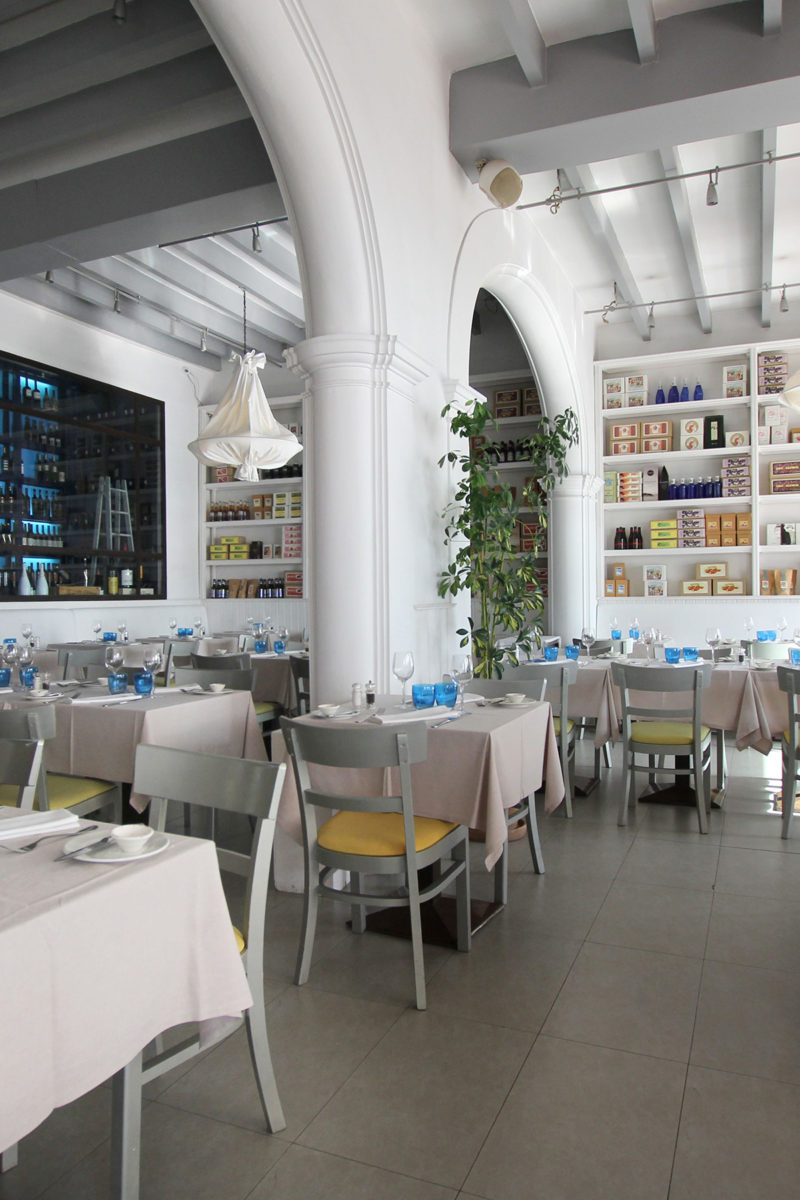 As a traditional fishing village, fresh seafood served alongside local produce is the order of the day in Portocolom. There is a good variety of dining out options, especially quayside, both casual and higher end, and mostly showcasing Mallorcan and Mediterranean fare.
Local favourite Chiringuito de s'Arenal, is positioned beachside at Playa s'Arenal (not to be confused with the southern Playa s'Arenal – a continuation of Playa de Palma). This is the perfect spot for sundowners, a beach snack, or a surprisingly good lunch or dinner given how simple the wooden structure with its small kitchen is.
For a local vibe head to Vora Mar next to the Portocolom promenade. Enjoy authentic Mediterranean cuisine from the cosy coastal style lounge, or from the stunning sea-facing terrace. The rice dishes here are a standout – try the fish paella or black paella.
Right in the centre of the old town on the square by the church sits Sa Cova Dets Ases, a small unpretentious café serving typical Mallorcan dishes. Locals tend to congregate here for fiestas and parties on the square, and the café even plays host to occasional music events.
For something a little more 'fine dining', Sa Llotja is the spot. Located right in the port, the restaurant's contemporary and minimalistic décor gives an exclusive air and doesn't detract from the spectacular views across the bay from the terrace or glass-fronted dining room.
Operating for over 20 years, Restaurant Florian is a frontline restaurant overlooking Portocolom, and is a real gem. The tapas selection is excellent, and the menu showcases the freshest fish and meats from the island in a welcoming rustic environment.
Lastly, there is nowhere more renowned in Portocolom than Restaurant Colón, owed to its fabulous chef Dieter Sögner who once worked at Munich's two-Michelin-starred Tantris, and the renowned Hotel Adlon in Berlin. Book a table here for a special birthday or romantic occasion and enjoy a spectacular à la carte menu.
Nightlife in Portocolom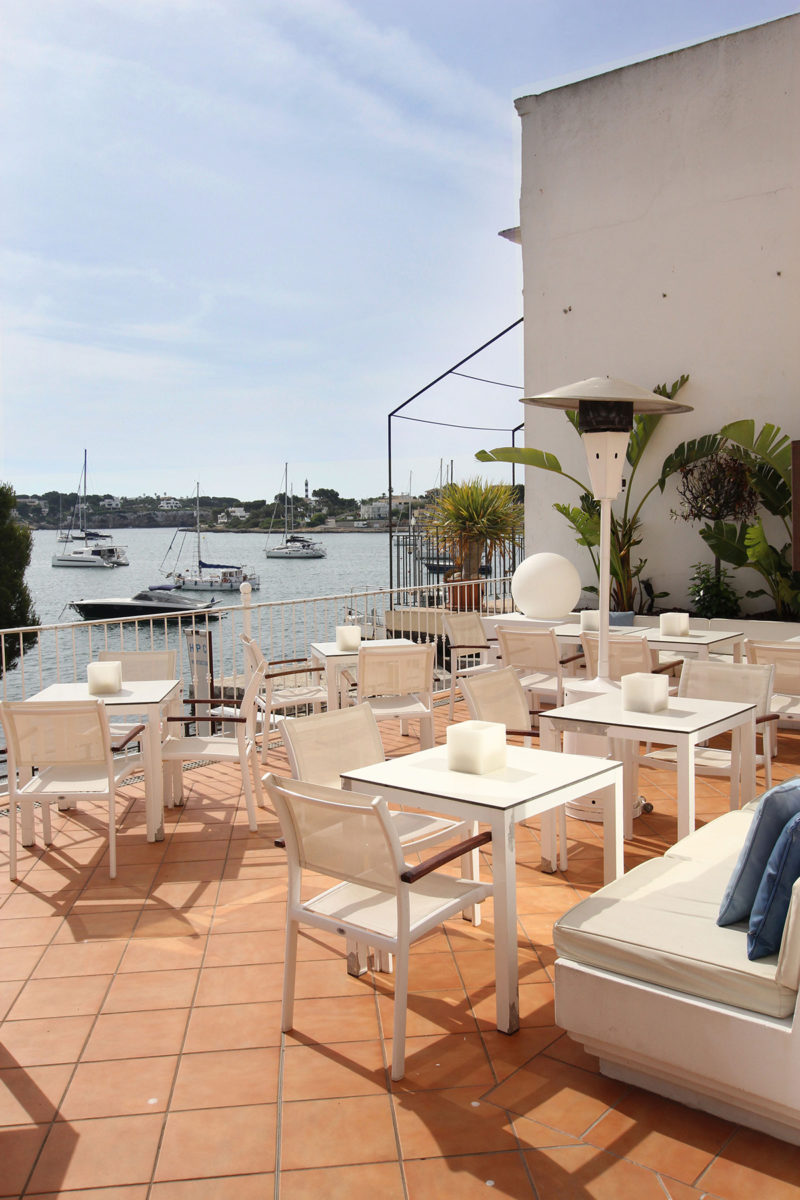 Portocolom is not a place to come for a raging party scene, but more to enjoy a breath-taking sunset on the beach, or a cheeky sundowner on one of the terraces fronting the marina. In saying that, over summer the locals like to gather for the live music and convivial atmosphere at Sa Cova Café, or the HCP. For somewhere with more of a late-night feel, head to The Sporting Club Fidel for a cocktail. Named after Fidel Castro this former boathouse has been turned into an upmarket bar and lounge. Lots of dark wood, deep red walls, brown leather and original building features exude a sophisticated yet comfortable vibe.
Hotels in Portocolom
HPC – Hostal Portocolom
This small colonial style hotel is situated right on the bay of Portocolom. The 14-rooms all come with a terrace to make the most of the Mediterranean Sea views, and a navy colour palette runs throughout the property in keeping with the beachy theme. The onsite cocktail bar, restaurant and chillout terrace are modern and stylish, with an impressive outlook just metres from the water's edge.
JS Corso Suites
The JS Corso Suites complex boasts fantastic views over the harbour and the old town, a great pool area with sunbeds and parasols, and a modern and trendy bar and dining room. This hotel is ideal for the whole family – it had a stylish refurbishment in 2020, has excellent children's facilities, an evening entertainment programme with live shows, and even the dog can stay!
Hotel Vistamar by Pierre & Vacances
With spectacular views over Mallorca's coast, Hotel Vistamar has 148 bright and tastefully decorated rooms. Spend your day in the sunshine reading a book and enjoying an aperitif by one of the 2 outdoor pools, or be pampered at the spa, then relax in the indoor pool or Jacuzzi.
Hotel Club Cala Marsal
Only steps from Cala Marcal is the charming 4-star Hotel Club Cala Marsal. Admire the sea view from the private balcony of your Mediterranean styled room, take a dip in the outdoor pool and sip a sangria from the pool bar, or head down to the nearby sandy beaches to sunbathe. Children are well catered for here, with a separate children's pool, games room, playground, and a full entertainment programme to keep them occupied.
Property in Portocolom
Portocolom has not been tainted by mass tourism and the development of hotels and holiday apartments unlike many other coastal resorts on the island. Unimposing low-rise buildings and sweet coloured houses line the harbour, reminiscent of a quaint bygone era and adding to its appeal. Frontline properties are in hot demand, with renovated townhouses fetching 1 million euros plus, and with no empty plots available in these prime positions, new builds are possible only on the second or third line.
Approaching the countryside, properties surrounding the prestigious Vall D'or Golf Course, and further behind in the mountains, are highly sought after. These homes boast spectacular views looking out towards Portocolom's township and the sea. Here you will find gorgeous architect-designed and historic fincas with traditional features ranging from 2 to 5.5 million euros.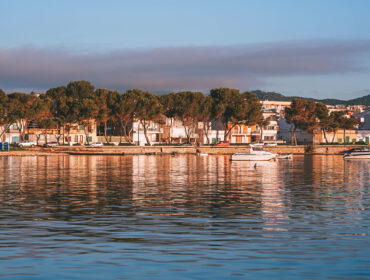 If mountain and harbour views are what you dream of then Portocolom should be on your property radar. See properties for sale here!
Business & work in Portocolom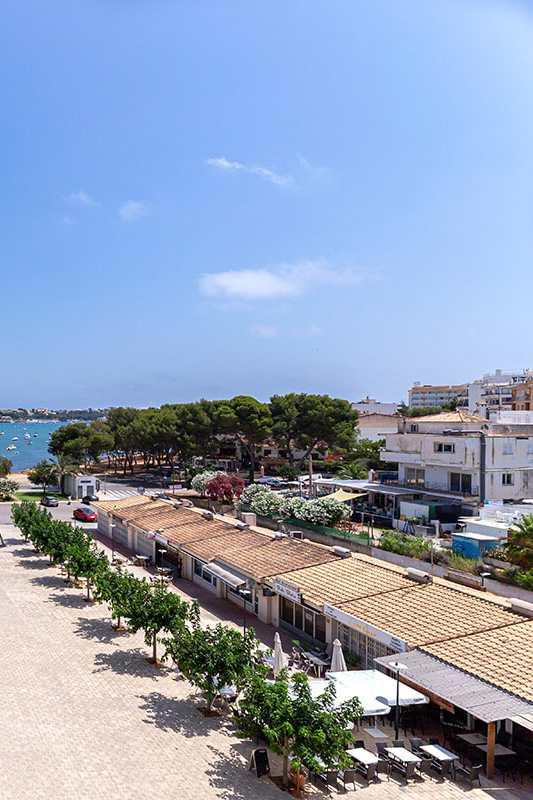 Portocolom's deep natural harbour led to the development of a port back in the 18th century, which has since provided a fair amount of maritime related employment for the town, such as yacht brokering and boat maintenance. However, it was during the 60's when the Portocolom was recognised as a wonderful holiday destination that tourism began to thrive. Hotels were built and apartment blocks were erected, creating plenty of seasonal work for locals. As a peaceful but popular tourist resort opportunity exists in the hospitality sector, from opening a restaurant or café to water sport related services and boat charters, however this industry is very much seasonal in nature.
People: Locals & celebrities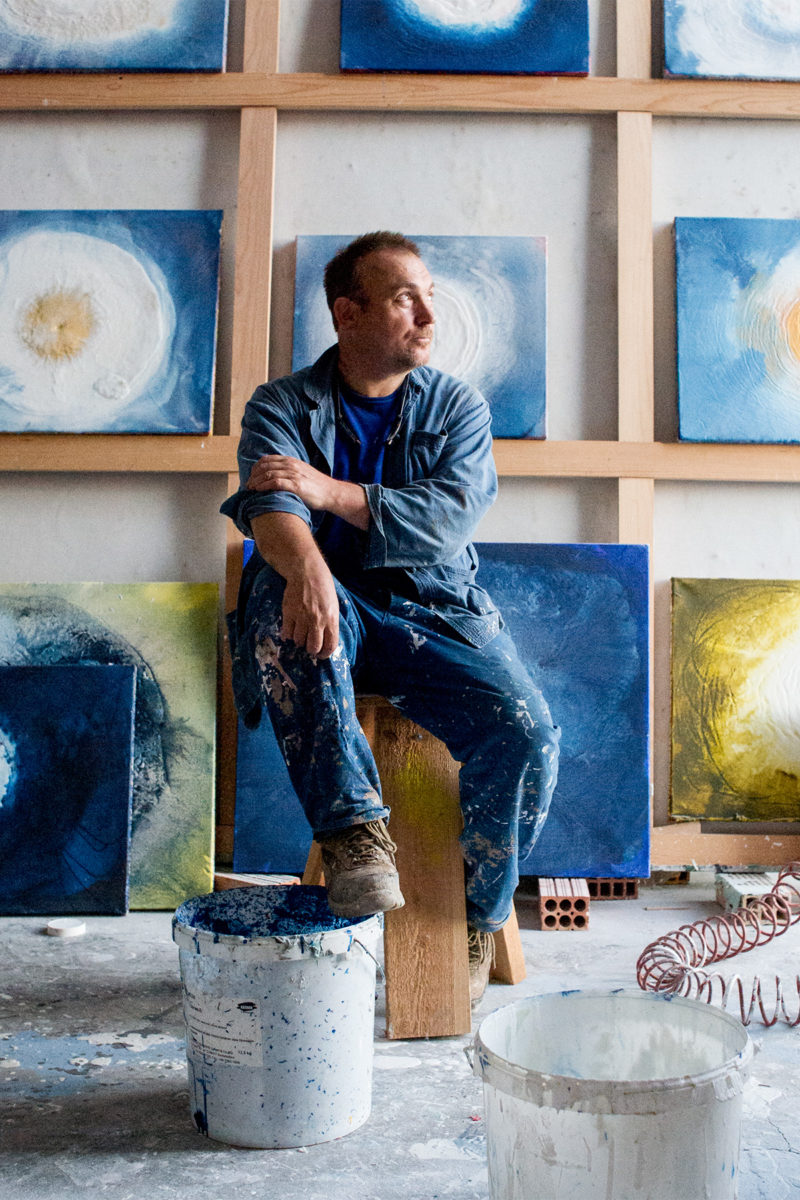 Portocolom is a peaceful town, home to 4,000 residents, although its population does double in the summer months as tourism picks up. It has a family-oriented, more mature vibe, and alongside Mallorcan locals there is a thriving expat community. The area is especially favoured by German's choosing to take up a second residence on the island or make a more permanent move and settle down.
Although not a celebrity hotspot, the islands most famous sportsman, Rafael Nadal, calls nearby Manacor home and it is rumoured that Portocolom is one of his favourite bases for sailing. Artists and creatives are also drawn to the idyllic town, the great painter Miquel Barceló grew up in the Felanitx municipality, and studied at the Arts and Crafts School of Palma before moving to Barcelona in his 20's.
Last Word
Portocolom is ideal for relocating expats drawn to a quaint coastal lifestyle and those wanting to reset to a slower pace. The towns rich maritime history is ever present, adding to its charm, and a welcoming and vibrant multi-national community make it a great place to put down roots.
From the distinctive lighthouse at its north eastern tip, to the crystalline waters of its many beaches and coves, Portocolom provides beauty, serenity and a leisurely way of life allowing one to really embrace all that the Mediterranean has to offer.