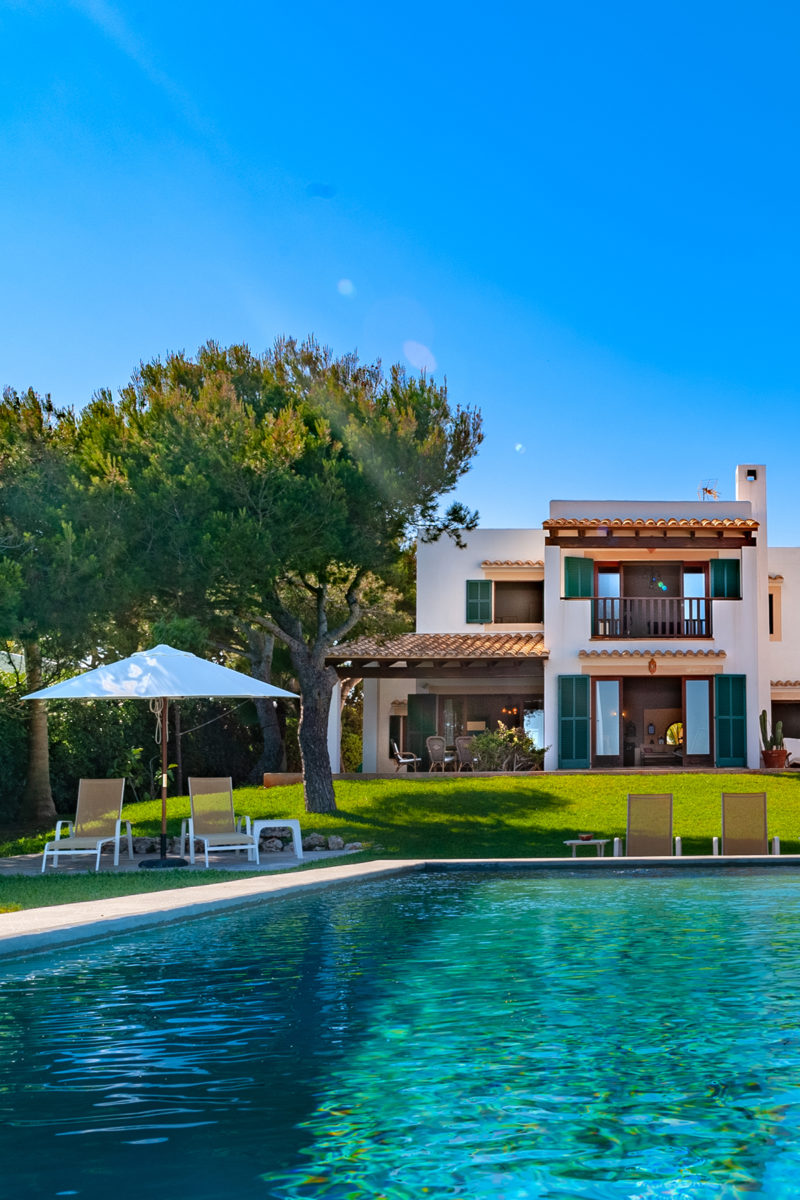 Cala d'Or in the southeast was one of Mallorca's first major tourist resorts developed originally from a quaint fishing village. Holiday apartments and villa rentals now reign supreme, however compared to other rowdier, more built up resort towns on the island, Cala d'Or maintains an air of sophistication due to its architecture and overall design. The unified Ibizan style of whitewashed villas, apartments, and even hotels is no accident, and was planned from the very beginning. Ibiza born artist, illustrator and architect Josep Costa i Ferrer purchased land in Cala d'Or in 1933, building houses to reflect the spirit of Ibiza with the aim of developing an attractive place for artists to reside. Subsequently in 1934 a Belgian painter opened the first hotel 'Cala d'Or' and tourism began to flourish.
Tourists and foreign buyers choose this coastal town for its sea view villas and apartments near the beach, with frontline villas very rarely exceeding 5.000,000 € due to the seasonality of the area. A popular holiday destination, Cala d'Or is descended upon each summer by families and couples mainly from central Europe and Britain wanting to enjoy the 4-kilometre stretch of crystal-clear coves and bays, and the plethora of dining options.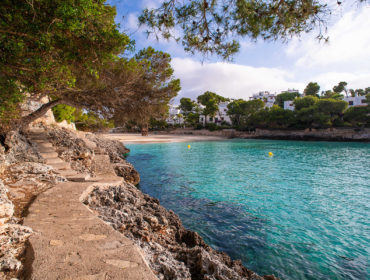 Cala d'Or aces the average resort. Find out what's good with our guide to hotels, restaurants and the property scene.
Situated a good distance from the Tramuntana mountain range and its effect on rainfall, Cala d'Or and Mallorca's east coast benefits from the greatest number of sunshine hours on the island. Although tourist driven, the area is home to more than 5,000 residents which means winters, although a stark contrast to the bustling summers, aren't completely lifeless. For these reasons Cala d'Or is a dream location for a holiday home or second family abode.
Valldemossa can be reached in 30 minutes, Palma 35 minutes and the airport, 45 minutes. Meanwhile, very few building sins have been committed here and the aesthetic appeal of the valley is all the better for it.
Properties for sale in Cala d'Or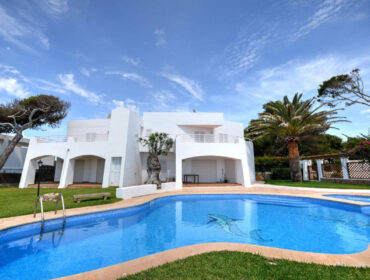 This beautiful 4-bedroom villa for sale in Cala d'Or is the perfect property to invest in as a holiday thanks to its diamond position right on the seafront.
Where to buy a property in Cala d'Or
Cala d'Or is effectively divided into three areas by way of the upmarket marina set in the largest of the region's coves – Cala Llonga. Stretching over one kilometre inland the harbour bay splits Cala d'Or into the central township along with Cala Ferrera to the north, and Cala Egos to the southwest.
Central – Cala Llonga & Cala d'Or Township
The heart of Cala d'Or is certainly its prominent marina. Here you will find high-end boutiques, bars and exclusive restaurants sitting side by side overlooking the yachts and chartered boats. Properties in the surrounding cobbled streets are predominantly low-rise buildings and villas, in the typical whitewashed style.
A short distance from the marina is the Cala d'Or town centre, also with an abundance of shops and eateries mainly concentrated in the pedestrianised streets of Avenida de Bèlgica and Carrer d'en Andreu Roig. It's worth noting that although a resort town, Cala d'Or lacks your typical family holiday attractions such as water parks, mini golf etc., and nightlife is somewhat low key which makes for a quieter more peaceful holiday vibe.

North – Cala Ferrera
German and British tourists flock to the Cala Ferrera area and its surrounding picturesque calas from April to October, settling into the large resort accommodation around the beaches and frequenting town by way of the mini train that connects the beaches with the city centre.
Originally fishing harbours where farmers would wash themselves and their horses after a day's toil, today construction in most of these seaside spots has extended all the way to the water with restaurants and amenities. Cala Gran is the largest and most urbanised cove boasting a blue flag beach rating and being the closest to the town centre. The frontline here is dominated by bars and restaurants while the surrounding area is dotted with villas and hotels.

South – Cala Egos
To the south and somewhat isolated, the area of Cala Egos offers tourists your bargain all-inclusive holidays, but more luxurious villas and apartments for rent are also plentiful. The cala itself is small and narrow, flanked by two large hotels which makes it a little less appealing compared to some of the other beaches in Cala d'Or.
Advantages to buying a property in Cala d'Or:
Thanks to regulations imposed on all construction of apartments and hotels in the area, Cala d'Or is not afflicted by unattractive high rises and apartment blocks common to some resort areas on Mallorca.
Close proximity to some of the islands most beautiful sheltered coves and beaches.
Many existing properties already hold a much-coveted holiday rental license meaning there's potential to generate extra income.
During the holiday season there's a seemingly endless array of options for dining out.
There is a good variety of properties available with sea views within easy walking distance to the various beaches.
Just over an hour's drive will get you to Palma for a city excursion.
Some things to bear in mind
Very much a tourist driven resort town, the area is extremely busy during the summer months, and conversely very quiet during winter.
With most businesses closed during off peak, you may have to travel a little further for any major shopping.
With the sea as Cala d'Or's main drawcard be aware that exclusive frontline sea views are becoming increasingly more expensive. All over the island around 76% more is paid for frontline sea locations.
Evening entertainment in Cala d'Or is low-key and mainly hotel based so possibly best suited to families and those seeking peace and quiet.
Cala d'Or Price Guide
2-3 BEDROOM APARTMENT:
€150.000  – €350.000
SINGLE FAMILY HOME IN TOWN:
€400.000  – € 1.500.000 €
LUXURY FRONTLINE VILLA:
€3.000.000 – €4.000.000
(Please bear in mind that prices are subject to change)
Types of property in Cala d'Or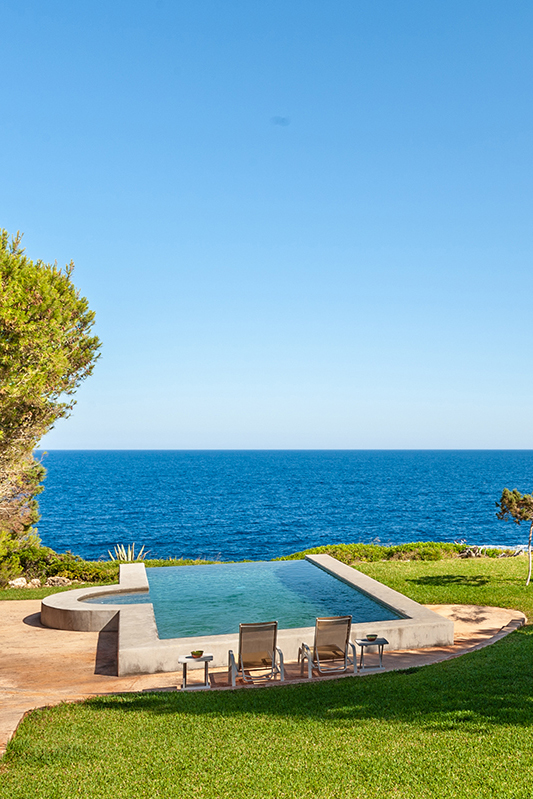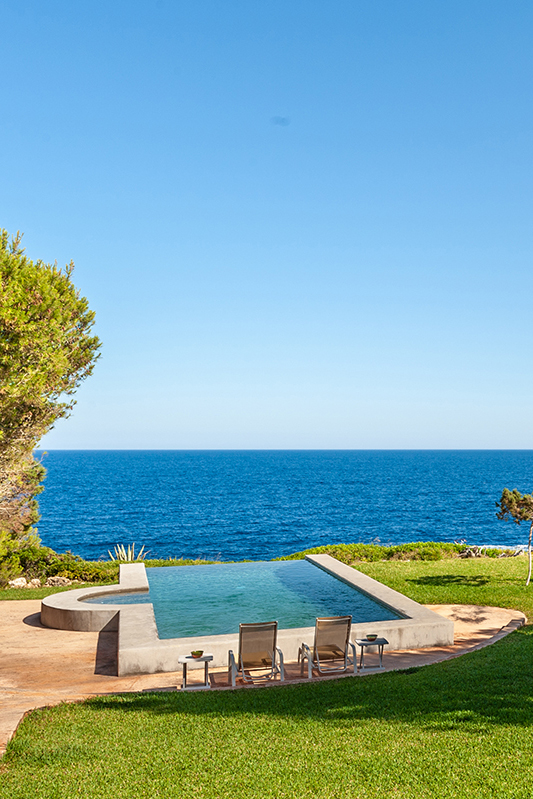 Seafront
As a holiday resort, apartment buildings prevail the closer you get to the coastline, however Cala d'Or is a uniquely tasteful resort development. Built uniformly in the whitewashed Ibiza style, and only two or three levels high, each construction adheres to the imposed building regulations dating back to the resort's inception.
Buyers can find a good selection of older apartments that have had a stylish makeover with new polished modern interiors, as well as options to pick up an original property ready to transform into your own vision. Newly built apartments offer contemporary minimalist style with quality fixtures and fittings and are usually bright and airy owing to predominantly white colour palettes. The low-rise buildings generally have community pools and gardens, with sea or harbour views.
Villas along the seafront are usually modern, minimalistic and high spec, often boasting direct sea access and expansive sea views. Mostly luxury properties, the average price for a frontline property is around 7,079 € m2, whilst apartments and villas situated a little further back with sea vistas fetch on average 4,186 € m2.
On the Outskirts
Cubic shaped, flat roofed properties fringed with pine trees make Cala d'Or a very pretty settlement with plenty of character and charm. The villas on the outskirts away from the coast often have terraces, Mediterranean style gardens and private pools to maximise outdoor living in this sunshine soaked part of the island. Lacking sea views, property prices away from the calas average around 4,114 € m2.
RULES AND REGULATIONS
If planning a new build in Cala d'Or be aware that the original plans for an 'Ibiza style' village are still reflected in the normativas for obtaining a building license in this region.
What the Experts Say About Property in Cala d'Or
"The season in Cala d'Or runs from May until October meaning in the wintertime more or less everything is closed. It has several beautiful beaches which become very populated in summertime, however, there are natural beaches close by, which are less crowded. It is generally a family-oriented village with amenities for the entire family, including some night life for teenagers."
Eckhard Spoerr, Property Developer, Creative Living Mallorca
"For many years the German and Swiss have favoured the Santanyí area, but we're also seeing Danish, Swedish, Dutch, French and Spanish (mainly from Madrid and Barcelona) make up the diverse European community. English buyers aren't as prevalent as they once were – but it is evident that all foreign buyers are very happy with their choice to be on this side of the island."
Lucie Hauri, Lucie Hauri Real Estate
See below for more Villas for sale in Mallorca!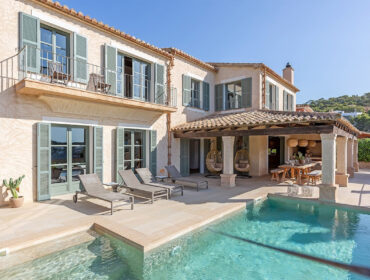 Discover the best Mediterranean villas for sale in Mallorca handpicked by Dr. Helen Cummins and team of local property experts.