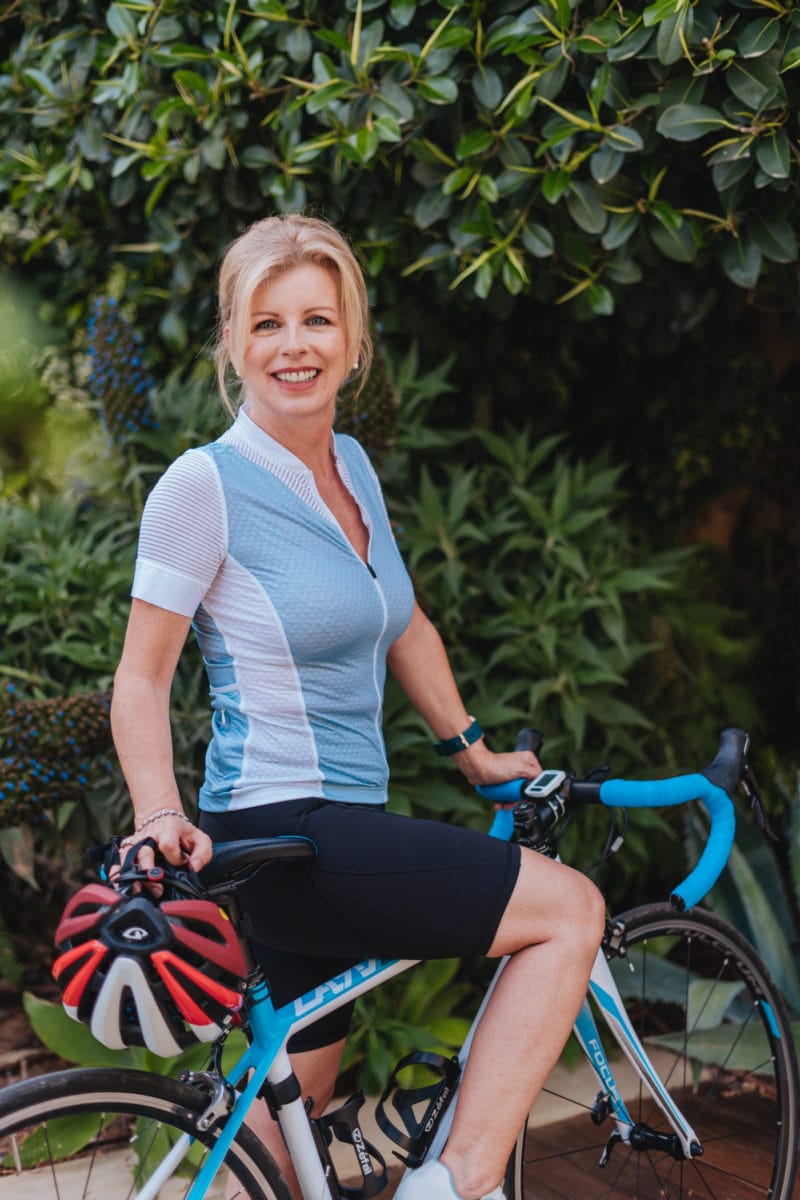 Like most of the island's bustling resorts, Puerto Pollensa can trace its roots back to a simply fishing settlement. Its rapid transformation began at the turn of the century, when it first became a popular summer destination for Mallorca's affluent classes, many who built grand holiday residences overlooking the port. Artists and writers, too, were drawn to visiting or living in Puerto Pollensa thanks to the region's outstanding natural beauty – Agatha Christie famously based one of her stories here. The seeds of international tourism soon took root, and the family-friendly resort evolved into one of Mallorca's most popular – especially beloved of British holidaymakers.
And there's no mystery why this resort has flourished. With its vast sweeping horseshoe bay flanked by dramatic mountainous peninsulas, the landscape is some of the island's most spectacular. Its extraordinary geography also makes it a dream destination for sporty types, with as much to do on land as there is on the water. Tight building regulations has also meant it's not suffered the high-rise blight of other resorts, adding to its pleasantly low-key, up market vibe. A long, white sand beach and calm clear waters complete a package that has attracted an ex-pat population to buying property in Puerto Pollensa, dominated by the British, but increasingly including other Europeans such as German and Scandinavian.
While winter months sees much of the port go into hibernation, a small collection of establishments remain open catering to the local and ex-pat population. One such place is swanky yacht club, where you can enjoy a meal or drinks with views over the marina and its collection of traditional 'llaüt' boats – a constant and pleasing reminder of the town's modest fishing port origins.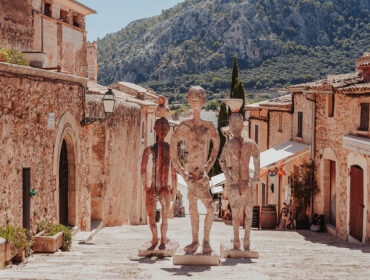 Pollensa is one of Mallorca's prettiest towns where its residents enjoy a tranquil life, hiking up Puig de Maria at weekends and taking in beautiful views.
Good to know about Puerto Pollensa
Local language
Catalan (or its local dialect Mallorquín) is co-official with Spanish, or Castellano as is it is more frequently referred to locally. A sizeable British influence means English is also broadly spoken.
Main Industry / Commerce
Fishing still plays a small part in the economy of the port, but nowadays over 70% of its commerce centred around tourism. A busy marina means boating-related services such as sales, repairs, etc. provide a fair amount of business, while high demand for property in the area fuels a thriving real estate sector.
International Schools
The first and only international school in the north of Mallorca, MySchool – Mallorca International School follows the British National Curriculum (from ages 3-18) and is located in Crestatx just 15 minutes' drive from the port.
Distance
45-minute drive from the airport
45-minute drive to Palma
15-minute drive to Port d'Alcúdia
12-minute drive to Pollensa town
Transport
Bus: The L340 bus connects to Puerto Pollensa from the Estació Intermodal stop in Palma, it's around a 70-minute journey. There's no direct bus link from the station.
Parking: Most of the parking within the town centre is Blue Zone, meaning pay and display ticketing. There's also a paid parking lot just by the marina, and a large free public car park five minutes' walk from the start of Pine Walk.
Taxi: There are three taxi ranks in the port, one in the centre by the marina, one at the north end behind the Hotel Illa d'Or, and another south by Plaça Joan Cerdà (for bookings call 971 866 213).
The Pine Walk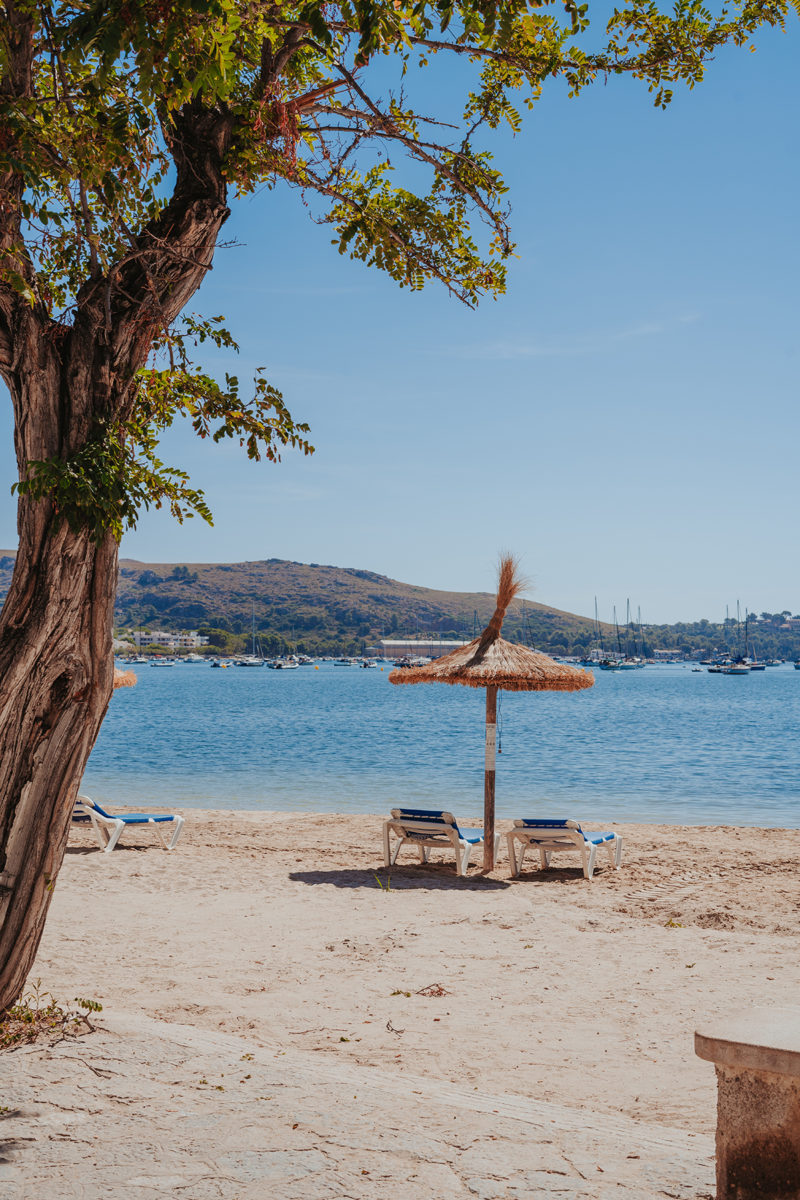 Despite an abundance of things to do in and around Puerto Pollensa, one of the most popular pastimes amongst locals is simply strolling the length of its picturesque beachfront promenade.
The foot and cycle path extends for many kilometres around the bay, however it only becomes car-free just north of the marina where the pedestrianised Passeig Vora Mar begins. This is also the start of the resort's famous Pine Walk, so-named thanks to the abundance of mature conifers that line much of the route.
As well as their distinctive scent, the trees also provide much-needed shade from the sizzling summer sun ¬– including over parts of the serene and sandy D'Albercuix beach that the path overlooks. But it's for balmy evenings that the Pine Walk is particularly pleasant, and as you work your way around the bay, the scene grows increasingly atmospheric as the bustle diminishes and restaurants and low-rise apartment blocks are replaced by grand villas and the gentle sound of lapping surf.
The footpath narrows and the beach disappears as it changes into Passeig de Colom and leads to the terrace of Hotel Illa d'Or – a fabulous spot to enjoy an evening G&T or romantic meal while the sun dips over the watery horizon.
Puerto Pollensa in photos
fg_lazyload
Puerto Pollensa
Puerto Pollensa Marina
Puerto Pollensa beach
Puerto Pollensa beach
Cap de Formentor
Puerto Pollensa Beach
Puerto Pollensa
Puerto Pollensa
Cappuccino in Puerto Pollensa
Puerto Pollensa beach
Puerto Pollensa Market
CAPRI Bar & Restaurant
Puerto Pollensa
Puerto Pollensa
Puerto Pollensa beach
Puerto Pollensa Restaurants
Puerto Pollensa beach
Puerto Pollensa beach
Puerto Pollensa
Puerto Pollensa Beach
Terrae Restaurant in Puerto Pollensa
Paseo at Puerto Pollensa
Puerto Pollensa
Puerto Pollensa
Puerto Pollensa beach
Puerto Pollensa at night
Puerto Pollensa
Puerto Pollensa beach
Puerto Pollensa
Hoposa Uyal Hotel
Hoposa Uyal Hotel
Puerto Pollensa
Puerto Pollensa
Puerto Pollensa
Puerto Pollensa Market
Puerto Pollensa Market
Experience Puerto Pollensa
As you might expect from a beautiful Mallorcan seaside town, all of the main things to do largely revolve around the ocean. The list of beach-related sports is extensive in the area, from sailing to kit-surfing, many of the locals call their happy place by the sea – unless you're an avid cyclist or hiker that is. Get your active gear ready for our top 10 things to do in Puerto Pollensa and dive right in!

Thanks to its location between a vast bay and dramatic sierra, Puerto Pollensa has a wide range of activities from the gentle to adrenaline pumping.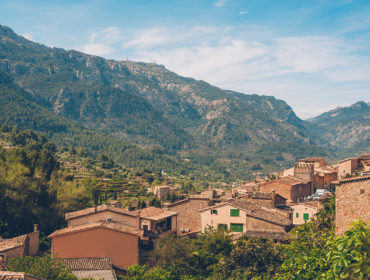 Did your favourite town in Mallorca make the list? Check out Helen Cummins' selection of the prettiest towns on the beautiful island of Mallorca.
Events in Puerto Pollensa
Festival of Sant Pere
As patron saint of net-makers, shipbuilders, and fishermen, Saint Peter is commemorated with a festival at the end of June. Traditional dances, maritime exhibitions and concerts make up the two-day event, together with boisterous sea-land processions and plenty of grilled sardines.
Festival of La Verge del Carme
The week leading up to 16th July is traditionally celebrated by fishermen and seafarers honouring their protector, Virgin Carmen, with the biggest event taking place in Puerto Pollensa. Boats are blessed and adorned with flowers, while on land a programme of events includes concerts, dancing and fireworks.
Restaurants in Puerto Pollensa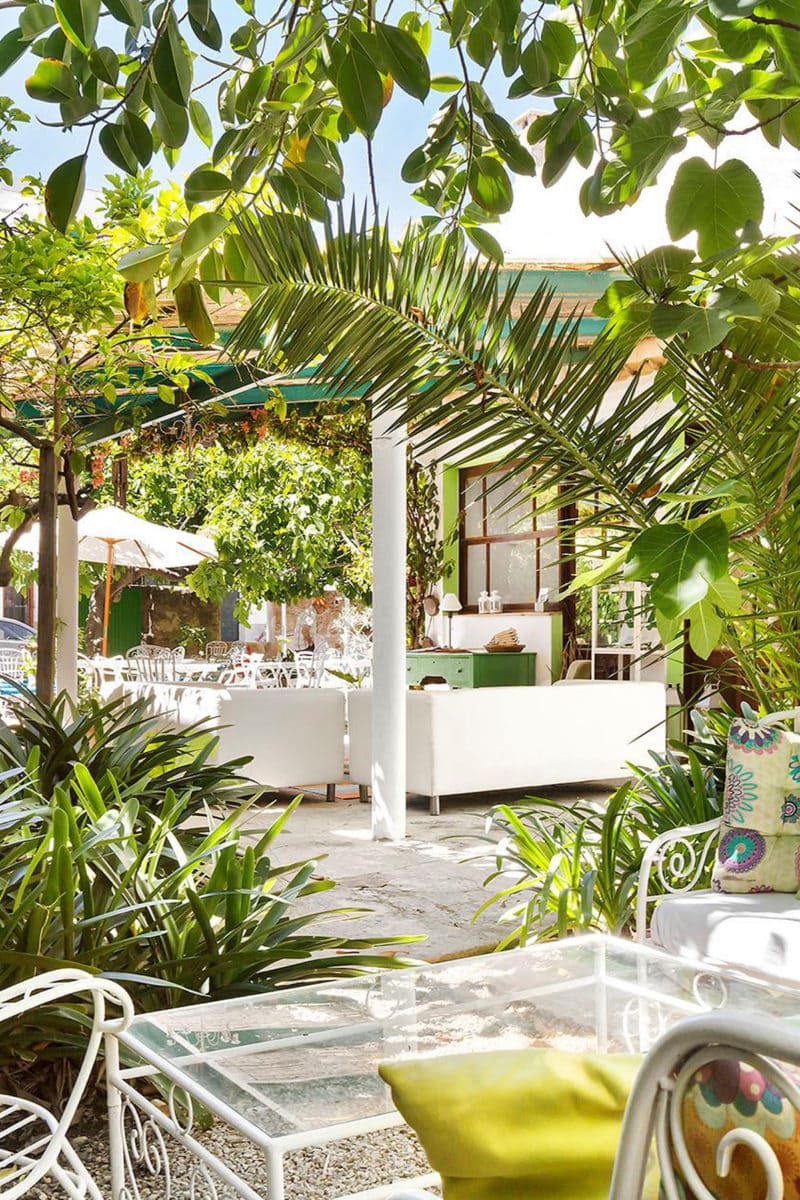 While the port itself is no great gastronomic destination, it certainly offers a decent range of dining options catering to most tastes and budgets. A selection of them are open year-round making loyal customers of locals, one of the longest established being the landmark Stay restaurant, located in the town's marina. On the adjacent quay, La Llonja Restaurant is also open off season, offering some of the best seafood in the area. And next door, the upmarket RCNPP Sailing Club, too, is particularly popular with foreigners with a restaurant focused on sophisticated Mediterranean cuisine. The Gran Café 1919 also doesn't close for the winter, making it a year-round social hub and mainstay amongst locals.
As warmer months attracts increasing numbers of visitors, a broader choice of eateries begin to stir, many of which line the beachfront promenade. Although much caters to the tourist crowds, the quality is certainly better than your average holiday resort. There are those focused on traditional Mallorcan cooking, such as family-run Zarzales, while Abbaco nearby is more about recent trends such as Peruvian ceviche and vegan options. There's also one of the island's few fully veggie-vegan options outside Palma, Restaurante Bellaverde.

Puerto Pollensa has long been one of the island's most popular family-friendly resorts, but with a dining scene to appeal to locals as much as tourists.
Nightlife in Puerto Pollensa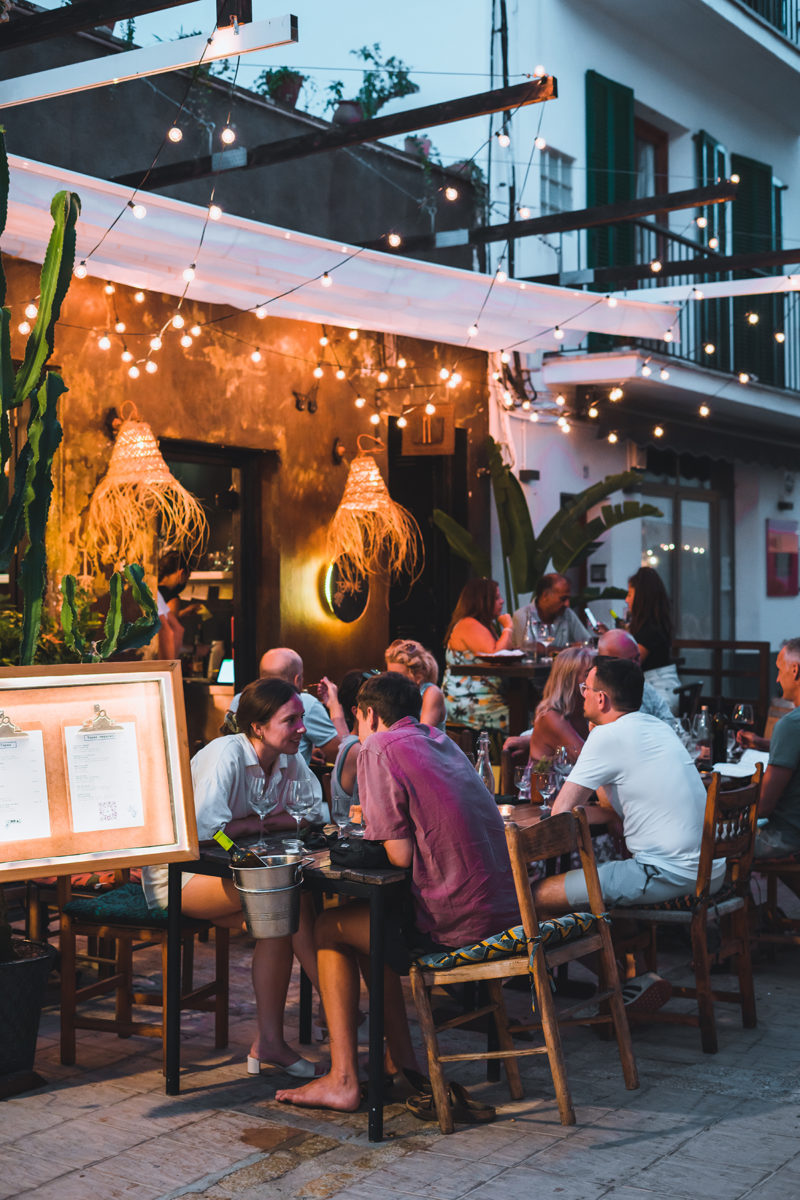 The port is well known as one of the most family-friendly resorts on the island, and the low-key nature of its nightlife reflects this. That's doesn't mean that there aren't some great bars where locals can soak up some nightly ambience.
Nostalgia, for example, is a popular hangout amongst British expats. It serves an English menu by day, and by night turns into a karaoke bar, which can get lively even out of season. Located at the south end of the beach, La Roca is a buzzing beach bar also popular with ex-pats, with regular live music and great mojitos.
Another popular summer nightspot is the Lemon Bar, part of the Hoposa Daina Hotel and set on wharf-like terrace that extends into the sea. It's open to all for sun-downers through to late-night cocktails, and only closes when the last guests leaves. Attracting a mix of locals and tourists, La Batucada is run by raconteur and pro-tennis coach, Rafa, who can also serve a mean cocktail.
If its Guinness by the pint and televised sports that make your night, there are two Irish pubs on the same block – Mulligan's and O'Hara's. Those looking to boogie into the night only really have the one option, Chivas, the port's legendary nightlife institution offering a long bar and a small disco that's open 'til late.
Hotels in Puerto Pollensa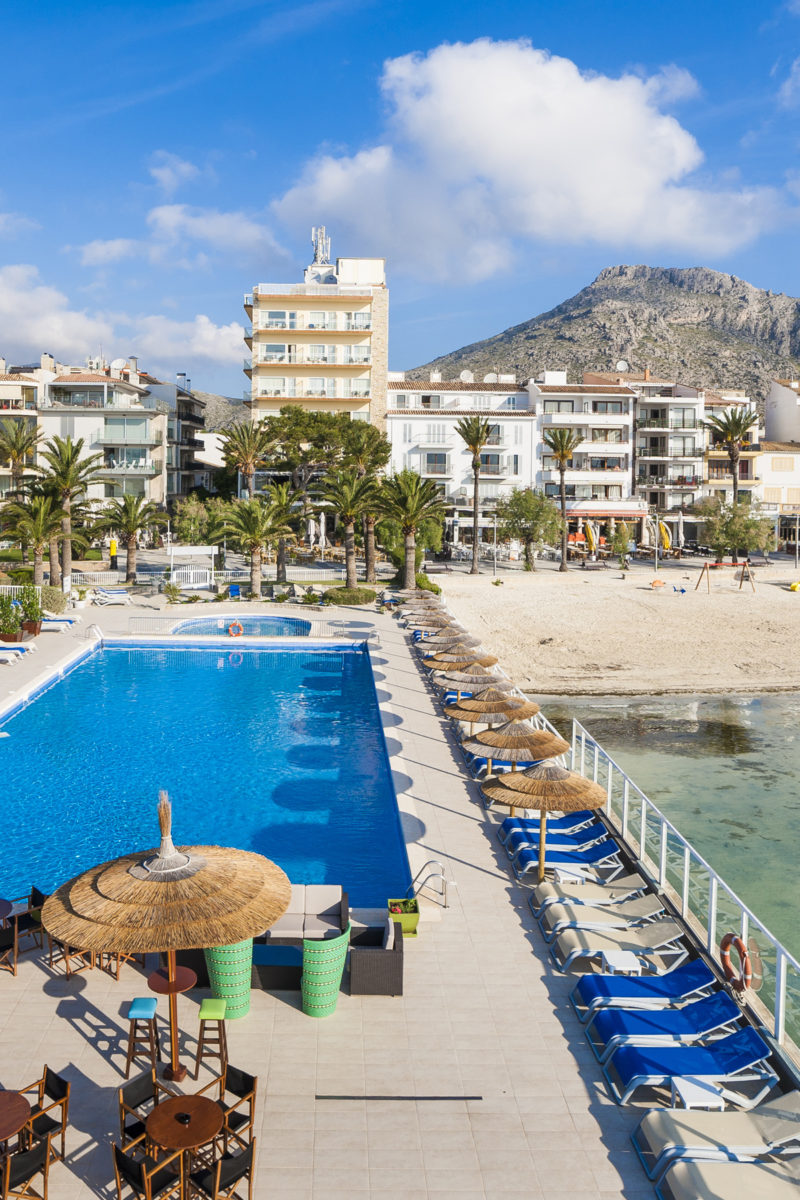 With the port being one of the island's more established resorts, you might expect the place to be overrun with high-rise hotels – but this is thankfully far from the case. Hotels in town tend towards modestly sized midrange properties, such as the Hotel Capri, which offers unfussy modern accommodation with sea views. Down towards the quieter south end of the beach, the more upscale Hoposa Uyal is partly housed in a charming fifties Mediterranean mansion just steps from the beach.
While there aren't any five-star hotel in the resort, the closest is the four-star superior Hotel Illa d'Or, located at the north end of Pine Walk. Although updated throughout, a classically old-school ambience endures, plus its serene waterfront setting ensures some of the best bay views and sunsets. Another stand-out is the 3-star Hotel Bahía, housed in a charming 19th-century former holiday home with a great restaurant and prime beachfront setting.
With families with kids making up a large part of the summer influx, most of the accommodation in and around the port is holiday apartments or aparthotels. These tend to be on the outskirts of town or located a little further down along the bay. There are also numerous holiday villas scattered about the surrounding countryside, requiring just a short drive to get the port's long sweep of sandy beach.
Finding a Home in Puerto Pollensa
The property market in Puerto Pollensa is an attractive place to invest for people looking for second homes. Its sea-front location and mountainous backdrop make it particularly appealing for cyclists, hikers and yacht enthusiasts. The property market has seen a boom in the luxury rental sector which caters for professional cyclists doing their pre-season training in the area.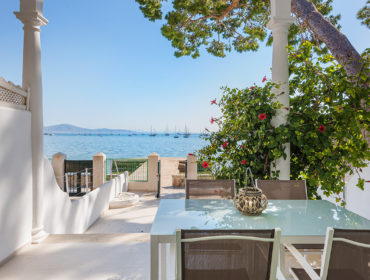 The property market in Puerto Pollensa is attractive to second-home buyers particularly in the cycling and sailing community.
Business & work in Puerto Pollensa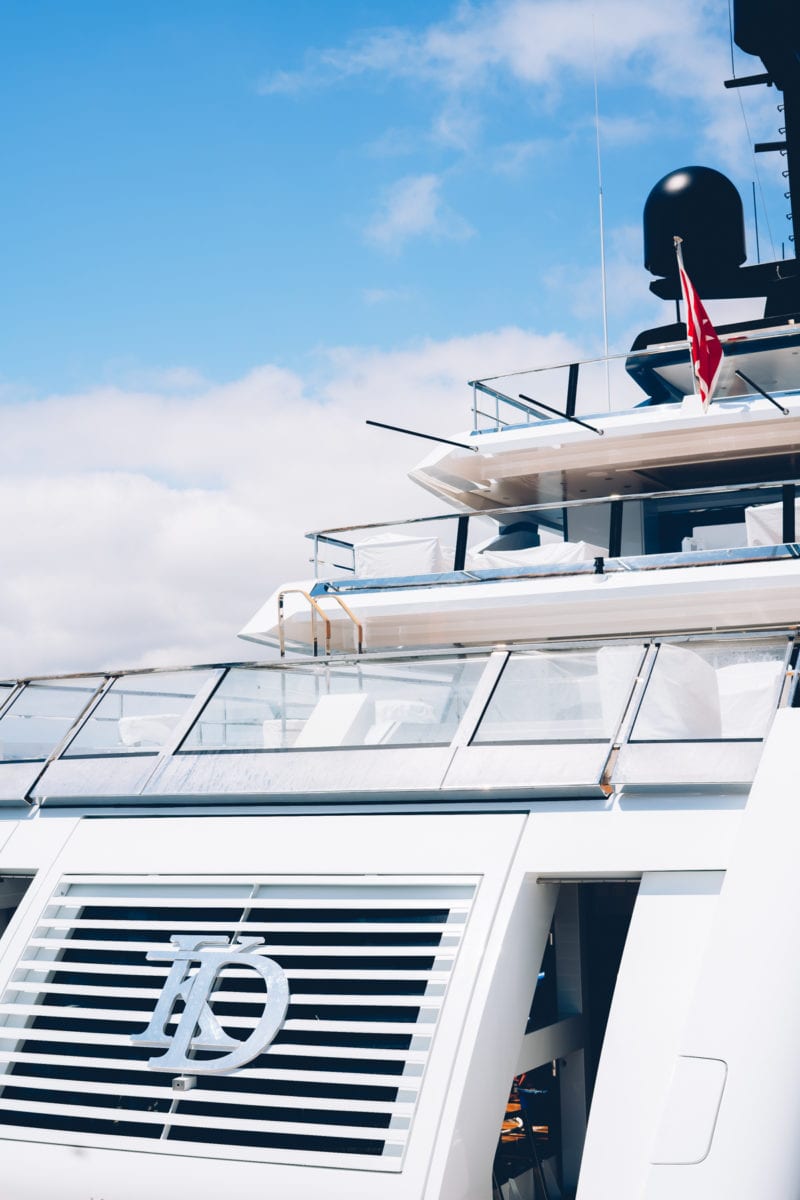 Like most of the island, the vast majority of the work and commercial activity in the port relies on the resort's seasonal tourism. This means opportunities for those looking to open a restaurant, with new establishments opening (and closing) every year. The majority of casual jobs vacancies will centre around hospitality and dining, though there are relatively few hotels here compared to other resorts on Mallorca. There are, however, a healthy collection of businesses catering to the area's thriving cycle tourism as well as those offering water sports activities.
With the popularity growing of Puerto Pollensa as a place to live, so too has the property business here, with at least a dozen real estate agents now dotted around the town. The busy marina, also, supports plenty of maritime-related jobs ranging from boat maintenance and skippering to yacht brokering and chartering.
People: Locals and Celebrities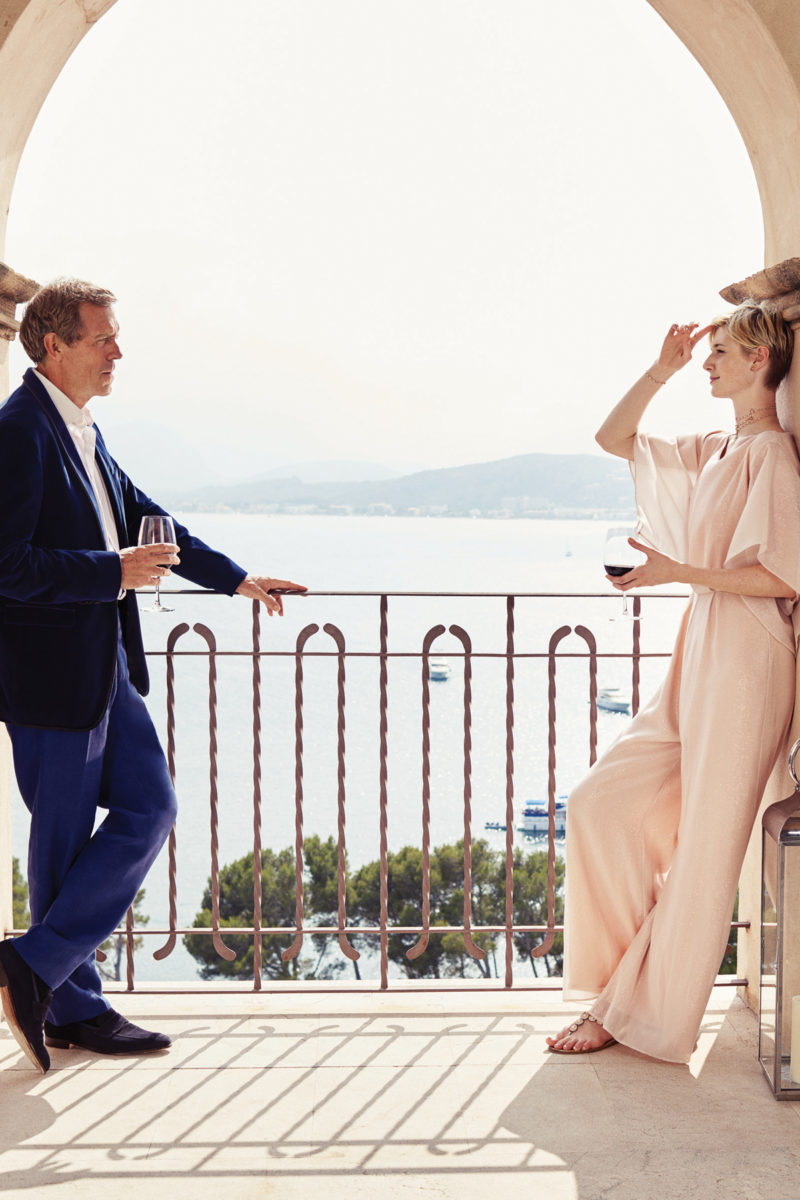 Being a resort much-loved by the Brits, it follows that most of those who choose to move here also hail from the British Isles – often inspired by many years of holidaying in the port. And as one of the more upmarket resorts on the island, it also tends to attract the more well-heeled of ex-pats, lots of whom own grand fincas in the surrounding area. Many of these are older and/or retired, with a large portion being boat enthusiasts with yachts or sailing boats moored in the marina.
Increasingly families with small children have also chosen to settle in the port, especially since the opening of the only international school in the north of the island (MySchool), which follows a British curriculum.
A share of Germans and Scandinavians, too, have made the port their home, but of course the majority of the community is Mallorcan. While the native population is certainly friendly towards the newer arrivals, generally – as it has been noted in other parts of the island – they have been known to otherwise keep their distance.
Some of the wealthiest Mallorcan families on the island tend to own the area's most opulent mansion – grand villas overlooking the north end of Pine Walk. None, however, can complete with the grandeur of La Fortaleza, the large private estate and former 17th-century fort famous for once being Spain's most expensive property, as well as a key location in TV hit The Night Manager. It is also a popular events venue for the rich and famous, hosting the weddings of the likes of footballer Gareth Bale and, more recently, that of local tennis star Rafa Nadal.
The last word
Like very few other places on the island, Puerto Pollensa really offers the best of both worlds. While it's fair to say most holiday resorts aren't the sorts of places most of us would necessarily want to settle down in, the living potential of this northern coastal town matches its impressive draw as a holiday destination.
This is largely down to the nature of the resort, generally attracting the more urbane visitor over the package holiday party crowd – fostering an agreeably laid-back, family-friendly atmosphere, even at peak season. Dramatic mountain surrounds and a sweeping expanse of calm water certainly add to the appeal, especially for those seeking an active outdoorsy lifestyle. Add the bustling marina with its sophisticated yacht club, the charming Pine Walk promenade, and increasingly diverse dining scene, and the result is resort ripe for living to the fullest.