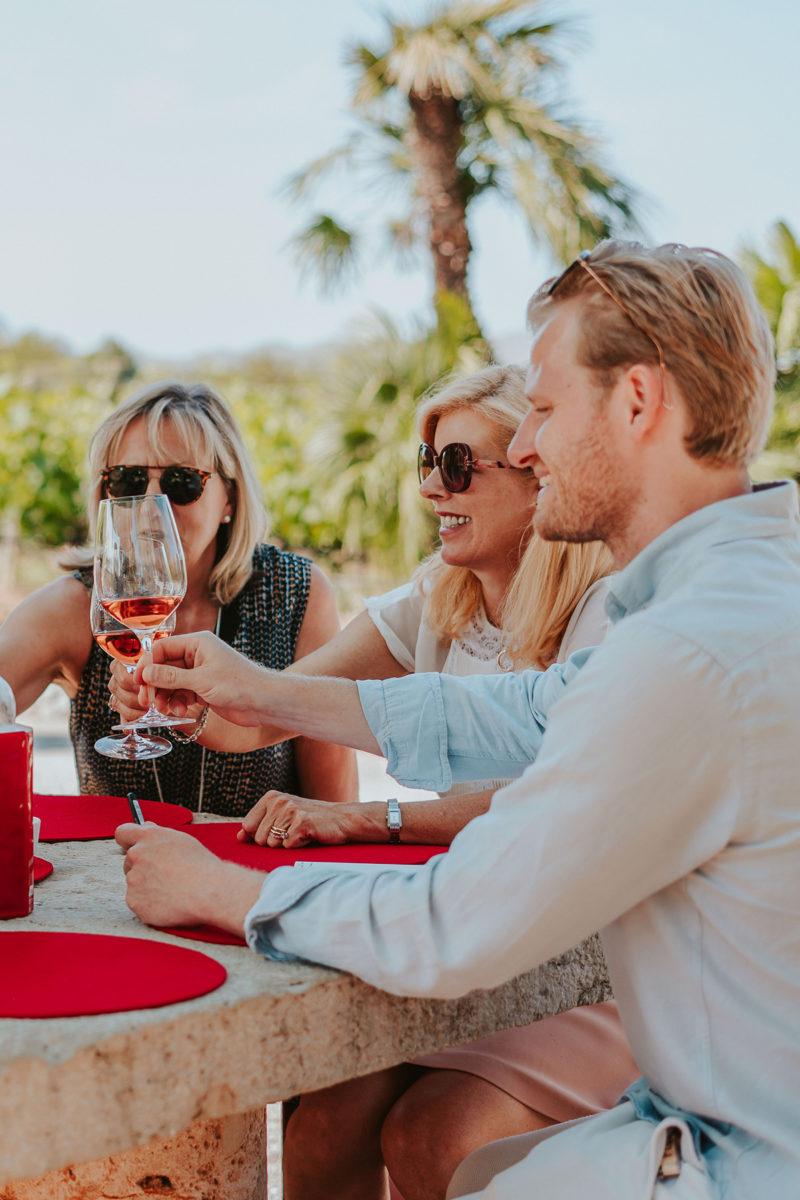 Pollensa is one of the most beautiful towns on the island. Not to be confused with its seaside sister, Puerto Pollensa, it's situated several kilometres inland. Living in Pollensa means you'll have settled in the foothills at the eastern end of the Serra de Tramuntana mountains and surrounded by stunning scenery.
You'll be joining a diverse community of expats if you buy a property in Pollensa. The town is full of townhouses and villas with original features, while the far-reaching emerald farmland is made up of a paradise of fincas. The countryside with its narrow leafy lanes, bubbling brooks and easy access to the beach attracts those in search of a quieter life closer to nature.
Small but perfectly formed, the town is a place made for taking long leisurely strolls. Just when you think you've seen one wonder, whether that's the Convent of Santo Domingo or the Roman Bridge, another will pop up around the next corner. Move here and you'll be able to set off on some of Mallorca's best hiking and cycling routes.
Plaza Mayor is where the town's heart beats. It's a spacious square full of terraces packed with people enjoying a drink or bite to eat whilst watching the world go by. This is life alfresco at its most authentic. On Sundays the square plays host to the open market that attracts locals and tourists alike. A little more stylish than some of the neighbouring markets, it's full of stalls laden with fresh local produce and gifts, all available from 8am to 1:30pm.
Safe, relaxed and with everything you could need on the doorstep, many outsiders have chosen to settle and raise families here in Pollensa. Thankfully, there's a well-established and integrated non-native community that doesn't feel at all 'expat', meaning that it's easy to feel at home here.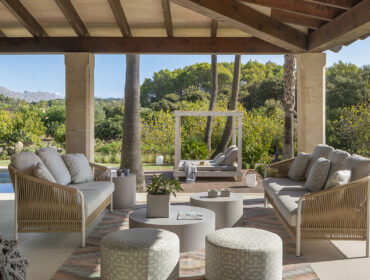 Favoured by those interested in a second home, property for sale in Pollensa attracts a high number of foreigners looking for the Mediterranean life.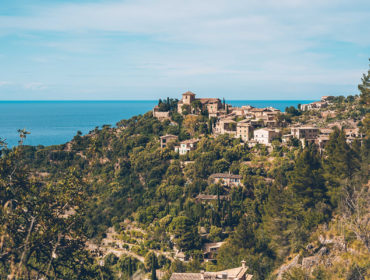 Majestic mountains and picturesque villages form the Serra de Tramuntana, where many people choose to escape the rat race and enjoy tranquility.
Good to know about Pollensa
Local language
Most locals speak Mallorcan, a dialect of Catalan. It has slightly different variants in most of the island's settlements and this includes Pollensa. Castellano, the official term for Spanish, is the other recognised language. There's a fairly big international community so you'll also hear plenty of English and German around town.
Main Industry / Commerce
Pollensa relies on tourism for its economic base. Close to the upmarket seaside resorts of Puerto Pollensa and Cala San Vicente, Pollensa old town offers distinct advantages for holidaymakers who appreciate authenticity alongside beach life.
International Schools
There aren't any in the town itself. However, Mallorca International School is just over a ten-minute drive away to the south. The school, catering to 3 to 8-year-olds, opened in 2016 and teaches the British national curriculum.
Distance
40-minute drive from the airport
50-minute drive to Palma
12-minute drive to Puerto Pollensa or Cala San Vicente
25-minute drive Inca Hospital (HSJD)
Transport
Bus: L340 to Inca and Palma (and Puerto Pollensa and Llenaire in the other direction)
Parking: There are free car parks surrounding town, such as the one directly opposite the playpark and bus stop on Carrer de Cecili Metel. Alternatively, you'll find a spot along the same street close to the Pan Nord café. From both locations it's a short five-minute walk to Plaça Mayor.
Taxis: There's a rank at the edge of the town on Carrer de Sant Domingo near the main bus stop.
Puig de Maria & the Calvari Steps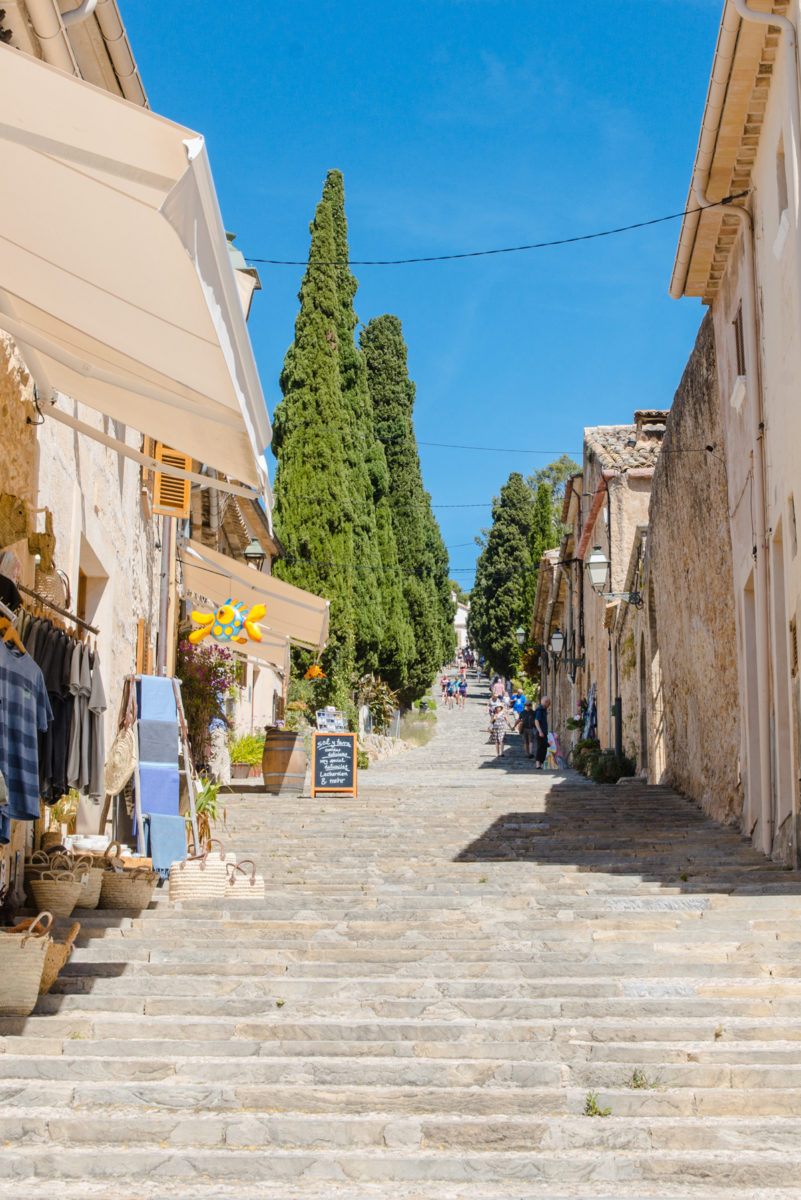 Sitting snugly at the foot of hills and mountains, the town has an almost Alpine feel. One mini adventure routinely taken by residents is the hike up Puig de Maria, the hill crowned by a 14th century chapel and monastery.
The lovely thing about this small mountain is that its base is a short walk from the town centre, making it beloved of inhabitants who treat it as a challenging jaunt on their doorstep. The climb takes around an hour, snaking through ancient hillside woodland, and there's a simple little café at the top to look forward to.
Upon reaching the summit, walkers are met by wandering goats and rewarded by some of the island's most breath-taking views. You'll be able to see the marina at Puerto Pollensa, ideal for those looking for a home to anchor their yacht. Countryside full of tempting hikes and cycle routes is spread out before you, reaching to the relatively flat plain around the bays of Pollensa and Alcúdia, along with the Serra de Tramuntana mountain range in the other direction. This could be called the 'land of the finca.'
The area is dotted with stunning cottages and farmhouses calling out to those looking for a life away from the big city. All this will give you a great perspective of Pollensa and the area that surrounds it. It's a great place to bring friends visiting from afar, especially at the time of spring festival when locals hold a paella party in the grounds. It is possible to stay in the monastery – though accommodation is basic.
Another walk that Pollensa residents love is the Calvari steps. Many locals jog up the steps first thing in the morning as part of their exercise routine. A total of 365 steps, lined by cypress trees and fourteen three-metre-high crosses – a nod to Jesus and his crucifixion – lead to a tiny chapel at the top. From here, you can take in the spectacular views down to the coast and Cap de Formentor.
Pollensa in photos
fg_lazyload
Views from Puig de Maria
365 Calvari Steps
Sanctuary of Puig de Maria
Bodegas Xaloc
Puig de Maria
Pollensa streets
365 Calvari Steps
Experience Pollensa
Shopping in Pollensa is a big part of integrating and getting to know the locals in town. Fashion and jewellery boutiques such as Da Da and the wonderful tile shop, Ceramicas Monti Sión are ideal places to get a sense of the creative side of Pollensa. Experiencing it through its home & décor scene is worth-while, particularly when there are delights such as the artisan textile factory Teixits Vicens and furniture store Mestro Paco so close-by. The gallery, designer homeware store Hito run by New York jewellers Gillian Conroy and Danica Wilcox is where you'll find quirky designs that'll add creative throw to any Mallorcan home. If you thought Pollensa was a sleepy town, you'd be quite mistaken. It has a vibrant heart thanks to the international creatives that moved in and pursued their artistic passions.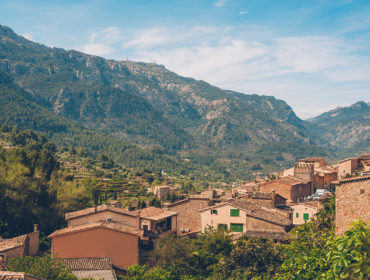 Did your favourite town in Mallorca make the list? Check out Helen Cummins' selection of the prettiest towns on the beautiful island of Mallorca.
Events in Pollensa
The Moors and Christians Festival
Attracting visitors from all over the world, this event is something everyone should see. On August 2nd, the local people celebrate their victory against the invading of the Moors, making for a passionate and lively festival complete with mock battle.
Saint Antoni's Day
In the middle of January, celebrate the patron saint of animals. The festivities in Pollensa start with barbecues provided by the town hall, enjoyed in nearby woods. The tradition is then for a massive pine tree to be dragged into the town's Plaça Vella. There's a competition in the evening that involves the town's youth trying to climb to the top of the greased tree!

The Classical Music Festival of Pollensa
Founding this event in 1962 led to English violinist Philip Newman earning his very own Pollensa street name. Held in July and August in the cloister of Santo Domingo, previous performers include celebrated classical stars Montserrat Caballé, Yehudi Menuhin and Ravi Shankar.
Pollensa Wine Fair
Spring sees wine buffs descend on the town to sample wines from the Balearic Islands, showcased and made available for visitors and locals to try. Some of the featured wines have come from local greats such as Can Vidalet and Mortitx, a vineyard set on a plateau in the mountains.
Restaurants in Pollensa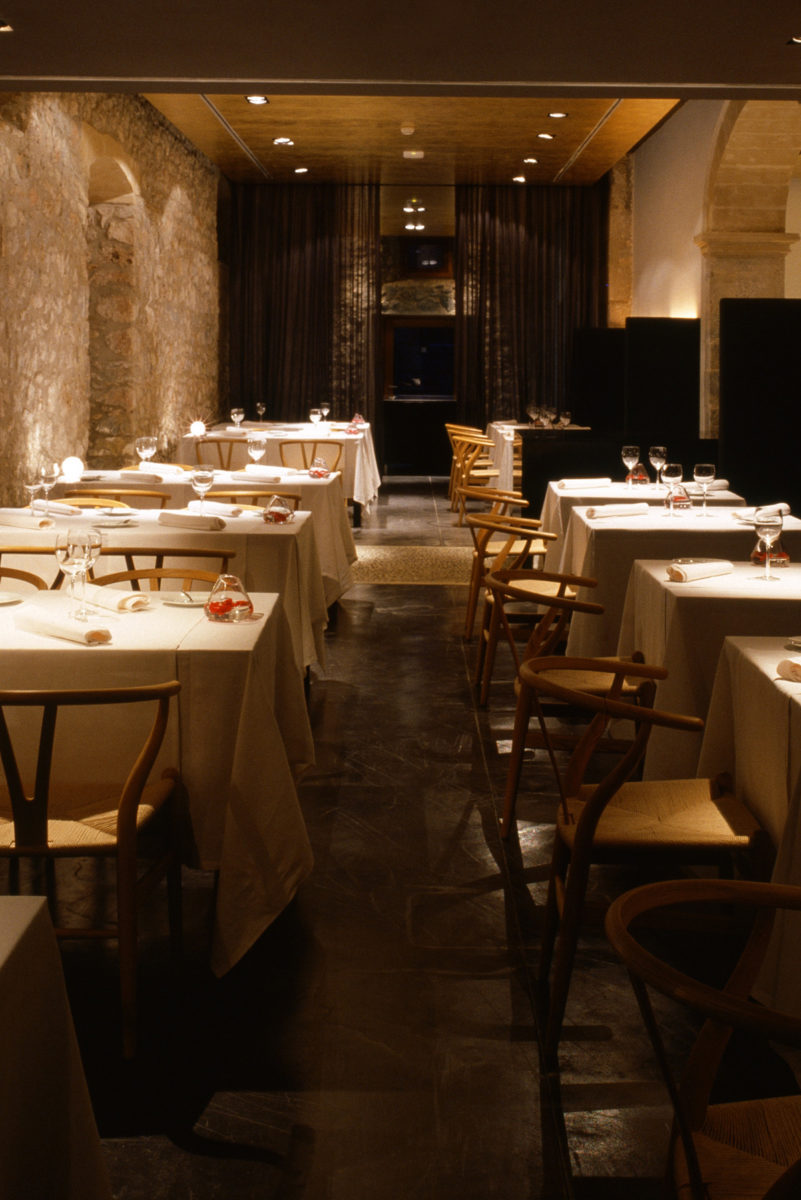 Pollensa's restauranteurs have risen to the challenge of catering to its more discerning visitors with aplomb, which is great news for those living there. Proximity to the sea means there's always a good supply of freshly caught fish. Sitting in the atmospheric main square, Plaça Major, is hard to beat for its variety. Il Giardino does elegant Italian-French food, while Q11 offers Spanish fusion cuisine, with a good variety of vegetarian options.
Worth deviating from the main square for is R3spira, a refreshingly unassuming, reasonably priced haunt doing consistently high-quality Italian, Spanish and Mediterranean dishes.
Restaurant Trencadora/Trattoria has become a firm favourite amongst locals, serving simple Italian and Mediterranean dishes in a warm, rustic atmosphere. The restaurant has a nice courtyard garden where you can eat and drink on a warm evening. You'll be in good company because next door is home to the Tabaluga Foundation. This was set up by the world-famous German musician, Peter Maffay to help disadvantaged children.
Formerly the famous Can Costa, Fogoneu has developed a keen following. Located in an old cinema with glam décor, it serves up a modern spin on traditional Mallorcan recipes, paired with local wines. There's also live music there every week, plus a special cocktail selection.
For sheer style and a special treat, head to the five-star Son Brull hotel, just a short drive from Pollensa in the direction of Palma. Here you'll find award-winning Restaurant 365, in a to-die-for setting. You can have a pre-dinner cocktail al fresco before enjoying one of the eight course tasting menus, or an à la carte option.
Nightlife in Pollensa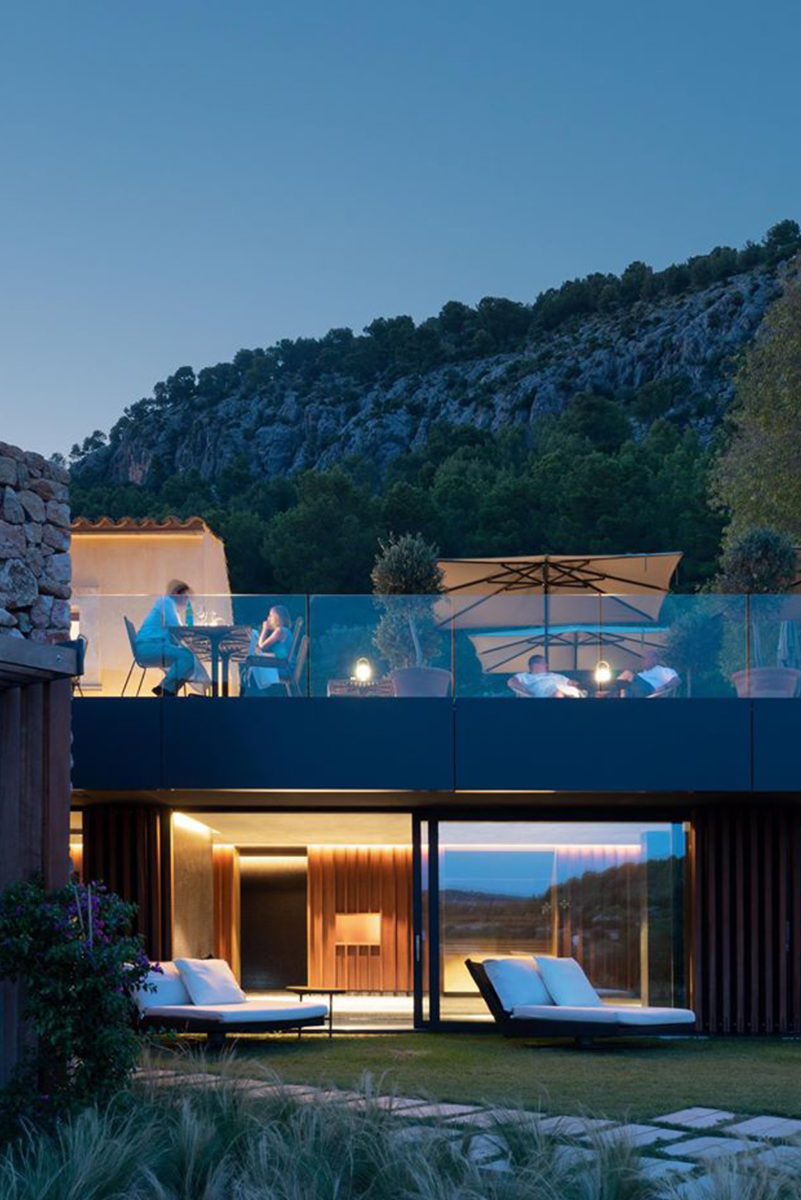 You won't find any nightclubs in Pollensa. However, what you will find is a wonderful backdrop for outdoor eating and drinking. Take an evening stroll through Plaça Mayor  and you will feel as though you're in the middle of one giant, buzzing brasserie.
Restaurants and bars tend to stick to northern European time rather than the late night and early morning hours of some of the big cities on the Spanish mainland.
There are one or two other bars which like La Birreria Monkey stay open until the early hours. These include Can Moixet on Plaça Mayor and U Gallet at the foot of the Calvari steps. Both of these are popular with locals and restaurant staff looking for a well-deserved drink at the end of a busy day.
Otherwise a drink on one of the hotel terraces like at Son Brull Hotel offer a quiet place to relax as the sun goes down. Surrounded by mountainous scenery, you'll find a welcome cooler breeze on the outskirts as opposed to the centre of town where it can get quite stuffy in the summer months.
Hotels in Pollensa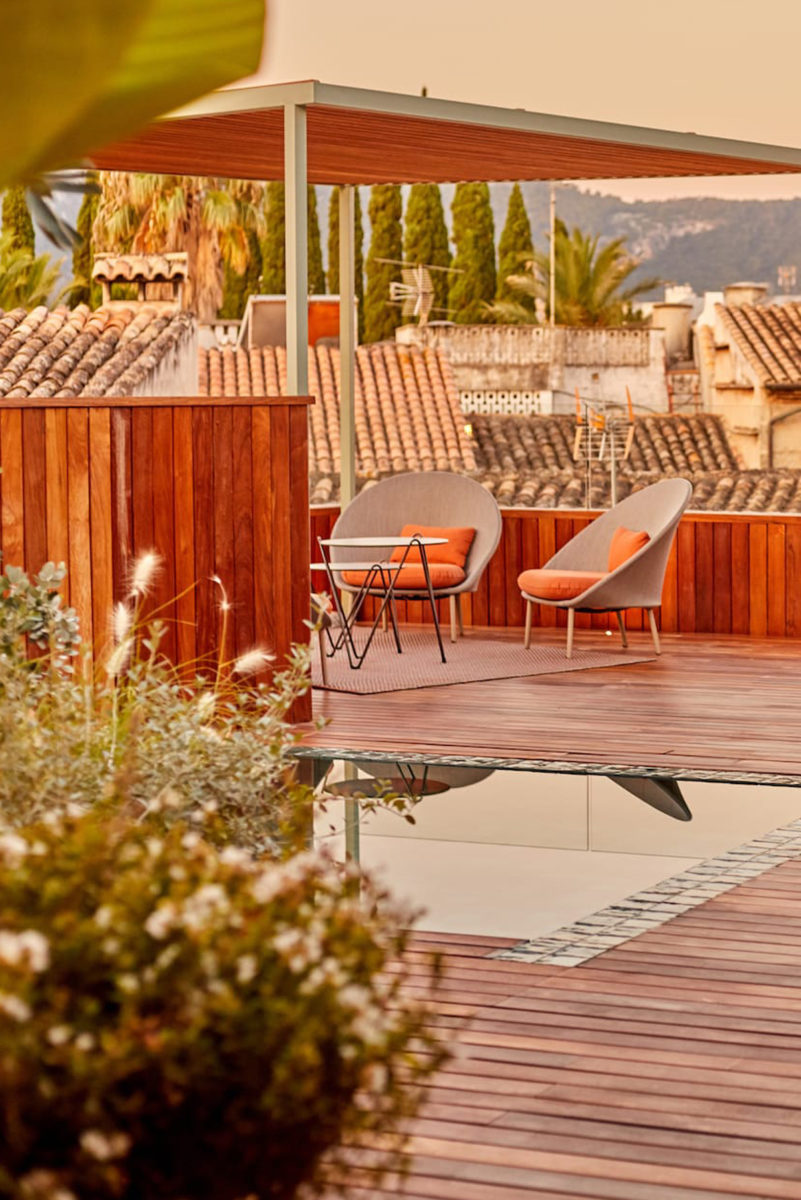 Pollensa has more holiday-let houses in the town itself than elsewhere on the island. The choice of hotels is surprisingly limited, though there are a few very good ones in the centre, all renovated mansions retaining a great deal of character situated in or close to Plaça Major.
Some of the more luxurious hotels though are set in the surrounding countryside – like converted monastery Son Brull – or in the seaside resort of Cala Sant Vicente. Renting a townhouse, villa or finca in the neighbouring countryside is a good way of getting a taste of what life is like in rural North Mallorca.
MON BOUTIQUE HOTEL
Because of its location and style, this hotel is one that'll stay with you. Newly refurbished, this four-star hotel offers luxury right in the middle of Pollensa. Some of the suites even have their own private hot tubs. Guillem Moyà, the hotel's chef at its M Restaurant, is upping the game in town with his imaginative and creative menu.
SON BRULL HOTEL BRULL
While not in the the middle of Pollensa, to omit this five-star hotel from the list of recommended hotels would be a travesty. It's just a short taxi ride from the centre of town and is set against a backdrop of wonderful countryside. There's a heated outdoor pool, spa and tennis court. And, of course, there's the award-winning 365 Restaurant with its choice of eight course tasting menus.
HOTEL SON SANT JORDI
Undoubtedly, one of the most appealing features of this tastefully renovated 17th-century villa behind Plaça Major is its verdant interior garden and swimming pool. Guests relax away from the hustle and bustle of the centre in peaceful surroundings, and there's also a mini spa.
HOTEL JUMA
Situated in the main square, the Juma is a classic hotel that has been going for years and assures a comfortable, cosy stay. What it lacks in modern furnishings – décor is distinctly Mallorcan – it makes up for with a pleasant roof terrace complete with bubbling hot tub.
Property in Pollensa
Pollensa has one of the highest concentrations of holiday-let properties in Mallorca. Some people have chosen to move here specifically to buy properties they can manage on a holiday rental basis. Otherwise, the area is mostly occupied by residents who own a property as a holiday home, normally used in the summer season.
Once modernised, properties are easy to rent out as holiday-lets with the right tourist licence. They can command premium prices in the high season. However, do bear in mind that most renovation work will need approval from the town hall. This can be tedious and time-consuming so it pays to hire a local architect to get you through what can sometimes seem like endless bureaucracy.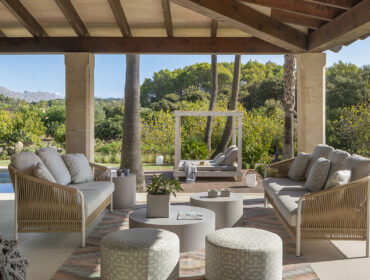 Favoured by those interested in a second home, property for sale in Pollensa attracts a high number of foreigners looking for the Mediterranean life.
Business & work in Pollensa
Most of the work and businesses in Pollensa are related to tourism and hospitality, meaning jobs are almost all seasonal. You will hear a lot of English spoken in Pollensa, but the truth is that learning Spanish will really help your chances of securing a job.
Some of the small boutiques are owned by expats, with many like the deli Eu Serral Gourmet aimed at an international clientele. Real estate agents with offices in Pollensa will almost always be looking for English and German speakers, given the influx of Northern Europeans who choose to settle in town.
Many expats living in Pollensa work in professions that are not just limited to real estate or hospitality. Examples include editor Joanna Greenfield, who lives in Pollensa with her young family and runs local publication Talk of the North. Singer Nicky Liles also lives close to town and together with friend Nickie Baylis, put together youth theatre performances at Club Pollensa. Otherwise, there are plenty of stories like Christina Shallock (formerly the manager of Pollensa Golf Club) who decided to set-up her own vineyards. Christina now produces XALOC wine, a much-loved product from Pollensa which is always enjoyed at local wine fairs.
Skills in journalism, web content and translation are rarely sought-after in places outside of Palma. However, you might be lucky in finding work at a Pollensa-based company like Signewords who provide content and translation services. These types of companies are few and far between in quieter areas, but there is always the option of working freelance for a company in Palma. That way, you can be based in Pollensa and only commute when necessary.
People: Locals & celebrities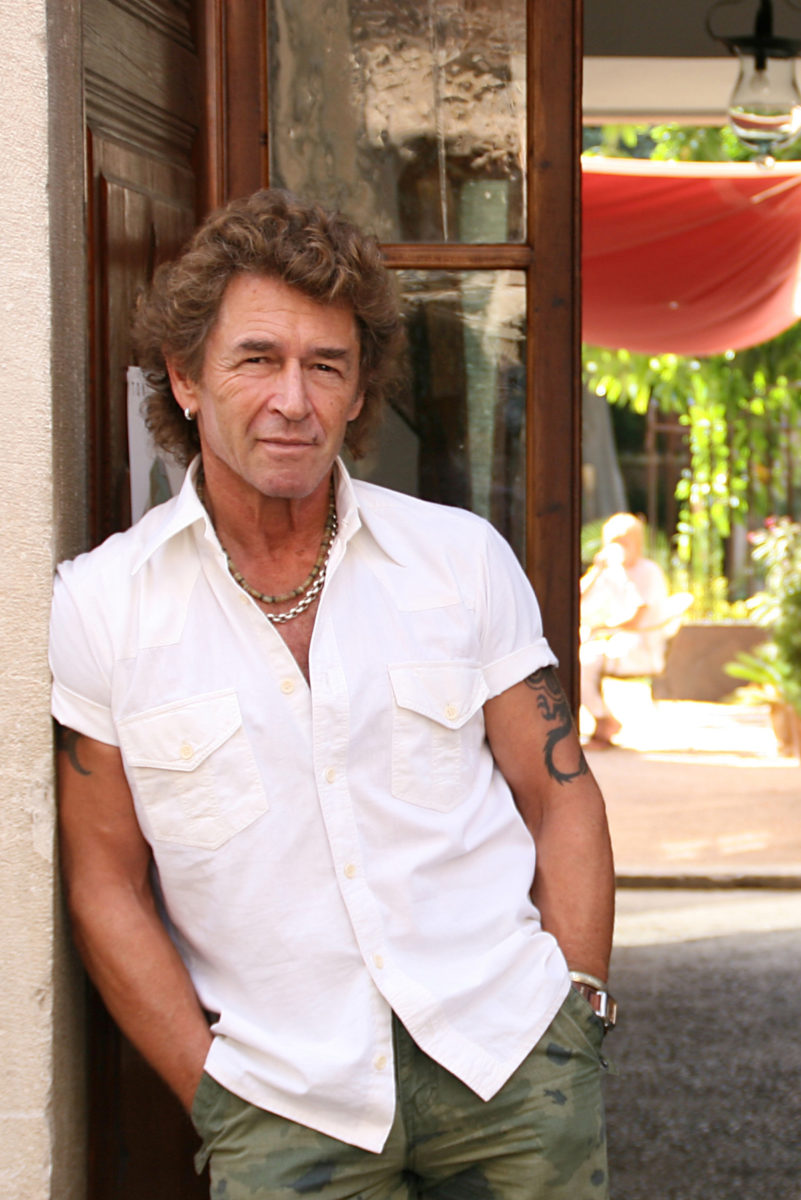 Pollensa has a close local community but expats are warmly welcomed here. There are plenty of residents from the UK, Germany and Italy who are now very much part of the local scene. There's a diversity of culture that's very appealing.
You will find a few celebrities living in and around the town. The actor Joseph Fiennes reportedly owns a house in Pollensa and has been spotted taking the occasional refreshment in Plaça Mayor. The German musician, Peter Maffay also runs one of his foundations for disadvantaged children here, while the famed Schwarzkopf family own a vineyard on the outskirts of Pollensa: Can Axartell.
Last Word
Pollensa has developed an upmarket reputation. It's become a popular place for expats to move to in search of a quieter life, while enjoying all the benefits that come with living in a town. While it may look fairly ordinary at first glance, delve a little deeper and you'll soon fall for the refinement and evocative feel of this centuries-old settlement. Surrounded by some of the most beautiful countryside in Mallorca, this is where the mountains really do meet the sea. Not as noisy as some of its seaside neighbours, Pollensa offers authenticity with a big splash of sophistication, along with a seductive outdoor lifestyle.