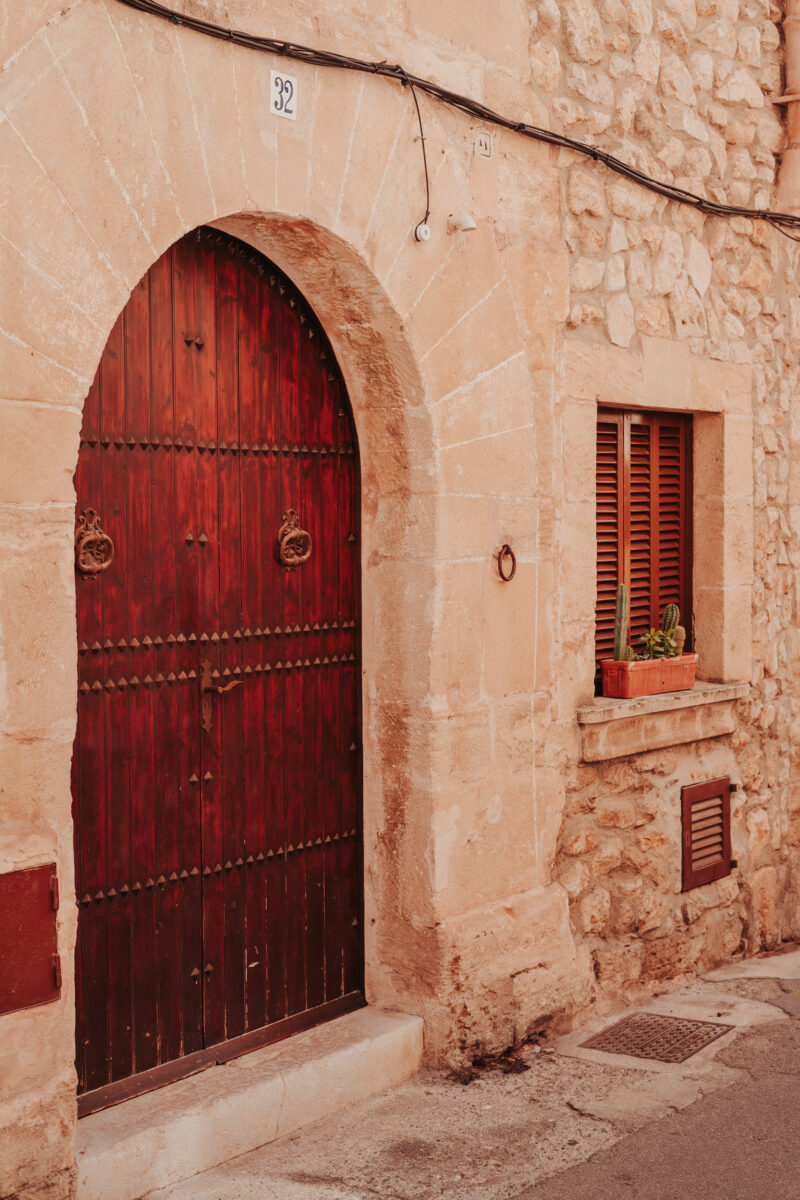 The historic town of Pollensa in the north of Mallorca offers the alluring combination of coast, beaches, and mountains but with a more upmarket and sophisticated feel than its neighbouring counterparts. The thriving medieval pueblo of approximately 11,000 residents is home to a diverse expat community, mainly from the UK, Germany, and Italy. Favoured particularly by those interested in buying a holiday home, as well as property for sale in Pollensa attracting a high number of foreigners who choose to reside here permanently. Buyers also like to purchase real estate with an existing holiday rental license as an attractive investment purchase.
Living in Pollensa
A safe and peaceful place perfect for family life and those looking for a slower pace, Pollensa also has a history of attracting artists, writers, and painters, with the town boasting several art galleries including the Galería Dionís, the Galería Maior, and the Pollensa Museum. The centre is equipped with all of the necessary amenities for day-to-day living, and the beautiful beaches of the north coast can be reached by car in minutes. Pollensa's stunning surroundings are the perfect playground for nature and sports lovers with fantastic cycling routes, hiking trails, nautical excursions, and even a golf course for those who enjoy a round.
The townhouses and villas for sale in Pollensa's centre are mostly traditional in style with original features, whilst the numerous fincas dotted along the countryside offer both contemporary and modern styles, as well as classic Mallorcan.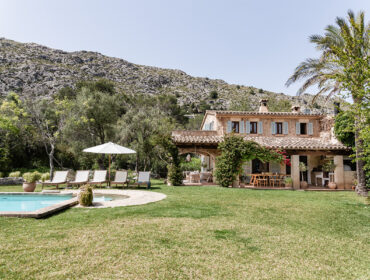 Unlike its closest seaside neighbours, Puerto Pollensa and Cala San Vicente, living in Pollensa is quieter offering families a slice of Mediterranean luxury.
From the town of Pollensa, Valldemossa can be reached in 30 minutes, Palma 35 minutes and the airport, 45 minutes. Meanwhile, very few construction sins have been committed here and the aesthetic appeal of the valley is all the better for it.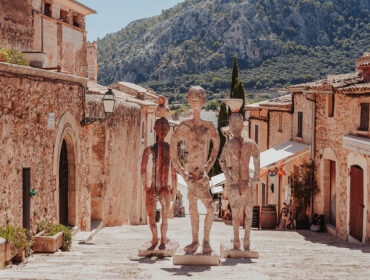 Pollensa is one of Mallorca's prettiest towns where its residents enjoy a tranquil life, hiking up Puig de Maria at weekends and taking in beautiful views.
Where to buy a property in Pollensa
Cala San Vicente
The beach resort town of Cala San Vicente is a unique and elegant neighbourhood situated along the coast between Pollensa and Puerto Pollensa. Previously a fisherman's village, this low-key residential area is made up of mostly sea view apartments and smaller plots of around 800 m2 with modern villas. Just a 10-minute drive from Pollensa, Cala San Vicente also has a few lovely restaurants to enjoy.
La Font
Walking distance from Pollensa, La Font is split into an upper and lower zone. The upper area is situated against the mountain range and is sought after for its incredible views all the way to the coast, whilst the lower part is more countryside. One of the most expensive areas, there are a lot of empty plots with more flexibility in what can be built, resulting in more modern builds here as well as traditional country fincas and villas.
The amount of land required here for legal construction is considerably less than 15,000 m² therefore you can find an excellent property for approximately €1.3 million upwards. Buyers often purchase here due to the peacefulness of the area and short distance to Pollensa town.
Pollensa Town
The heart of Pollensa – Pollensa Town, encircles Plaza Mayor and personifies an authentic Mallorcan township. The properties here are predominantly old and traditional, with many of the buildings being listed/protected. Mostly apartments and townhouses, a property purchase here is ideal for those desiring the convenience of a lock up and leave home that has an abundance of bars and restaurants on its doorstep.

The Surrounding Countryside
For larger detached properties and a greater sense of privacy, yet close to the town and its amenities, Pollensa's surrounding countryside is ideal. This area includes the three picturesque valleys of Vall de Colonya, Vall de Axertell and Vall de March, with an average finca price sitting at around €2 million.
Advantages to buying a property in Pollensa:
The idyllic location at the foot of the Tramuntana mountain range is perfect for those who love nature, the outdoors, and spectacular views.
Pollensa is quiet and family friendly. If you have children of any age, there are nurseries, two high schools, three primary schools and several language academies nearby.
The town is well equipped with amenities and everything you need for comfortable living.
There is continued high demand and price stability in the area, due to the ancient streets, squares (plazas), and the variety of restaurants, artisan shops and art galleries.
The best hikes in North Mallorca are nearby including Puig de Maria, the Castell del Rei, the Vall de Ternelles and "La Atalaia de Albercutx".
Many properties have (or are eligible for) a rental license which means there is the opportunity to rent out your property to generate additional income.
Pollensa is a popular part of the island for agricultural activities and some excellent wine and oil are produced here.
Some things to bear in mind
During the off-peak season there can be lots of empty properties making it feel quite desolate.
Pollensa has a lack of parking and the streets are also very narrow which means driving and parking here is not for the faint-hearted.
Most renovation work will require town hall approval which can be laborious and time-consuming – it pays to hire a local architect to assist.
Although most conveniences are readily available, Palma is a good 50-minute drive from Pollensa should you want to make a trip to the capital.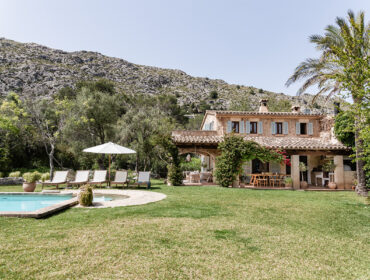 Unlike its closest seaside neighbours, Puerto Pollensa and Cala San Vicente, living in Pollensa is quieter offering families a slice of Mediterranean luxury.
Pollensa Price Guide
APARTMENT:
200.000 – 300.000 €
3-4 BEDROOM HOUSE:
400.000 – 850.000 €
TOWNHOUSE:
500.000 – 3.000.000 €
5+ BEDROOM HOUSE:
1.000.000 € + 3.000.000 € +
(Please bear in mind that prices are subject to change)
Types of property in Pollensa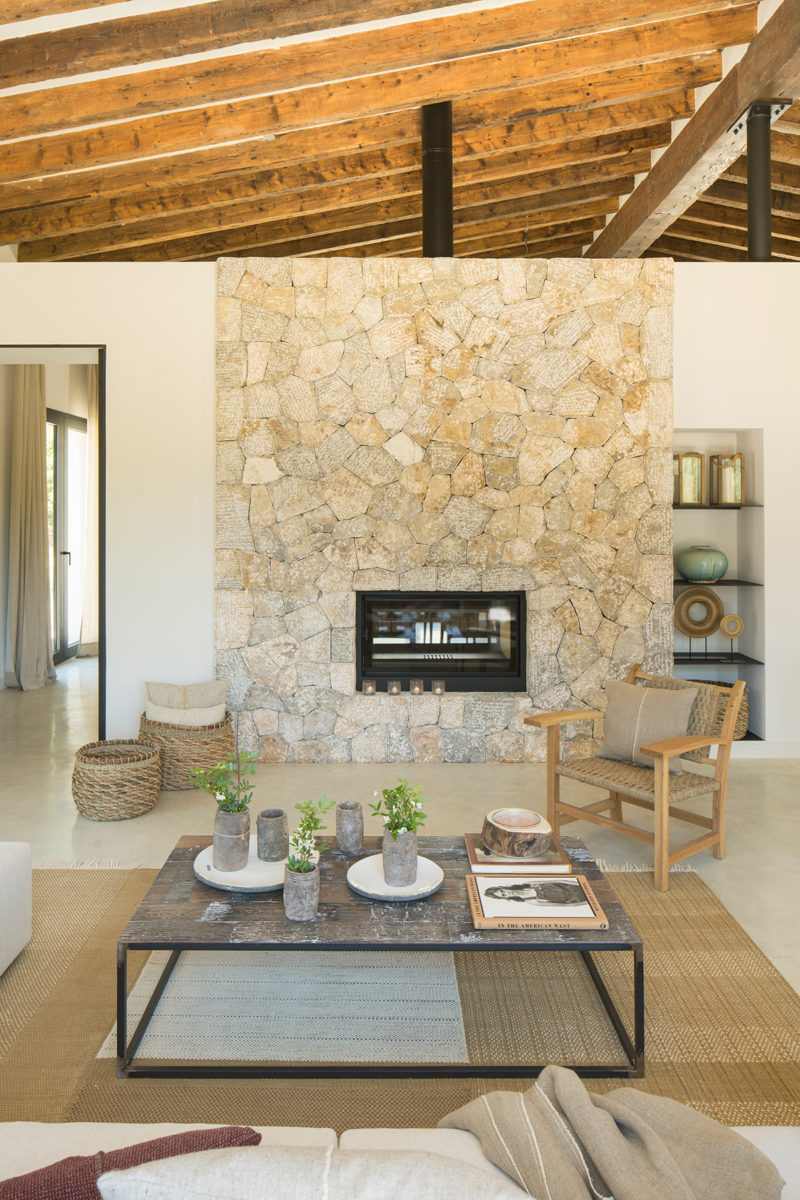 In the Village Centre
Properties in Pollensa's village centre have a long history therefore many buildings are listed/protected. The most traditional houses are located in the heart of the centre. These main streets include Calvari, Calle Mallorca, Calle Miquel Costa i Llobera (commonly known as Calle Mayor), and Calle Àngels. Here you will see villas and townhouses traditionally built with stone and mortar pointing, and some facades with lime-stucco coating. Interiors showcase exposed wooden beams and original stonework, whilst exteriors often feature inner courtyards and plunge pools perfect for cooling off from the hot Mediterranean sun. Townhouses present great renovation potential to fuse traditional architecture with modern day comforts such as the latest user-friendly home technology, underfloor heating, high quality bathrooms and designer kitchens. Along the iconic Calvari steps you can occasionally find villas that afford fantastic views over Pollensa to the Puig de Maria and mountains in the background. Properties in the centre are ideal for buyers who wish to experience the local way of life surrounded by local residents.
On the Outskirts
On Pollensa's outskirts within close proximity to the town you will notice a difference in age and build quality compared to that in the centre. Most of these properties were built post civil war using lower quality materials, however you will still find stunning rustic fincas and country houses. Many of these have been renovated by expats and are rented out to holidaymakers. Enchanting properties oozing character with Mallorcan features can be snapped up, often with large terraces, pools, mature Mediterranean gardens and plenty of space to while away the time. A renovation of one of these properties could present a unique opportunity to create the house of your dreams either as a holiday residence or permanent abode in a location in high demand. The more modern fincas generally maintain traditional architecture, where structure and design elements pay tribute to the Mallorcan culture. These properties situated on the outskirts are ideal for lovers of the rural life looking for tranquillity.
RULES AND REGULATIONS
In Pollensa there are certain building and renovation restrictions if a property is located in the historic centre of town. Be aware that sometimes there is a need to involve an architect (not compulsory however currently under revision). The restrictive building regulations favour the intrinsic value of existing properties and protect the existing nature.
What the Experts Say About Property in Pollensa
"Pollensa is tradition, character, culture and landscape! Everything you could possibly need."
"Always seek local advice from a knowledgeable specialist in the area. Always check the legality of a property and the applicable restrictions in terms of developing. LF91 can offer advice!"
Lucy Adamson, hc/ Mallorca Living

See below for more Villas for sale in Mallorca!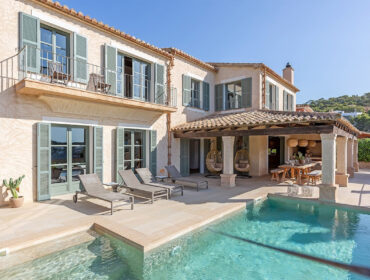 Discover the best Mediterranean villas for sale in Mallorca handpicked by Dr. Helen Cummins and team of local property experts.