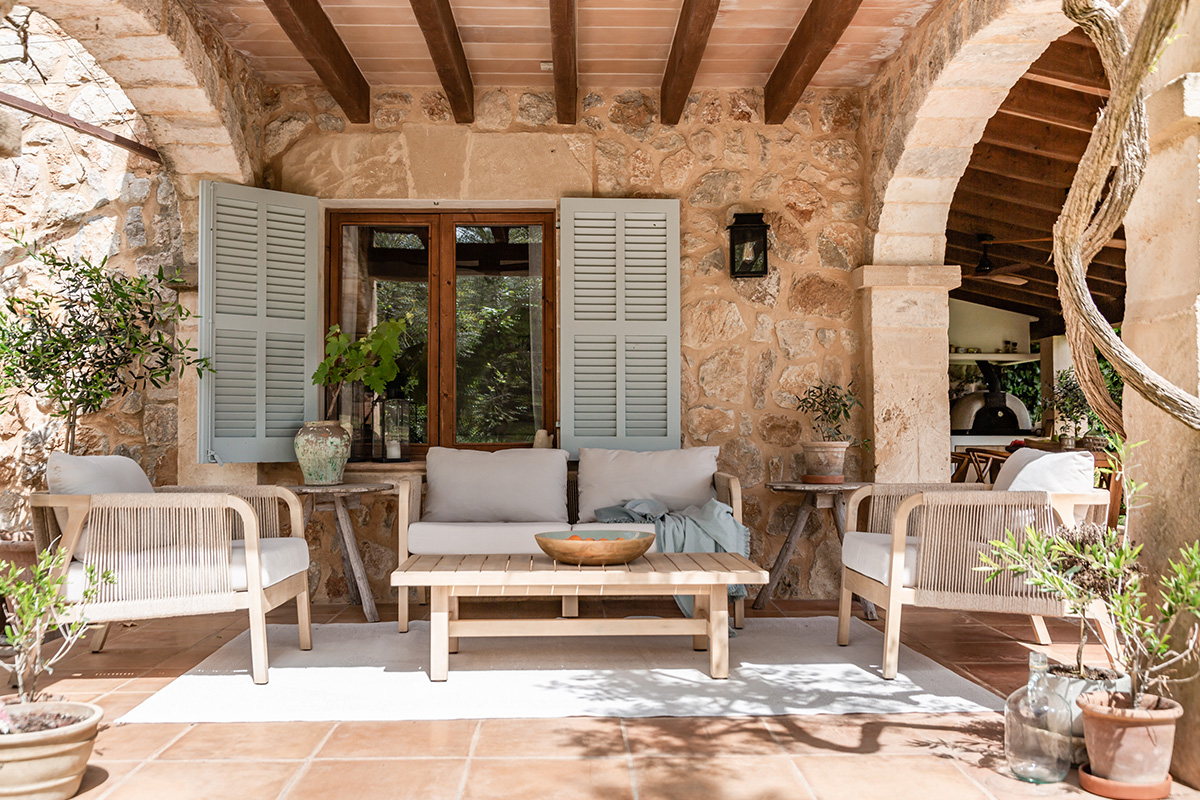 Photos by Pernilla Danielsson and two months of Instagram. That's all it took to send Leigh and Piller's country home in Pollensa into the media stratosphere and send thousands of followers into an online Mediterranean spin. Snippets of a lazy lunch on the terrace to a backdrop of blue shutters and sandstone arches fill their Instagram roll, inciting what some might call 'real estate FOMO'. However, for Leigh and Pille Morgan, the Tramuntana Farmhouse is their home. A tranquil place to spend time with their daughter while inspiring others to live the slow Mediterranean lifestyle.
The Mediterranean lifestyle made achievable
Although British by origin, the surname Morgan is well-recognised within Mallorca. Not least because of Leigh and Pille's real estate agency Morgan & Morgan, but also because of Leigh's father, Hugh Morgan, who is a keen player in promoting tourism within the Balearics. The name holds significance locally, which Leigh is keen to uphold through the exposure of his Tramuntana Farmhouse. "Our home is an example of the kind of lifestyle you can enjoy in Mallorca, one that is slower and more focused on family and having a good life here," says Leigh. "It's about shaping the life you want for yourself and knowing that it is achievable – start with what you like doing and work backwards from there. The right property is the end result."
Keeping it simple
The Tramuntana Farmhouse was first purchased by Leigh and Pille in 2019 after the constraints of living in a townhouse with a two-year old grew wearisome. They wanted something bigger to relax in, but close enough to their work and family in Pollensa. La Font on the outskirts of the historic town was the perfect choice.
On first approach, it was evident the property needed a renovation, but Pille saw past its dark and run down interior. "The terracotta flooring was just eating up the light so that was the first thing to go," she says. "Most of the walls were removed, except the kitchen and lounge area. The main focus was to bring in that SLOW Mediterranean feeling." Leigh agrees, emphasising the key to the whole project. "It's keeping it simple," he says. "Pille does such a great job in using materials and products made in Pollensa. You don't need to go too far to find inspiration. Forget your London Chelsea townhouse," he says, cheerfully. "If you love the Med, why complicate it?"
With a background in arts, events and education, interior design is not necessarily Pille's vocation. She even shies away from being called an interior designer. "I don't identify with it as a title," she says, modestly. For her, the reformation of their Tramuntana Farmhouse was about creating stability for her family. Designing for the Morgan clan and sharing time with loved ones. It just so happens that 1000s of others dream of the same. "We all buy into the Mediterranean lifestyle," confirms Leigh, "no-one is unique in that sense, no matter where they come from."
Text by Rosie Foot
Photos by Pernilla Danielsson
Explore similar property for sale in Pollensa!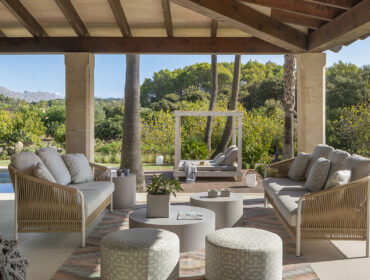 Favoured by those interested in a second home, property for sale in Pollensa attracts a high number of foreigners looking for the Mediterranean life.