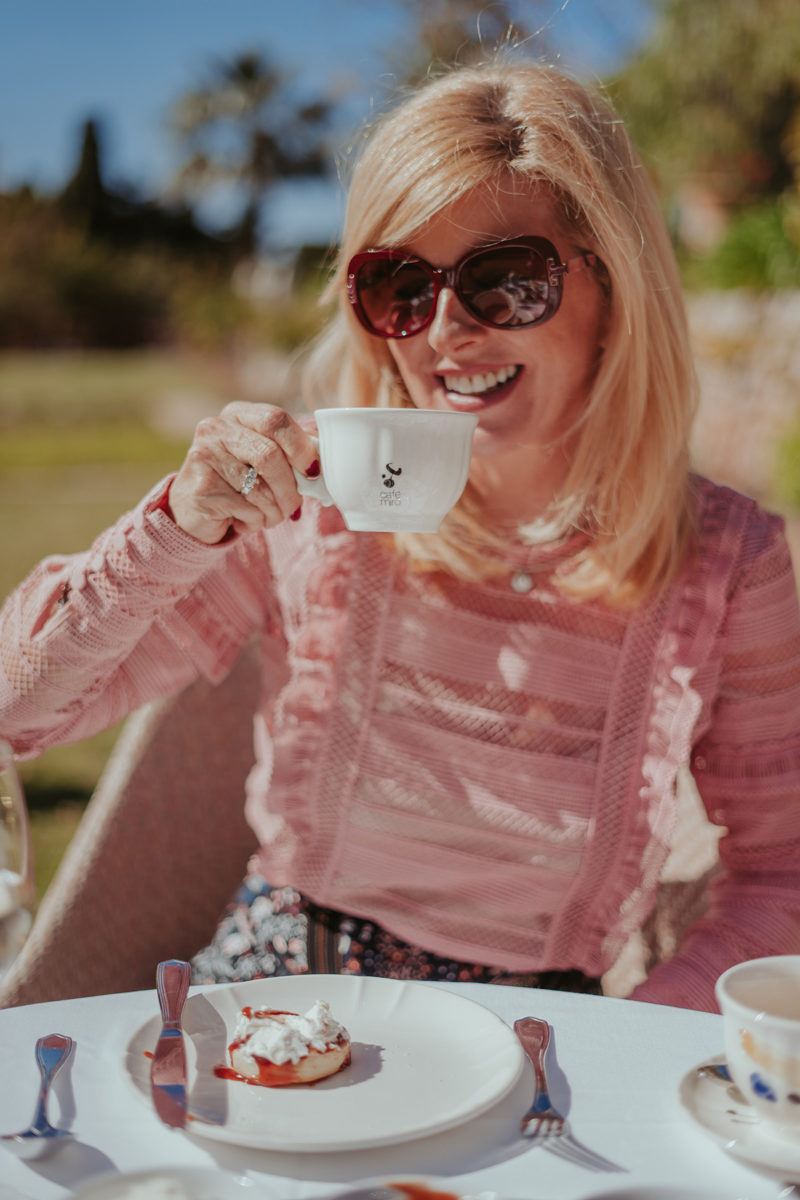 If there's one place on Mallorca that visitors remember first falling in love with the island, it's Deià. Located just inland on the northwest coast, this small but perfectly formed village has long been enchanting arrivals with its honey-hued stone houses, pretty winding lanes and lushly Sierra de Tramuntana surrounds (that some believe radiate a positive healing energy). Living in Deià is idyllic, but comes at a price as one of the island's most sought-after and expensive locations.
Its origins as a settlement go back to prehistoric times, but it was in the 8th century when the Moors created a sophisticated irrigation system and gave it the simple name 'ad daia' – or the village. After the Christian conquest, it flourished thanks to its fishing and olive and citrus fruit cultivation. The 19th century saw Archduke Luis Salvador of Austria captivated by the area, and he bought up much of the surrounding land to ensure its preservation.
It was English poet and novelist Robert Graves, however, who really put Deià on the map when he moved here in the 1930s. From then, it began to attract a steady stream of creative souls, and it soon gained a reputation as home to a thriving community of artists and musicians. A bohemian spirit continues to this day, but property prices in the village have soared so much to be out of the reach of almost all but the most affluent. The area continues to be a magnet for all kinds of international A-listers, many of whom have bought property in Deiá as second or holiday homes. Others choose, instead, to stay at the the five-star elegance of what has become the village's cultural and artistic hub – Belmond La Residencia Hotel.
Its reputation has made it a must-visit for many regular tourists, too, who enjoy its smattering of excellent restaurants, numerous pine forest footpaths, and small picturesque cove a short and scenic stroll away – the perfect spot for a fresh seafood luncheon, an afternoon dip, and a bit of celebrity spotting.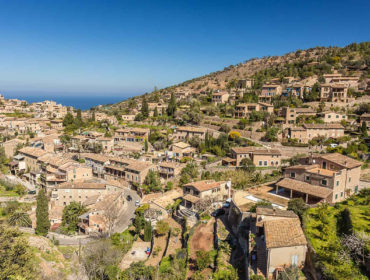 Will it be a rustic townhouse in the centre of Deià? Or buying a large estate with views overlooking Cala Deià? Find out all you need to know about buying a property in Deià!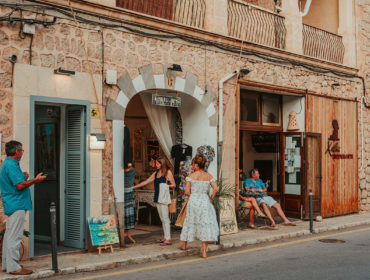 Want to know where artists and media moguls gather in Mallorca? Find out what makes living in the mountain village of Deià so special.
Good to know about Deià
Local language
Catalan (or its local dialect Mallorquín) is co-official with Spanish, or Castellano is it is more frequently referred to locally. Around half the population being non-native means English and German are also widely spoken.
Main Industry / Commerce
The industries of olive oil production and fishing have largely disappeared, with most commerce centred around arts, crafts, and tourism.
International Schools
Families with kids would have a 35-45 minute drive to the closest international schools in Palma, though there is a well-regarded public school in the village for children up to 12.
Distance
40-minute drive from the airport
40-minute drive to Palma
25-minute drive to Sóller
15-minute drive to Valldemossa
Transport
Bus: The L210 bus line connects Deià with Playa de Palma at one end and Port de Sóller at the other. From the Estació Intermodal stop in Palma, it's around a 45-minute journey.
Parking: There are a few small free parking areas in the village, plus some blue-line metered parking available. The largest paid car park is in the centre, but spaces become scarce as the season picks up.
Taxi: The village's taxi rank is located in the centre, just outside La Residencia Hotel. Expect to pay €40-50 for a trip to Palma and €50 to the airport.
La Casa de Robert Graves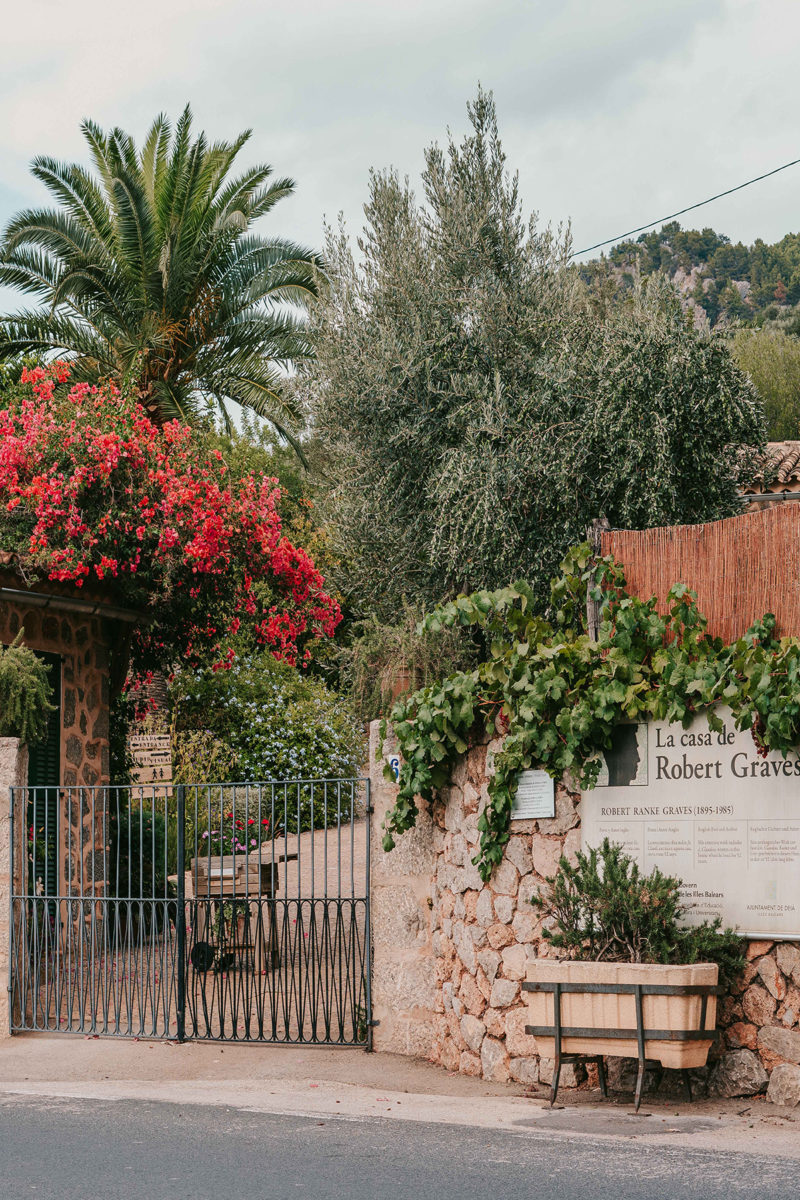 It would be inexcusable if Deià's most renowned resident wasn't honoured in some way, and this museum dedicated to Robert Graves is certainly a fitting memorial to the great writer. And even for those not familiar with his work, it is a wonderful place to visit.
Located on the northern outskirts of the village, the former stone house of the British poet and novelist has been transformed into a small museum devoted to his life and works. The house has been restored to how Graves found it when he returned to Mallorca in 1946 with his new family, offering a fascinating glimpse into the past.
The tour of the house begins in a small auditorium with a video introduction to the life of Robert Graves, and how he came to settle on Mallorca. Self-guided audio tours available in English, German, Spanish and Catalan. As well as perusing original scripts and texts of his work, you can wander around the beautiful garden filled with olive, lemon and orange trees, much of it planted by Graves himself.
After exploring the museum, you can head to Deià's picturesque cemetery located next to the church, where Robert Graves was buried in 1985 under a cypress tree.
Deià in photos
fg_lazyload
Views from La Residencia
Streets of Deià
Streets of Deià
Deià
Streets of Deià
Streets of Deià
Sa Foradada
Sa Foradada
Ca's Patró March
Streets of Deià
Streets of Deià
Robert Graves house
Experience Deià
Regardless of whether you're a long-term resident of village or a visitor just for the day, there is always something new to explore in Deiá. While it might be small in size, Deià sure does pack a punch when it comes to history, culture and cuisine. The intrepid explorer on the hunt for authentic Mallorcan charm will enjoy hiking to Cala Deiá or taking in the spectacular sunset at Son Marroig. Follow your heart and let Deiá inspire you with this list of top places to visit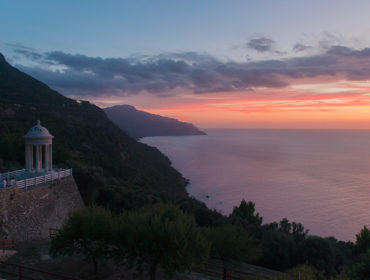 Discover all the must-see places in Deià in this exclusive insider's guide from editor Helen Cummins who shares her local knowledge.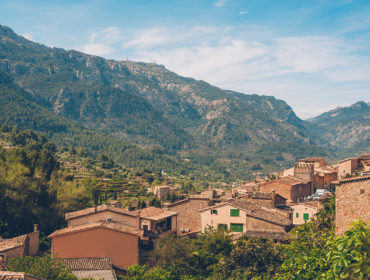 Did your favourite town in Mallorca make the list? Check out Helen Cummins' selection of the prettiest towns on the beautiful island of Mallorca.
Events in Deià
Sant Joan Festival
Sant Joan is Deià's patron saint and every June festivities kick off, also marking the start of summer on the island. Expect a range of activities such as sports events and live music, as well as the traditional fishing contest, which has been celebrated for more than thirty years.
Deià International Music Festival
Running from the start of June into September with concerts held at the Son Marroig finca, this event has become the most important classical music festival on the island. It's been going for over 40 years now, and attracts some of the finest musicians from around the world.
Deià Art Festival
This three-day arts festival is held around mid-October and is a hotbed of creativity that covers a wide range of artistic endeavours, from painting, writing and poetry to fashion, photography and film making. Dozens of artists take part from all over the globe, plus of course many from the village.
Restaurants in Deià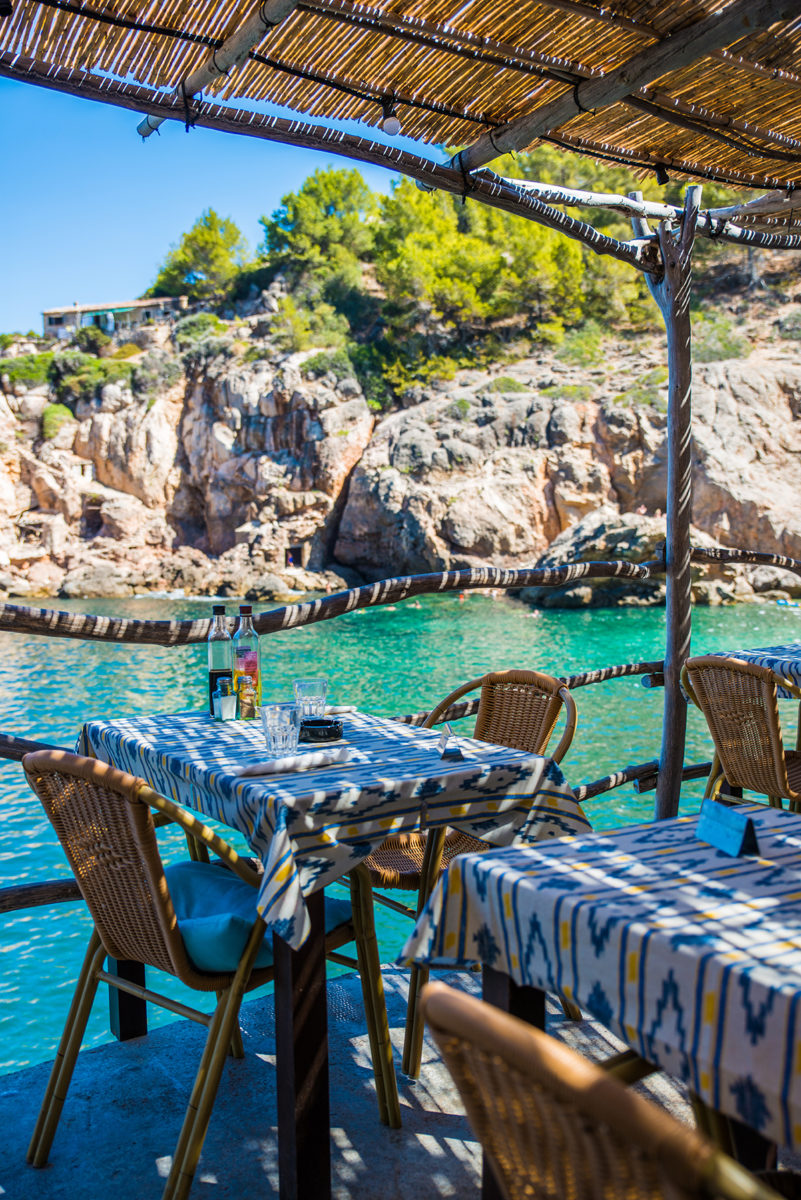 The petite village of Deià certainly more than outpunches its weight when it comes to its dining scene. It offers a fine selection of top-quality eating options. Most of the gastronomy focuses on utilising the best fresh, island produce such as locally caught seafood and 0km fruit and vegetables from the village itself or the surrounding area.
The majority of restaurants tend towards traditional Spanish and Mallorcan cooking, often with a sophisticated or creative twist. Many are family run, like the renowned Bens D'Avall, or with a husband and wife team at the helm such as Sebastian's, creating a friendly and personal atmosphere that suits the intimate vibe of the village. Housed in old stone buildings, interiors tend towards the cosy and rustic and perfect for a snug winter's dinner, while most of the year dining is very much an al fresco affair. You'll be hard pressed to find somewhere that doesn't have stunning views over the village or of the surrounding mountainscape.
As well as dotted around the centre of the village, half-hour stroll (or five-minute drive) away are two beachside restaurants in the beautiful cove of Cala Deià. The more famous of these is the Ca's Patro March, featuring unbeatable views over the water and of course some of fantastic fresh seafood.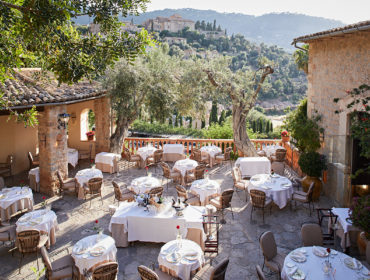 The Deià dining scene leans heavily towards Mallorcan and Mediterranean flavours with a focus on fresh local produce and top-quality ingredients.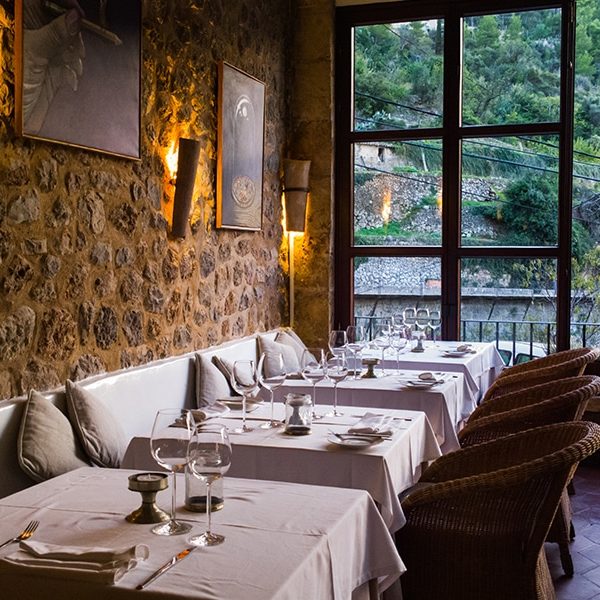 Here, Dr Helen Cummins gives us her pick of the most romantic restaurants on the island, perfect for celebrating an anniversary or engagement.
Read More →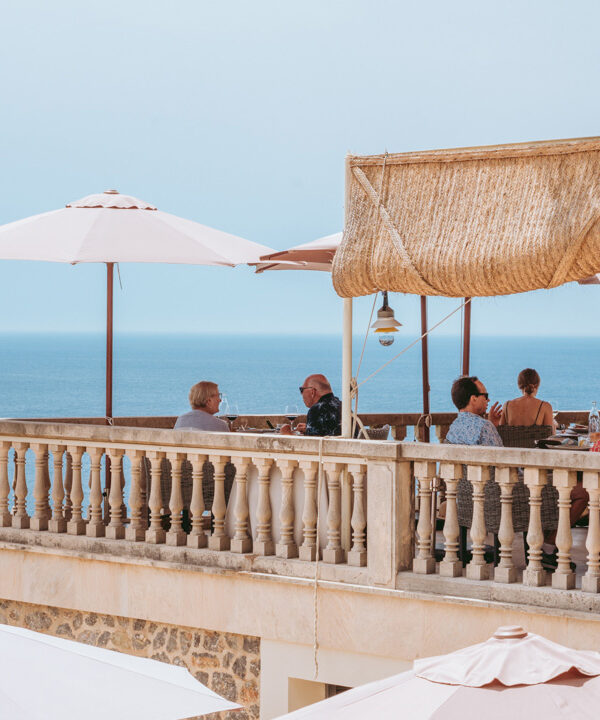 In 1971, a family restaurant opened by the sea in Sóller. Inspired by beautifully simple Balearic cooking, it was the award-winning Béns d'Avall.
Read More →
Nightlife in Deià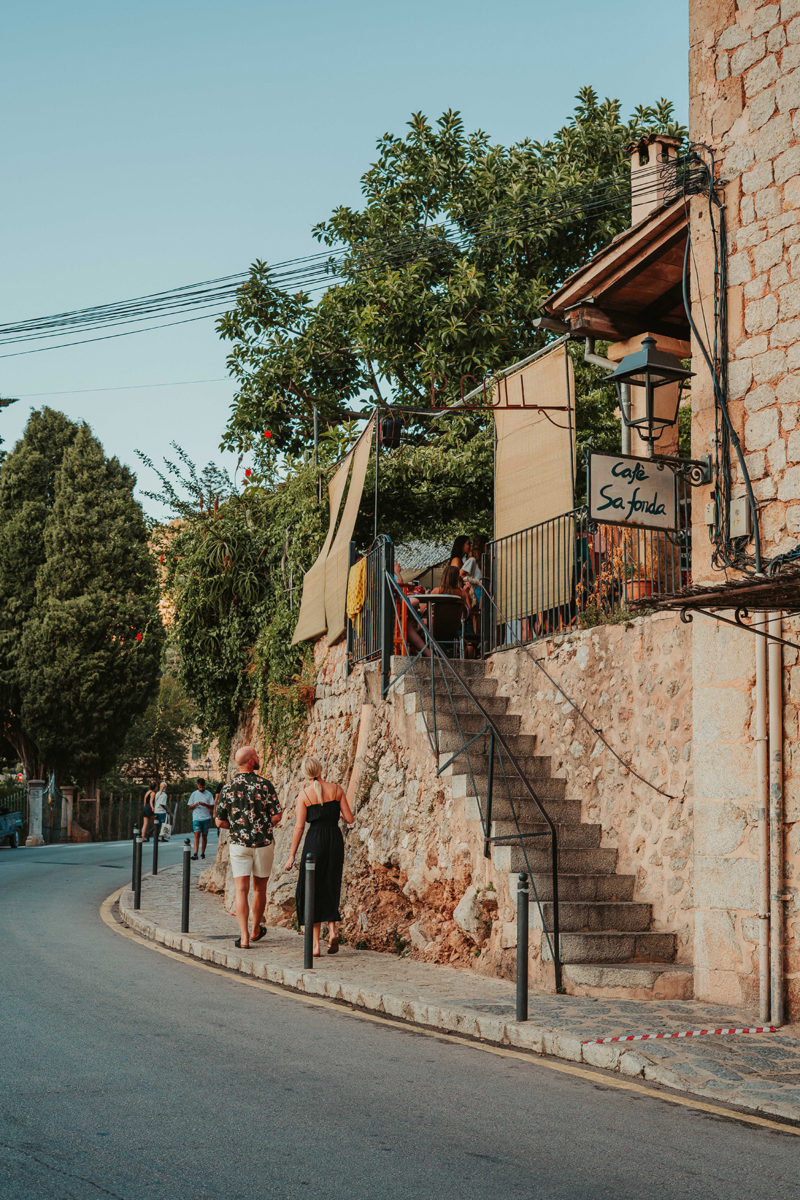 As you would expect from a small mountain village, nightlife is generally in short supply – especially over the quieter months. The undisputed place for partying, however, would be Sa Fonda. Opened in 1988, it has been the scene of some of the island's most legendary parties. Today, it still draws all kinds, from locals and expats to A-listers and holiday makers. Regular live music, DJ sets, and a fun-loving, casual vibe means it's buzzing terrace is the only place to party, especially on a balmy Saturday night in the summer.
A more recent addition to the village's nightlife 'scene' is the Nama Bar, a small cocktail bar attached to the Asian restaurant. Created by Deià resident and world-class designer Matthew Williamson, it's a sumptuously inviting space where you can nestle into a banquette and sip perfectly mixed creations in an intimate atmosphere.
Hotels in Deià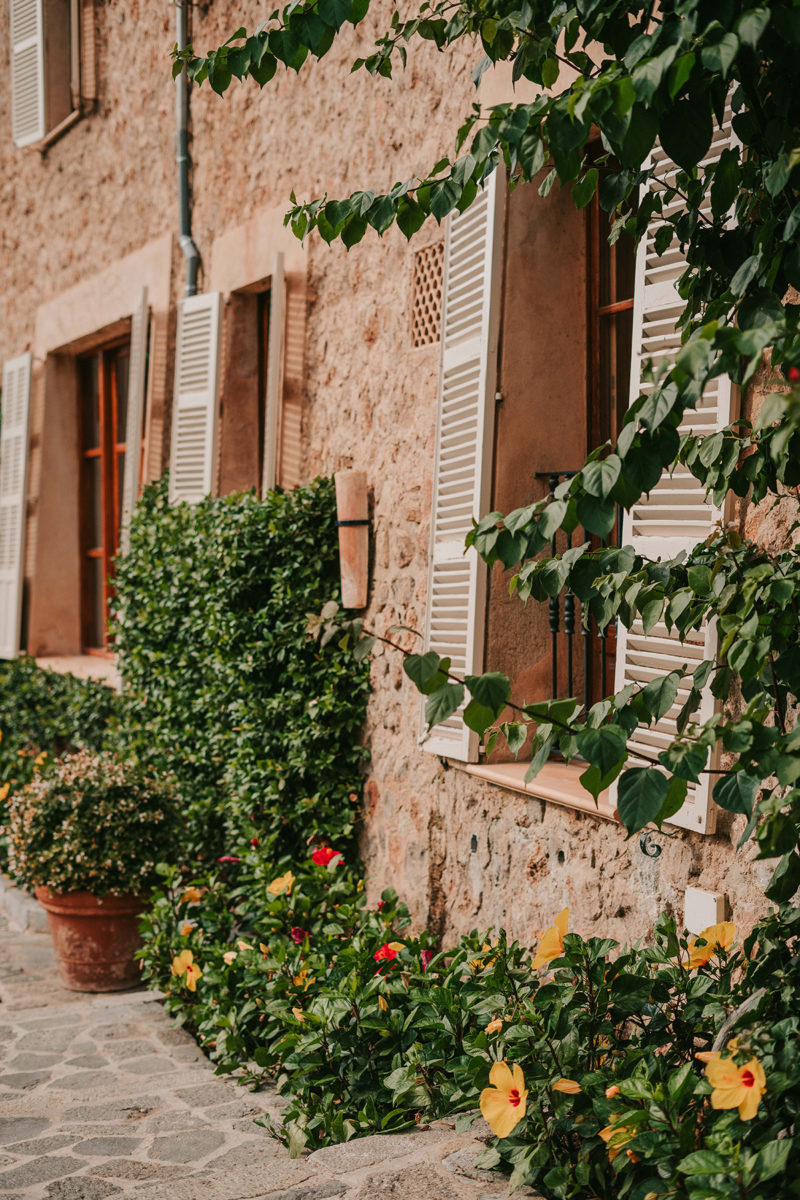 Unsurprisingly for its size, there are only a handful of hotels found in the village itself – but what there is, is rather nice. Belmond La Residencia certainly holds the crown, not just as the finest hotel in the area, but as one the best on Mallorca. Formed of two 16th-century country set in 35 acres of mature gardens, it commands some gorgeous views over the village and its surrounds. Once owned by Richard Branson, 'La Res' as it is locally known has also hosted a veritable roll-call of royalty and A-listers, from Princess Diana to Kate Moss.
Another lovely place to stay is Hotel Es Molí, set on a scenic hilltop setting on the outskirts of the village. Parts of these family-run lodging date back to the 15th century, while lush tiered gardens feature a spring-water-fed swimming pool and beautiful mountain views.
If you don't mind staying a little out of the village, adults-only Sa Pedrissa is an excellent option, a few minutes' drive from Deià centre ¬and with spectacular mountains-meet-sea vistas.
Hotel Des Puig is another popular pick. Located in the heart of the village, the eight-room hotel has an intimate rustic charm and a history of attracting literary and artistic types.
You can also find a few hostels dotted around the village, such as Refugi Can Boi, favoured with hikers on a budget. Up a narrow track from the village, the family-run Pension Miramar offers guesthouse lodgings in a converted 19th century finca.
Finding a Home in Deià
Various factors have happily conspired to ensure that Deià is today one of the best preserved villages on the island when it comes to its property. Charming traditional stone townhouses make up most of the housing stock, lining the often steep lanes that meandering through the village. Some appear little changed since their original construction, many sensitively restored, and others rebuilt in the local style. With most rising to two or three stories, you'll be hard pressed to find one lacking views of the stunning surrounds.
As you drift out from the centre, larger detached villas become a more regular sight, often superbly updated examples with 3-4 bedrooms, swimming pools and views over the village or sea. While modernised, most choose to keep interiors in a rustic style, with terracotta tiling and exposed beams. At the top end, the surrounding hills are dotted with grand luxury fincas, commanding some of the best views, and correspondingly extravagant price tags.
Being part of the protected Serra de Tramuntana, building restrictions are notoriously tight, meaning no 'white cube' architecture common in other parts of the island. Although limited, plots with planning permission are available to buy, though prices are steep.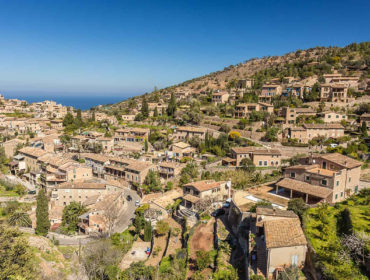 Will it be a rustic townhouse in the centre of Deià? Or buying a large estate with views overlooking Cala Deià? Find out all you need to know about buying a property in Deià!
Business & work in Deià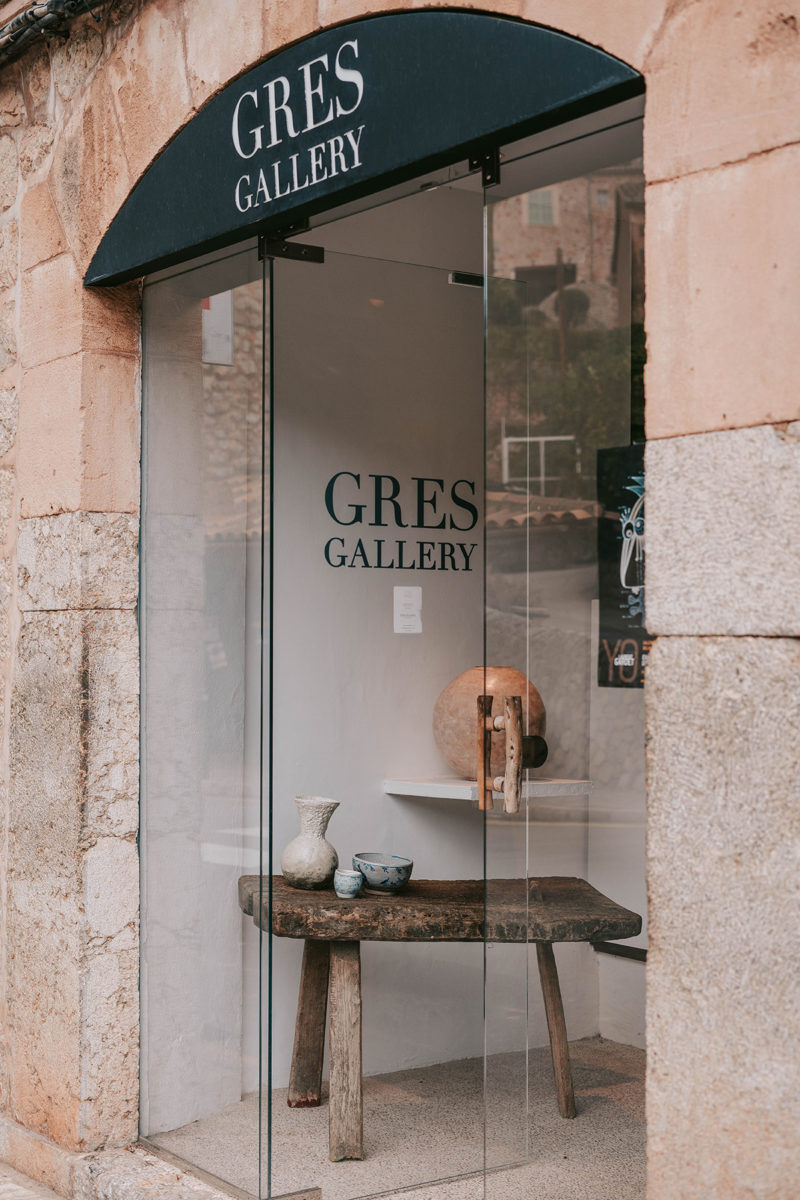 New arrivals in Deià are more likely to be comfortably retired than actively seeking work and, naturally for a small village, employment opportunities hardly abound. There are those who have opened businesses here, however, most centred around gourmet, arts and crafts, such as the ceramic Gres Gallery, or yoga retreats and spa treatments, in the case of Mountain Wellness.
One huge boon that Deià can claim is its extraordinary potential for networking. The remarkable number of celebrity connections the village can boast combined with the regular stream of high-profile individuals from all over the world, makes for what must be one of the most 'connected' villages in the world.
People: Locals & celebrities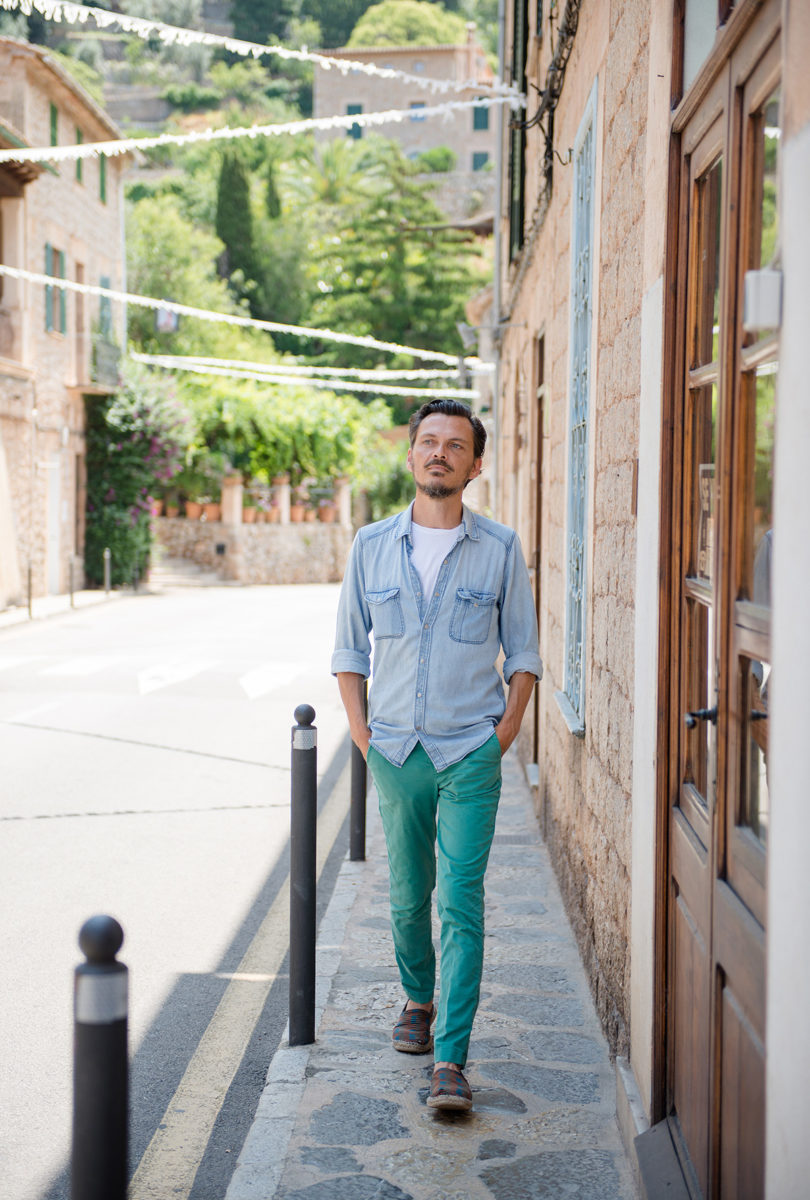 Only around half of the village's 600 or so officially registered residents are native Mallorcans, with family homes passed down through many generations. The rest of the population made up a healthy mix of northern European ex-pats, a handful of Americans, and even a few descendants of the bohemian arrivals. Some original artists from those days can still be found in the village, too – the colourful painters Arturo Rhodes and Cecelie Sheridan, who together with several other local artists make up a group who continue the village's artistic tradition.
Deiá is certainly no stranger to celebrity, with some of the world's top A-listers from David Bowie to Beyoncé and Diandra Douglas having spent time here away from the paparazzi. Andrew Lloyd Weber has owned a home here for many years, and visits regularly, while celebrated designer Matthew Williamson has also chosen to make it his home.
In recent years, the village has become a particularly popular destination for second homes of the super-rich, adding another element to the village's extraordinary mix. Every summer, you can also count on the influx of various socialites, actors and familiar faces to the village and its surrounds, safe in the knowledge they can enjoy their time free from gawking crowds.
Last Word
While its hippie heyday might be long behind it, the essence of Deià's bohemian past certainly lives on in the creative energies and pervading sense of serene remoteness it retains today. On the surface, it could be mistaken for another picturesque sleepy village, but scratch the surface and there's much more going on, attracting a roll call of celebrities, entrepreneurs, movers and shakers to this once-modest mountain settlement. Soaring property prices have given the village an exclusivity like few other places on the island, but without a hint of ostentation, glitz or garishness.
And Deià does remain an undeniable beauty, with its streams fed by mountain springs, lush flora spilling out over dry stone walls, and the ubiquitous honey-toned stone of its traditional rustic architecture. And despite its popularity, it's not somewhere that can be overrun – even in summer, a timeless stillness inhabits many of its corners.
There are many reasons why so many fall for the charms of Deiá, but Arturo Rhodes, Deià legend and one of its longest residents, probably puts it best: "Deià is a very strange place, and really quite unique."