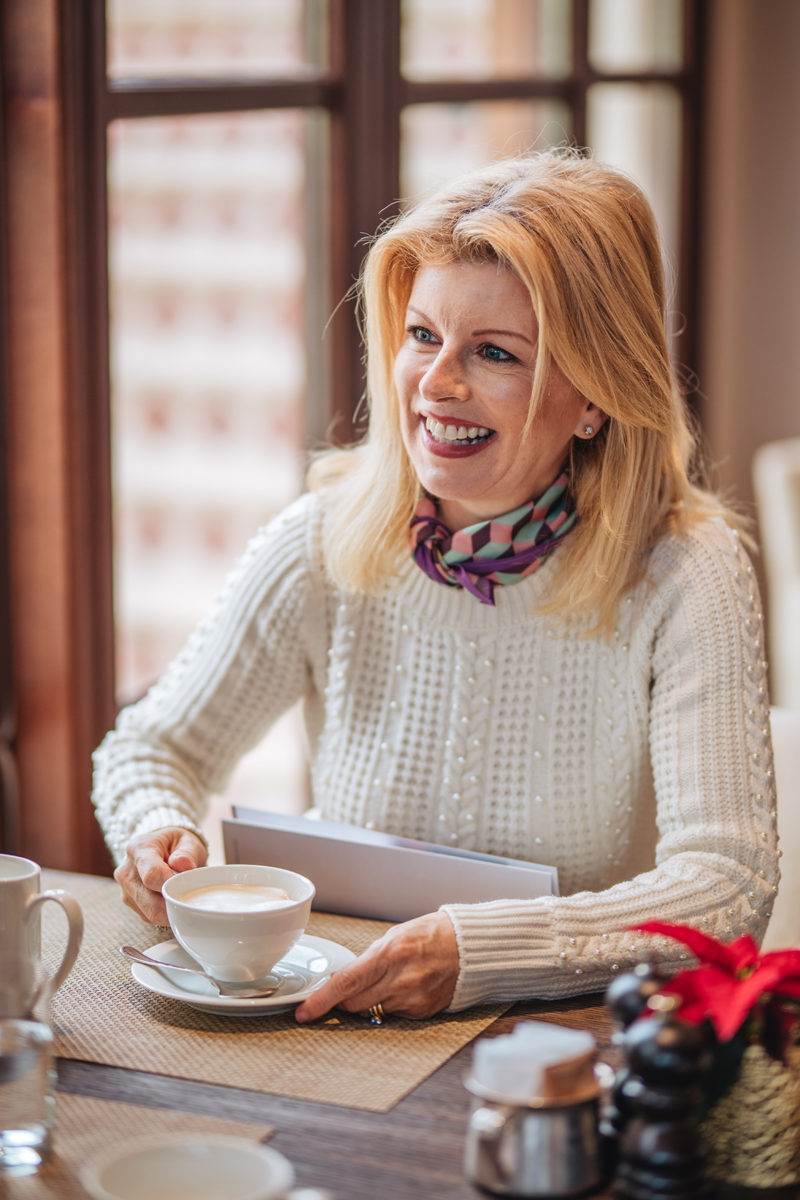 Son Vida, commonly referred to as the "Beverly Hills of Mallorca", is a luxury residential area on the outskirts of Palma, highly sought-after as a place for the rich and famous to purchase their slice of paradise.
Long, leafy lanes lead to architect-designed, lavish homes of varying tastes and styles at a price guide of no less than two million euros. The urbanisation is home to three golf courses, Son Vida, Son Quint and Son Muntaner, and complemented by two five-star hotels that attract celebrities from around the globe including world leaders, royalty and dignitaries.
As a long-time resident of Son Vida, Helen Cummins knows the area well, regularly playing at one of the golf courses and relaxing at the Castillo Hotel Son Vida Spa. The neighbourhood itself is quite small (around 450 homes), but as Helen affirms, it's growing in popularity with more luxury properties being built every year. Property in Son Vida is by far Palma's most expensive, but the price promises more than just a beautiful home. Within the secure area, Son Vida residents benefit from unspoiled views of Palma bay, absolute privacy and a thriving community of people from all over the world.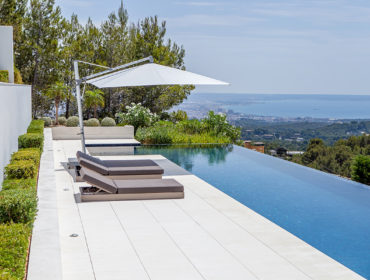 Known as the 'Beverly Hills of Mallorca', Son Vida promises a wealth of luxury properties for sale which are ready to move into immediately.
Good to know about Son Vida
Local language
Catalan is co-official with Castellano, the official language in Spain. Son Vida is home to a large ex-pat population so expect to hear other European languages particularly English and German.
Main Industry / Commerce
Son Vida is a hot-spot for property development, construction, health and wellness.
International Schools
Several private international schools are within a 15min drive including:
Queens College
Lycée Français de Palma
Baleares International College
Bellver International College
Agora Portals International School
Distance
20-minute drive from the airport (Approx. 25 euros in taxi)
10-minute drive to Palma centre
15-minute drive to Puerto Portals
10-minute drive to Juaneda, Palmaplanas and Rotger hospitals (private)
12-minute drive to Son Espases hospital (public)
Transport
Bus: The no.7 bus on C/ Raixa takes you directly to Plaza España where further connections can be made.
Parking: Areas to park include all three golf courses and both hotels.
Taxi: There is no taxi rank in Son Vida, but given the proximity to the centre, Palma taxis are prompt. Otherwise, those staying at one of the Son Vida hotels can have a taxi or private transfer arranged for them.
Download the MobiPalma app for more transport info
Golf courses in Son Vida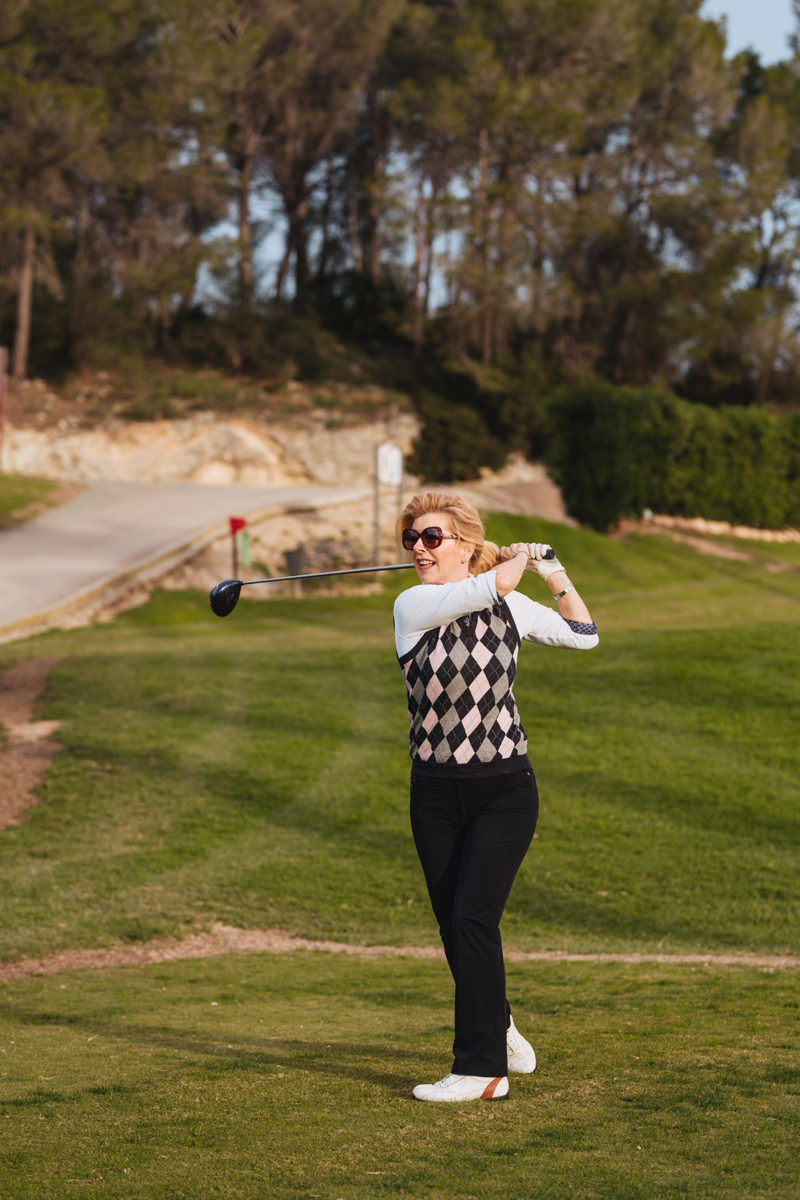 SON VIDA
Opened in 1964, Golf Son Vida is the oldest golf course in the Balearic Islands. It is an 18-hole course with par 71 and from the yellow tee-offs 5601 metres long. The first 9 fairs are hilly, uneven and quite narrow requiring maximum concentration. However, this changes in the back 9 which consist of wider and flatter paths framed by trees and stunning villas. This prestigious course has hosted on two occasions the "Open de Baleares" part of the European Tour. Players of the magnitude of Severiano Ballesteros and Barry Lane have been challenged by the course's technical design.
SON QUINT
Inaugurated in 2007, Son Quint is the youngest golf course in Mallorca. Designed by Ramón Espinosa and Kurt Rossknecht, this course has been created with relaxation in mind. Son Quint has views over the Bay of Palma, which feeds into its calming and stress-free ambience. The 18-hole par 71 course has a length of 5705 metres. At tee 8, the highest point of the course, players can tee-off facing Palma Cathedral. The well-placed bunkers will challenge even experienced golfers, and four different tee-box positions enable a variety of play. The "Warm-up Area" next to the Son Quint clubhouse is a good place to practice your swing before starting your game.
SON MUNTANER
Son Muntaner opened in 2000 by course designer Kurt Rossknecht but underwent an ambitious refurbishment in 2016. The newly produced fairways and re-seeding of greens has made this course one of the most ecological in Mallorca – the type of grass planted requires very little water. Nestled in the mountains of "Na Burgesa", Son Muntaner offers a real challenge for all handicap classes. This 18-hole course has a total length of 6305m with par 72. At hole 15 there is "Na Capitana" which is the oldest olive tree in Mallorca said to be over 1000 years old. Professional players regularly train here including German golfer Martina Eberl who has used Son Muntaner as her training course for years, particularly during the winter months.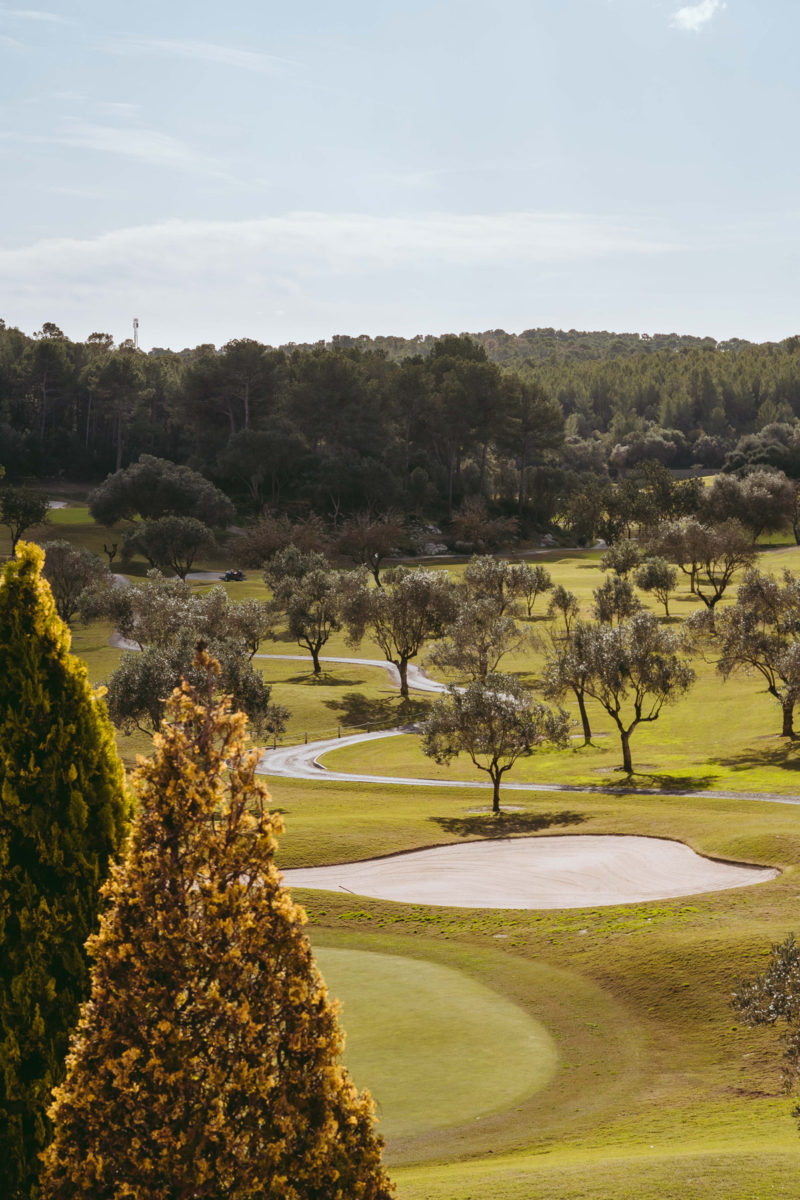 BEGINNERS OF GOLF
For those new to golf, the Pitch + Putt at Son Quint is where to learn. It is the only Pitch + Putt course on the Balearic Islands and offers beginners the space to enjoy the game without the pressure of an 18-hole course. It's a great place to have fun and hit a few balls! No dress code is required and it's possible to rent clubs. For golf lessons, the Golf Natural Guidance Academy at Son Muntaner (one of the largest on the island) offers a more intense introduction to golf, where both adults and children can improve their technique. Students can take private lessons with a professional or learn as part of a group. Classes are available in six languages.
All three golf courses in Son Vida are managed by Arabella Golf Mallorca and each include a restaurant and Pro Shop (open 365 days a year). In Son Quint, players will find an Outlet Corner where well-known brands are sold at discounted prices, as well as an outdoor swimming pool and a good spot for events.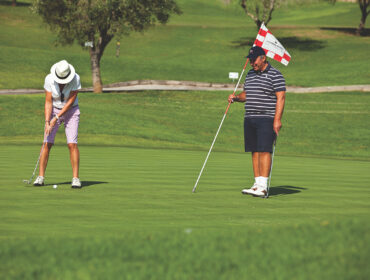 Golf in Son Vida is one of the highlights of living in the area which guarantees unspoiled fairways and beautiful views overlooking Palma de Mallorca.
Son Vida in photos
fg_lazyload
Castillo Hotel Son Vida
Golf Son Vida Store
Golf Son Vida
Sheraton Mallorca Arabella Golf Hotel
Golf Son Muntaner
Son Vida Resident's Summer Cocktail Party
Sheraton Mallorca Arabella Golf Hotel
Castillo Hotel Son Vida
20th Sheraton Anniversary
Alexandra Schörghuber
Golf Son Vida
Experience Son Vida
Son Vida is largely a place of residence where people live in tranquility. Its single road entrance and exit plus its 24-hour security service make it one of the safest places to live, hence its appeal to celebrities and affluent individuals in want of privacy.
Son Vida residents have the best of both worlds, surrounded by rural tranquility yet only 10-minutes from Palma centre. It serves well as a weekend retreat for golfers while also providing the perfect place to raise children. Its quiet roads, rolling hills and nearby international schools make it ideal for families.
A visit to Son Vida would be attractive to those with a passion for golf and fitness. For residents of Palma, a day in Son Vida might include a round of golf, lunch at one of the clubhouses, followed by a massage and relaxing swim at the Castillo Hotel Son Vida Spa. Afternoon tea is recommended at the hotel's Bar Armas and includes fantastic coffees, cava, chocolates and pastries – prior reservation is needed.
Balearic resident offers are regularly available on the discounts page.
Events in Son Vida
Junior Academy Tournament
This tournament is organised by the Academy at Son Muntaner and runs throughout the year (normally in the spring). It is open to players practicing at the Academy and is a good introduction to playing golf competitively.
Ryder Cup Social
Over the course of two days, the Ryder Cup Social is when members of the Arabella Golf Mallorca come together to play against each other. Players must be at least 21 years to participate and have valid ID. Entry fee includes lunch and snacks.
Member's League Lottusse
Exclusively for Arabella Golf Mallorca members, this tournament runs throughout the year on all three courses. There are usually 6 rounds and 4 groups: male, female, handicap male and handicap female.
Campeonato de Baleares de Pitch & Putt
A two-day event where 72 participants compete at Stroke Play Scratch consisting of 36 holes in total. Each day 2 rounds are played on a 9-hole course. Entry fee is required. Juniors get 50% off.
Son Vida Café
Over the summer, Son Vida Café at Castillo Hotel Son Vida hosts a programme of concerts, welcoming a diverse selection of musical talent from all over the world. The event starts in July and finishes in September.
Note: All golfing events and entry fees are subject to change. Check the Arabella Golf website for the latest competitions including festive-themed tournaments over the Easter and Christmas season.
Restaurants in Son Vida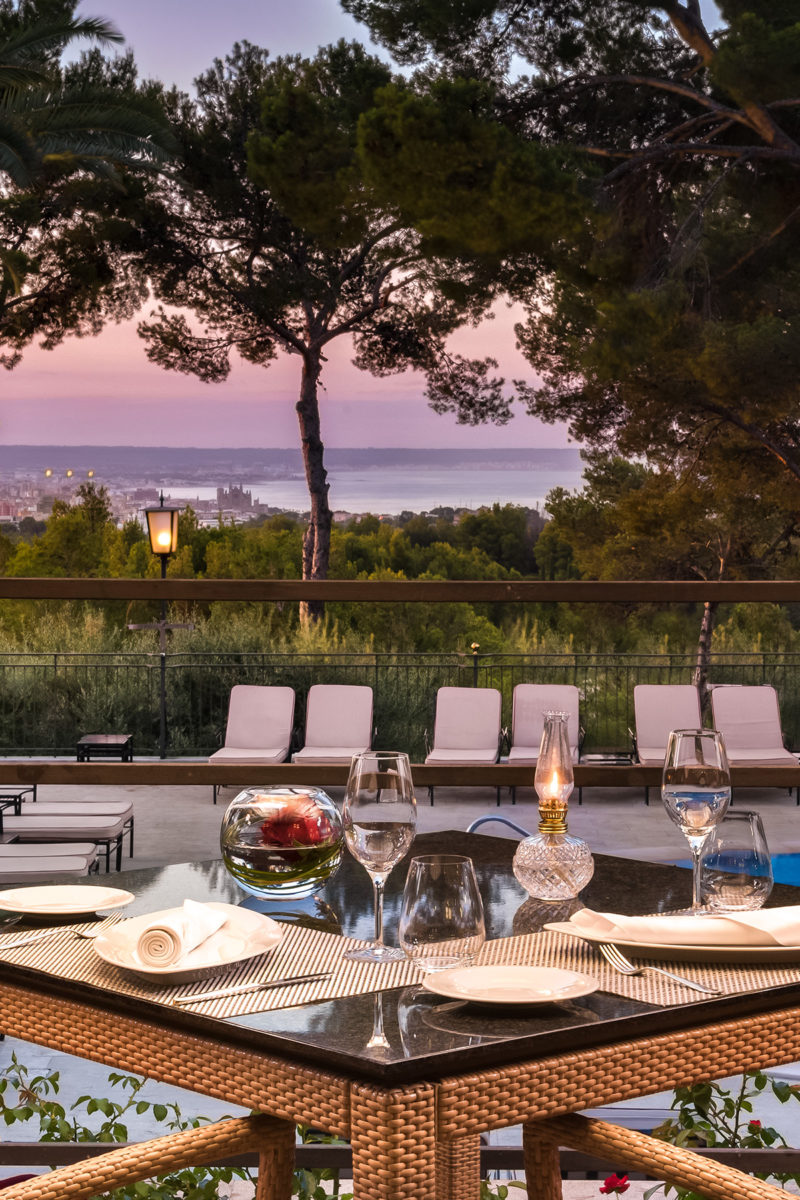 Given Son Vida's affluence it is a surprise to some how few restaurants there are, only found either within a hotel or clubhouse. Es Castell in the Castillo Hotel Son Vida offer typical Mediterranean cuisine in true fine-dining style. Es Ví is recommended for its play on traditional Mallorcan ingredients and delicious flavours in a relaxed and laidback setting. The outside terrace is hailed as "The Balcony of Mallorca" and is a must-visit in the summer months. Diners can enjoy their evening meal overlooking a gorgeous view of Palma bay which – when graced with an orange sunset – is very romantic.
For a more laid-back style of dining then restaurants La Bodega del Green and Es Carbó at the Sheraton Hotel would suit. Es Carbó with its inviting ambience is decorated in warm tones and has a terrace with views of the Son Vida golf course. Or take the staircase down to La Bodega del Green where diners will find a good pairing of wine and tapas served in a sophisticated fashion.
More casual still are the Son Vida, Son Quint and Son Muntaner clubhouses, offering golfers a well-earned respite. The food here fills its purpose in feeding hungry golfers with a good selection of snacks, dishes of the day and a-la-carte menu. All three promise views of the golf course and a comfortable interior to kick-back and relax in. Out of the three, the Son Quint restaurant is privately managed and therefore differs in its quality and service. It's regularly enjoyed as a venue for weddings, christenings and corporate events.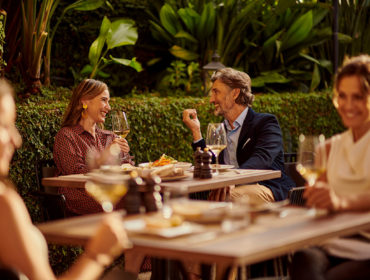 Beautiful views and high quality cuisine can be expected at Son Vida's top restaurants, many of which are set within its three golf clubs and two luxury hotels.
Hotels in Son Vida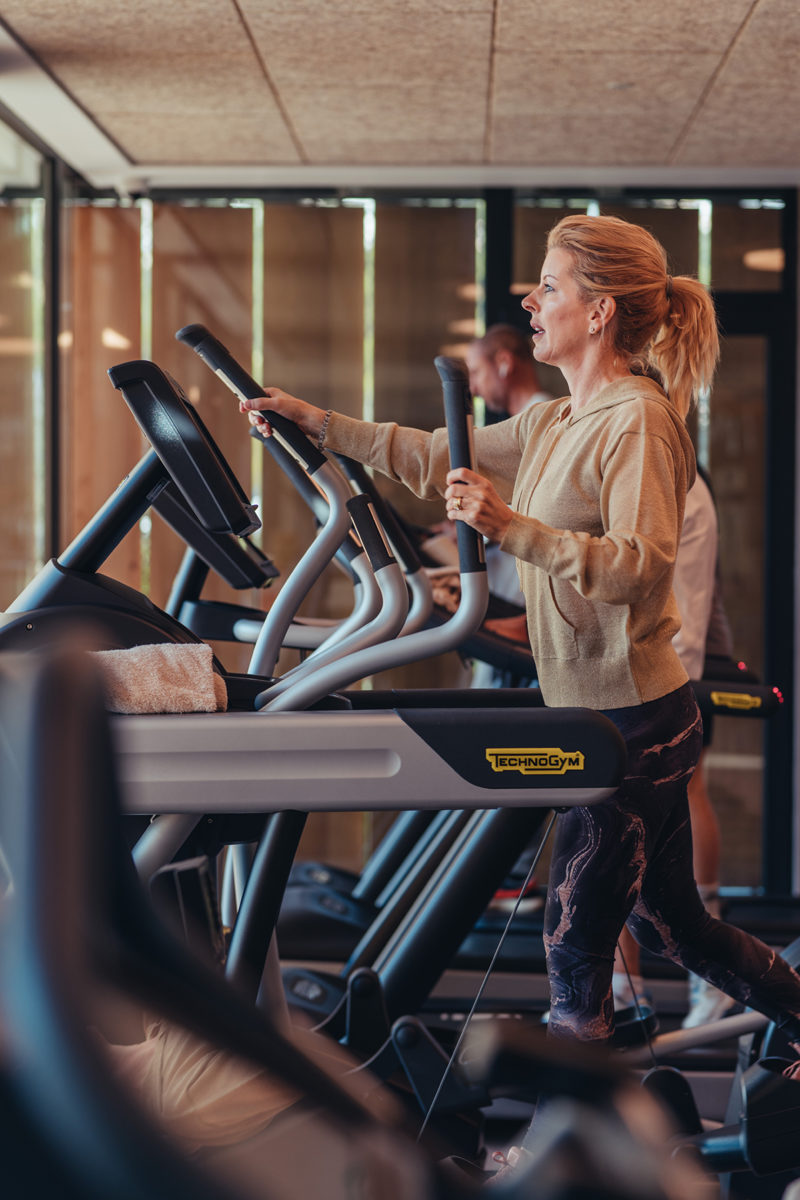 CASTILLO HOTEL SON VIDA
The Castillo Hotel is a restored 13th century castle surrounded by tropical gardens and incomparable views of Palma. With its 164 rooms and suites – including the iconic LOEWE suite designed by Spanish designer Enrique Loewe – the Castillo Hotel is perfect for a romantic break away. Since 2007, the hotel has become a member of Starwood Hotels & Resorts' Luxury Collection, joining the ranks of some of the world's most unique hotels.
THE SPA AT CASTILLO SON VIDA
There's a wide range of treatments to choose from at the Son Vida Spa where experienced therapists offer bespoke massages. The 24-hour gym includes the latest equipment where guests – if they so choose – can benefit from a personalised training programme. Having opened in 2018, all the facilities are top of the range and include a Finnish sauna, steam bath and large indoor pool.
THE SHERATON MALLORCA ARABELLA GOLF HOTEL
The Sheraton Mallorca Arabella Golf Hotel is less distinguished than its sister hotel, but no less accommodating. Its understated décor offers a comfortable place for golfers and families to rest after a day on the course. Guests could not find a better place to stay for ease of access to the Son Vida golf course – the hotel is within just a few metres of the nearest putt. There is a shuttle bus that runs between the two hotels making it easy for golfers to access the other golf courses.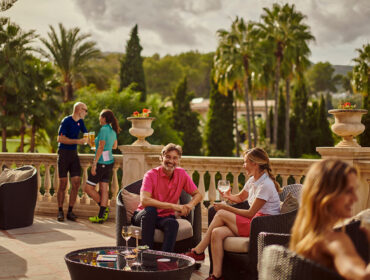 Take advantage of the local facilities on offer when you live in Son Vida with two five star hotels, a variety of restaurants and two luxury spas.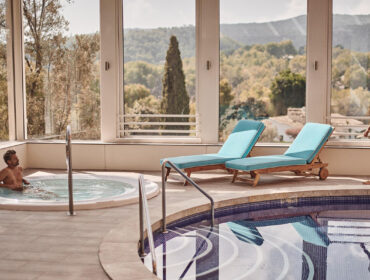 If you're thinking of living in Son Vida, the Castillo Son Vida Gym & Spa is where you'll want to spend your time training and relaxing.
Property in Son Vida
Property in Son Vida is in high-demand, a honey-pot for investors and real estate agents. Every year more properties are being built, attracting the island's best architects and designers to the area. Projects like the Son Vida Residences include properties with top-of-the-range specifications, private swimming pool and terrace.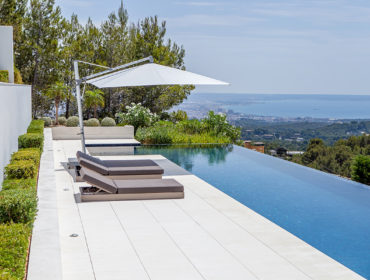 Known as the 'Beverly Hills of Mallorca', Son Vida promises a wealth of luxury properties for sale which are ready to move into immediately.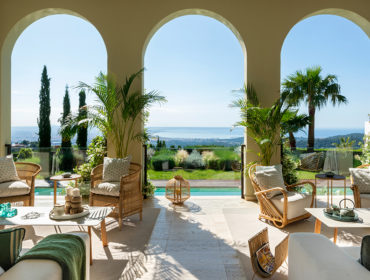 After three years of redesign and input from designer Andrea Pussin and gardener Stephen Woodhams, Helen's home in Son Vida is ready to be enjoyed.
Business & work in Son Vida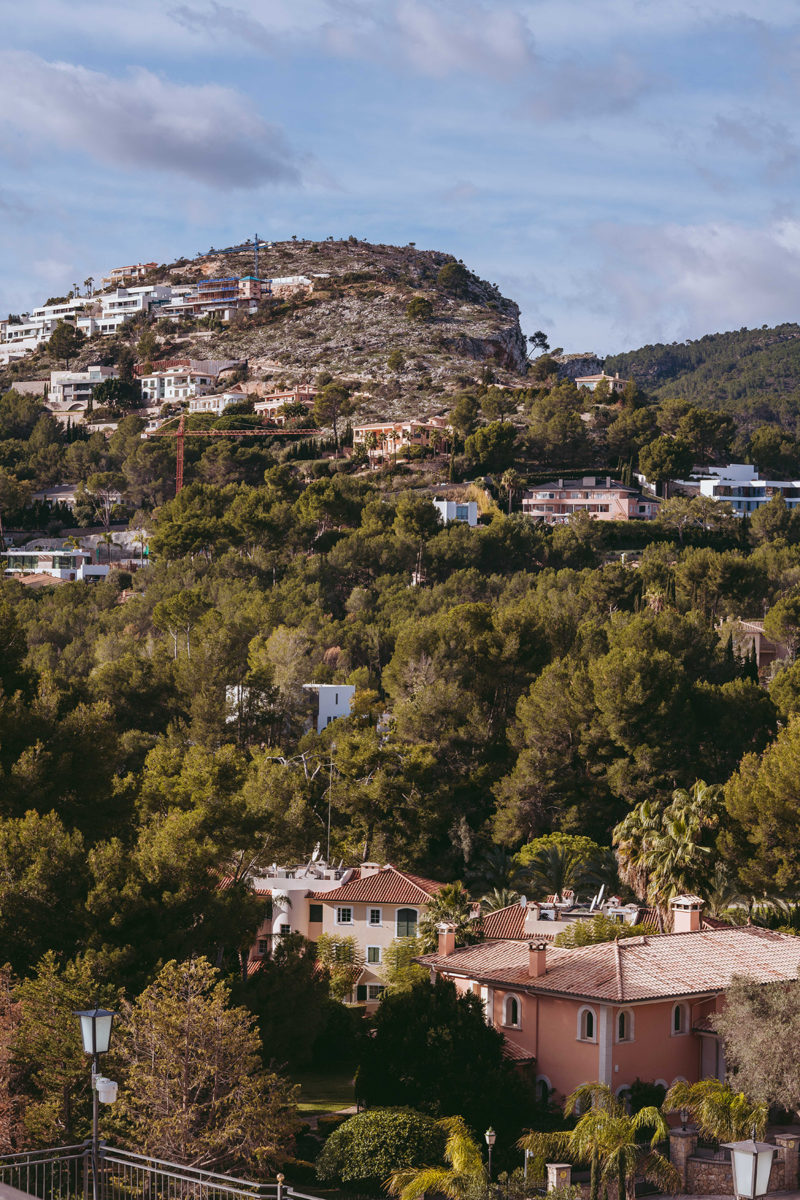 Business is limited to a few key areas of enterprise in Son Vida. Property development and construction are the largest sectors fulfilling the demand for interested buyers. Cranes regularly dot the surrounding hills where areas of Son Vida are being developed for new projects. French property developers Fabien and Charlotte Leduc chose to build in the area having fell in love with the tranquility. Although, like many others, the couple didn't just settle for an average house-build. Construction companies like Llull Sastre are keen to push boundaries in Son Vida – seen no more clearly than the avante-garde villas that circle Son Vida golf course (including Fabien and Charlotte's).
Other areas of work include health and tourism. Thanks to the three golf courses and two hotels, jobs in maintenance, hospitality and hotel management are regularly advertised. For any customer-facing role, knowledge of English is useful given the international golfing appeal. Other languages including German and Swedish would be also advantageous.
For those searching in other sectors, Palma city centre is a short car ride away. Job-hunters can expect to find all matter of businesses in the capital from real estate to cultural venues to Michelin-star restaurants.
People: Locals and Celebrities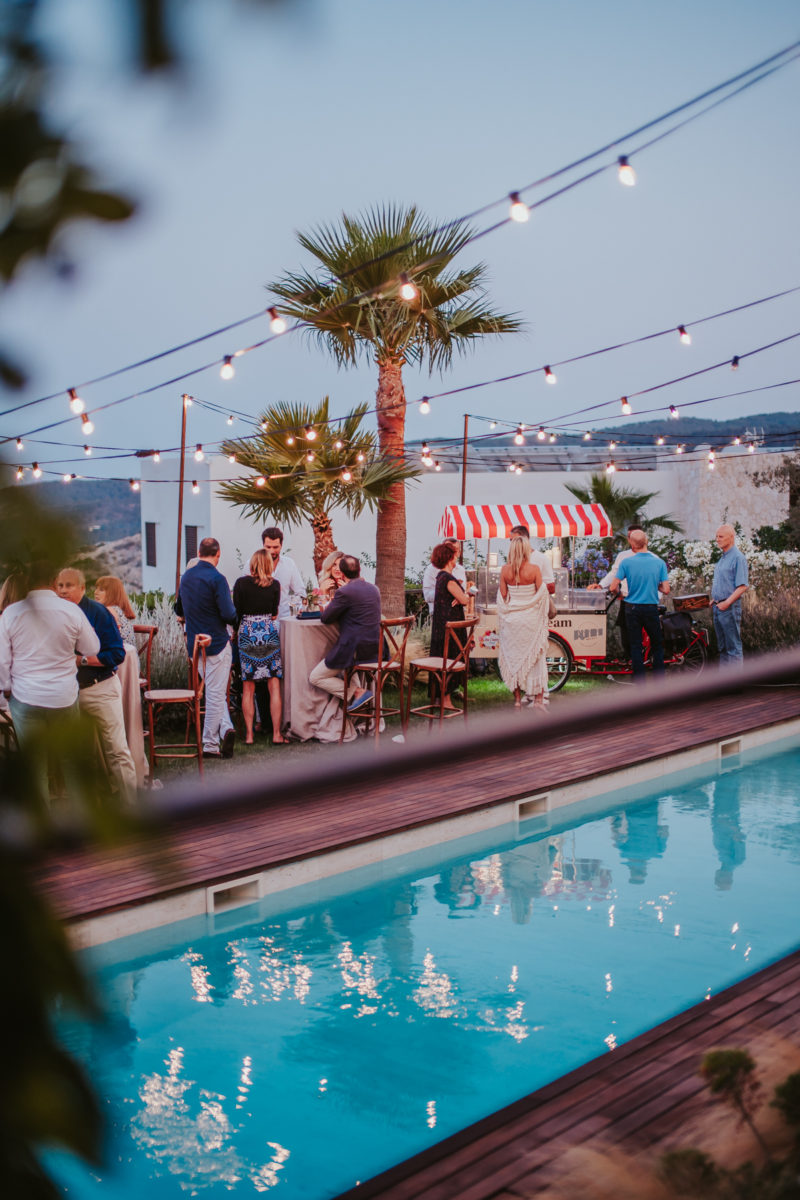 Son Vida is a magnet for international celebrities and well-known names on the island. Art-collector Drew Aaron has bought a home in the area, as well as former English football player Steve McManaman with wife Victoria. The privacy that pervades Son Vida ensures that the residents that live there maintain a quiet life away from the spotlight. However, celebratory events like those hosted by Helen Cummins and Alexandra Schörghuber ensure that the Son Vida community regularly comes together. In turn, residents feel a strong bond with their neighbours, but also feel respected when it comes to their personal lives.
The Castillo Hotel Son Vida is the area's major hot-spot for visiting celebrities on Mallorca. Princess Grace (Grace Kelly) and Prince Rainer of Monaco were among the first guests to attend and host a party there, while some years later Steve McQueen and John Wayne chatted over drinks at the bar. Royal family members, sheiks, playwrights, producers and actors have all stepped foot inside and continue to do so to this day, most recent being Claudia Schiffer and Pedro Almodóvar.
The Last Word
Son Vida is luxury defined on Mallorca. Exclusive villas at prices reaching well into the tens of millions are found here and show no sign of waning. Property development in Son Vida remains consistent which calls for the island's best architects and designers to apply their best work. Therefore, when combined with manicured lawns and hill-top views, living here is like a dream. It is peaceful and calming, in part due to how well-kept and maintained everything is. Only within this exclusive community will you find some of Mallorca most incredible houses, and equally incredible people.