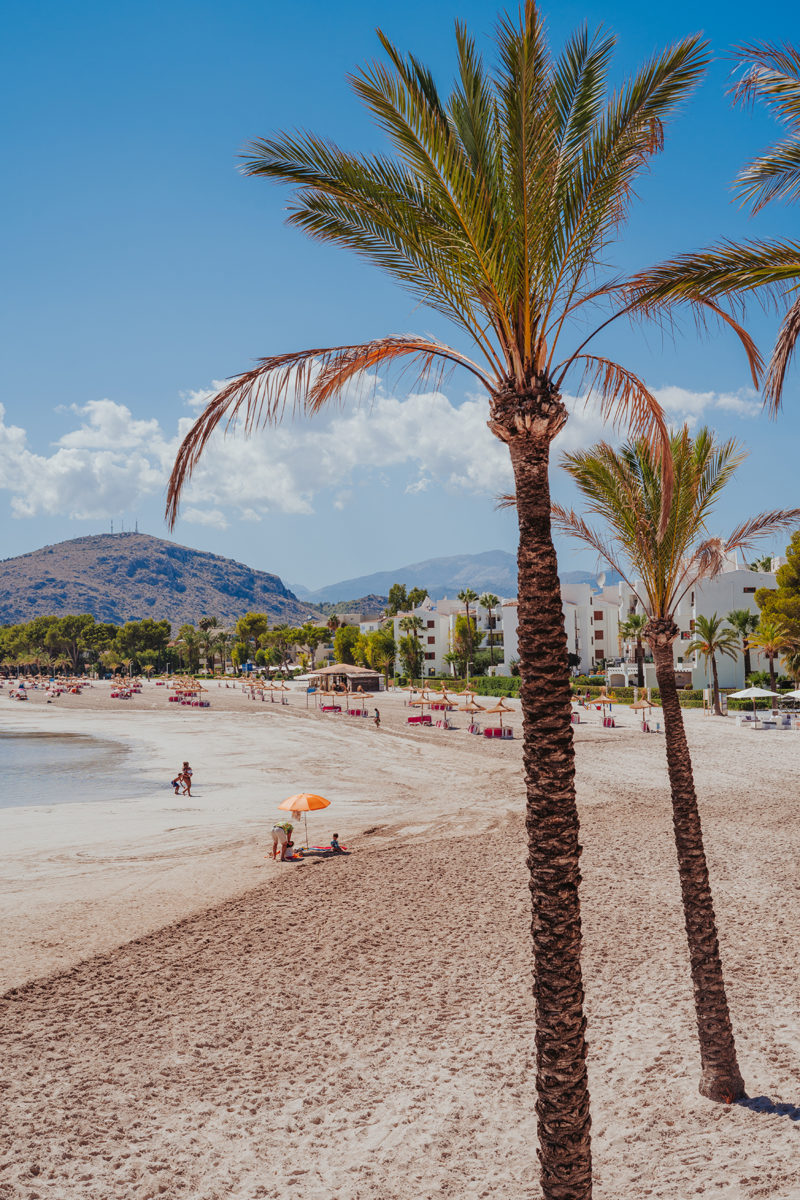 Situated at the northern end of the 8.5km long sweeping Bay of Alcúdia with its fine golden sands, shallow waters, sand dunes and pretty palms, lies Port d'Alcúdia. A prominent port since Roman times, it originally served as a gateway to Spain, France, and its neighbouring islands, and distributed goods to towns and villages inland, including the old Roman town of Alcúdia which is less than 2km away. This all changed in the 1960's with the start of the tourism boom, and it has grown to become the island's most popular tourist destination, particularly amongst the British, who own much of the property in Port d'Alcúdia.
The old fishing port has been transformed into a marina and pedestrianised front, filled with bars, restaurants and shops. Although busy in the summer, the winter brings the contrast of peace and tranquility for its international and national residents, who take advantage of the warm winter climate and enjoy all the outdoor activities on their doorstep. The stunning s'Albufera Natural Park offers some of the best hiking and biking trails on Mallorca and beach life here is very prominent.. For families living in Port d'Alcudia, it's absolutely idyllic. There is a great international school nearby, plenty of outdoor activities and beautiful, expansive places in nature in which to escape and create treasured family memories together, not just at weekends, but all year round.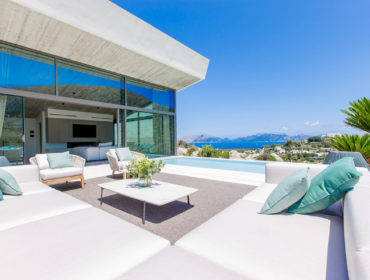 Buy property in Port d'Alcudia, and you are sure to have a blessed lifestyle, with plenty of ways to enjoy the Bay of Alcudia, whether water or land based.
Good to know about Port d'Alcúdia
Local Language
Spanish, Catalan (the Mallorquin dialect) and English is widely spoken, due to the strong British tourism market and expat community. German is also widely spoken.
Main Industry
Port d'Alcúdia has built itself on tourism since the 1960's. Tourism, hospitality, leisure and marine industries dominate the market here, especially in the seasonal months.
International Schools
The Mallorca School is the island's newest international school and only 15 minutes away and educates pupils from 3-18 years of age. A larger choice of International schools around the capital city of Palma can be reached within a 50-minute drive.
Distance
Alcúdia Old Town: 8-minute drive
Palma: 45-minute drive
Palma Airport: 45-minute drive
Formentor: 20-minute drive
Port d'Andratx: 60-minute drive
Transport
Taxi: A taxi journey from Palma takes 45 mins and will cost around 60€.
Bus: The 351 runs hourly from Consorci de Mallorca. Journey time is an hour and the cost is around 8€.
Parking: There are two large public car parks just behind the port, as well as plenty of street parking. In the summer months, parking may be slightly more challenging due to the volume of rental cars in the area.
Golf de Alcanada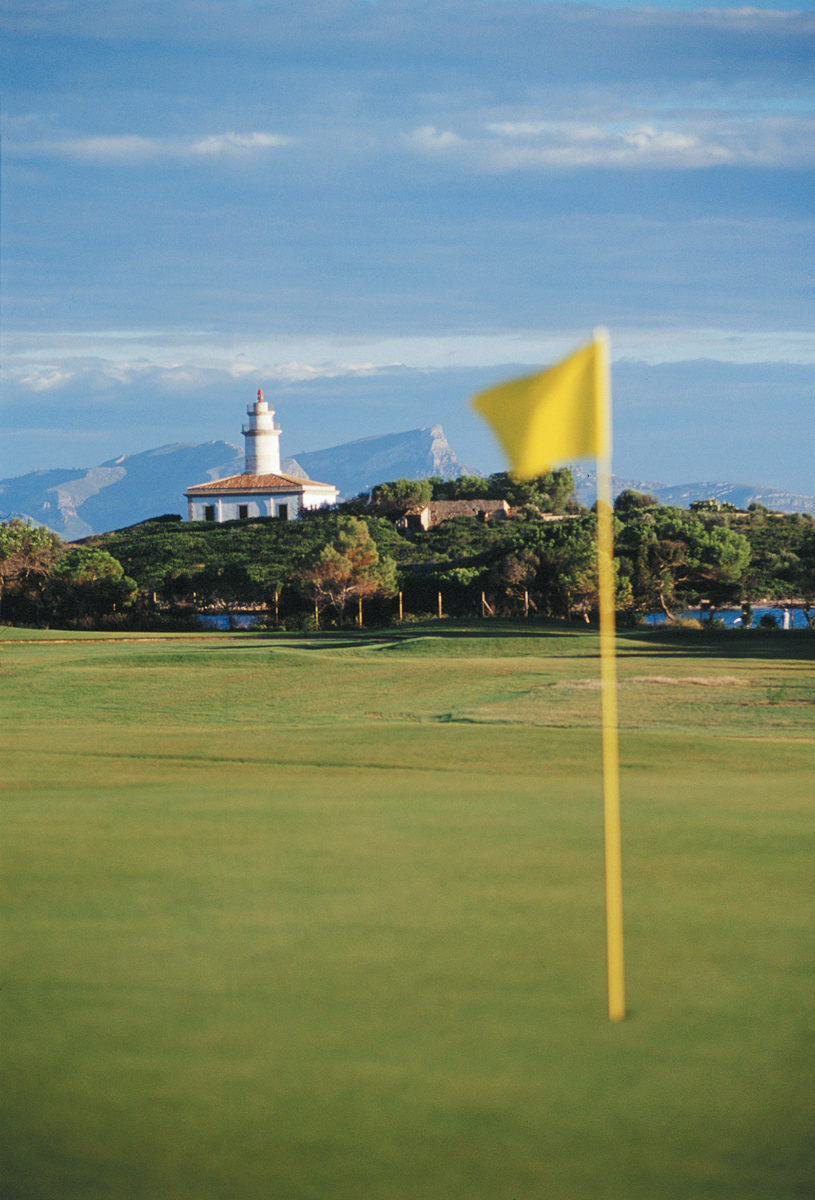 From the 1st tee to the 18th, Golf de Alcanada on the peninsula next to Port d'Alcúdia, is a joy to play. Designed by Hans-Peter Porsche (from the Porsche family), this 6,499m course opened in its most privileged location, with breathtaking views over the sea, mountains and the lighthouse in front, from which it takes its name.
Its design is simply beautiful and the quality of its fairways, greens and contours are immaculate. As well as the spectacular sea views, the course blends naturally into the typical mallorcan surrounding terrain of scented pines and olive groves, as well as the sea. Being in Mallorca in the warm climate, it allows the pleasure of all year round play and hosts many tournaments.
Despite being a young course, Golf de Alcanada is already recognised by long established golfing magazines as one of Europe's finest courses, in fact, 'Golf Journal', the leading German golf magazine, named it the best course in Europe, four years in a row. Its greens offer fast play and it has excellent fairways and consistent bunkers.
The staff are known for their professional yet friendly service and the Clubhouse provides excellent facilities as well as delicious food over views of the exceptional surroundings, which is worth a visit, even if you don't play golf!
Port d'Alcúdia in photos
fg_lazyload
Port Alcúdia Marina
Port Alcúdia Beach
Port Alcúdia Beach
Port Alcúdia Beach
Port Alcúdia Beach
Port Alcúdia Beach
Port Alcúdia Beach
Port Alcúdia Beach
Port Alcúdia Beach
Port Alcúdia Beach
Port Alcúdia Beach
Experience Port d'Alcúdia
With a warm climate all year round, one of the best and biggest beaches on the island, a natural park and glorious mountain range, weekends are all about getting out and enjoying nature.
A morning walk or jog along the famous blue path that runs 5 km along the beach is perfect before heading back to the home office. A highly sociable stretch, you're bound to bump into a friend or two along the way as you pass dog walkers, swimmers and people enjoying private yoga or fitness lessons on the beach.
If you're a keen golfing enthusiast, make the most of your Golf de Alcanada membership, before lunch on the impressive Clubhouse terrace overlooking the vast greens and cobalt blues.
The huge range of watersports here are perfect for family time at weekends. Port de Alcudiamar Marina is ideal for yacht moorings, as well as being a fantastic base from which to explore the kilometers of this pristine northern coastline and beyond to Menorca or Ibiza via the ferry. Alternatively, explore the natural scenery of the stunning S'Albufera Natural Park, either by foot or on bike, with a choice of trails ranging in gradient and distance. A vast area of marshland, flora, streams, birds and wildlife await discovery. It's the perfect escape.
Events in Port d'Alcúdia
Nautical and Sepia Fair
The Nautical & Sepia Fair starts in early April and is a celebration of sepia, a popular form of cuttlefish. More than 30 restaurants create special menus displaying their skills at preparing this delicacy and another 20 have cuttlefish stalls in the marquee. Cooked and prepared in many different ways, there is something for everyone. Bands and DJ's perform live sets over the whole weekend.
Festival de Sant Pere
This much loved festival celebrates the port's patron saint. Concerts, children's entertainment and activities, dancing and live music are held over the week-long build up to the main day of celebration on 29th June, where a statue of Sant Pere is paraded on land and sea. A midnight fireworks display marks the end of the fiesta.

Mallorca 312
Attracting keen cycling athletes from all over Europe each year in late spring, the iconic Mallorca 312 event consists of a 312km route and over a 5,000m climb. The all important start and finish lines are set up near to the Port.
IronMan 70.3 Mallorca
Port d'Alcudia is home to the legendary IronMan 70.3 Mallorca event, a significant sporting event that sees thousands of athletes descend upon the island each year in May. Gruelling swimming, cycling and running challenges make up this favourite global event.
Weekly Markets
The weekly market is held every Friday in the square next to Tabarca Street. During the summer, an extra evening market sets up each night between Wednesday to Saturday, on the Paseo Marítimo.
Restaurants in Port d'Alcúdia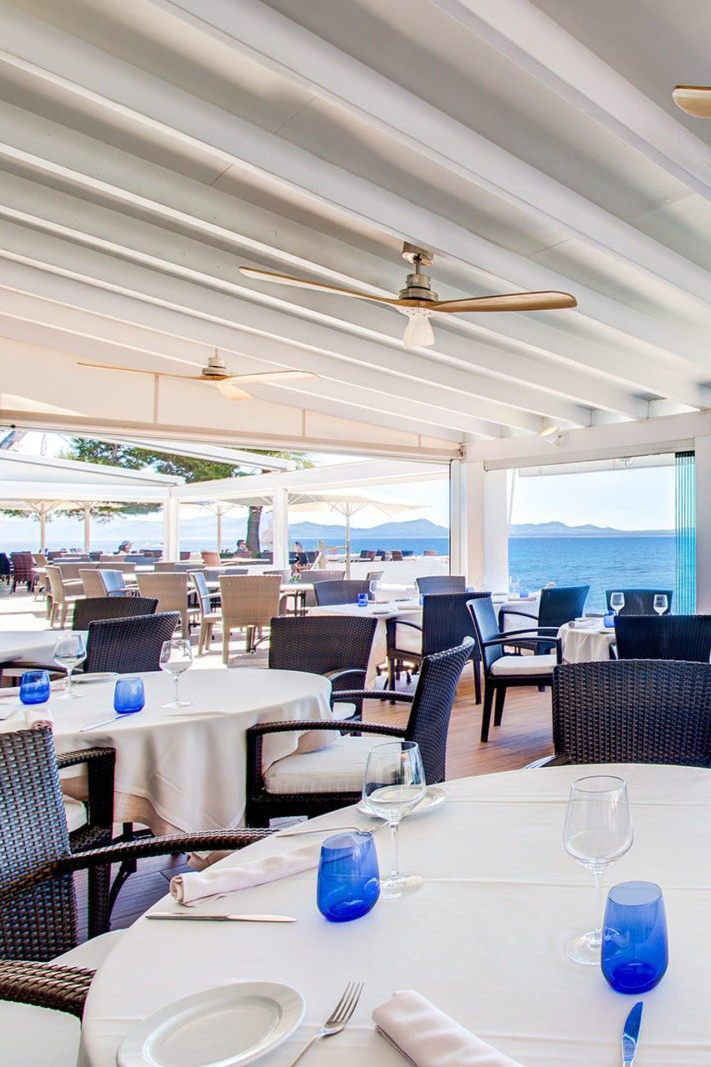 For deliciously fresh seafood overlooking the yachts, Restaurante Miramar and Las Sirenas are long standing institutes in the port. Serving up a seafood lovers' dream, dishes such as Salt Crusted Sea Bass, Majorcan Langost Casserole and Lobster Paella are on their menus.
Restaurant Sa Lenya is a favourite for local meat lovers. High quality cuts are cooked to perfection by the hand of the owner, on a wooden grill. The Wine Side is the perfect relaxing atmosphere for tapas, wine and seafood such as red tuna, octopus, baby squid in ink sauce.
For creative tasting menus, there is plenty of choice. Mallorcan born Michelin Star Head Chef Macarena de Castro describes her cooking at Maca de Castro as 'Free Mallorcan Cooking'. Sea Cucumber Millefeuille and Majorcan Cor de Bou (black pig) are on her tasting menu. L'Esguard Restaurant promises to deliver a highly memorable culinary experience for all five senses, in head chef Dr. Miguel Sánchez Romera's Mediterranean menus. Fusion 19 serves up fresh, light and healthy Mediterranean dishes and delicious sushi, in their beautifully decorated restaurant.
For beach side dining, Ponderosa Beach has been serving up perfect steaks, seafood and more, directly on the beach, since 1967. It's an incredibly relaxing place to spend a long lunch at the edge of the beautiful Mediterranean sea.
For secluded luxury, head to magical La Terraza in Alcanada for authentic Majorcan cuisine with privileged views over the bay and mountains. It's also one of the few restaurants in Mallorca that you can reach by boat.
Nightlife in Port d'Alcúdia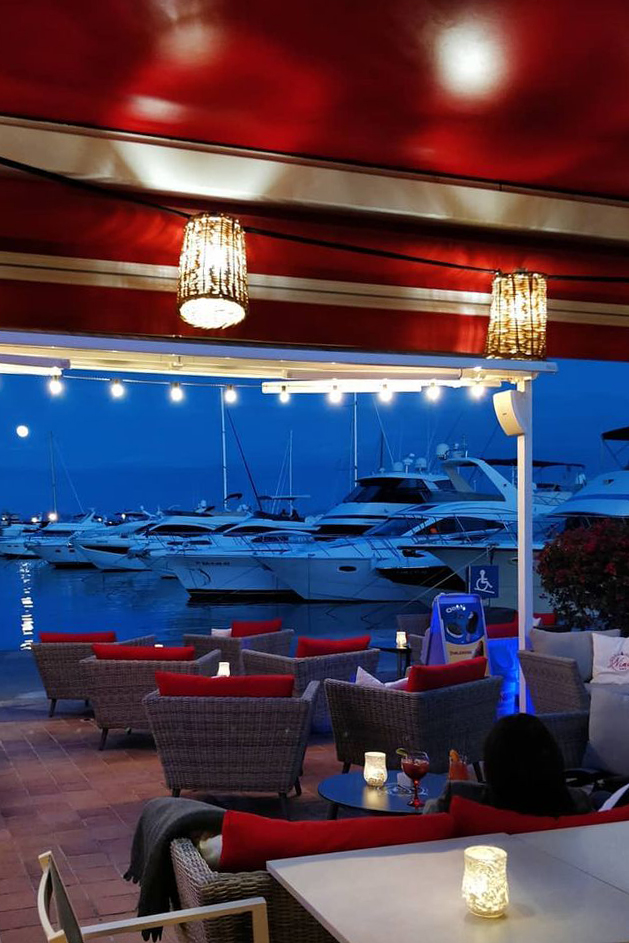 In the busy summer months of the tourist season, the port is a vibrant, lively place that buzzes all night long. The whole stretch from the marina and along the beachfront offers many bars, pubs, restaurants and live music, catering for the many extra visitors. A few of these places stay open out of season for locals.
For cocktails to accompany the sunset, Aqua Cocktail & Snack on the Paseo Maritimo in the marina serve a great choice. Enjoy a strawberry daiquiri right on the waters edge overlooking the plethora of glamorous yachts. BARco Nina, very nearby, also offers live music.
New Cacao and its beautiful interior design offer a stylish place for dinner or just drinks and Mar Blanc is a great place for live music. DJ's, bands and acoustic performers are the perfect accompaniment to cocktails on their chill terrace. If you're feeling energetic, head to 5 Glops in Bananas Disco. It's a fab Latin bar where you can dance the night away to the exotic beats of the salsa and Latin music.
Hotels in Port d'Alcúdia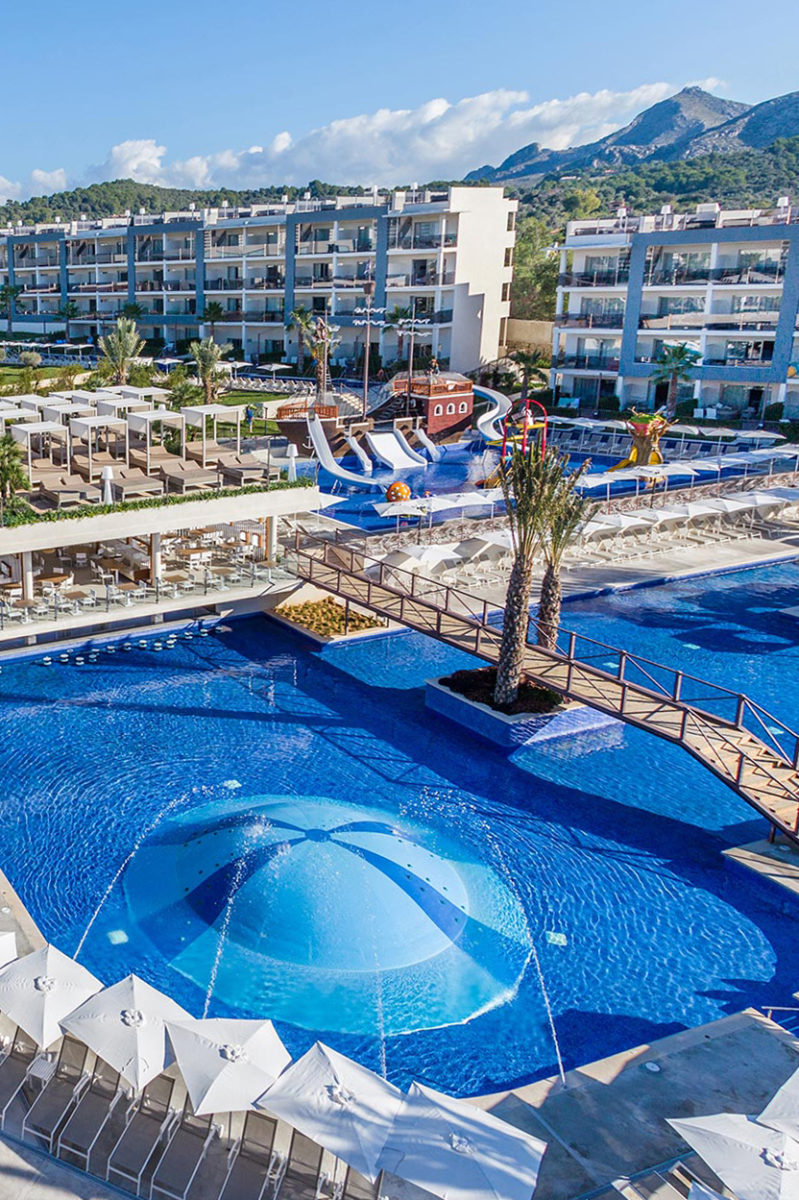 Reward yourself with a detoxing experience at Zafiro Palace Alcúdia. After a workout in the gym, indulge in their sauna, jacuzzi, Turkish bath and massage rooms or choose from the many treatments on offer in the Zen, Spa & Wellness Centre. A choice of restaurants serve a variety of world flavours and include two à la carte menus. These include Italian, Japanese and International restaurants. By the poolside, La Veranda restaurant serves freshly barbecued meats and burgers on the grill and is the perfect place to dine whilst watching the sun set over Alcudia Bay. Out of season, they create 4 lanes in their outdoor heated swimming pool, for those training for the Ironman competition.
The 5 star Caprice Alcúdia Port hotel combines luxury blends, authentic local tradition and a Nordic design, creating a very clean, modern and elegant atmosphere. For pampering, head to their Spa and Wellbeing Centre where you'll find a pool, gym & sauna and therapies such as relaxation with Himalayan Salt, hydromassage water treatments and an aromatherapy shower. The restaurant 'Elements' serves à la carte cusine which is both tasty and beautifully served.
For restaurants in both hotels, booking is advised and formal wear is required.
Property in Port d'Alcúdia
Property for sale in Port d'Alcúdia offers a fantastic lifestyle, spectacular views and close proximity to many outdoor pursuits and amenities. Most of the properties in the port area were constructed between the 70's to today. They consist of luxury beachfront apartments, modern penthouses and holiday lets, lined along the vast turquoise bay from the marina along to the end of Playa de Muro.
On the headland, by the golf course, Alcanada is Alcúdia's grandest suburb. Large luxury detached Mediterranean villas with unrivalled frontline views, command the highest property prices in the north of the island.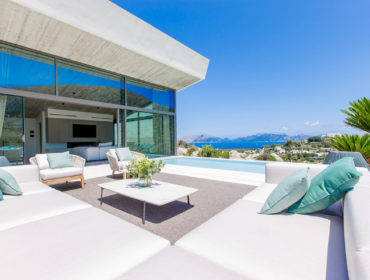 Buy property in Port d'Alcudia, and you are sure to have a blessed lifestyle, with plenty of ways to enjoy the Bay of Alcudia, whether water or land based.
Business & work in Port d'Alcúdia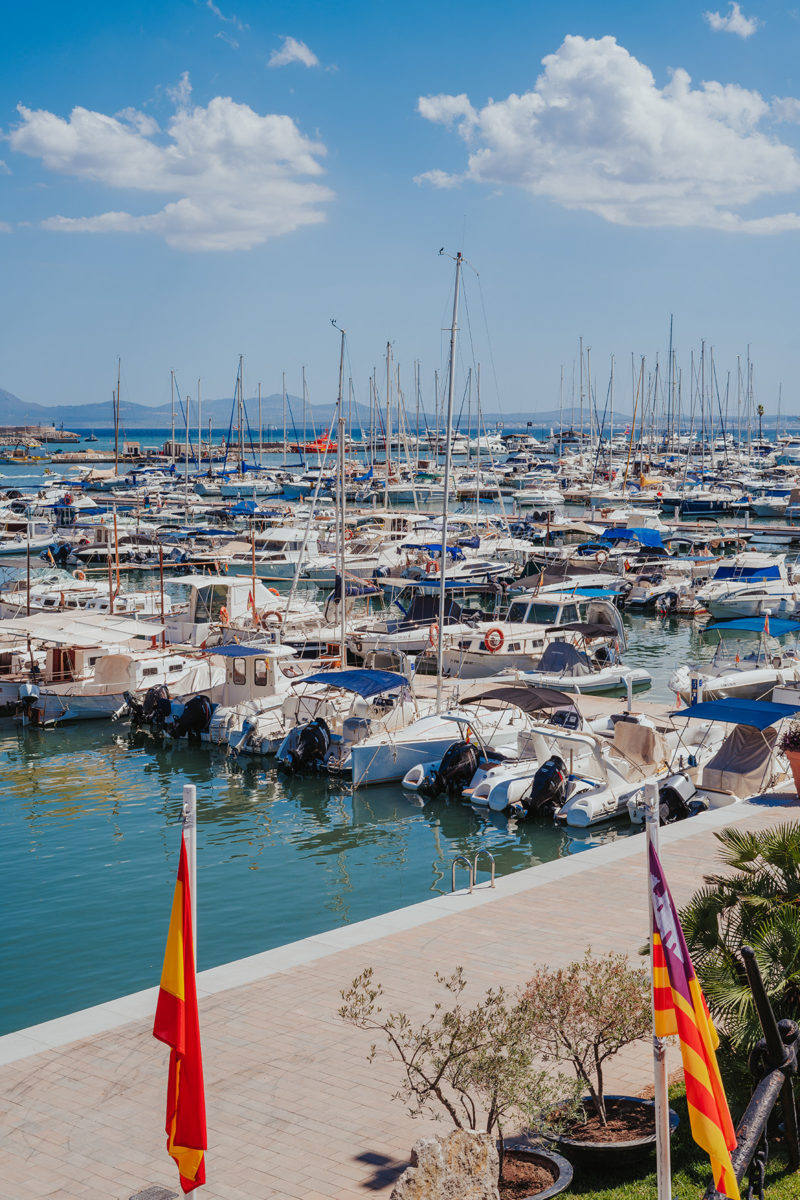 As the largest tourist destination in the north of the island, there is plenty of work in the tourism, leisure and hospitality sector in the seasonal months. If you're looking for investment, it provides the opportunity for a holiday let business. Although many businesses close at the end of October until the following April, a sizable chunk of the leisure industry continues with cyclists and hikers, for example, choosing to make the most of the cooler temperatures to explore the stunning landscapes.
The nautical industries offer work here, from the numerous services at Alcudiamar Marina including brokerage, maintenance, delivery, servicing and repair, to yacht chartering, skippering, and watersports hire.
Working remotely is a perfect option if possible, meaning you can really enjoy your home and the beautiful surroundings. The airport is only 45-minutes away (flying to over 155 destinations) and the capital city of Palma with its many businesses, office spaces and larger companies is the same commute time.
People: Locals & celebrities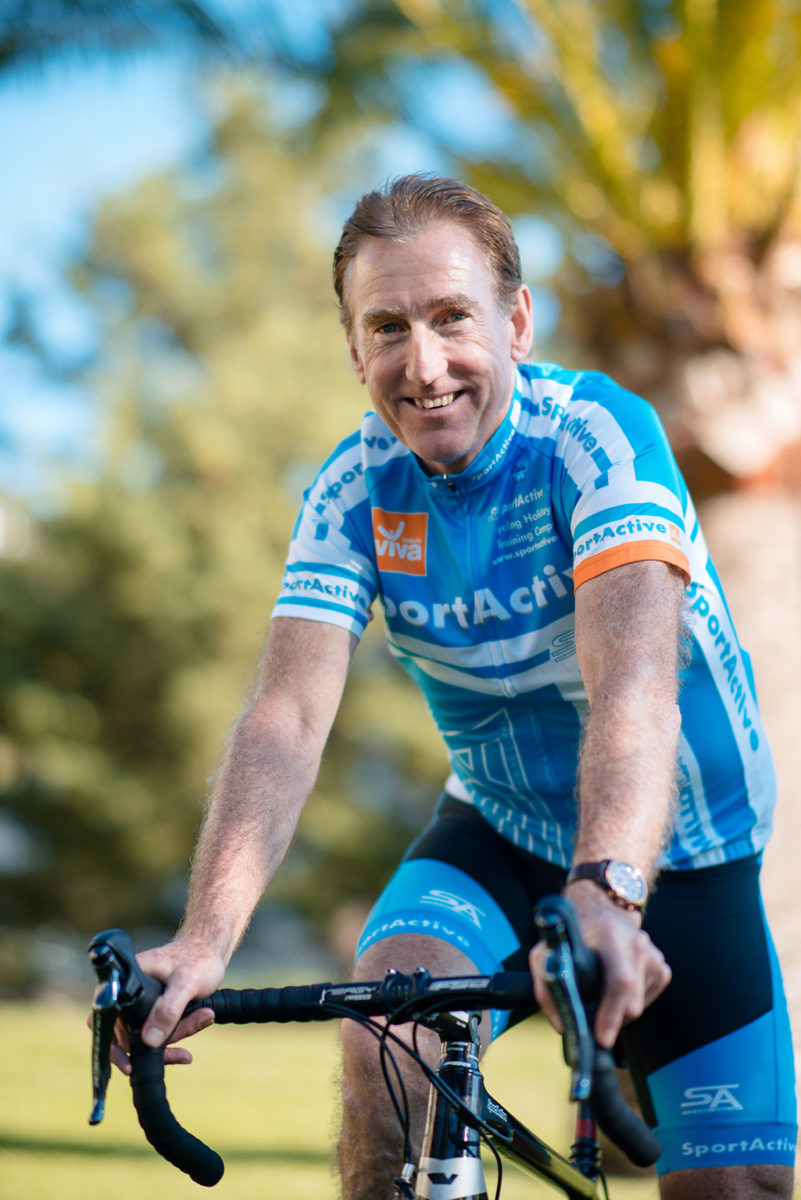 In 1978, the famous Egyptian architect Hassan Fathy designed the exquisite Sa Bassa Blanca Museum in Alcanada, home to the Yannick and Ben Jakober Foundation and their unique private collection of artwork and sculptures, for the purpose of preservation of Spanish Heritage.
Irishman cycling athlete Sean Kelly became known as the world's first professional cyclist, and was top of the world rankings from 1984 for five consecutive years, also winning no less than Tour de France green jerseys. Today, he works with SportsActive in the port, a business specialising in cycling holidays and training camps, offering enthusiastic and professional cyclists a unique Mallorcan cycling experience.
Port d'Alcúdia attracts many British residents and there is a retired expat community here, who enjoy both the busy hub of the summer month as well as the quieter months out of season. With Mallorca International School just 15 minutes away in Sa Pobla, it also makes for a great family base, providing plenty for a healthy, active outdoors lifestyle.
Last Word
Port d'Alcúdia offers a contrasting lifestyle and the diversity is what most of its residents appreciate. In the summer months, the place comes alive and there is a real buzz from morning to night. In the quieter months, it's a place to relish peace and tranquility, and enjoy the beauty of the natural surroundings, whether walking, cycling or out on the water. For families, it offers safety and plenty of activities for a rich quality of life.
With access to Menorca and Barcelona via the ferry in the port, it's a fantastic location to explore the wonders right on your doorstep, as well as further afield.