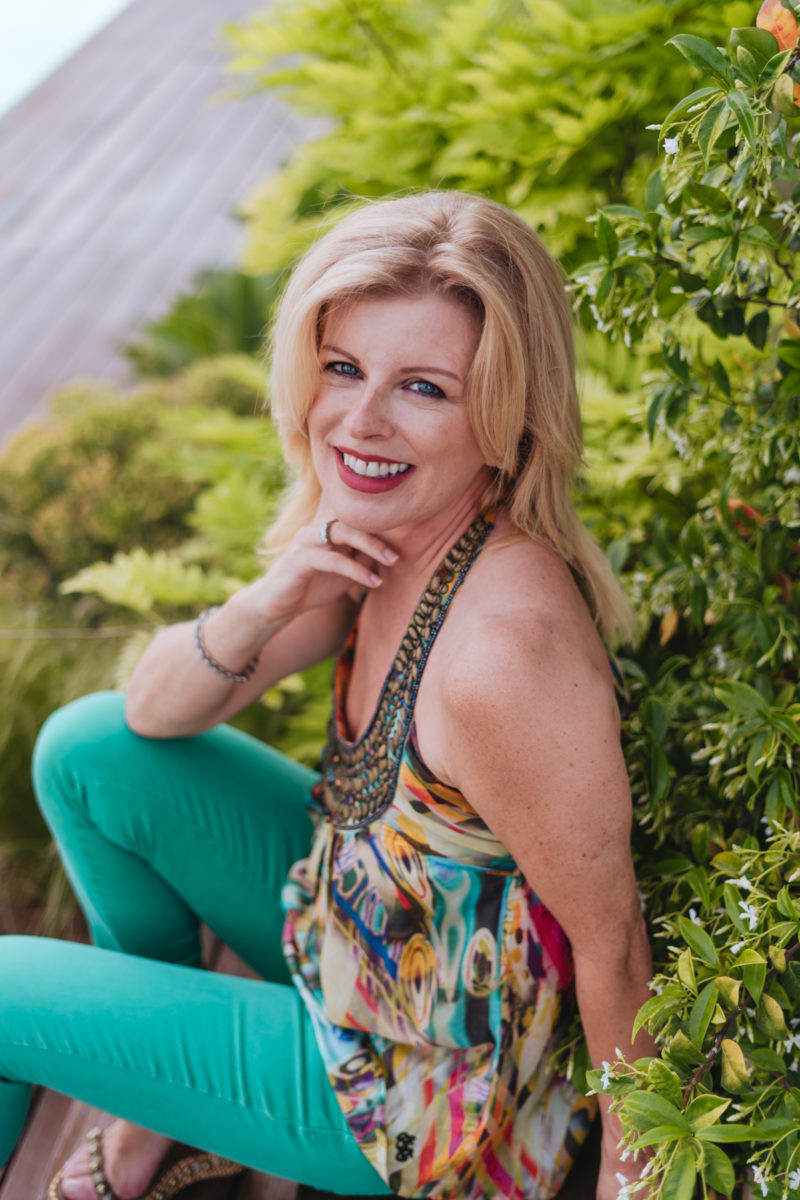 Prospective homeowners who are considering of living in Santa Ponsa will come to know there is a wealth of offerings in the area, and –according to residents– it has the best weather on Mallorca too!
Luxurious dwellings with undisturbed sea views are what defines property in Santa Ponsa, with many superyacht owners choosing to make a home, second residence, or holiday house from one of the modern villas that line the stunning cliffs between Port Adriano and the large golden Santa Ponsa beach.
Catering to the rich and famous since 1928, as well as sun seekers since the '70s, the resort town with a population of over 10,000 and its surroundings host an abundance of highly sought-after amenities with some open year-round.
Santa Ponsa is not only a 20-minute drive from Palma, but it boasts three golf courses, international-class tennis grounds, picturesque beaches, a historic marina, and one of the most modern ports in the Mediterranean.
Santa Ponsa's historical significance should not go unrecognised either, the marina Club Nautico Santa Ponsa was the site of arrival for King James I which led to the re-conquest of the Balearic Islands from the Moors in 1229, and up on the hilltop Puig de sa Morisca, are remains of a Talaiotic settlement that dates back thousands of years.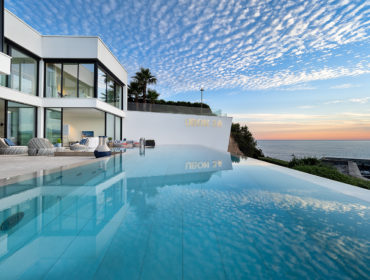 In the Southwest of Mallorca, the Santa Ponsa area has become the area with the most transactions and highest turnover, making it a hot spot for investment.
Good to know about Santa Ponsa
Local language
While Catalan and Castellano are the official languages in Spain, there is a large ex-pat population here, so expect to hear other European languages, particularly English and German.
Main Industry / Commerce
The main industry here is tourism. A busy skyline of hotels and holiday accommodation faces the sea, while businesses catering to tourists line the streets and shoreline.
International Schools
The Baleares International College, an English school founded in 1956, is located a 10-minute drive away, on the road to Magaluf, while Agora Portals International School, is less than a 15-minute drive on the way to Palma.
Distance
25-minute drive from the airport
5-minute drive to Port Adriano
25-minute drive to Palma
15-minute drive to Camp de Mar
20-minute drive to Son Espases hospital
Transport
Bus: The TIB Bus number 102 travels every hour between Plaza Santa Ponsa and Plaza España in Palma, taking 30 minutes.
Parking: A large parking lot near the main beach and street-side parking on the narrow streets. Availability fluctuates seasonally.
Taxi: There are four taxi ranks in Santa Ponsa, all near the main beach.
Download the MobiPalma app for more transport information.
Golf Santa Ponsa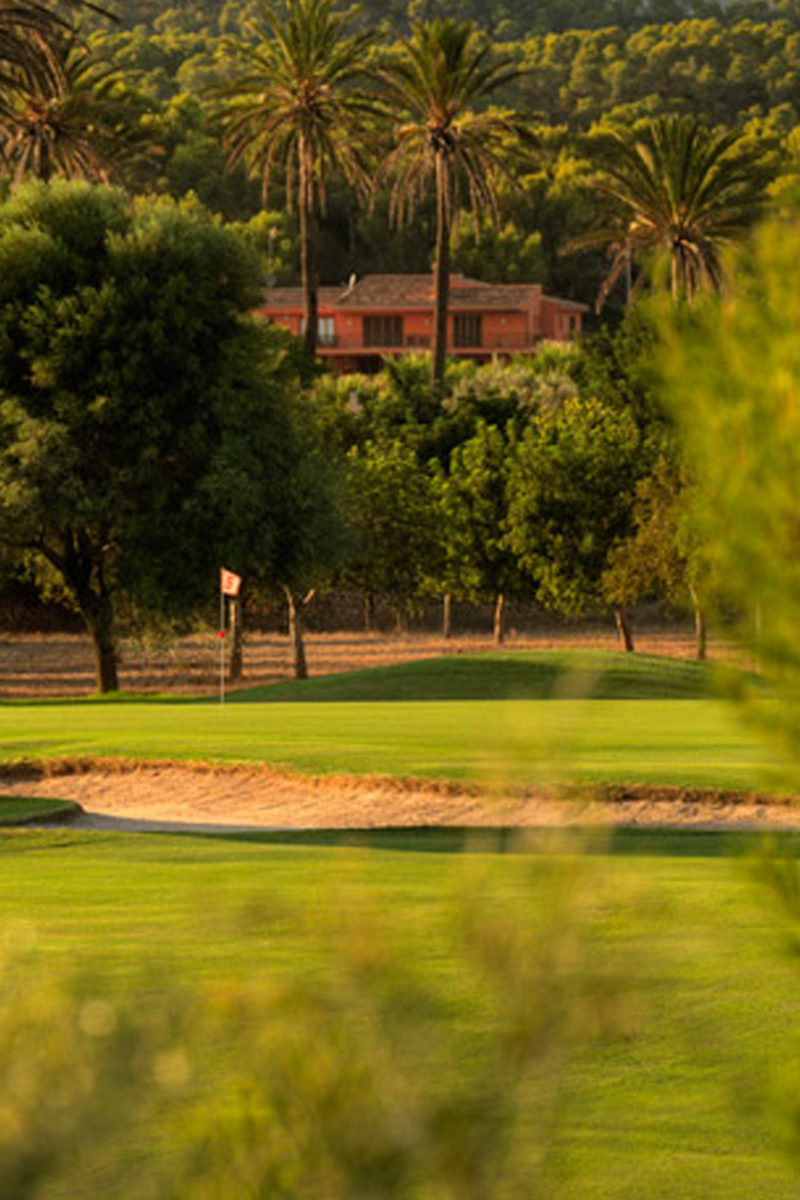 Santa Ponsa has four lush golf courses, with sought-after real estate on the first golf line offering protected scenic views and a tranquil atmosphere.
Golf Santa Ponsa, established in 1977, offers two private courses and a public course throughout wonderful scenery. The public course, Golf Santa Ponsa I, is one of which is an important course on the island, with 18 holes (par 72) and a total length of 6.543 meters.
Each of the courses are surrounded by lakes, olive, pine, and almond trees and incredible views of the Puig de sa Morisca and Tramuntana Mountains. Golf Santa Ponsa has also hosted national and international competitions, and players such as José María Olazábal, Lee Westwood, and Vijay Singh.
Further from the center of Santa Ponsa is T-Golf & Country Club, which opened in 1978 and was extensively renovated over nine months during 2019. Some claim it is the best course on the island, also offering 18 holes, with a total count of 6.430 meters around majestic palms and pines, fifteen lakes, and numerous bunkers. And if that's not enough, they also have a yoga studio.
Each course has wonderfully attentive staff and fantastic dining on site as well.
Santa Ponsa in photos
fg_lazyload
Santa Ponsa
Santa Ponsa Beach
Mirador Illes Malgrat
Santa Ponsa Beach
Santa Ponsa Beach
Palmira Beach
Santa Ponsa Beach
Santa Ponsa Beach
Santa Ponsa Nautical Club
Santa Ponsa Beach
Santa Ponsa
Es Caló d'en Pallicer
Experience Santa Ponsa
Calling all yacht enthusiasts, tennis players and golfers! This is your slice of heaven. With plenty of sporting facilities catering to English and German-speaking residents, as well as the proximity to Palma, this area is ideal for those who are seeking to enjoy their hobbies under the sun.
While the golf courses, court or boat may provide enough escape from the seasonal crowds, those seeking peace and tranquility will find calmer beaches and streets between October and June, and wide footpaths, and favourite sunset bars shared only with a few locals. Many residents enjoy walking the Puig de sa Morisca Archaeological Park which promises a 360 degree view overlooking Santa Ponsa.
And while the properties here are only a 20-minute drive from Palma and the airport, residents choose to stay put, claiming the area has everything they need with plenty of options for shopping or dining out locally or in neighbouring Port Adriano and Puerto Portals.
Events in Santa Ponsa
Festes del Rei en Jaume
This grand fiesta marks the 1229 landing of Jaime I at Santa Ponsa to reconquest the islands from the Moors. A re-enactment of the ensuing battle and a parade of giants are main attractions with more entertainment offered for the whole family. Takes place around the beginning of September.
ATP Mallorca Championships
The pristine grass courts of the Country Club play host to the world's top tennis players each year. Spectators are welcomed to enjoy 28 singles and 16 doubles battle it out under the sun, just be sure to bring a sun hat. Takes places late June.
Restaurants in Santa Ponsa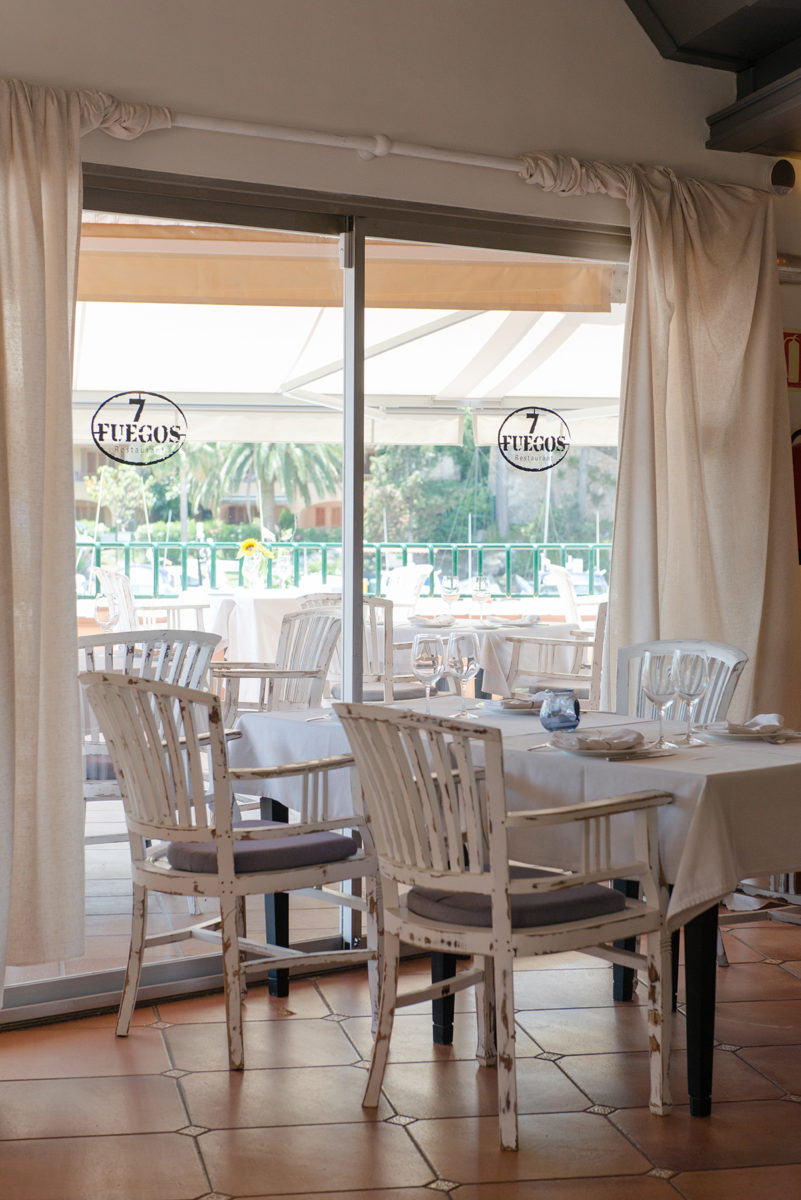 Restaurants in Santa Ponsa, range from low-end eateries to the romantic with many facing the sea and offering an idyllic Mediterranean atmosphere.
The streets near the beach, particularly Avinguda del Rei Jaume I and Carrer de Ramon de Montcada are lined with eateries with many, given the family-friendly nature of the beach, catering large portions at decent prices. Local favorites include Restaurante Miguel for Spanish cuisine, the family run Pizzería Pino, and El Meson Del Rey for a traditional Mallorcan experience.
Las Adelfas, in the Nova Santa Ponsa, offers a variety of international cuisines made with locally sourced produce. While for finer dining, 7 FUEGOS, an Argentinian restaurant in the marina, has an á la carte menu of delicious fish dishes, plenty of meat options, their specialty, and nice sunset views.
To rub shoulders with superyacht owners the nearby Port Adriano, Coast by East is a Michelin recommended restaurant known for having great sushi.
Hotels in Santa Ponsa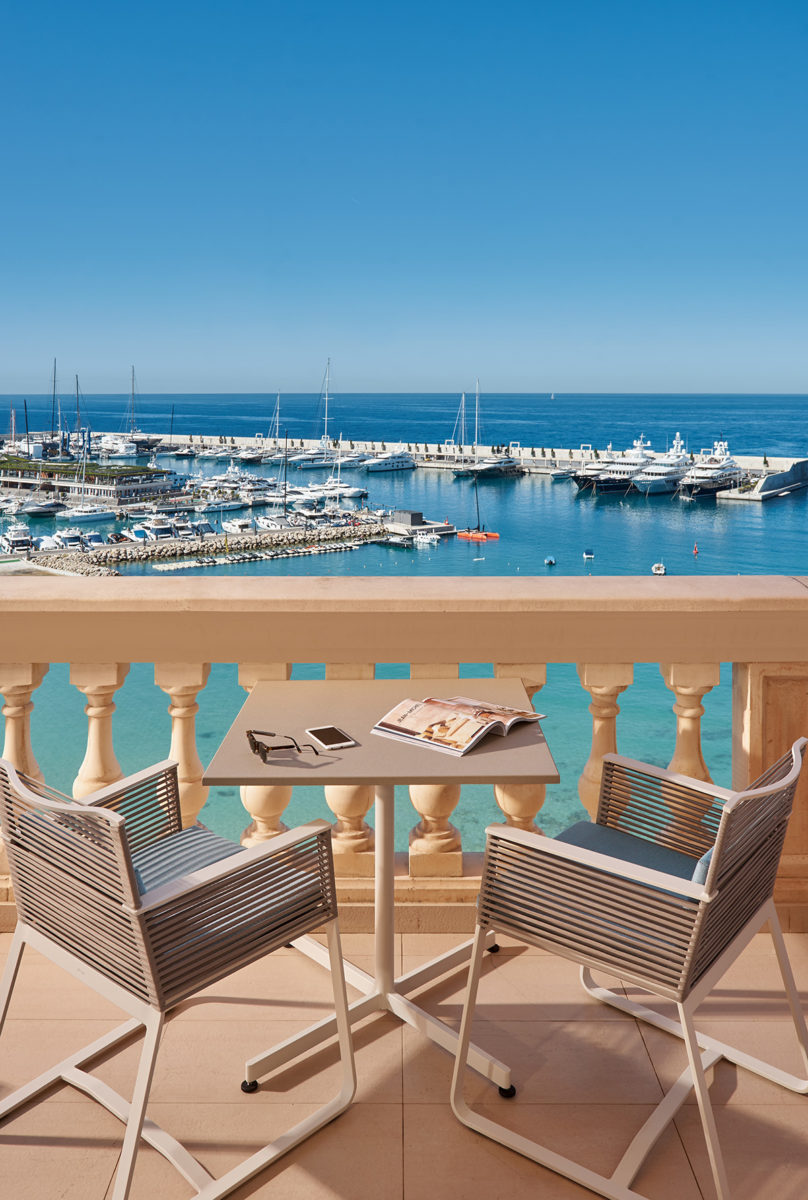 A large majority of the hotels in Santa Ponsa cater to family package holidays, especially those around the beach where three and four-star hotels are the norm, with plenty of holiday apartments for rent too. A little luxury can be found on the fringes, or slightly outside Santa Ponsa, such as the newly opened Pure Salt Port Adriano, and only 5-minutes drive away, is the beautiful relaxed Can Estades close to the village of Calvià.
IBEROSTAR JARDÍN DEL SOL SUITES
This four-star hotel is perched in an absolutely stunning location overlooking Santa Ponsa bay, boasting sea views from all of their suites, as well as excellent service and cuisine.
Guests can upgrade to a swim-up suite with indoor and outdoor jacuzzis and views Costa de la Calma from the terrace. Choose to lounge by the large seafront pool or take a short walk to the main beach, shops, bars, and restaurants.
H10 CASA DEL MAR
H10 Casa del Mar is a recently renovated and modernly decorated four-star hotel situated directly behind the magnificent beach of Santa Ponsa. The main attractions of the hotel include a huge swimming pool and sun deck, a restaurant, snack bar and chill-out terrace with infinity pool. The hotel also has a spa and an entertainment programme for both adults and children, while just beyond the doors there is plenty more on offer.
Finding a Home in Santa Ponsa
Santa Ponsa's southwestern coastline is a hot-spot for real estate which has seen a significant growth in the last decade. The landscape offers plenty of property types but traditional Mediterranean villas with views over the golf courses and coastline being the most sought after. The popular area of Nova Santa Ponsa is home to a luxury residential development which runs along the coast towards El Toro, here is where much of Santa Ponsa's most exclusive real estate can be found.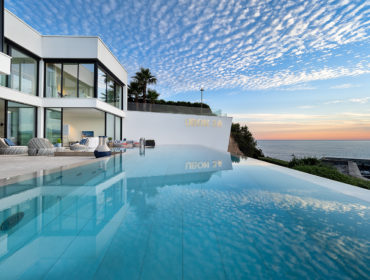 In the Southwest of Mallorca, the Santa Ponsa area has become the area with the most transactions and highest turnover, making it a hot spot for investment.
Business & work in Santa Ponsa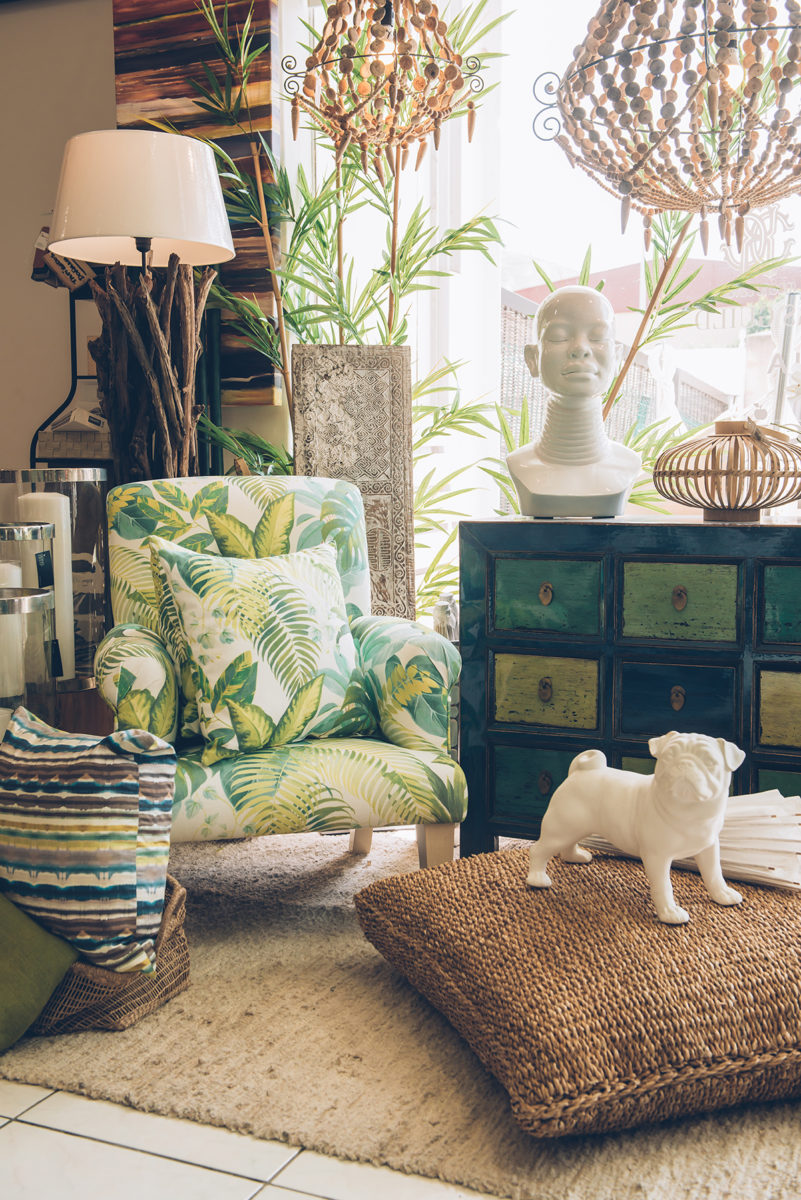 Apart from the obvious hotels and eateries catering to tourism, there is a wealth of businesses for residents including three butchers, La Tienditta for fruit and vegetables, banks, supermarkets, friendly opticians, and even a pet shop.
Santa Ponsa is home to family-run insurance brokers (Seippel and Seippel), real estate agents (Mallorca Site), wealth management advisors (Blevins Franks), interior designers (Knox Design), and four golf courses which need upkeep, offering a wide scope of employment opportunity as well as room for the growth of new initiatives.
Polígono Son Bugadelles, an industrial area less than a 10-minute drive from the beach, has furniture, kitchen and pool showrooms, interior design studios, and workshops and suppliers providing to the nautical industry, open year-round. Leicht Cocinas found here are one of the largest distributors of the LEIGHT brand and offer the opportunity for keen kitchen planners to join their in-house team.
Being well connected, Santa Ponsa also offers a quick commute to Palma, by car or by bus to Palma's central station, as well as being well linked to other parts of the island via the highway. Only minutes away, the upmarket, Philippe Starck designed Port Adriano also hosts several shops and restaurants catering to their high-end clientele.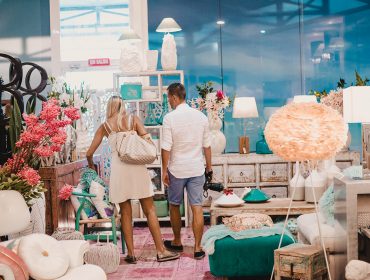 If you're shopping for furniture in Mallorca, Son Bugadelles should be top of your list for all the top interior designers and brands.
People: Locals & celebrities
Santa Ponsa is known for attracting a large number of visitors from Ireland, and these jovial tourists share the beachfront with seasonal Scots, Dutch and Italians. The residents however vary greatly due to the prime location and facilities, especially for yacht owners and golf players, with locals from Germany, Switzerland, British and Irish.
The beloved British designer Alexander McQueen once had a stunning home in Santa Ponsa, while current residents include many well-known UK Athletes, Comedians and TV personalities including the German reality television star Daniela Katzenberger. There is also rumour of the Bosnian footballer Hasan Salihamidžić owning a property in the area.
Award-winning British designer Justine Knox is another well-known name in the area for her Son Bugadelles showroom established in 2004. Her clients have included some of the top names in the celebrity world including elite athletes and corporate executives. Since moving to Spain in 1984, her work has reached impressive heights, renovating second homes on the island including modern mansions, city apartments, country houses and villas. Her portfolio even includes yachts, such as those from Sunseeker Mallorca.
Another interior designer to call Santa Ponsa her home is Eveline Rossi who splits her time between Switzerland and Mallorca. Eveline has been a long-term resident on the island for years, managing her interior work successfully from both countries.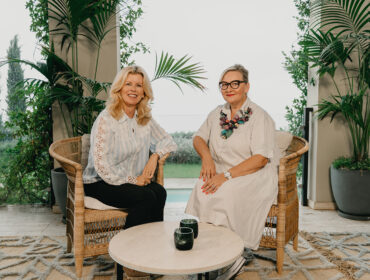 Helen Cummins meets Swiss interior designer Eveline Rossi to talk about a life shared between Mallorca and Switzerland and why she chose to live in Santa Ponsa.
Last Word
It is clear that despite the busy high season Santa Ponsa readily caters to prospective homeowners, with plenty of outdoor activities offered land and sea all year round. The proximity to Palma, as well as the abundance of amenities, sea views and stunning sunsets, are just some of the details making the area highly sought-after. While neighbouring properties to the main beach may suffer from the noise and traffic from June-September, residents can enjoy the well-developed infrastructure and amenities catering to a range of people, not just the yacht owners and golf players, all year round.