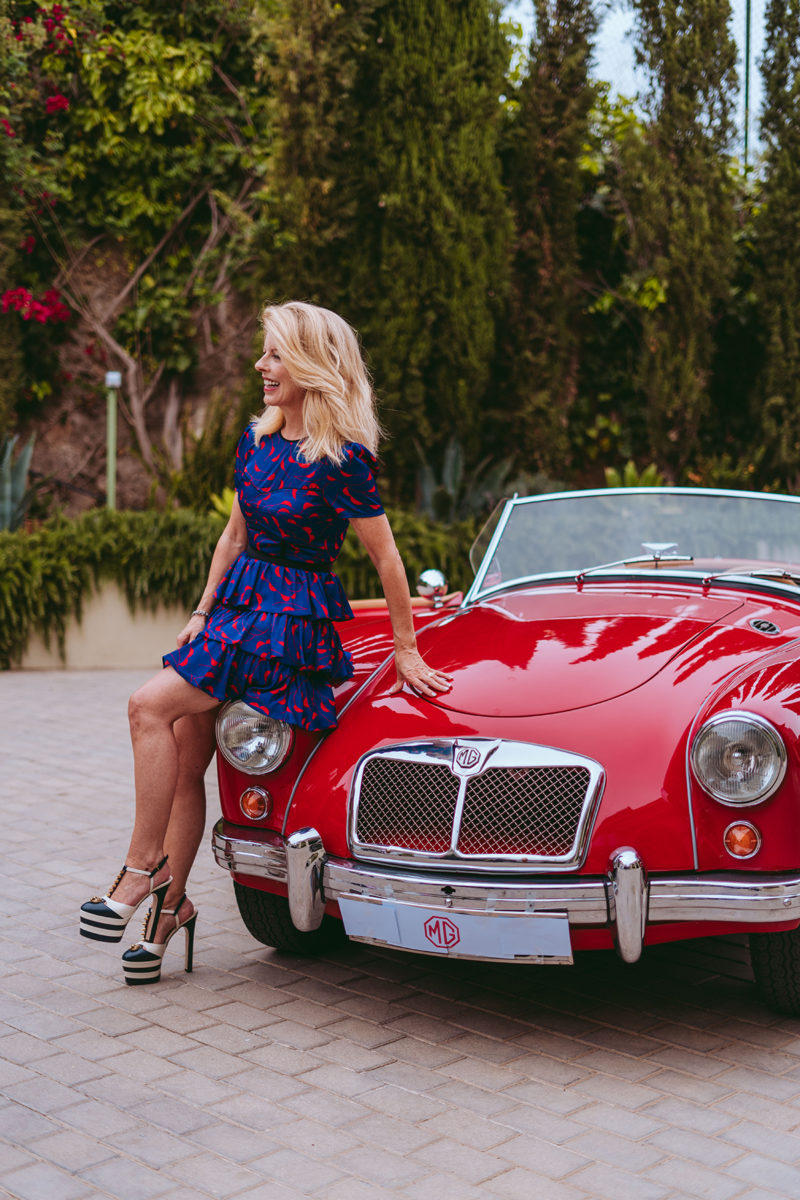 With its sleek, buzzy marina packed with luxury yachts, fashion boutiques and upscale eateries, few places epitomise Mallorca's glamorous seafaring side with quite as much panache as Port Adriano. Set in a glistening south-westerly bay encircled with pastel-pink cliffs, the outstanding natural beauty of its setting shines, too. By owning a property in Port Adriano you'll find a cosmopolitan community of natives and foreigners, many of whom have been drawn to this seaside town for the nautical pass-times work opportunities, as much as the lively calendar of events and healthy outdoorsy lifestyle it affords.
It was originally founded as a harbour in 1974, but underwent extensive remodelling under the vision of French design icon Philippe Starck to reopen in 2012 as a world-class marina for super-yachts. Lots of property in and around Port Adriano, too, was developed and upgraded in anticipation of the new marina, attracting an increasingly well-to-do and international (mostly German-leaning) mix and ensuring the transformation of the area into the uber-desirable destination it is today.
Most locals live in the residential adjoining village of El Toro, a neatly laid-out grid of apartment complexes, family houses, and luxury villas. It's a peaceful and pleasant neighbourhood, whose residents enjoy not only proximity to the chic port, but also plenty of pretty coastline and even an adjoining nature reserve.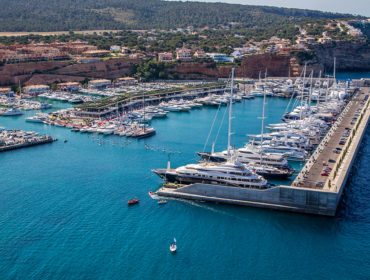 While best known for its world-class yacht marina, Port Adriano's neighbourhoods also offers a diverse range of properties and a family-friendly lifestyle.
Good to know about Port Adriano
Local Language
Catalan (or its local dialect Mallorcan) is co-official with Spanish, or Castellano as it is more frequently referred to locally. A diverse international and boating community also means English and German are widely spoken.
Main Industry
The local economy is obviously largely driven by all things nautical and seafaring, with plentiful yacht brokerage, maintenance and charter companies with a presence in the area.
International Schools
The Baleares International College, founded in 1956 and following an English curriculum, is located a five-minute drive away. There's also Agora Portals International School, around a 15-minute drive on the way to Palma.
Distance
5-10 minute drive to Santa Ponsa
20 minute drive to Son Espases hospital
20-25 minute drive to central Palma
25-30 minute drive to the airport
Transport
Bus: Local bus lines 104 and 105 connect between Port Adriano and Palma's main bus and train station – Estación Intermodal – and taking up to 1h15m.
Parking: Parking is ample in the marina, with around 800 spaces (240 of which are underground) and free of charge for most of the year.
Taxi: Taxis Calvià (971 134 700) is the local taxi provider, and just up the road from the port is a taxi rank stop but they will come down when called in a few minutes.
Port Adriano Marina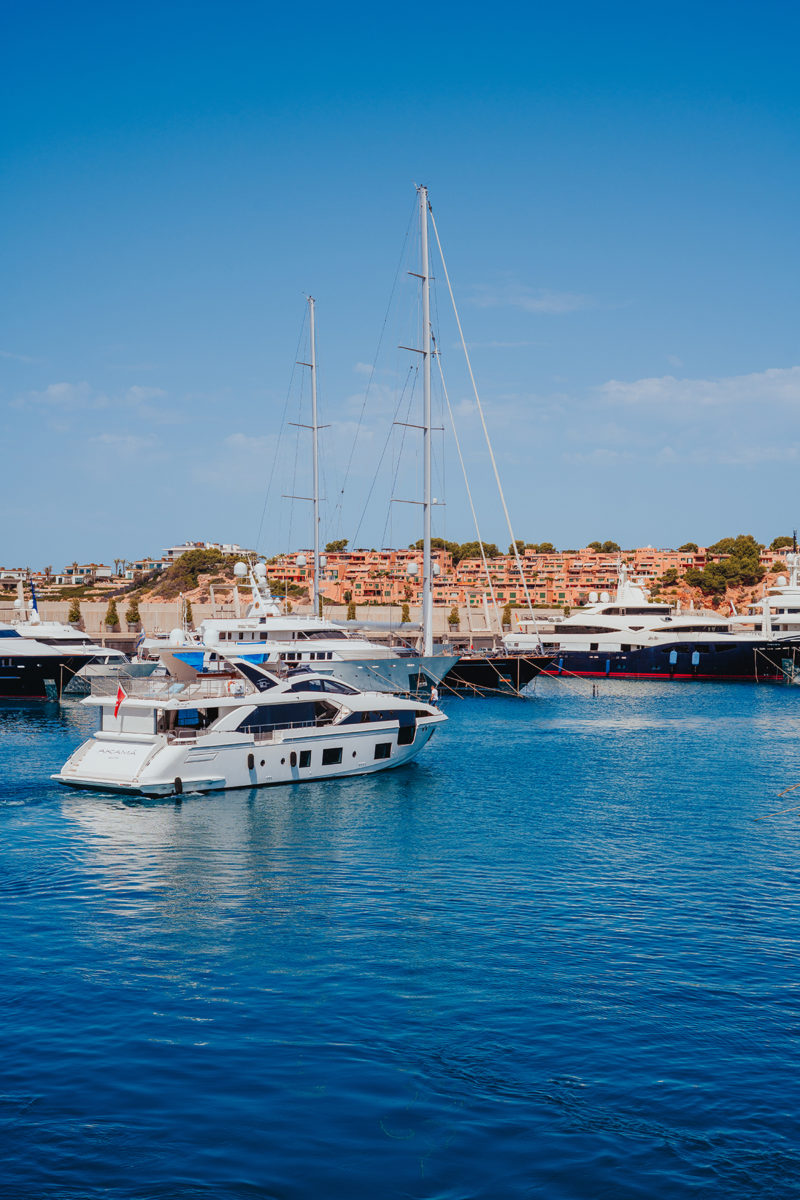 There little doubt that the renowned Port Adriano yacht marina is the main attraction in this corner of the island, especially for – but certainly not limited to – those drawn to the sea. Its comprehensive maritime facilities and almost 500 moorings attract all kinds of vessels from small pleasure boats for hire to 100-metre-long super-yachts belonging to visiting and resident billionaires. But while there is certainly an air of exclusivity about the port, there's also little in the way of snobbery. Prices are a little higher than average in the various restaurants and cafes, but not prohibitively so for most pockets. There are many more modest vessels, too, that can be chartered by the day, plus boat enthusiasts will certainly enjoy strolling around the docks gazing upon the collection of swoon-worthy vessels that line the larger outer berths.
Those keen on water-based thrills will also find plenty to keep themselves busy here, with everything from scuba diving and sailing schools to white-knuckle watersports. If your idea of fun is the more subdued retail variety, there's a decent selection of fashion boutiques, concept stores and, of course, shops selling everything you need for a life on the waves. The marina also regularly hosts some of the most exciting live shows on the island, as well as a great roster of annual events. As marinas go, it's really got it all.
Port Adriano in photos
fg_lazyload
Bruno Restaurant
Port Adriano
Concerts
Sunset Yoga
Street Food Festival
Port Adriano
Experience Port Adriano
While boating and water-based activities obviously play a huge part of life in Port Adriano, there's quite a choice of things to do on dry land here, too. Walking and hiking is a popular pastime in the region, largely thanks to the protected area just southeast of El Toro. Starting from the dramatic views from the Mirador El Toro, trails run for several kilometres past the Isla de Toro marine reserve to a broad peninsular fringed by high cliffs and unspoilt nature. It is an especially popular route for the many local dog owners, as well as mountain bikers.
For those who love golf, or are looking to start, nearby Golf Santa Ponsa and T Golf and Country Club offer several top-notch courses within just a short drive. If you're looking for a more energetic way to spend your time, located in the marina is Fit Corner – a super-modern fitness club with personal trainers and lovely views over the harbour.
Events in Port Adriano
Port Adriano Music Festival
Nowhere outside of the capital can boast such a rich programme of musical concerts as Port Adriano. From March, the port hosts an incredible line-up of open-air performances ranging from classical virtuosos to pop icons, culminating in the Port Adriano Music Festival held in August.
Aftersun Market
Every year over four weekends around the month of August the port hosts this innovative market event. As the name suggests, it is an evening event (between 18:30 to 23:30) where dozens of shipping containers are used both as works of art and stalls selling items and works related to fashion, decor and design.
Mallorca Classic Week
This five-day annual event kicks off in the port every September, and brings together a fabulous collection of classic cars, motorbikes and even yachts. A busy programme includes sightseeing guides of the island, pin-up girl competition, and award ceremonies, while barbecues and food trucks keep visitors fed.
Street Food Festival
This spring festival celebrates the best of the island's street food, with colourful vintage caravans serving up all kinds of mouthwatering cuisines from around the world. This buzzing event always pulls in the crowds, adding live music and entertainment for all ages.
Restaurants in Port Adriano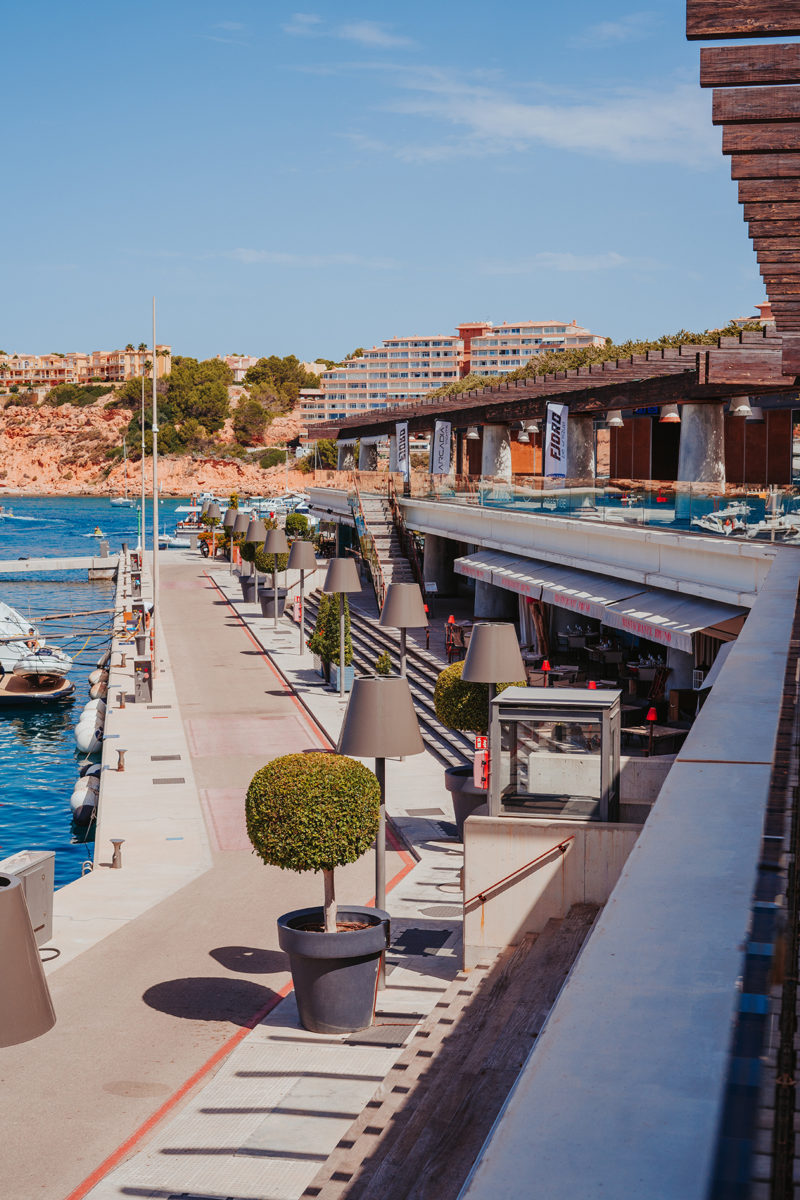 Port Adriano certainly outpunches its size when it comes to its dining scene, almost a dozen of excellent restaurants scattered on and around its waterfront. The vibe at most of the marina-based eateries is upscale but laid-back, with stylish surrounds and quality cuisine often centred around seafood and Mediterranean flavours.
The first you see as you enter the marina is two restaurants in one: La Terraza, where the lower level offers breakfast and casual fare, while upstairs is more sophisticated Med-inspired cuisine. Follow the docks along, and there's a string of top eateries, with La Cantina, Vino del Mar and Marisqueria el Faro all offering alfresco terraces and excellent Mediterranean fare.
For residents who don't want to descend into the marina, there's a handful of more low-key restaurants lining the main street – Calle Gran Vía offering. Options include the likes of pizza, sushi and Thai, with Bistro 49 being a firm favourite amongst locals.
Nightlife in Port Adriano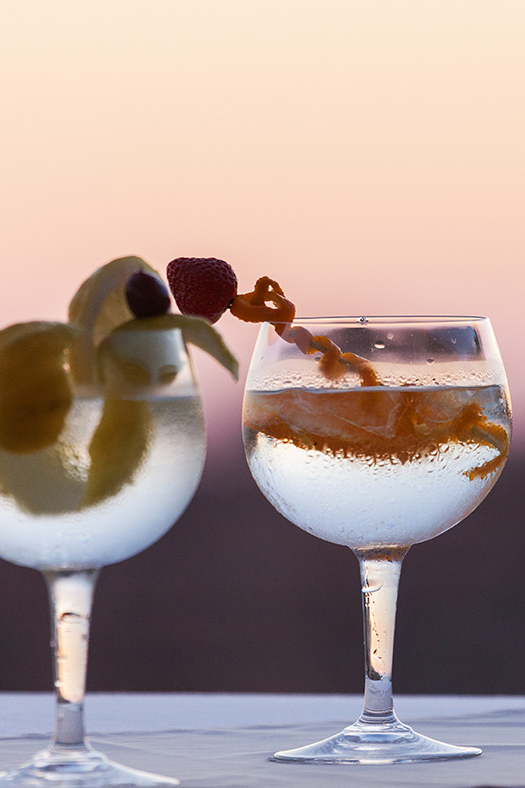 While Port Adriano isn't somewhere people flock to for the nightlife, those looking for a low-key evening out won't be disappointed – at least during the summer season. There's only one nightclub in town, Uppereast, relocated from Hamburg and set on the central quay next to coast by east restaurant. It's a glitzy venue with flashy LED ceiling, regular live shows, and international DJs.
Some restaurant around the marina also put on live music or DJs sets over the summer months a few nights a week, while the Crew Bar is a meeting point for crew and port works offering a late bar and relaxed vibe. Anyone looking for livelier nightlife, however, can find it in nearby Santa Ponsa.
Hotels in Port Adriano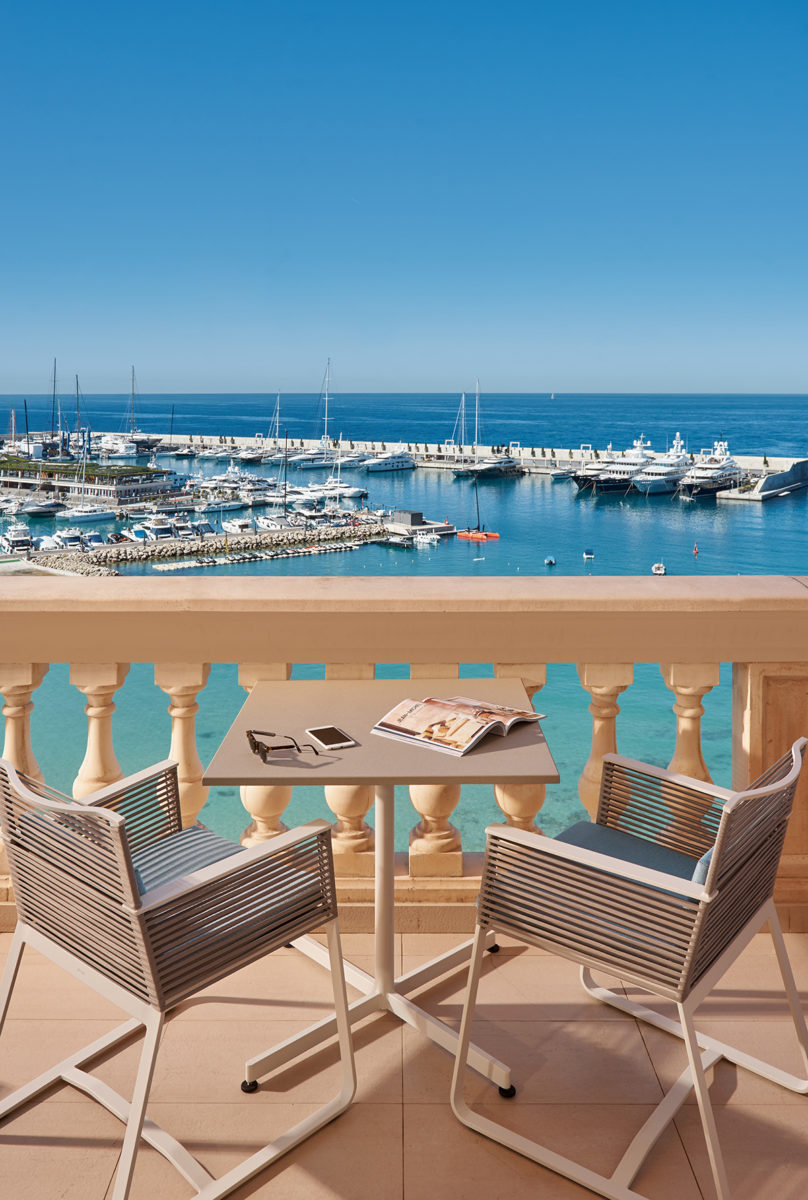 As well as being the only five-star hotel in the area, Pure Salt Port Adriano is the only hotel in town. It open opened in 2002 and is built in the style of a sprawling Mediterranean villa, joining the Pure Salt chain in 2016 who gave it a full make-over and extension. It boasts a truly enviable cliff-top position high above the north end of El Toro beach with spectacular views out over the luxury marina and Mediterranean Sea from numerous vantage points. This includes every one of its 93 guest rooms and suites, as well as from its circular infinity pool and landscaped gardens. An adults-only environment also ensures the air of serene luxury is maintained throughout.
For those looking elsewhere for a short-term let, there is no shortage of villas available to rent around the El Toro neighbourhood – some perched on the cliff with stunning views – as well as a scattering of holiday apartments lets in the area.
Property in Port Adriano
While it'll come as no surprise that Port Adriano and its surrounds are home to some of the most exclusive real estate on the island, there's also plenty of more accessible property available here, too. At the high end, perched on the cliffs that run south of the marina are front-line villas that impress as much for their size as their stunning views. At the other end of the bay also sits the Cap Adriano development – one of Mallorca's most exclusive. In between are various high-end complexes, favoured for as second or holiday homes, while the main El Toro residential neighbourhood offers plenty of houses and apartments for families looking for more a permanent place to settle down.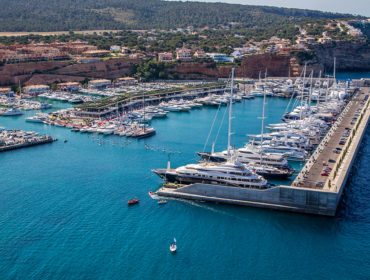 While best known for its world-class yacht marina, Port Adriano's neighbourhoods also offers a diverse range of properties and a family-friendly lifestyle.
Business & work in Port Adriano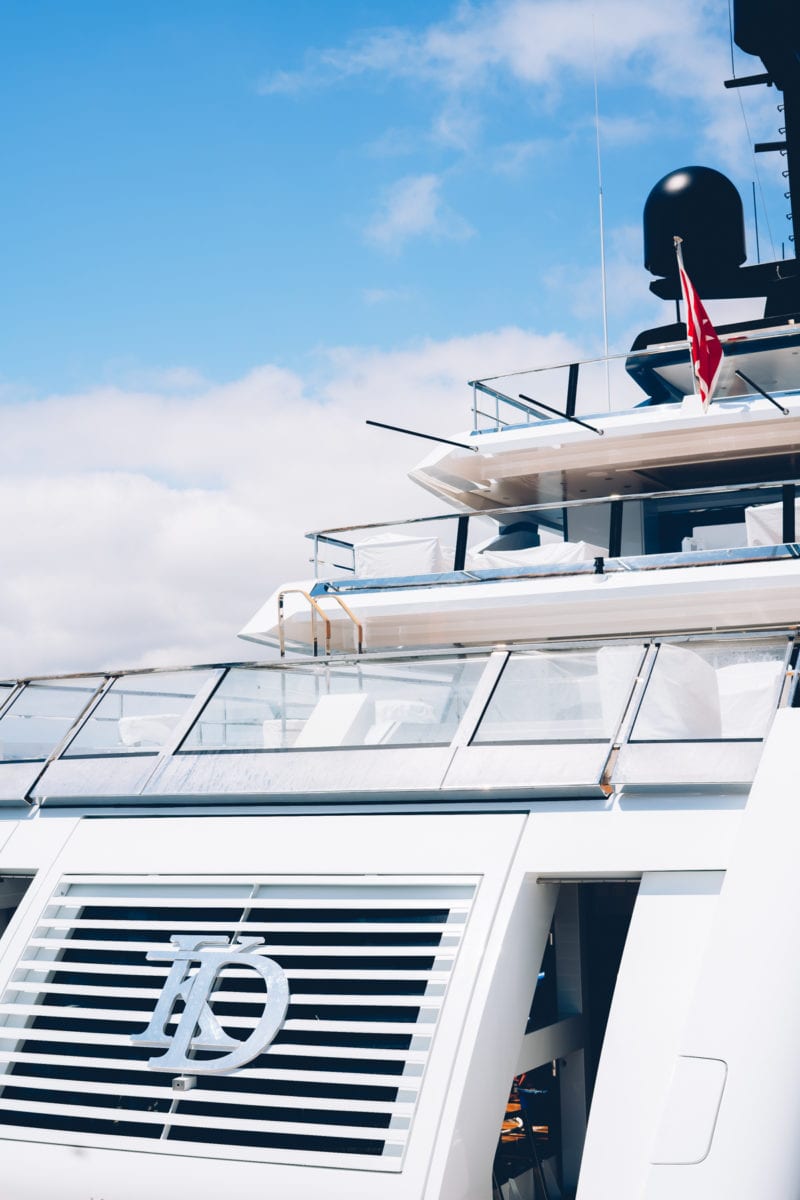 The majority of work and business opportunities, unsurprisingly, centre around the nautical services. There are already a healthy number of businesses located in and around the marina offering a broad range of maritime-related services, from yacht brokerage and chartering to every aspect of boat maintenance including wintering, repairs and renovations. More than 200 people are directly employed at the shipyard over winter when it's busiest. And the industry generates a significant amount of employment throughout the year, too, together with services aimed specifically at crew professionals.
The on-going development of real estate in the area also brings work here, as well as a brisk property market demonstrated by over half a dozen agencies in and around the port. Besides the rental of recreational boats, traditional tourism is very low-key and plays a relatively small role in the local economy.
People: Locals & celebrities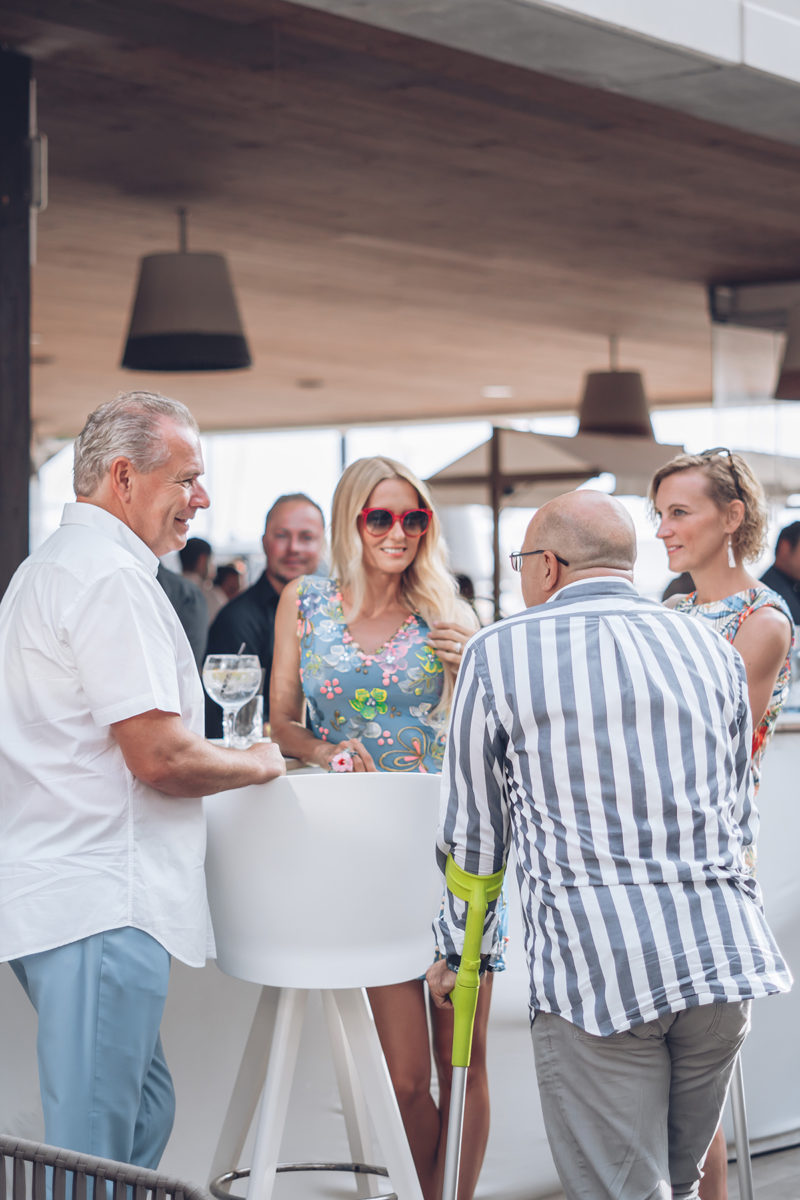 Before the reopening of the new marina, Spanish and native Mallorcan made up the vast majority of residents of the main residential neighbourhood of El Toro. Since 2012, increased interest in the port has attracted greater numbers of foreign settlers, mostly German and British expats, many who either own boats in the marina or are involved in the nautical industry. New-build luxury developments such as the front line villas and apartments at Cap Adriano and those in the direction of Nova Santa Ponsa area have also drawn wealthy foreigners to the area, some of whom also snapped up the multi-million euro villas that line the cliffs overlooking the port.
With the regular music shows and occasion high-profile parties the port hosts, it is not unusual to spot the odd international celebrity in the area, especially around the summer months.
Last Word
While Mallorca certainly has its fair share of high-end marinas, Port Adriano more than holds its own as a world-class destination where the well-heeled can moor their luxury yachts. But there's so much more to it, too, with a top-notch dining scene, lively events calendar, and a nice sandy beach – all largely untouched by mass tourism. All this has attracted an increasingly international community, comprising everyone from young working families to boat captains to multi-millionaire boat owners who now call it home.