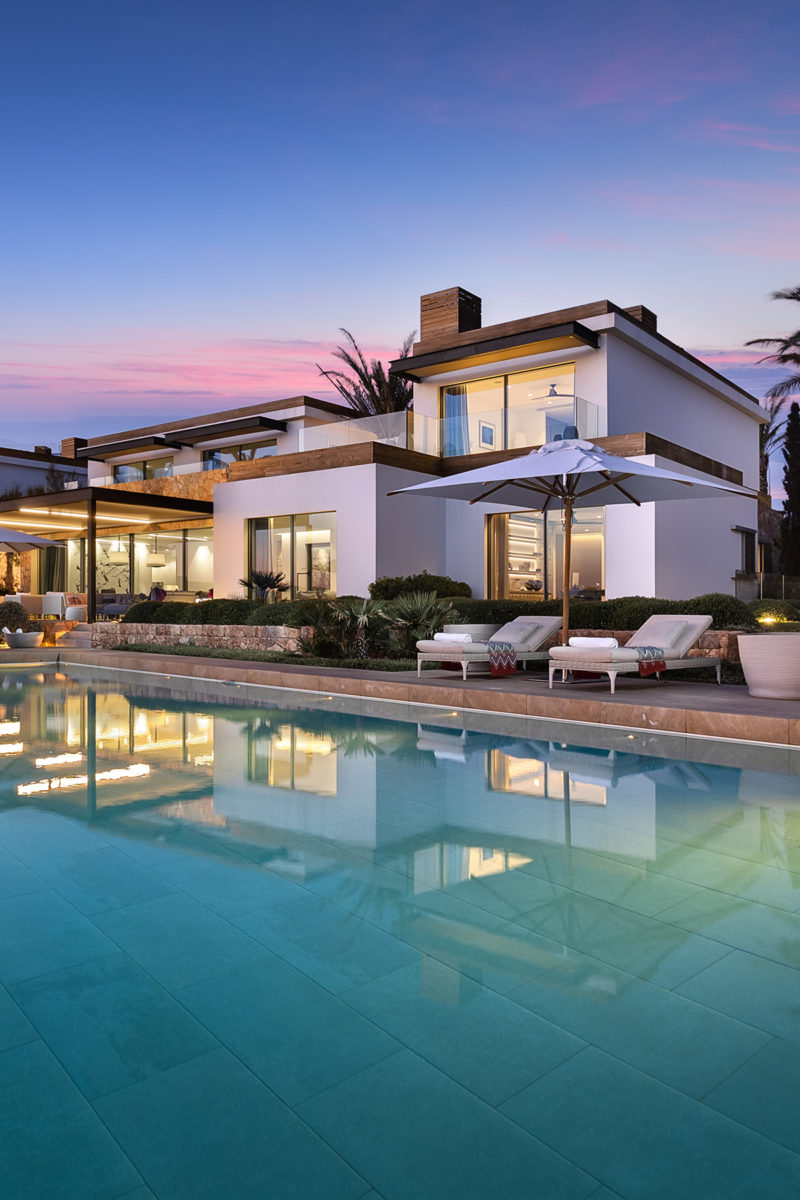 Port Adriano is one of those destinations whose reputation proceeds it. Even before having the opportunity to experience it first hand, chances are most will be familiar with its status as one of the top marinas in Europe, for its chic Philippe Starck designed wharf, and as the setting for some of the island's most high-profile live performances.
But there's more to this port than super-yachts and showbiz. Its immediate surrounds are home to an increasingly diverse community, the majority of whom inhabit the adjoining neighbourhood of El Toro. While this tidy grid of residential streets attract a healthy mix of mid-to-high income Spanish and foreign families, on its cliff-top fringes have been constructed magnificently opulent villas to rival any on the island, featuring sweeping sea views over the marina and the neighbouring marine reserve.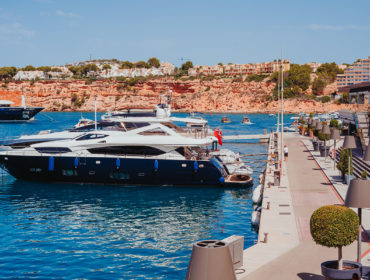 As well as being home to one of Europe's most modern marinas, Port Adriano offers an outdoor lifestyle, cultural events and great dining on your doorstep.
Skirt westward around the scenic bay, past the pretty sandy beach and five-star Puro Salt hotel, stands the first of a string of apartment complexes. Continue on to the adjacent cape and you'll find most of the area's holiday homes and boat owners' pieds-a-terre, usually set exclusive gated communities with extensive gardens and meandering lagoon-style pools. But for unbridled exclusivity, nestled along the tip of this headland is the Cap Adriano development – set opposite side of the bay from the marina, with its cluster of gorgeous, multi-million-euro villas, it's one of the most sought after addresses on the island and the epitome of luxury living on Mallorca.
Where to buy a property in Port Adriano
El Toro Village

Port Adriano's principle residential neighbourhood is the village of El Toro. It comprises a main road dotted with various restaurants and business, a neatly laid-out grid of streets mostly lined with detached family homes, as well as various local services such as nurseries, banks and a medical centre. It's a peaceful and family-friendly neighbourhood with two circular play-parks plazas and a 'green zone' perfect for dog walking – a popular pastime amongst locals. The south end of El Toro also rises steeply, affording properties here some stunning views towards the distant Tramuntana sierra.
El Toro Clifftop
While the 'village' offers a reasonably affordable range of properties, skirting the cliffs that line the western side of the neighbourhood are some of the region's most expensive. Built into the cliff edge, this collection of premium villas are a mix of traditional Mediterranean style and sleek contemporary builds with clean white lines, glass walls, all with infinity pools and breathtaking views. Some of the older examples have been demolished to make way for their 21st-century incarnations, and with price tags as high as their lofty cliff-top setting.
Cap Adriano
From the Carrer Murillo and south of the Carrer Gran Via Penyes Rotges, this extension of Nova Santa Ponsa boasts some of the area's most prime real estate. Luxury apartment complexes such as Portogolf Residencial and Las Terrazas make up the bulk of the property on this cape of land which, while home to a permanent population, also leans heavily towards second or holiday homes. Completed in 2018 with views across the bay to the marina, the Cap Adriano development is one of Mallorca's most prestigious, where villas can change hands for between €12-14million.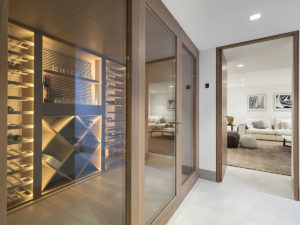 Son Ferrer
Located just a couple minutes' drive from the port, Son Ferrer is a purpose-built village with a similarly grid-like layout to neighbouring El Toro. It is a self-contained community divided into two zones, a commercial area and a residential area, together with schools, parks, and even its own football team. Offering a mixture of town houses, modest villas and apartments, property prices are relatively accessible here, being home to workers employed in the marina and surrounding resorts.
Advantages to buying a property in Port Adriano :
One of Europe's most modern marinas
Own beach and close to several others
Good range of properties available
Not hugely affected by seasonal tourism
Most local restaurants open year-round
Next to El Toro marine reserve
Close to world-class golfing facilities
Some things to bear in mind
Off-season lots of places still close
No quick access to motorway
Lack of new available plots
Port Adriano Price Guide
2/3 BEDROOM APARTMENT
€200.000 – €1.100.000
3/4 BEDROOM FAMILY HOUSE
€550.000 – €1.500.000
4/5+ BEDROOM SEA-VIEW VILLA
€5.000.000 – €12.000.000
(Please bear in mind that prices are subject to change)
Types of property in Port Adriano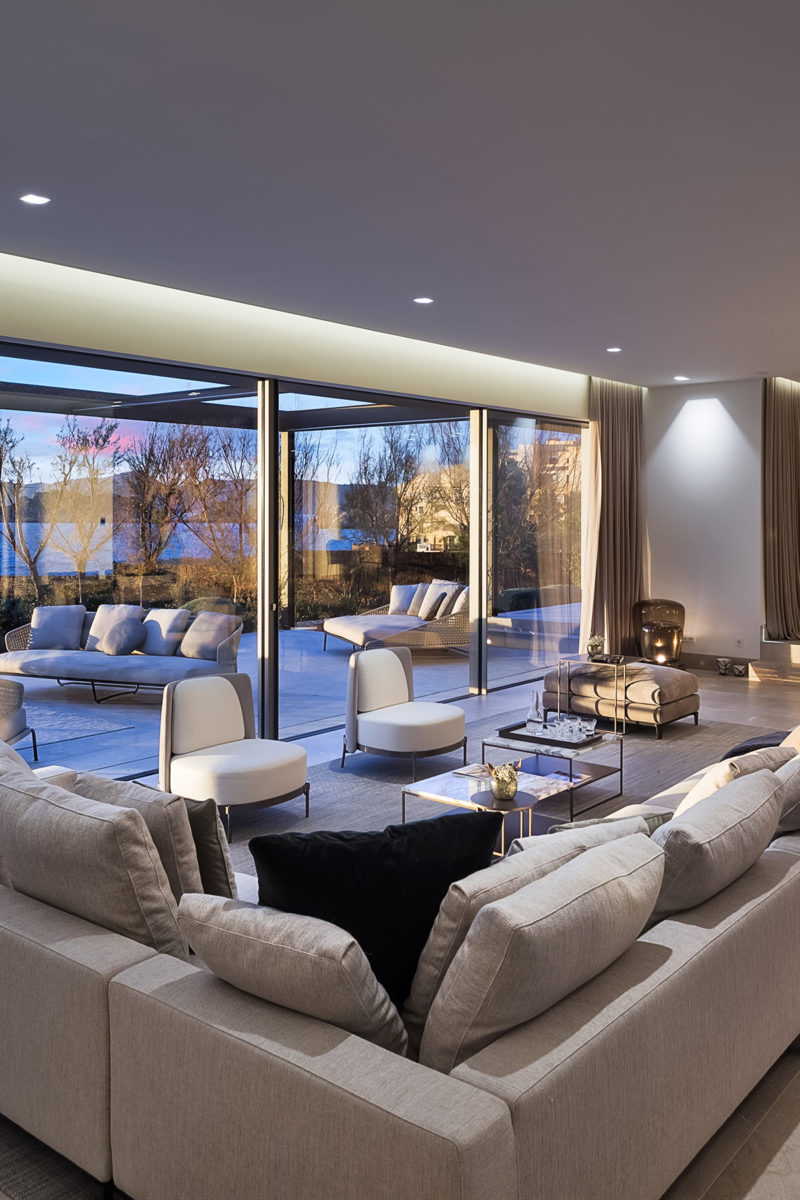 Apartments
Apartment complexes make up a large chunk of the housing stock around Port Adriano, with prices starting fairly modestly but topping out at over a million for a penthouse unit with views. Along El Toro's main road (Carrer Gran Via) are several large eighties-era developments, which tend towards the more affordable end – though still with a hefty premium for frontline and sea views. More upmarket, and more modern, apartment blocks can be found towards the Nova Santa Ponsa area, with these offering better facilities and commanding higher price tags.
Family homes
These are found in abundance in both El Toro and Son Ferrer, catering to the many Spanish and, increasingly, international families who live in the area. These detached houses can vary greatly from inexpensive small two-floor homes with small gardens to newly-built contemporary mansions with plenty of outside space approaching the million mark. You'll rarely find one without a pool and, thanks to the orientation of much of El Toro, lots also have great views from upper floors of the northern mountains.
Luxury sea-view villas
For those to whom money is no object, Port Adriano boasts some of the finest front-line villas on the island. Most of these can be found perched vertiginously on the cliff just south of the marina – along the aptly-named Avenida de la Mar – affording genuinely spectacular panoramas of this scenic stretch of coastline. These start around the €5million mark for the older and more traditional, but expect to pay almost double that for the finest examples, which tend to be built in fashionably minimalist styling such as the stunning landmark UBON 34.
Rules and Regulations
The main building regulations concerns the size of the property in ratio to the plot, as well as not obstructing the sight-line of nearby properties. With all surrounded land either already developed or protected, new plots in the area are almost unheard of, so many opt to demolish rather than renovate. However, for example, a villa on a plot cannot be demolished to make an apartment block.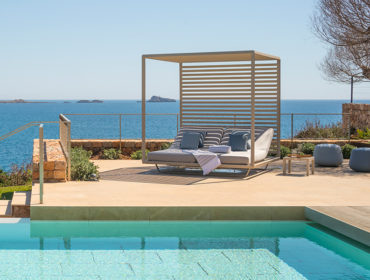 Furniture and interior specialists Terraza Balear have brought their design expertise to the exclusive and superbly sited Cap Adriano development.
What the Experts Say About Property in Port Adriano
"The market in and around Port Adriano is very busy – specifically in the very high price bracket. I believe that people are seeking to combine the enjoyable with the practical here e.g. invest money in bricks and mortar while being able to enjoy it with family and friends."
Birgit Süßmilch, Engel & Völkers Mallorca Southwest.
"Port Adriano doesn't just offer some of Mallorca's finest high-end property, there's also a wide range of homes available that has attracted an increasingly international community who enjoy the fabulous lifestyle that this part of the island has to offer"
Dmitry Struchkov, Chief Sales Agent, First Mallorca.
Trusted real estate agents in Port Adriano
See below for more Villas for sale in Mallorca!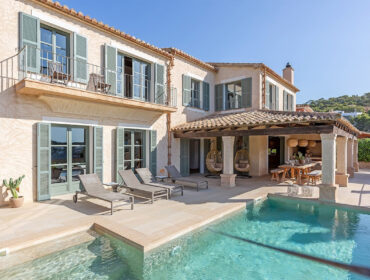 Discover the best Mediterranean villas for sale in Mallorca handpicked by Dr. Helen Cummins and team of local property experts.