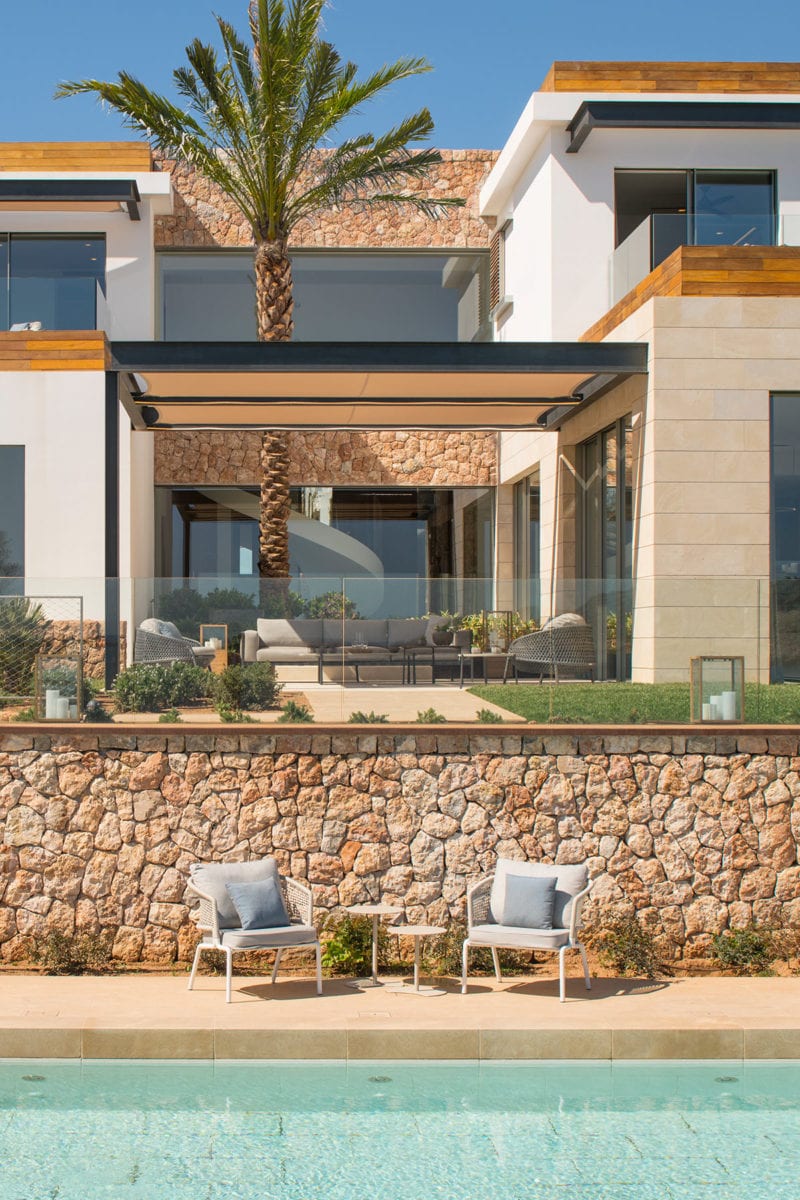 Occupying the triangular tip of a rocky promontory directly opposite Port Adriano is the recently completed luxury complex of Cap Adriano. The 10,000-square-metre development comprises nine villas and eight apartments, all featuring spectacular views over the neighbouring bay to the east and Malgrats Islands to the west. Skirting the low cliffs, most accommodation also provides direct access to the Mediterranean waters.
Built by GRAS – Reynés Architecture Studio, the properties are finished in a sophisticated and modern mix of soft Mediterranean lines, natural wood and local stone; an emphasis on large windows bring views of the surrounding seascape into bright airy spaces. All the villas include manicured gardens with long infinity-edge pools, decorative pergolas and lush Mediterranean planting; apartments share a community pool surrounded by landscaped gardens, as well as sauna and fitness facilities.
Bringing their expert eye and impeccable taste to the stylishly unfussy interiors was the team from Terraza Balear. Employing a combination of natural tones inspired by the environment, they created living spaces that are light and casually elegant, and with a real focus on comfort. The design behind the furniture layout always took into account the setting in order to take full advantage the views of each individual property. A range of different textures can also be found in every area, ranging from leather and stone, to metal and wood. Top brands, such as renowned Italian furnishings company Minotti, have also been used to complete the beautifully-presented luxury interiors found throughout.
Cap Adriano is a gated community with 24-hour secure controlled access and concierge service for all residents. While the eight apartments are already sold out, the more newly-finished villas are still available… at least at time of writing.
Photos by: Mauricio Fuertes