Strawberry Gazpacho
Serves 4
Ingredients:
340g fresh tomatoes
100g cucumber
300g strawberries
1 large clove of garlic
30g Olive oil
Large handful of coriander leaves or tarragon
50g day-old bread
10g sherry vinegar
Salt and pepper
Roughly 1 cup of water
Roughly chop tomatoes, cucumber, strawberries, bread, garlic and herbs and place in a large bowl. Add the olive oil and season with some salt and pepper. Mix to combine and leave to rest for about 10 mins. This will allow the flavours to combine and intensify.
Blend together with half of the water. Add the rest and more if you'd like, to achieve your desired texture. Finish with the sherry vinegar right at the end and check seasoning.
If you want a really smooth texture, pass through a sieve.
Place in the fridge to chill and serve cold.
Tomato salad with mozzarella, radish, rocket, marinated red onion and basil oil
Serves 4
Ingredients:
5 large fresh tomatoes preferably different types and colors
10 cherry tomatoes also different colors if available
1 red onion
1/2 cup fresh beetroot juice
1/2 cup cider vinegar
1/4 cup sugar
1/4 cup water
1/4 teaspoon salt
2 cups of picked basil leaves
1/2 cup of oil (a flavorless one like vegetable oil works best but you can use olive oil, it will just mask some of the basil flavor)
Handful of rocket leaves
Fresh mozzerella, 3 balls cut into small rough cubes
3 radishes sliced very thin
Salt and pepper to taste
For the red onion:
Peel, half and slice length ways into thin strips and place in a bowl or glass jar. In a small pot combine the water, vinegar, salt and sugar and stir to dissolve. Bring it just to the boil and remove from the heat. Add the beetroot juice and pour it all over onions. Press down to ensure the onions are completely covered. A small piece of clingfilm placed directly on top can also help with this. Set aside to cool and the place in the fridge. These are always great to have on hand and go well in salads, sandwiches and with cheese. They will keep for up to 2 weeks in the refrigerator.
Basil oil:
Bring a small pot of water to a boil and add in basil leaves. Blanch for 40 seconds and remove and place immediately into iced water.
Remove from water and squeeze out the excess.
Place in a blender with a pinch of salt and the oil and blend until fine. Not too long or the bail will start to heat and brown.
Strain if you want a clear oil or otherwise leave as is. Set aside for use or place in the fridge.
For the tomatoes, wait until just before serving to cut them.
Chop into different shapes and sizes and season with salt and pepper, olive oil and a little of the basil oil. Can also add some freshly chopped basil.
To assemble:
Place a little of the rocket leaves in the bottom of the bowl and add a little of the basil oil.
Spoon over some of the tomatoes. Add the mozzarella and a few of the marinated red onions. Add some more tomatoes on top and arrange some of the radish, rocket and red onion on top. Finish with the basil oil.
Cod with cauliflower puree, curry pickled cauliflower and courgette spirals
Serves 4
Ingredients:
4 fresh cod fillets with skin on
2 courgettes – 1 green and 1 yellow if available
1 head of cauliflower
1 small white onion
1 cup of milk
1 cup of water
1 large clove of garlic
1 teaspoon fresh lemon juice
1/4 teaspoon curry poder
1/4 teaspoon ground turmeric
1/4 cup sugar
1/2 cup of water
1/2 cup white wine vinegar
For the curry pickled cauliflower:
Use your hands to remove about a cup and a half of tiny florets, trying to keep intact.
In a small bowl combine the turmeric and curry powder and toss the florets in this. In a small pot bring the sugar, water and vinegar to the boil. Stir to dissolve the sugar. Remove from the heat and pour this over the cauliflower making sure all it all gets submerged. Set aside to cool.
Cauliflower puree:
Roughly chop the remaining cauliflower into even sized pieces.
Slice the onion and chop the garlic. Season with a pinch of salt and cook with a little oil for about 5 mins on a low heat being careful not to color. Then add the cauliflower and cook for a further 4 mins. Next add the milk and water. Cover the pot and cook this on a low temperature for approx 30 mins until the cauliflower is completely cooked and starts to break down. Blend on high speed to a puree. Check seasoning and add the lemon juice, blend again to finish.
Courgette spirals:
Using a spirilizer, create ribbons ribbons from the courgette. If you don't have a spiralizer you can cut the the courgette in quarters lengthwise and use a vegetable peeler to create ribbons.
Toss the ribbons in a pinch of salt and place in a strainer over an empty bowl and set aside for 5 mins. This will help to draw out the excess moisture in the courgette. Just before serving warm these slightly in a pot with a splash of olive oil and some salt and pepper.
To cook the cod:
Use a paper towel to pat the skin dry and rub in a little olive oil and season with salt.
Get a pan really nice and hot and add a teaspoon of oil. Place the fish skin side down in the pan. Press down for a few seconds to ensure the skin cooks evenly. Cook on this side for approx 3 to 4 minutes. Lower the heat, and continue to cook for another approx. 3 minutes. Turn it over, cook for one minute and remove pan from the heat. The pan will still have enough heat to finish cooking the fish.
To assemble:
On the bottom of the plate, place a large spoon of the cauliflower puree. Next add the courgette spirals and carefully place the fish on top. Arrange the pickled cauliflower on top. Finish with a small squeeze of lemon juice.
Watermelon and feta salad
Serves 4
Ingredients:
1/4 of a large watermelon cut into cubes
150g Greek Feta cut into similar size cubes
50g Toasted and chopped pistachio
The seeds from 1 pomegranate
Handful of fresh mint
Drizzle of olive oil
1 teaspoon of fresh lemon juice
This is a really simple salad that relies on the freshness of the ingredients to do the talking.
Mix a little olive oil with the lemon juice and add a pinch of salt and pepper. Carefully dress the watermelon with this and set aside.
Chop half of the mint as finely as possible and save the rest for garnish.
Arrange the melon and feta on the plate in a checkerboard fashion.
Sprinkle over some of the toasted pistachio and the pomegranate seeds and some of the chopped mint.
Garnish with some sprigs of fresh mint.
Chicken with corn, romesco sauce and canellini beans.
Serves 4
Ingredients:
4 chicken breasts
4 fresh corn on the cob
1 small onion chopped
1 cup of milk
2 cup of water
3 large tomato
2 red peppers cut in half with seeds removed
2 cloves of garlic
1 teaspoon of smoked paprika
small bunch of fresh parsley chopped
1 teaspoon of sherry vinegar
50g toasted chopped almonds (skin off)
300g cooked cannellini beans (if using a jar, drain and rinse)
juice of half a lemon
Start by making the romesco sauce. Remove the eye of the tomato and cut an X into the other end of the tomato. This will help to remove the skin after cooking.
Place the tomato's in a roasting tray with X side facing upwards and add the peppers, garlic and a splash of olive oil. Roast these at 180 degrees for approx 30 mins until they start to darken in color. Remove and cover the tray tightly with tin foil. Set aside to cool. After it has cooled enough, carefully remove the skin from the peppers and tomatoes. The steam created inside of the tin foil will have helped this process. Of course you can also use store bought roasted red peppers!
Blend the tomatoes, peppers and garlic with a little olive oil, salt and pepper, and smoked paprika. Finish with the nuts, parsley and sherry vin and pulse for a second to combine. The sauce should be slightly textured and not smooth.
Next peel and shuck 3 of the corn cobs and place in a pot with the chopped onion, salt and pepper and a splash of oil. Saute very lightly for 5 mins on a low heat to start the cooking process. Then add the water and milk, enough to cover the corn and cook on a medium heat for approx 40 mins untll the corn is cooked and starting to soften. Blend at high speed untill it achieves a pureed consistency.
For the remaining corn I brushed it very lightly with olive oil and set it in a dry pan on a med-high heat until the skin begins to charr and blacken. This would work even better if you have access to a BBQ. Turn often to ensure even cooking. Remove the corn carefully from the cob.
For the beans, mix together with a little olive oil, lemon juice, salt and pepper and chopped parley. Warm through to serve.
Finally for the chicken breast, season each one with salt and pepper. Heat a large pan until almost smoking and add about a teaspoon of oil.Place the chicken in the pan skin side down, even if there is no skin, and press down gently to ensure even coloring. Cook for about 4/5 mins and then lower the heat slightly. Ensure the skin doesn't get too dark but you do want a nice brown colour. Cook for a further 5 mins on this side and then flip over. Wait about 2 mins then cover the pan and lower the heat again slightly. The chicken will almost begin to steam in its own juices. You could even add a squeeze of fresh lemon in here now. Leave to cook covered for a further 5 mins. Remove from the heat and allow to rest for 4 mins.
Serve with the corn puree underneath, a spoon of romesco in the side and the charred corn and beans on either side of the chicken.
Chilled cucumber soup:
SERVES 4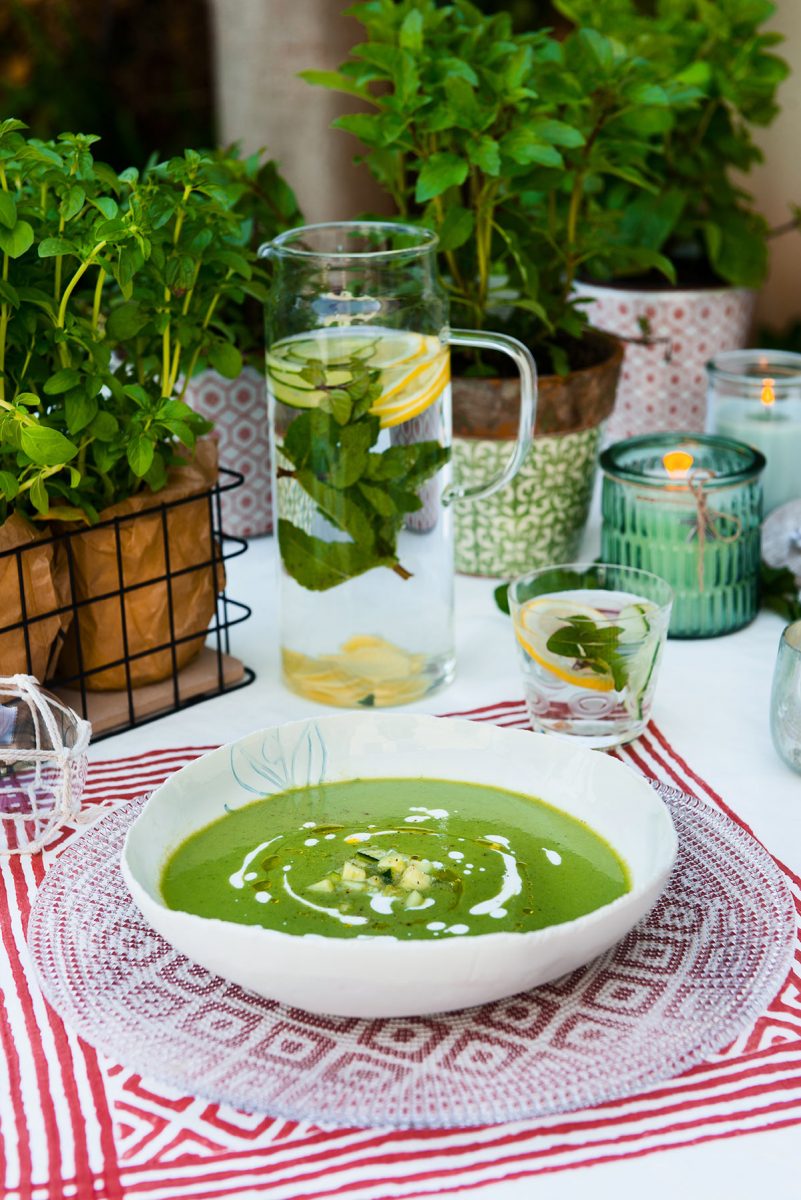 Ingredients:
4 large cucumbers peeled (I used both English and field cucumbers but either is fine)
Juice of 2 limes
1 jalepeno (seeds removed)
2 ripe avocados
1 large clove garlic
50g Baby Spinach
Small bunch of fresh coriander
Small handful of fresh mint leaves
170g plain natural yogurt/Greek yogurt
Olive oil
250ml water
Begin by roughly chopping the cucumber, jalepenos, avocado, garlic and herbs into similar size pieces and mixing together in a bowl.
Lightly season with salt and pepper and a drizzle of olive oil.
Blend these on high speed starting with half of the water. Add the spinach and blend, adding the water as needed to reach the consistency you like.
Finish with the yogurt and blend again. Check seasoning.
I like to strain this through a sieve to make sure its nice and smooth but you definitely don't have to.
Serve chilled with fresh herbs and a spoon of yogurt to garnish.
Angle food cake
Serves 4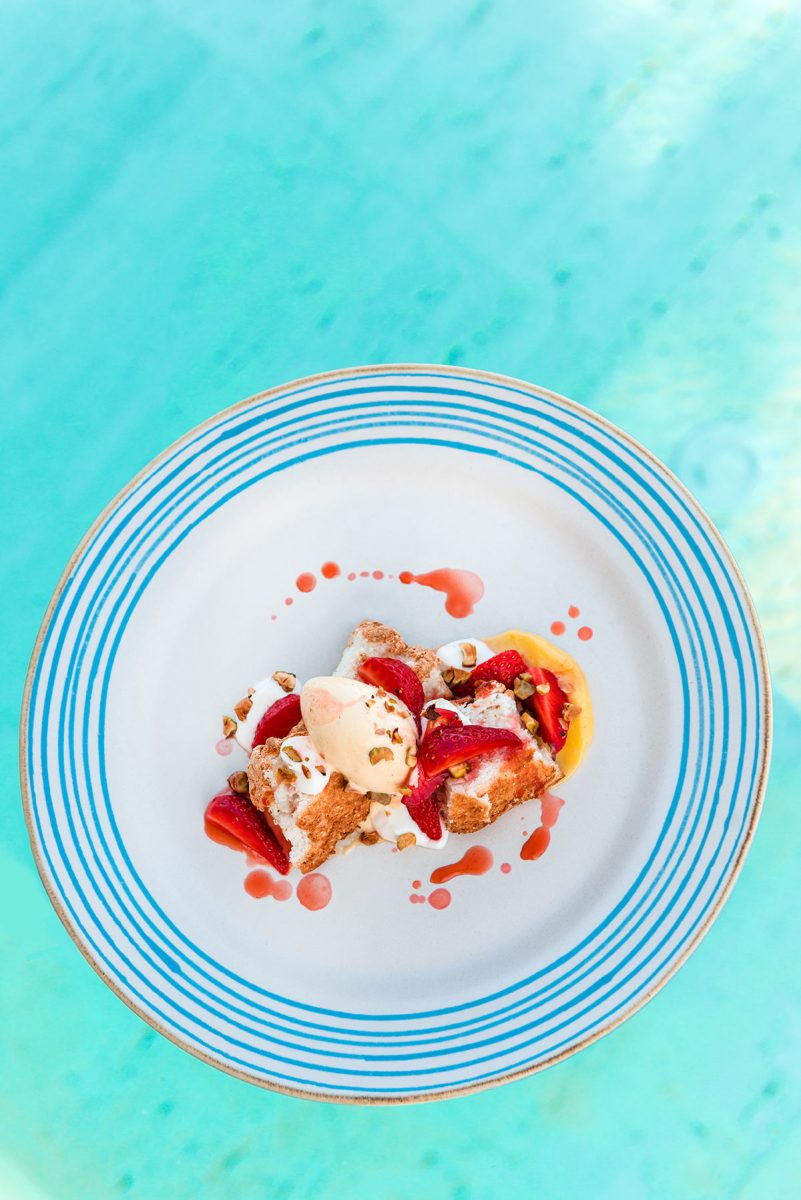 Ingredients:
65g Self-raising flour
40g Sugar
1/4 teaspoon of salt
180g Egg whites (save the yolks for the lemon curd)
80g Sugar
7g lemon juice
2g Vanilla essence
Bake at 180 degrees Celsius for approx 30 mins
This is a classic American cake traditionally baked in a tube pan. To substitute for this I used a 9″ springform cake tin with removable base and placed a tall individual ring mold in the middle. You could also use an old soup can with both top and bottom removed. Baking without a tube in the middle will cause the middle of the cake to collapse when removed from the oven.
Method:
Sift together the flour, 40g sugar and salt and set aside.
Using a stand or handheld mixture, begin whisking the egg whites on med speed until they turn frothy. Keep mixing and pour in the lemon juice and vanilla. Then add the 80g of sugar and increase speed. Whip on high speed until the meringue reaches medium to stiff peaks.
Fold the dry ingredients carefully into the egg whites, 1/3 at a time, careful to not beat out the air in the meringue.
Pour into the non-greased cake tin and place in the oven. Resist opening oven door while baking to avoid collapsing. Check after 20 mins. Use a cake tester or toothpick and insert into cake, it should come out clean.
Cool fully before removing from the pan. Use a small knife to run around the rim to help remove.
Lemon curd.
Ingredients
80g egg yolks
58g lemon juice
78g sugar
150 cubed butter
Place everything in a pot and cook over a low heat stirring all the time. Begin with a whisk but as the mix starts to thicken, switch to a spatula so the curd doesn't stick to the bottom of the pan. Be careful if it starts to get too hot or boil, there is a risk it will curdle. Cook it to a custard-like consistency. It should coat the back of a spoon and keep its form on the spoon when you run a finger through it.
Strain into a bowl to ensure a smooth consistency and cover the top directly with cling film to prevent a skin forming. Chill in the refrigerator.
Whipped kefir
250g plain kefir
100g whipping cream
1/2 teaspoon vanilla essence
I began by straining the kefir by placing 3 pieces of kitchen towel in a strainer and setting over a bowl. I left this in the fridge for 2 hrs.
Whisk the cream to soft peaks and then add the strained kefir and vanilla. Whisk quickly to stiff peaks but try not to whisk for a long time. This also goes great with granola or fresh pancakes or just with some fresh fruit.
Strawberries
Wash hull and 1/4 about 10 strawberries. Place in a bowl and sprinkle with a little sugar and a squeeze of lemon juice. Mix and set aside for a few minutes. The sugar and acid from the lemon will draw out the juice from the strawberries and create a beautiful flavor and a light sauce.
Pistachios
Toast a small handful of pistachios (non salted).
Cool and roughly chop.
To assemble this dish place a large spoon of lemon curd on the plate and use the back of a spoon or a small palette knife to drag it across the plate. Arrange 3 pieces of angel food cake on top.
Add some of the kefir in between the cake. Spoon over some of the stawberries and top with the chopped pistachio. Serve as is or with a scoop of vanilla icecream.