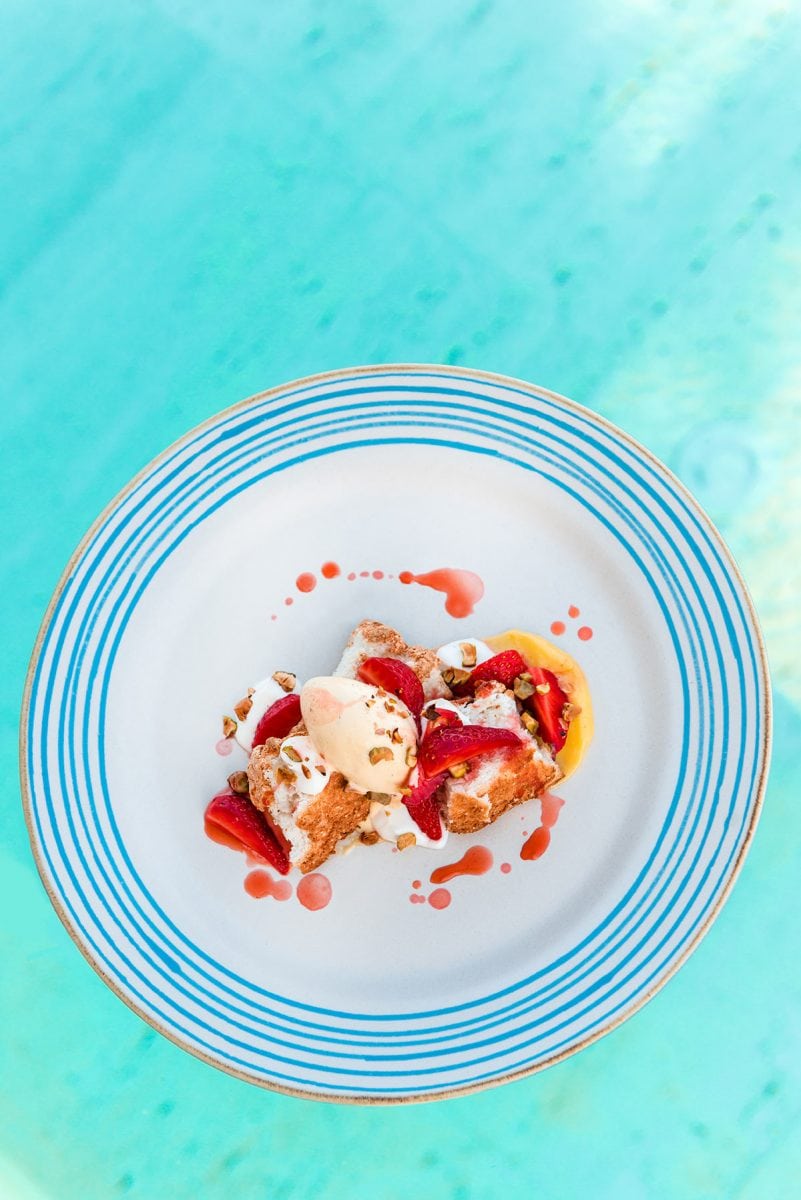 Serves 4
Ingredients:
65g self-raising flour
40g sugar
1/4 teaspoon of salt
180g egg whites (save the yolks for the lemon curd)
80g sugar
7g lemon juice
2g vanilla essence
Bake at 180 degrees Celsius for approx 30 mins
This is a classic American cake traditionally baked in a tube pan. To substitute for this I used a 9″ springform cake tin with removable base and placed a tall individual ring mold in the middle. You could also use an old soup can with both top and bottom removed. Baking without a tube in the middle will cause the middle of the cake to collapse when removed from the oven.
Method:
Sift together the flour, 40g sugar and salt and set aside.
Using a stand or handheld mixture, begin whisking the egg whites on med speed until they turn frothy. Keep mixing and pour in the lemon juice and vanilla. Then add the 80g of sugar and increase speed. Whip on high speed until the meringue reaches medium to stiff peaks.
Fold the dry ingredients carefully into the egg whites, 1/3 at a time, careful to not beat out the air in the meringue.
Pour into the non-greased cake tin and place in the oven. Resist opening oven door while baking to avoid collapsing. Check after 20 mins. Use a cake tester or toothpick and insert into cake, it should come out clean.
Cool fully before removing from the pan. Use a small knife to run around the rim to help remove.
Lemon curd
80g egg yolks
58g lemon juice
78g sugar
150g cubed butter
Place everything in a pot and cook over a low heat stirring all the time. Begin with a whisk but as the mix starts to thicken, switch to a spatula so the curd doesn't stick to the bottom of the pan. Be careful if it starts to get too hot or boil, there is a risk it will curdle. Cook it to a custard-like consistency. It should coat the back of a spoon and keep its form on the spoon when you run a finger through it.
Strain into a bowl to ensure a smooth consistency and cover the top directly with cling film to prevent a skin forming. Chill in the refrigerator.
Whipped kefir
250g plain kefir
100g whipping cream
1/2 teaspoon vanilla essence
I began by straining the kefir by placing 3 pieces of kitchen towel in a strainer and setting over a bowl. I left this in the fridge for 2 hrs.
Whisk the cream to soft peaks and then add the strained kefir and vanilla. Whisk quickly to stiff peaks but try not to whisk for a long time. This also goes great with granola or fresh pancakes or just with some fresh fruit.
Strawberries
Wash hull and 1/4 about 10 strawberries. Place in a bowl and sprinkle with a little sugar and a squeeze of lemon juice. Mix and set aside for a few minutes. The sugar and acid from the lemon will draw out the juice from the strawberries and create a beautiful flavor and a light sauce.
Pistachios
Toast a small handful of pistachios (non salted).
Cool and roughly chop.
To assemble this dish place a large spoon of lemon curd on the plate and use the back of a spoon or a small palette knife to drag it across the plate. Arrange 3 pieces of angel food cake on top.
Add some of the kefir in between the cake. Spoon over some of the strawberries and top with the chopped pistachio. Serve as is or with a scoop of vanilla ice cream.
Chef: Aoiffe MacHale