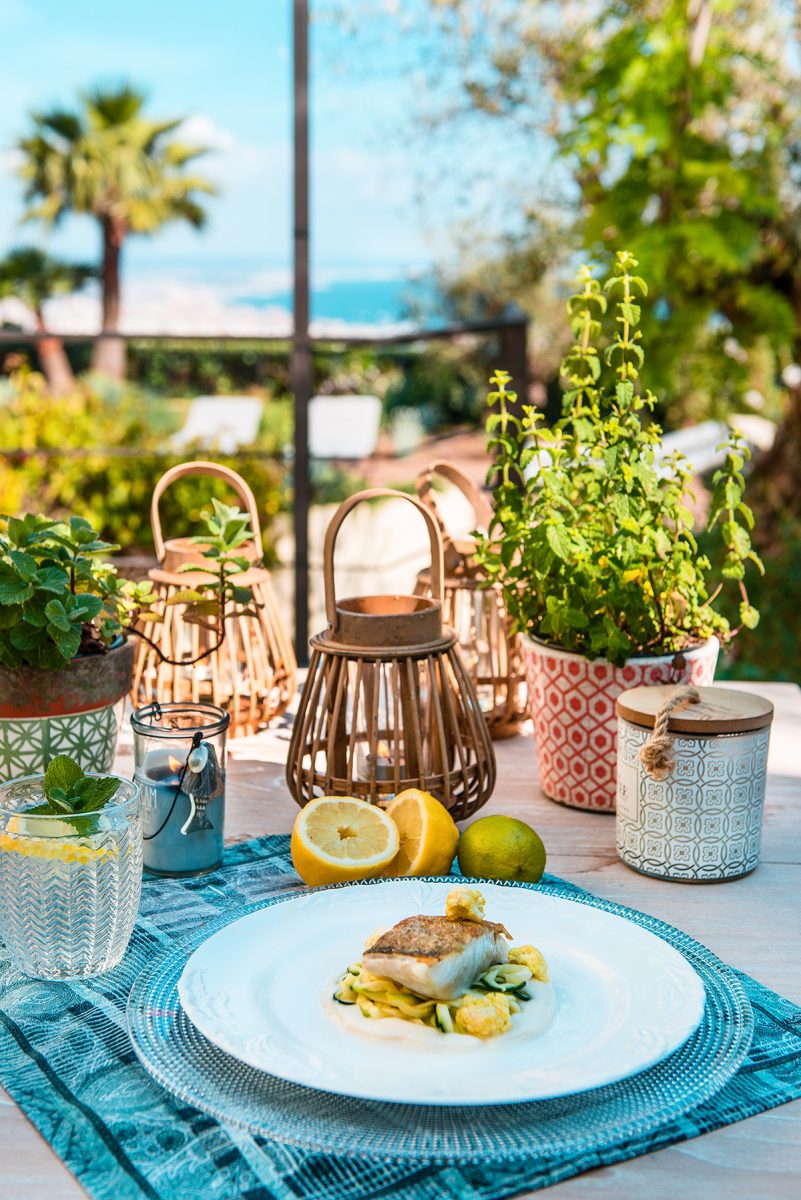 Serves 4
Ingredients:
4 fresh cod fillets with skin on
2 courgettes – 1 green and 1 yellow if available
1 head of cauliflower
1 small white onion
1 cup of milk
1 cup of water
1 large clove of garlic
1 teaspoon fresh lemon juice
1/4 teaspoon curry poder
1/4 teaspoon ground turmeric
1/4 cup sugar
1/2 cup of water
1/2 cup white wine vinegar
For the curry pickled cauliflower:
Use your hands to remove about a cup and a half of tiny florets, trying to keep intact.
In a small bowl combine the turmeric and curry powder and toss the florets in this. In a small pot bring the sugar, water and vinegar to the boil. Stir to dissolve the sugar. Remove from the heat and pour this over the cauliflower making sure all it all gets submerged. Set aside to cool.
Cauliflower puree:
Roughly chop the remaining cauliflower into even sized pieces.
Slice the onion and chop the garlic. Season with a pinch of salt and cook with a little oil for about 5 mins on a low heat being careful not to color. Then add the cauliflower and cook for a further 4 mins. Next add the milk and water. Cover the pot and cook this on a low temperature for approx 30 mins until the cauliflower is completely cooked and starts to break down. Blend on high speed to a puree. Check seasoning and add the lemon juice, blend again to finish.
Courgette spirals:
Using a spirilizer, create ribbons ribbons from the courgette. If you don't have a spiralizer you can cut the the courgette in quarters lengthwise and use a vegetable peeler to create ribbons.
Toss the ribbons in a pinch of salt and place in a strainer over an empty bowl and set aside for 5 mins. This will help to draw out the excess moisture in the courgette. Just before serving warm these slightly in a pot with a splash of olive oil and some salt and pepper.
To cook the cod:
Use a paper towel to pat the skin dry and rub in a little olive oil and season with salt.
Get a pan really nice and hot and add a teaspoon of oil. Place the fish skin side down in the pan. Press down for a few seconds to ensure the skin cooks evenly. Cook on this side for approx 3 to 4 minutes. Lower the heat, and continue to cook for another approx. 3 minutes. Turn it over, cook for one minute and remove pan from the heat. The pan will still have enough heat to finish cooking the fish.
To assemble:
On the bottom of the plate, place a large spoon of the cauliflower puree. Next add the courgette spirals and carefully place the fish on top. Arrange the pickled cauliflower on top. Finish with a small squeeze of lemon juice.
Cheff: Aoiffe MacHale