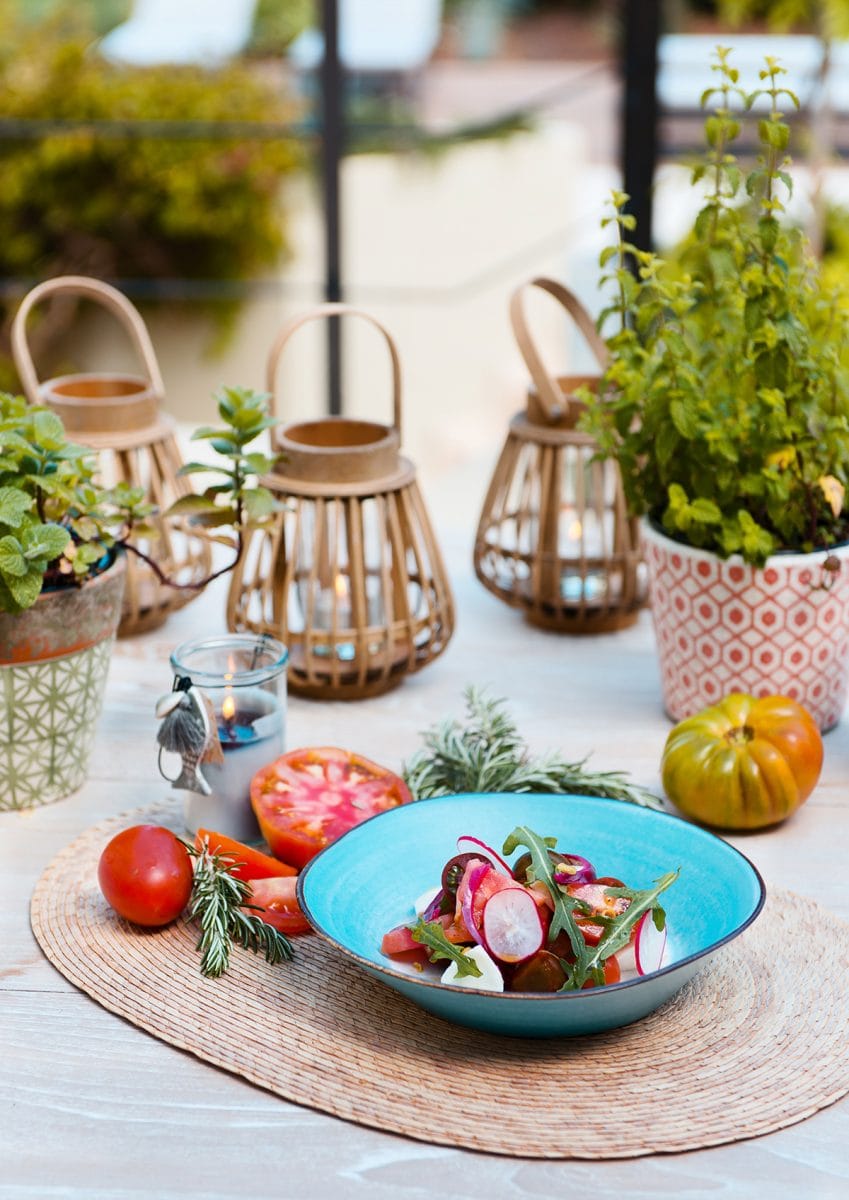 Serves 4
Ingredients:
5 large fresh tomatoes preferably different types and colors
10 cherry tomatoes also different colors if available
1 red onion
1/2 cup fresh beetroot juice
1/2 cup cider vinegar
1/4 cup sugar
1/4 cup water
1/4 teaspoon salt
2 cups of picked basil leaves
1/2 cup of oil (a flavorless one like vegetable oil works best but you can use olive oil, it will just mask some of the basil flavor)
Handful of rocket leaves
Fresh mozzerella, 3 balls cut into small rough cubes
3 radishes sliced very thin
Salt and pepper to taste
For the red onion:
Peel, half and slice length ways into thin strips and place in a bowl or glass jar. In a small pot combine the water, vinegar, salt and sugar and stir to dissolve. Bring it just to the boil and remove from the heat. Add the beetroot juice and pour it all over onions. Press down to ensure the onions are completely covered. A small piece of clingfilm placed directly on top can also help with this. Set aside to cool and the place in the fridge. These are always great to have on hand and go well in salads, sandwiches and with cheese. They will keep for up to 2 weeks in the refrigerator.
Basil oil:
Bring a small pot of water to a boil and add in basil leaves. Blanch for 40 seconds and remove and place immediately into iced water.
Remove from water and squeeze out the excess.
Place in a blender with a pinch of salt and the oil and blend until fine. Not too long or the bail will start to heat and brown.
Strain if you want a clear oil or otherwise leave as is. Set aside for use or place in the fridge.
For the tomatoes, wait until just before serving to cut them.
Chop into different shapes and sizes and season with salt and pepper, olive oil and a little of the basil oil. Can also add some freshly chopped basil.
To assemble:
Place a little of the rocket leaves in the bottom of the bowl and add a little of the basil oil.
Spoon over some of the tomatoes. Add the mozzarella and a few of the marinated red onions. Add some more tomatoes on top and arrange some of the radish, rocket and red onion on top. Finish with the basil oil.
Chef: Aoiffe MacHale