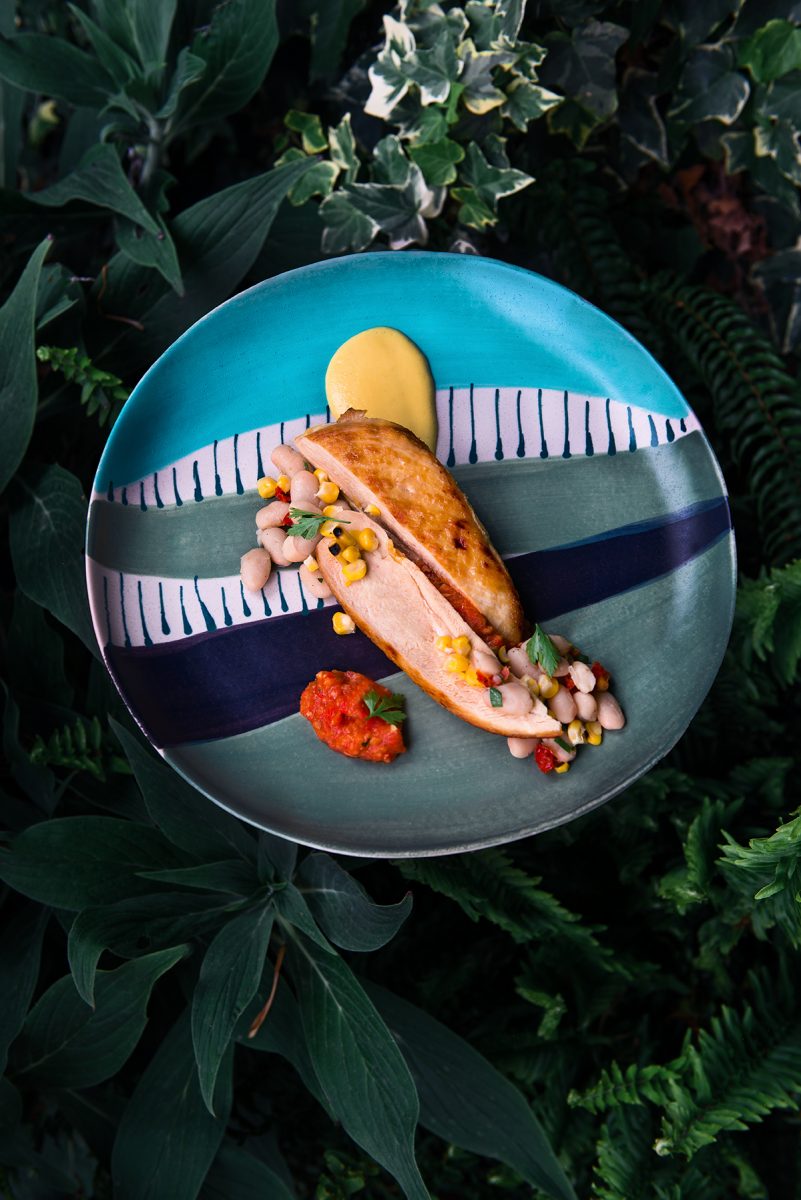 Serves 4
Ingredients:
4 chicken breasts
4 fresh corn on the cob
1 small onion chopped
1 cup of milk
2 cup of water
3 large tomato
2 red peppers cut in half with seeds removed
2 cloves of garlic
1 teaspoon of smoked paprika
small bunch of fresh parsley chopped
1 teaspoon of sherry vinegar
50g toasted chopped almonds (skin off)
300g cooked cannellini beans (if using a jar, drain and rinse)
juice of half a lemon
Start by making the romesco sauce. Remove the eye of the tomato and cut an X into the other end of the tomato. This will help to remove the skin after cooking.
Place the tomato's in a roasting tray with X side facing upwards and add the peppers, garlic and a splash of olive oil. Roast these at 180 degrees for approx 30 mins until they start to darken in color. Remove and cover the tray tightly with tin foil. Set aside to cool. After it has cooled enough, carefully remove the skin from the peppers and tomatoes. The steam created inside of the tin foil will have helped this process. Of course you can also use store bought roasted red peppers!
Blend the tomatoes, peppers and garlic with a little olive oil, salt and pepper, and smoked paprika. Finish with the nuts, parsley and sherry vin and pulse for a second to combine. The sauce should be slightly textured and not smooth.
Next peel and shuck 3 of the corn cobs and place in a pot with the chopped onion, salt and pepper and a splash of oil. Saute very lightly for 5 mins on a low heat to start the cooking process. Then add the water and milk, enough to cover the corn and cook on a medium heat for approx 40 mins untll the corn is cooked and starting to soften. Blend at high speed untill it achieves a pureed consistency.
For the remaining corn I brushed it very lightly with olive oil and set it in a dry pan on a med-high heat until the skin begins to charr and blacken. This would work even better if you have access to a BBQ. Turn often to ensure even cooking. Remove the corn carefully from the cob.
For the beans, mix together with a little olive oil, lemon juice, salt and pepper and chopped parley. Warm through to serve.
Finally for the chicken breast, season each one with salt and pepper. Heat a large pan until almost smoking and add about a teaspoon of oil.Place the chicken in the pan skin side down, even if there is no skin, and press down gently to ensure even coloring. Cook for about 4/5 mins and then lower the heat slightly. Ensure the skin doesn't get too dark but you do want a nice brown colour. Cook for a further 5 mins on this side and then flip over. Wait about 2 mins then cover the pan and lower the heat again slightly. The chicken will almost begin to steam in its own juices. You could even add a squeeze of fresh lemon in here now. Leave to cook covered for a further 5 mins. Remove from the heat and allow to rest for 4 mins.
Serve with the corn puree underneath, a spoon of romesco in the side and the charred corn and beans on either side of the chicken.
Chef: Aoiffe MacHale