It's certainly not uncommon for the festive season on Mallorca to offer up days of crisp blue skies and warming winter sunshine. And there's even a good chance the weather will remain clement enough to be able to enjoy your yuletide celebrations outside.
A perfect setting
The beautiful 16th-century finca of Can Estades provided the ideal spot for our festive feast, under the dappled shade of a mature palm tree and offering spectacular views over the pretty Calvià countryside.
Festive table dressing
Christmas isn't a time for holding back on table decor, but that doesn't mean it can't be tasteful! We combined some glazed crockery with beaded glasses, linen place mats and, of course, a scattering of festive decorations.
Mallorcan flavours
Our meal featured distinctively local flavours, such as Confit of Suckling Pig with Rosemary Potatoes and Apricot Jus followed by Sea Bream Fillet on Seafood Rice and, to finish, a 'Turron' Soufflé with Marinated Sóller Orange.
The master chef
The gastronomic creativity behind the menu came from experienced Austrian chef, Gerhard Berktold, whose cooking focuses on allowing fresh, seasonal products to take centre stage.
Finca of Can Estades
Chef: Gerhard Berktold
Finca of Can Estades
Enjoy this seasonal recipe for mallorcan Christmas soup, a warm and filling favourite on the island over the winter months.
Taking a traditional paella as the base for this recipe, this seafood dish is made extra special with the addition of saffron alioli.
Enjoy this festive recipe for slow-cooked suckling pig, a firm festive favourite for many and particularly popular on Mallorca.
Try this festive recipe for turron soufflé at home, where marinated Sóller oranges provide a citrusy counterpoint to sweet nougat.
Photos: Sara Savage · Chef: Gerhard Berktold
Stylist: Helen Cummins · Location Can Estades
Address details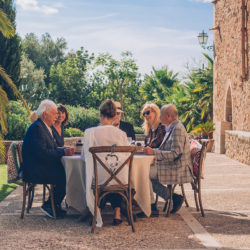 Finca Hotel Can Estades
Camí de Son Pillo 15