During wintertime in Mallorca, it is beautiful in the mountains and hills around the island with such amazing greenery and lush landscapes as far as the eye can see. To take advantage of this stunning scenery and the mild weather we gathered a group of friends together of various ages and fitness levels to hike through the hills surrounding the traditional Mallorcan town of Sóller in the northwest of the island. There are 116 different hiking trails around this area with varying levels of difficulty so we chose a trail that started at the first roundabout after the Sóller tunnel that involved a 25-minute uphill climb but that remained relatively flat thereafter. Once we had worked up our appetites we began our descent into the town of Sóller itself to enjoy a private vegan brunch that we had booked in advance.
Our brunch was at the stunning Ecocirer Healthy Stay Hotel that was opened by Barbara and Martjin in March 2018 as a vegan hotel with 6 beautiful rooms in the town of Sóller. It was the perfect place for us hungry hikers to enjoy healthy, delicious vegan food and ideal for any family celebration with plenty of activities to get you out into the scenic nature surrounding the picturesque town.
The overall experience at Ecocirer is unique to Mallorca – a place where one can enjoy homemade vegan and vegetarian food made with home-grown ingredients in their creative art space surrounded by innovative art pieces. Ecocirer guarantees a warm welcome and a great sense of homeliness for all of their guests.
For more information about booking a stay or an event or just to enjoy breakfast, lunch or dinner at Ecocirer the contact details are below.
Address details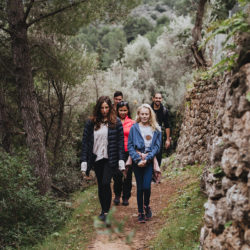 EcoCirer
Carrer de Reial, 15, Sóller