"You have to think like a fish," Robert explains, delivering the line deadpan, but with a playful twinkle in his eye that anyone who has met him will be familiar. The Chief Executive of First Mallorca was once a prize-winning fisherman, and this thinking, he says, was the secret behind his success. It's also clearly a technique that has served him well in many other ventures, including developing and running one of the island's most successful real estate businesses…
Robert grew up in England on the North Devon coast, the son of farmers, he describes himself as a "boy of the land" and until his early twenties, was immersed in the rural way of life. He honed his baiting skills, making an early impression in the angling world with some huge, even record-breaking catches, earning international recognition and launching his fishing career.
He has since lived and worked in 11 countries around the world, after swapping to a different career path in tourist development. That was the beginning of over two decades of building his reputation in the tourist industry, which involved developing tourism programmes in North and West Africa, Sri Lanka and the Maldives, India, Thailand, Indonesia, Malaysia and various cities around the Far East. Based back in Europe, his employers sometimes balked at his methods – "but in the days of slow communication, I had time to be proved right."
But it was Mallorca where he chose to make his home, opening the flagship First Mallorca office in Costa d'en Blanes in 1996 – just down the street from where he bought his first home on the island. They have since added another five offices, including their latest project to upgrade their elegant Port Adriano office. Despite their impressive coverage, the business is not a franchise, Robert stresses, but a privately owned company who only work with those people who share their values.
Recently returning to the company after several years away (after buying out co-founder and partner Heidi Stadler) Robert made a point of remoulding the business according to his philosophy: "A company is only as good as its employees." This is ethos extends to making sure all 50 of his staff are happy and motivated – First Mallorca is known for its exemplary working conditions and packages. An all-expenses-paid trip to Thailand for the whole team – including the cleaner and her husband – was one way he chose to say thank-you for their work.
Robert admits there was, however, another reason why he took his employees to the Far East. "I wanted my employees to see the absolute pinnacle of service, genuine smiles, respect and the in-born enjoyment to give service. It was an eye opener for many of the staff," he explains.
But what motivates Robert to go to the office every day? "As soon as I wake up my brain goes to work. I've always been creative." Unusually for a CEO, he is particularly hands-on with the First Mallorca advertising campaigns, and they are something he clearly relishes as an outlet for his creativity.
But honesty, fairness and integrity are not just ad slogans they pay lip service to at First Mallorca, they are the core values by which this quintessential English gentleman chooses to do business. And he understands that they are good for business. It's what clients will look for in a real estate company, and to land a customer, you have to be clever enough to think like one.
Address details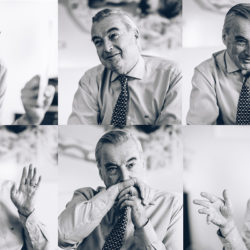 First Mallorca
Avda Tomas Blanes, 41 Costa d'en Blanes