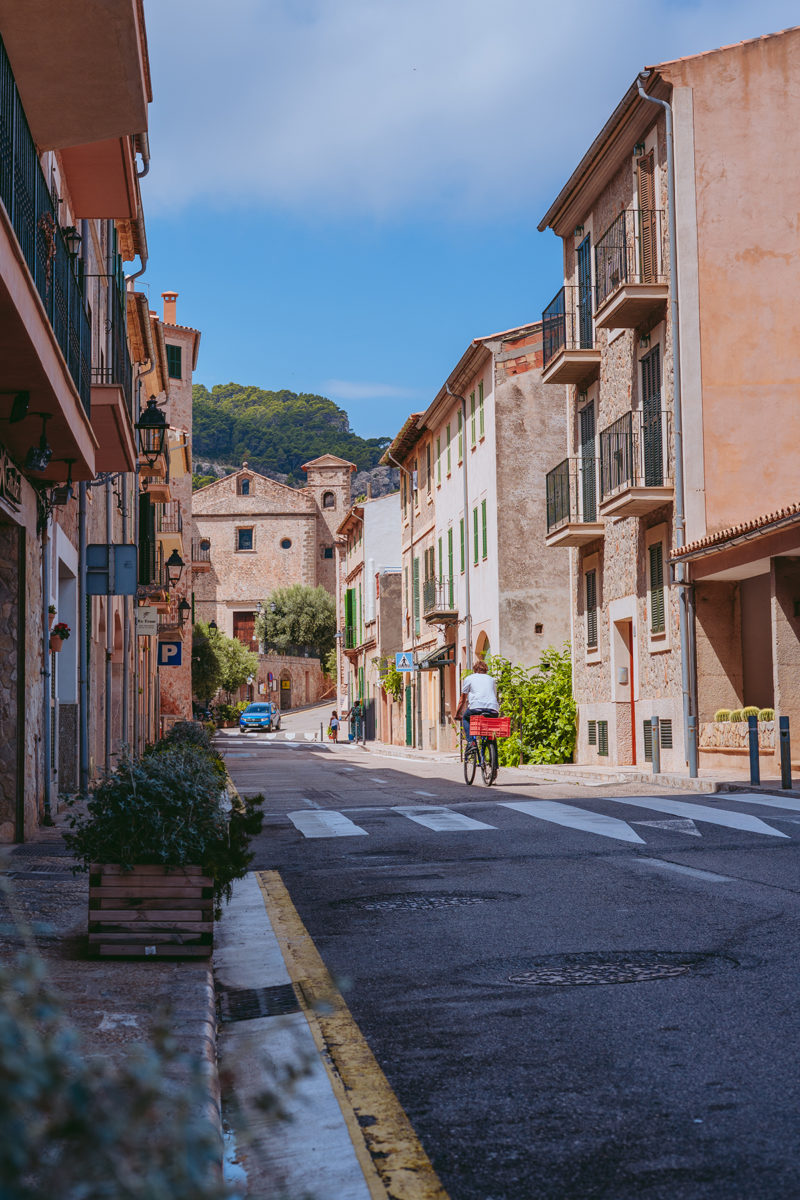 The historic name Banyalbufar translates into English as 'founded by the sea', and rightly so, as this village oozes coastal tranquility. As you snake your way down the hairpins of the Tramuntana mountain roads into this sheltered west coast enclave, the terraced hillsides and dramatic rock faces are stand-out features. In the 10th century, the Moors built around 2000 houses and an irrigation system on the mountain slopes, predominantly for Malvasia grapevines. This is one of the oldest white grape varieties that has been cultivated in the Mediterranean since ancient times. Today, the village remains small and compact, with little winding streets that lead down to stunning properties overlooking the sea. If you're looking to buy property in Banyalbufar and you want clear, interrupted sea views, you will not be disappointed.
With Esporles nearby and the stone beach of Port des Canonge, Banyalbufar attracts a wide range of international residents buying second homes who are keen to disconnect somewhere that isn't dotted with cranes and new builds. Since it is a UNESCO heritage protected, Banyalbufar is peacefully kept in a time warp.
In the summer, the village sees a spike in visitors who come to hike, cycle and spend their days at the beach. Banyalbufar is one of the smallest mountain villages on Mallorca, so for majority of the year there is very little action. It is quaint and quiet, ideal for those looking to retreat to the mountains and find peace near the sea.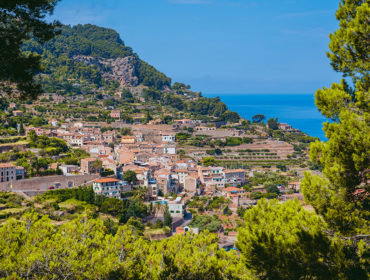 Banyalbufar is defined by its mountain slopes, where properties are built into the hillside. The terrain is beautiful, given its close proximity to the sea.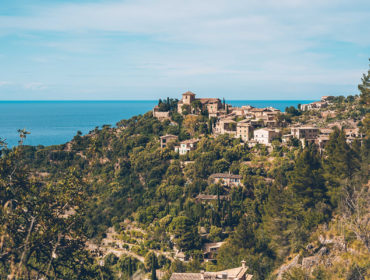 Majestic mountains and picturesque villages form the Serra de Tramuntana, where many people choose to escape the rat race and enjoy tranquility.
Good to know about Banyalbufar
Local language
Catalan is co-official with Castellano Spanish, which are both recognised as the official languages. Note that English and German are not widely spoken within the local community.
Main Industry / Commerce
Banyalbufar boasts no less than 2.000 mountain terraces, which are solely dedicated to agriculture. Since the time of the Moors, vineyards were cultivated for the production of Malvasia grape. The municipality is also known for fishing from its Port des Canonge.
International Schools
Escola Global is the closest international school for early years through to secondary. For secondary school children, there are six well-known international schools located closer to Palma, including Green Valley in Son Vida.
Distance
35-minute drive from the airport
40-minute drive to central Palma
15-minute drive to Esporles
30-minute drive to Son Espases hospital
Transport
Bus: From Palma airport, take the EMT bus number 1 to Palma's Plaza España. Then you can catch the TIB bus number 200 from the bus station which runs between Palma and Banyalbufar, Esporles and Estellencs.
Parking: Note, there is not a lot of parking in town. However, you will find one public car park through the main street and up the hill past the restaurant Son Tomàs.
Taxi: There is no taxi rank in the village, but you can call Taxi Esporles directly on +34 665 82 30 23.
Bodegas Son Vives
What better way to relax at the weekend than to sip crisp Malvasia white wine on a mountain patio with stunning sea views? It was certainly good enough for the Kings of Aragon, who had it exported to Spain in the 16th century. Not only that, you can hear from a Master in Oenology, Antonio Darder, who warmly welcomes visitors to his vineyard, Bodega Son Vives just outside of the village.
This place is magical, particularly when the sun sets over the sea. The estate covers three hectares of vineyards which are home to wines of a distinctive taste. Having been exposed to sea air, the wind creates a fine layer of salt on the grapes as they develop. Antonio has both a wine bar and a shop on site and explains the history of wine-making in the village, including plagues and other challenges that shaped Banyalbufar into what it is today. Over recent years, hard work and passion has thankfully brought about the reintroduction of traditional Malvasia vines and wine-making to Banyalbufar.
Banyalbufar in photos
fg_lazyload
Banyalbufar
Banyalbufar
Banyalbufar streets
Banyalbufar
Banyalbufar
Banyalbufar
Banyalbufar main street
Banyalbufar
Banyalbufar main street
Banyalbufar
Banyalbufar
Banyalbufar
Experience Banyalbufar
Outdoor activities are at the heart of Banyalbufar life, with a variety of sports from sea swimming, watersports, to hiking and cycling right on the doorstep. During the weekend, you can take a coffee in the lovely Café Es Trast before a short stroll down to S'Arenal beach at Cala Banyalbufar, with its vertical backdrop and turquoise hues. The area is also renowned for hiking and from the village there is plenty of signposting for hikers. The 9km Volta des General from the village to nearby Port des Canonge is a recommended walk and good for families. The most popular hike is the Postman's Route from Banyalbufar to Esporles which forms part of the GR221 and offers some of the best views of the terraced landscape, natural springs, forest and sea views. With some serious gradient on offer, Banyalbufar is a popular place for cyclists to make a pit-stop over a coffee or a caña. One of the most stunning routes is along the coast towards Andratx via Estellencs. Think winding roads, steep climbs and sharp descents.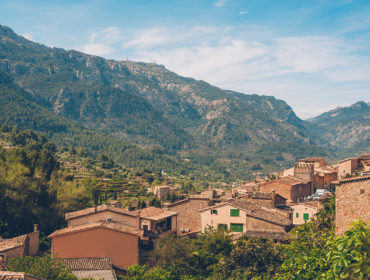 Did your favourite town in Mallorca make the list? Check out Helen Cummins' selection of the prettiest towns on the beautiful island of Mallorca.
Events in Banyalbufar
Fira Gastromusical
This annual gastronomic fair celebrates Banyalbufar's staple products like Malvasia wine and the locally grown ramallet tomatoes. The fair combines tapas stalls with live music and usually takes place in July.
Nativadad de la Virgen
The Nativity of Mary is a Christian celebration of the birth of Mary, the mother of Jesus, on 8th September. This is a mixed festival in Banyalbufar that includes religious performances, plays, concerts, cinema and activities for children.


Fira Dolça
In the nearby town of Esporles there is a big annual event called 'Fira Dolça' that celebrates the best pastry products on the island. Local music and artisan markets all come together in the Town Hall Square and main street. This one-day festival takes place around the 4th October and you will find sweet and savoury snacks, baking and cooking demonstrations.
Engel & Volkers Polo Cup
In the beautiful finca of Son Coll, a 22-minute drive from Banyalbufar, the annual Engel & Völkers Polo Cup takes place in August. The prestigious charity polo tournament has been running since 2008, hosting around 500 attendees over two days.
Restaurants in Banyalbufar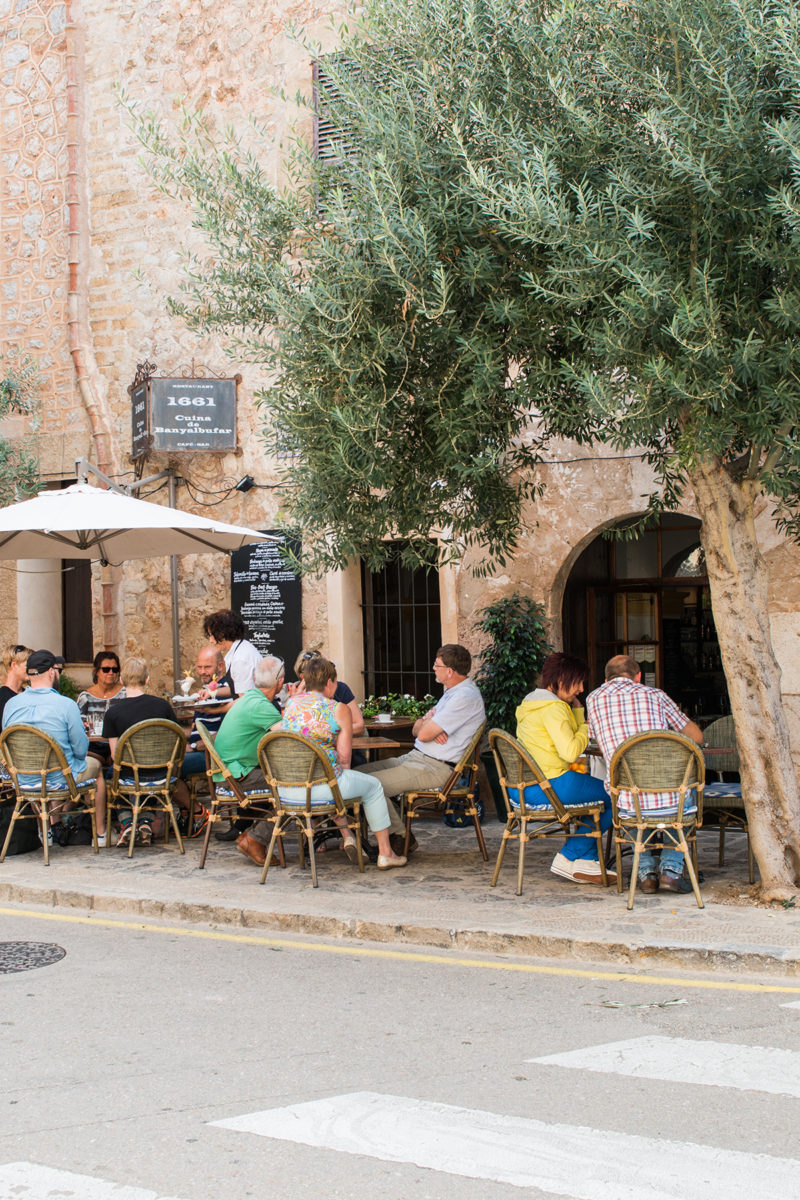 With a handful of traditional Mallorcan restaurants in the village, there is no concern about going hungry in Banyalbufar. For a boutique experience, head to the restaurant and hotel Son Borguny a short walk from the main high street. Here, you will find a sweet terrace, open sea views and fresh Mediterranean menu. The surrounding roads are barely used by cars, meaning that it is tranquil and is it is quiet.
If its seafood you're after, Can Toni in neighbouring Port des Canonge is a great place for lunch or as a pit-stop on a hike or cycle ride. Although this restaurant is lacking a sea view, it comes highly recommended for its fresh seabass and calamari a la plancha washed down with a glass of Banyalbufar's finest wine.
Otherwise in the centre of the village, there is lovely 1661 Cuina de Banayalbufar which serves healthy, homemade Mediterranean cuisine. Their menu del día is well worth it and usually includes a plate of locally-caught fish. Inside it is typically Mallorcan, with the 'cloth of tongues' used throughout its soft furnishings paired against white walls and country beams.
Hotels in Banyalbufar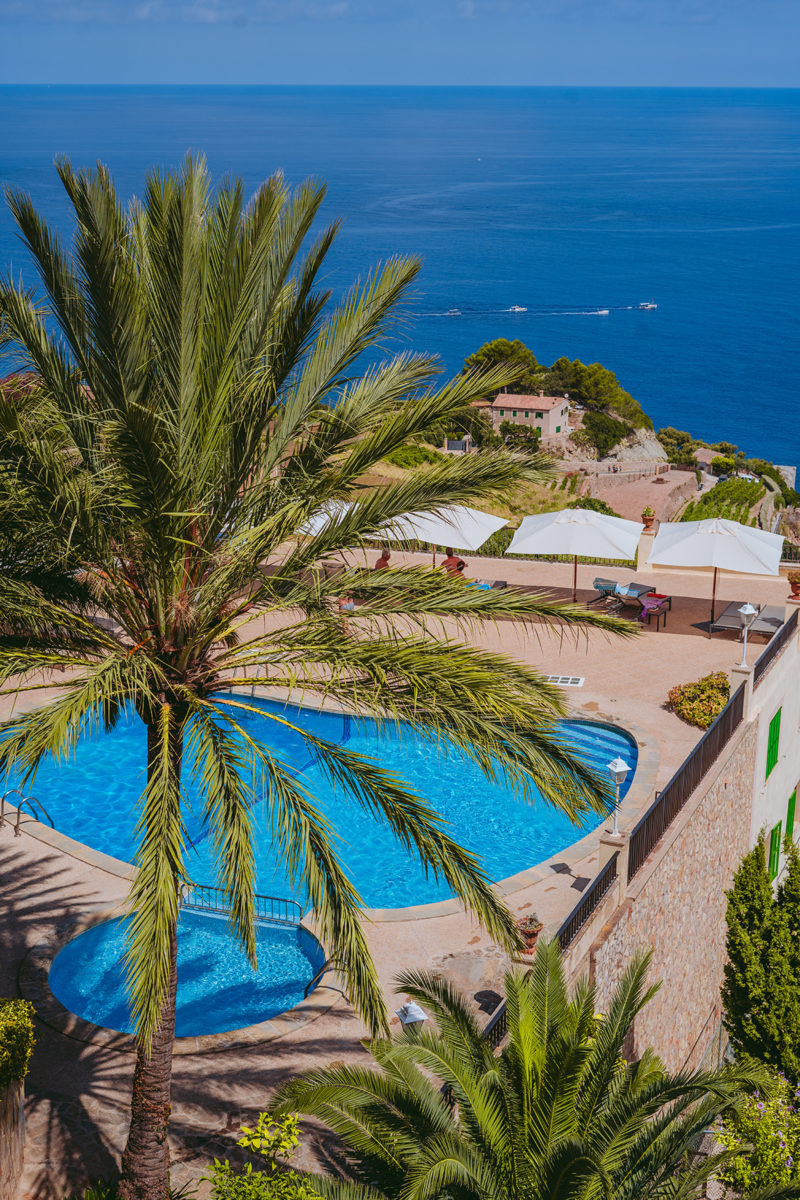 There are a number of small hotels dotted in and around Banyalbufar, such as the boutique Son Borguny, but for more exclusivity, there are agritourism hotels in nearby Esporles and Richard Branson's Son Bunyola.
SON BUNYOLA
On the welcoming message on the website of Son Bunyola, Branson states that his tripartite of private villas in Son Bunyola are his favourite Mallorcan retreat, just 15 minutes drive from Banyalbufar. Guests will enjoy the stunning beauty of the Mediterranean from the tranquility of a private villa. This vast estate covers 680 acres of mountainous landscape and includes three villas, that can each be hired exclusively throughout the year.
AGROTURISMO SON GALCERAN
20 minutes drive from Banyalbufar village, this agritourism boutique hotel is set within an 18th-century estate with a large swimming pool and lush valley views. It markets itself as a quiet place where one can relax, surrounded by nature. There are three types of double room and as well as an apartment available – all presented in classic Mallorcan style.
Property in Banyalbufar
Elegant and well-presented property is seen in both the village centre and the surrounding hillsides. The good news is that house prices in the area are significantly lower than the prestigious mountain villages like Deià.
In the centre, authentic blonde stone houses are common and come with lots of character, stunning sea and mountain views – many of which have been renovated in the last ten years. Additionally, some new apartments have been built in the village, but given the strict guidelines in place, they do not represent anything new and are replicates of  traditional architecture. On the outskirts, there are lots of impressive, country houses built into the mountainside. A number of these chalets and villas were built in the 70s and 80s, again following the same Mediterranean style. These are complemented by neighbouring country estates complete with panoramic views, their own olive groves and natural springs.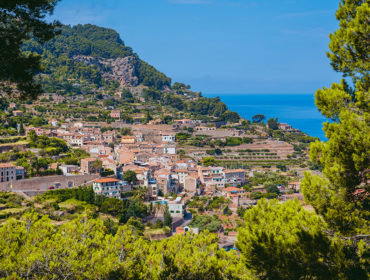 Banyalbufar is defined by its mountain slopes, where properties are built into the hillside. The terrain is beautiful, given its close proximity to the sea.
Business & work in Banyalbufar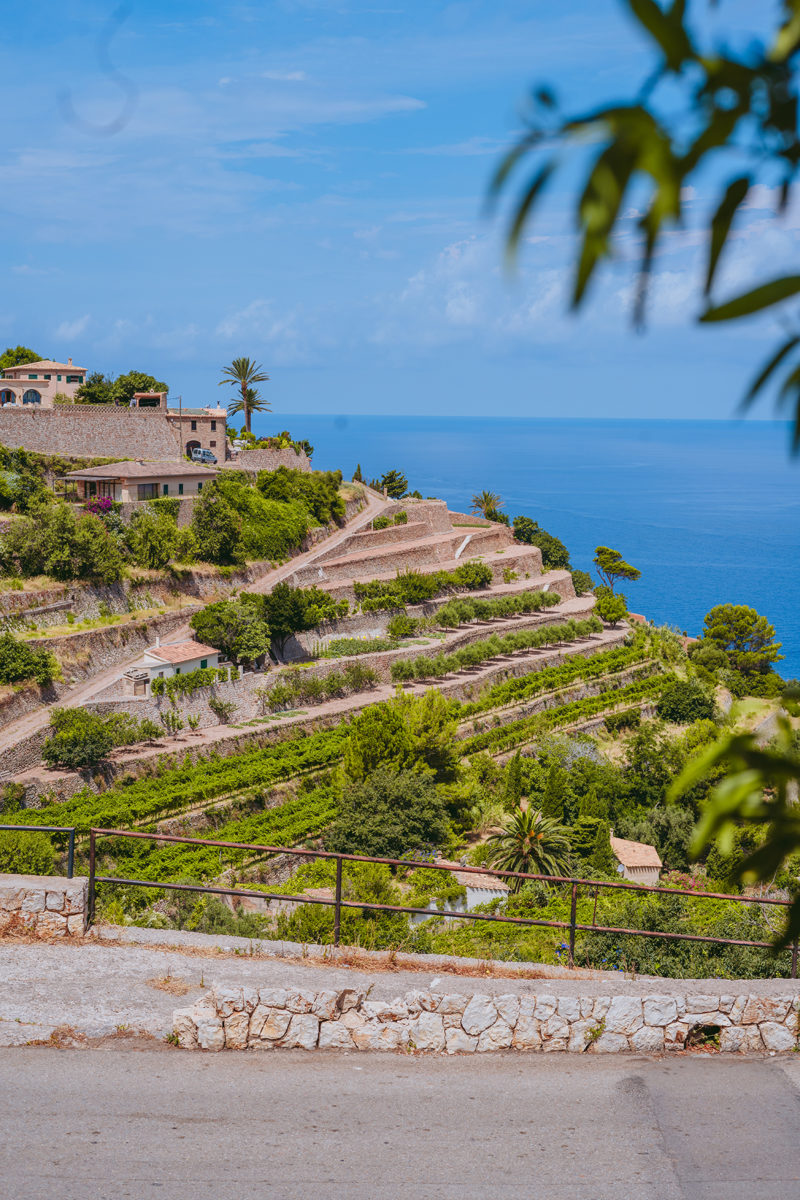 The land surrounding Banyalbufar is superb for vine, tomato and olive growing and today, Banyalbufar is well-regarded for its viniculture. One of the two main vineyards is Son Vives run by Antonio Darder, who has a portion of land in the village and two other leased plots for the production of red wine.
C'an Pico is another family winery in Banyalbufar. Their vineyards are divided into four plots, planted on terraces facing the sea. Cooperativa Malvasia de Banyalbufar is the main wine co-operative operating on the main street. Aside from agriculture, there are a handful of restaurants in the village and three hotels. Like other mountain villages in Mallorca such as nearby Valldemossa and Deià, work in Banyalbufar is limited. Those who invest in property in the village are usually doing so to purchase a holiday home. Such residents might visit for several months for time off and then return to work in countries like England, Germany or America. If not, and they live in the village all year-round, then working remotely is more common. Otherwise, residents might commute internationally via Palma airport and return to Banyalbufar a few days at a time. However, living in the village and commuting regularly to Palma is not common given the driving time and narrow windy roads.
People: Locals & celebrities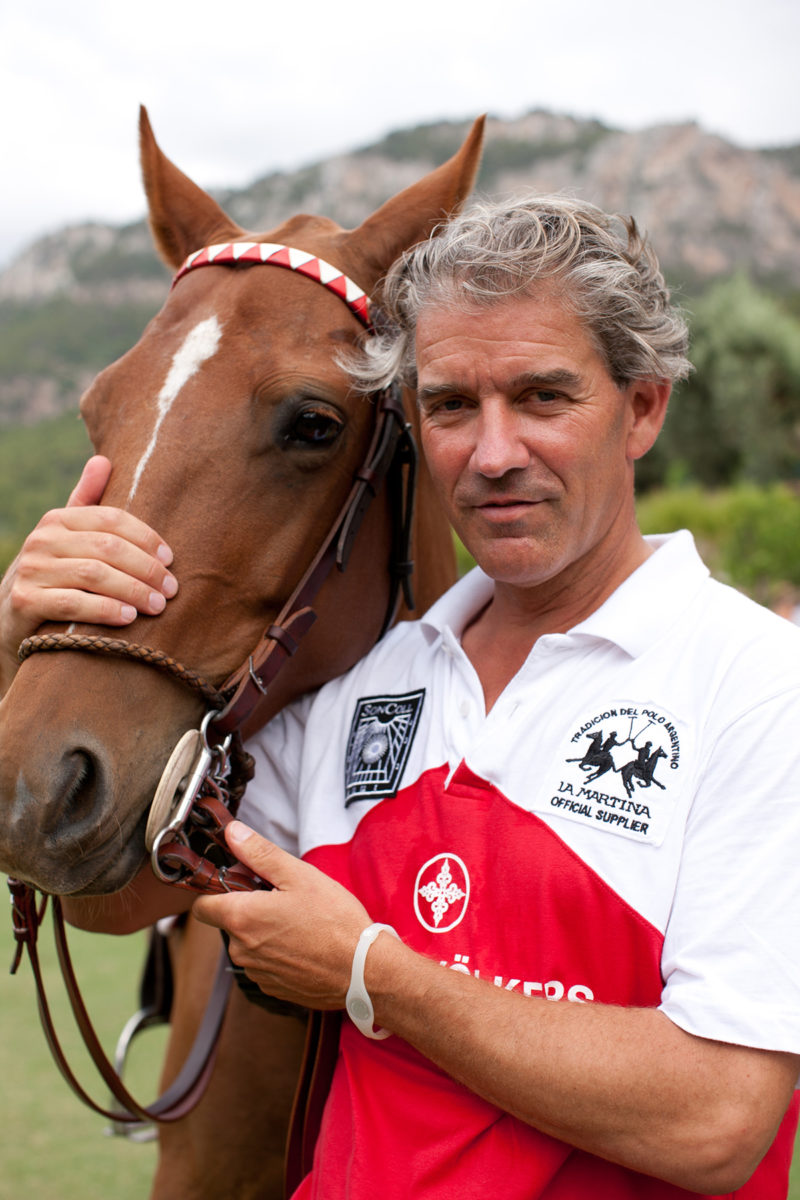 The community in Banyalbufar are unified by an appreciation of nature. The area attracts numerous Scandavians, Austrians, Swiss, German and British property buyers who fall in love with the village's unchanging charm. A number of property owners here have chosen Banyalbufar as a healthy getaway from it all – a place to de-stress from city life. Therefore, it is easy to see why the village attracts people looking for some isolation, either away from public eye or high-powered work. There is a calm serenity in the community and it is much less visited by tourism than the likes of nearby Sóller or Deià. Perfect for a celebrity or two looking to live in Mallorca without getting noticed.
Richard Branson famously owns the nearby Son Bunyola estate which includes three private villas available for rent: Son Balagueret, Sa Terra Rotja and Sa Punta de D'Aguila. With the likes of Michelle Obama having reportedly stayed there (in company with James Costos), the area around Banyalbufar is a hot-spot for celebrities. As for living in Banyalbufar itself, it is not widely known for being the home of any famous faces. However, in neighbouring Port des Canonge, Chief Executive of Engel and Völkers, Christian Völkers is a resident.
Last Word
Banyalbufar boasts the beautiful UNESCO heritage protected Tramuntana mountains combined with sea views and beaches, perfect for nature lovers and those with an interest in wine and getting away from it all. The village is a quiet place, with several cafes, restaurants and a small number of hotels. However, take note that there are no supermarkets.
During the summer there are a number of international tourists, but as winter unfolds it does get very quiet. From the centre of village to the outskirts there is a multinational community of homeowners, many of whom enjoy the regular hike into the mountains or a swim in one of the calas on their doorstep.