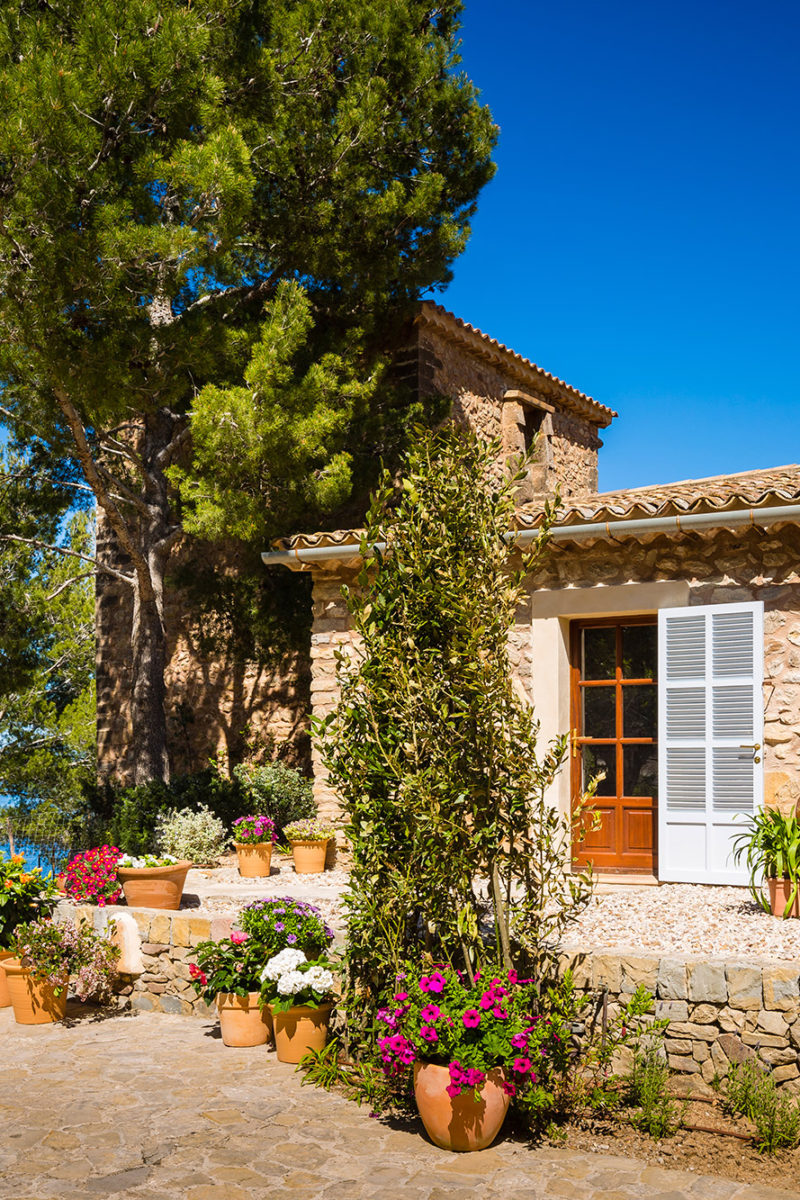 Many know Banyalbufar for its beautiful combination of sea and mountains plus it's 'get-away-from-it-all' location in the UNESCO-protected Tramuntana. This means that brand new plots and huge developments are not common here, ensuring that the village's quaint charm remains untouched. As you descend the Tramuntana mountain roads into this sheltered west coast enclave, the views are sensational.
Banyalbufar attracts a wide range of international residents who buy authentic Mallorcan homes to soak up the coastal tranquillity. They often invest in property for the purporses of a holiday home, an ideal resting place to write, paint and unwind.
The nearest town of Esporles is just a 15 minute drive away, while Palma is 40 minutes.
Banyalbufar is defined by its mountain slopes, where properties are built into the hillside. The terrain is fertile, meaning that tomatoes, olives and wine are still to this day grown in the surrounding landscape. This is usually what people fall in love with when they visit Banyalbufar. Its agricultural scene gives the place its roots, tradition and tranquillity.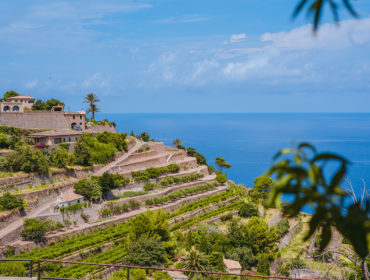 Thanks to its UNESCO protection, living in Banyalbufar is like living in a time warp. A small but quaint Mallorcan village surrounded by mountains and sea.
The area is popular with everyone, but predominant nationalities include Scandinavian, Swiss, German and British. There are several cafés and restaurants, but just one bank and a convenience store. For a supermarket, residents need to travel further afield.
From October to March it is very quiet living in Banyalbufar, but during the summer there is a wave of tourists, many of whom are of the sporting type and visit to enjoy the incredible cycling routes on offer.
Where to buy a property in Banyalbufar
THE VILLAGE
The village consists of the appropriately named Calle Miramar, the long main street that boasts a uniform row of charming, well-kept townhouses. More property is sold here when compared to the larger homes available in the outskirts. You'll find that property here is blessed with really beautiful sea and mountain views. Today, the village remains small and compact, with steps and winding streets off each side of the main road – downhill to the pretty little beach and up towards the mountain side.
THE TORRENTS
To the northeast, just before the descent into Port des Canonge, lies Son Bunyola, Richard Branson's 680 acre estate with three grand private villas. It is set to become one of the most luxurious eco-spa resorts in Europe. This environmentally conscious tourism concept is said to extend the season in Banyalbufar and 'make the area like a new Deià'. Beautiful country properties near the rivers, Torrent de Can Fura and Torrent de'en Roig are particularly sought-after given their high position. Prospective buyers after a rustic style of property will do well to look on the outskirts and near the rivers.
PORT DES CANONGE
10 minutes away down a narrow, winding road and you'll arrive at Port des Canonge, the seaside neighbour of Banyalbufar. It is a small fishing village with a stony beach and crystal clear waters, very similar to Cala Deia. This area is a residential area (originally made for fishermen) of around six streets of semi and detached houses that overlook the sea. The port boasts Can Toni, a popular seafood restaurant, and is also home to Engel & Volkers Chief Executive Christian Volkers.
Advantages to buying a property in Banyalbufar:
Magnificent sea and mountain views
A small beach with crystal clear water
Consistent style of architecture
Great for agriculture and produce such as wine and tomatoes
Multi-cultural environment home to a range of nationalities
No mass tourism, only agritourism
Access to extensive hiking and cycling routes plus water sports
Lower property prices than other Tramuntana mountain villages such as Deià and Valldemossa
Some things to bear in mind
It's a windy 40 minute journey to Palma
Very few residents live all year round
In the village, properties are required to have a historic stone front
Building licenses and plots are restricted due to the rules preserving the environment
The village is north-orientated and because of the mountains, certain properties will be in the shade for two or three months. It is advised to check the orientation of a property
Many of the houses on the outskirts cannot be rented out with a holiday licence
There is no supermarket
Parking can be a challenge in the village
Escola Global is the closest international school for early years through to secondary. Other international schools are towards Palma
Although there are buses to Palma, a car is essential in the area
The layout of the agricultural terraces mean that machines cannot be used, so hand-picking is required
Banyalbufar Price Guide
4 BEDROOM VILLAGE HOUSE WITH PATIO
€380,000  to €390, 000
4 BEDROOM COUNTRY CHALET 
€1,200,000  to €1,800,000
 COUNTRY ESTATE 
€1,400,000+
(Please bear in mind that prices are subject to change)
Types of property in Banyalbufar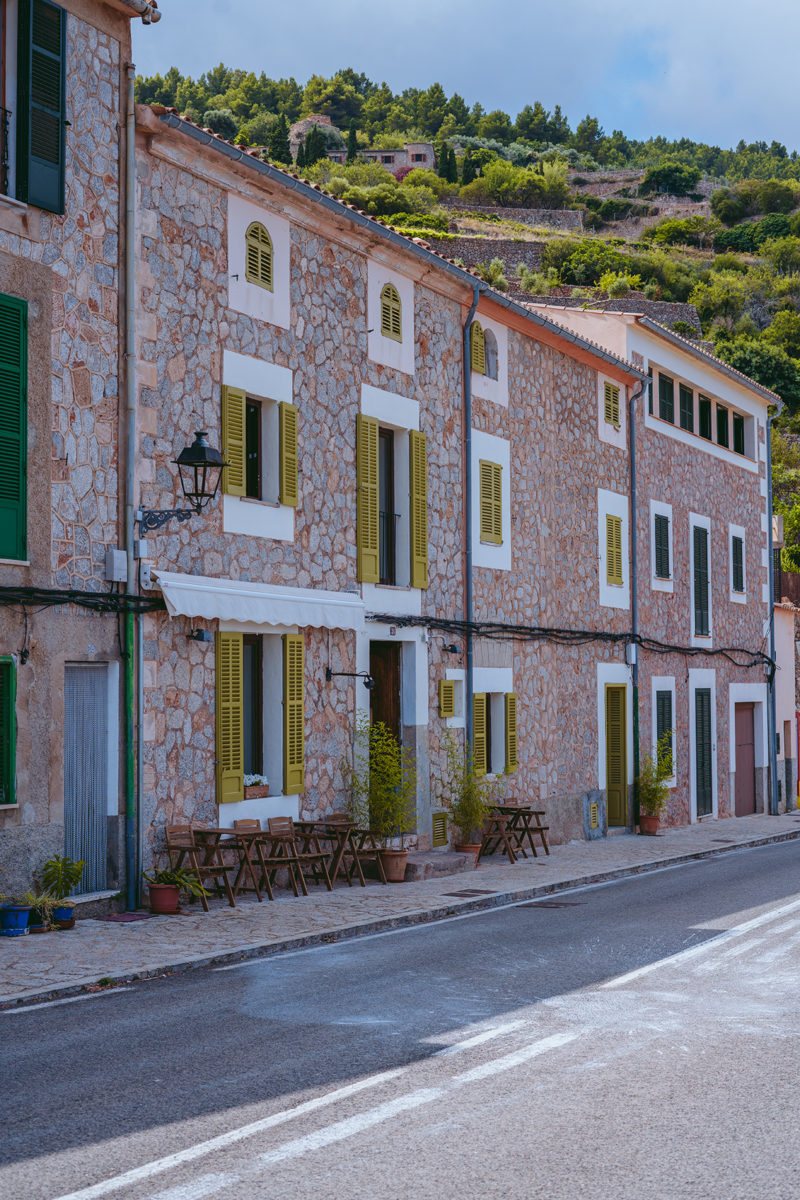 THE VILLAGE
The architecture is similar to larger Tramuntana villages like Valldemossa: traditional blonde stone with terracotta roof tiles, small windows, Mallorcan 'verde carruaje' shutters and wooden beams inside. The stone houses are well-presented and many have been renovated in the last 10 years, most of which have a patio or outdoor space. People who buy in the village appreciate the authentic stone architecture and some properties have additional signature features such as large flagstone flooring. Few houses have a garage and residents pay a yearly fee to park in the village. Do bear in mind that parking is very tight around the narrow network of streets. Additional new apartments have been built that replicate the architecture and blonde stone – they look perfectly in line with the historic houses but boast contemporary interiors. These are particularly sought-after as they balance, old-world Banyalbufar with contemporary living.
ON THE OUTSKIRTS
A whole host of grand country houses are nestled into the mountainside with breath taking views. A number of these chalets and villas were built in the 1970s or 1980s with Mediterranean style architecture. These are complemented by expansive historic country estates complete with panoramic views, their own olive groves and natural springs. In terms of size, properties range from four bedrooms to 11 bedrooms and up to 54 hectares. Some of the traditional country houses were originally rustic fincas that have been developed and expanded. Larger properties have grand entrances, originally built to facilitate a horse and carriage. You can also own land to grow vines here to produce your own wine or sell the grapes to the local convenience store.
RULES & REGULATIONS
The village and the outskirts are registered as part of the UNESCO Tramuntana mountains. Therefore, a modern style of property cannot be constructed. A consultation with a project management company is highly recommended to ensure that your plans are in accordance with local building regulations. If you want a lot of space and are buying in the outskirts, due to the building licences, it is better to buy a very old estate than an empty plot. Outside of the village it can be very difficult to get a holiday rental license. In the village you may be able to obtain one but, like in other Tramuntana villages, you are restricted to 60 non-consecutive days per year, making it impossible to rent through July and August in one block.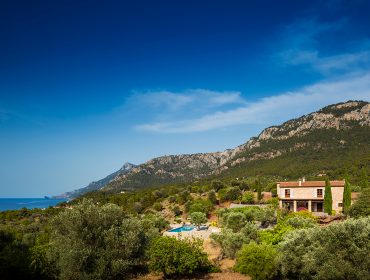 Britain's best-known entrepreneur talks to Angela Sara West about his long-standing love affair with Mallorca and how he adores his favourite retreat here so much, he bought it twice!
What the Experts Say About Property in Banyalbufar
"Nested between the mountains and the sea, Banyalbufar offers authentic Mediterranean living. Surrounded by terraces facing the sea, this hidden gem is a true paradise for cyclists, hikers and nature enthusiasts. The village features traditional stone houses and, on the outskirts, one can find stunning historic estates with plenty of character. Buyers see Banyalbufar as a safe investment for their hideaway."
Mandy Fletling, Living Blue Mallorca
"Banyalbufar is in a less-frequented corner of Mallorca and an authentic village. Perched above sea level, its stone-walled terraces date back to the Moors, forming a cascade which descends to the coastline. Sea, mountains and sunsets make for a stunning location. A winding coastal road leads to its cobbled streets that are also part of its unique charm. The town has strict rules on preserving the environment."
Eddy Barrera, Engel and Völkers Mallorca
Trusted real estate agents in Banyalbufar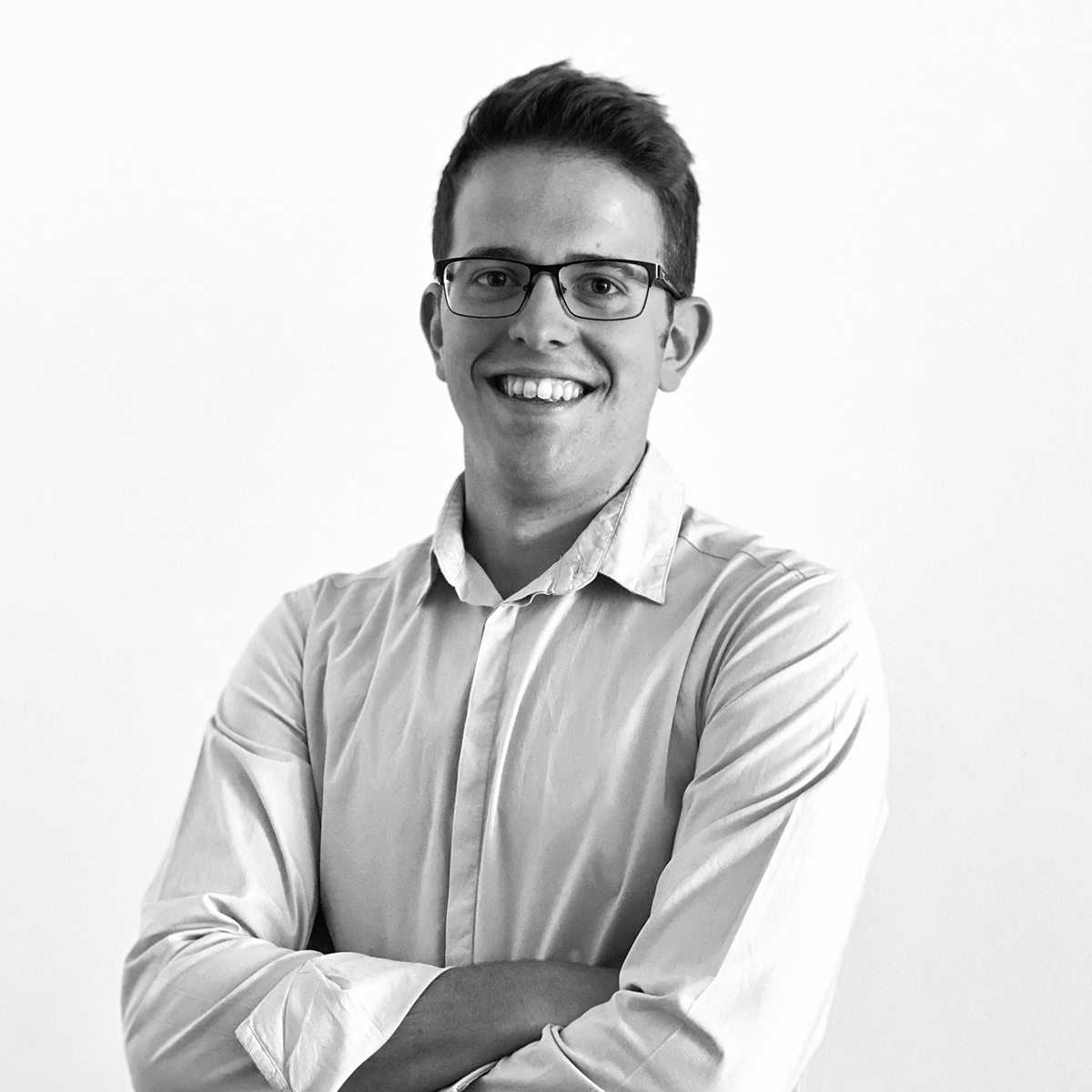 MOREY INMOBILIARIA
Last Word
Property here is set to increase in popularity, potentially seeing a property spike as seen in Deià and Valldemossa. Types of property range from apartments to grand country estates. Banyalbufar boasts the beautiful UNESCO heritage protected mountains combined with outstanding sea views and, with the added bonus, of its very own beach. It is perfect for those with a passion for outdoor activities, wine or, simply relaxation. A number of owners here have chosen Banyalbufar as a place to de-stress from city life. Overall there is a low-key community that is unified by an appreciation of nature, where expats and Mallorcan locals come together.
See below for more Villas for sale in Mallorca!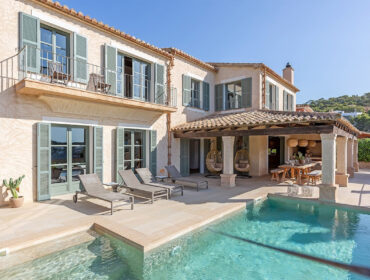 Discover the best Mediterranean villas for sale in Mallorca handpicked by Dr. Helen Cummins and team of local property experts.