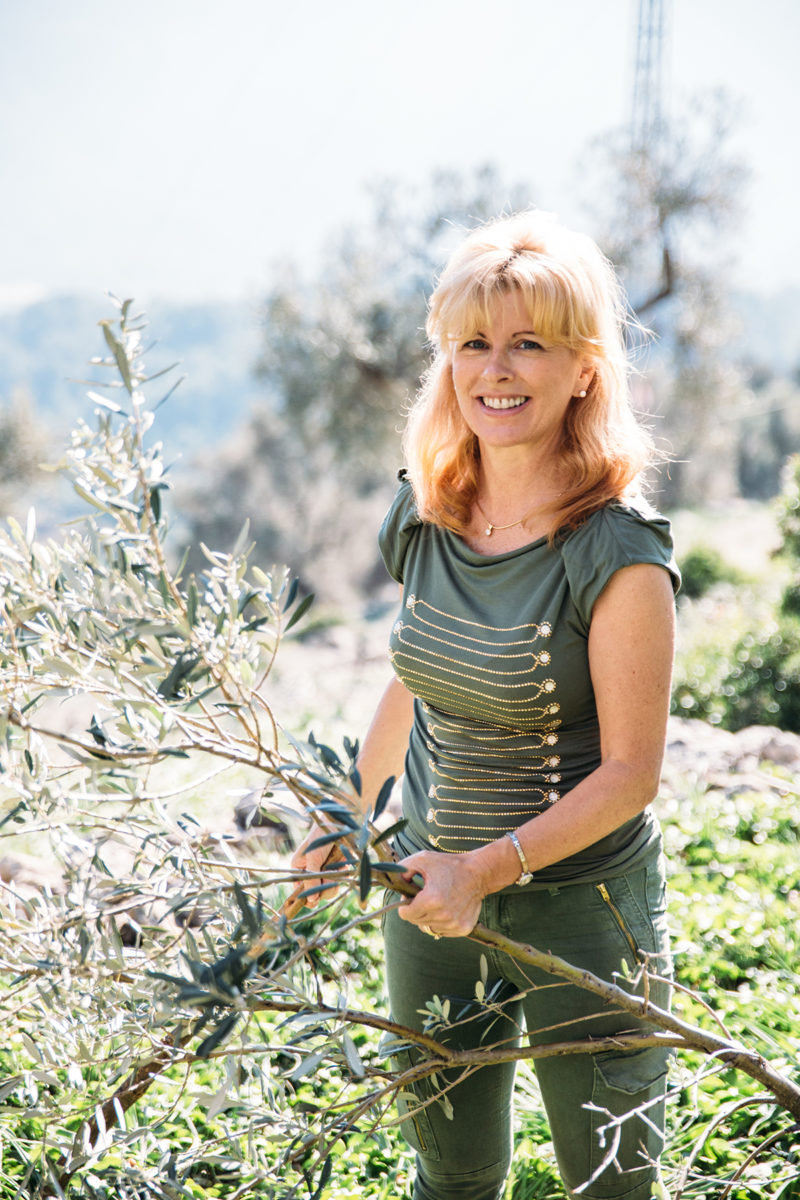 The beautiful island of Mallorca is filled with heart-capturing views and the approach to Valldemossa, the island's most visited town (just 20-mins drive from Palma), is no exception.
The ascending mountain road that leads you up this beguiling little town is where a small community live perched above ancient terraces. The crowning turquoise roof on the spire of its 14th century Carthusian monastery, 'Cartoixa de Valldemossa', shines as bright as the Mediterranean Sea.
Living in Valldemossa, you too can become one of its 'vale of muses', (the translation of its name). This honey coloured stone town and its surrounding inspiring landscape, has lured many artists to it over time, most famously, the Polish composer Frédéric Chopin and his lover writer George Sand in 1838. Their winter spent staying in the monastery inspired Chopin to compose his 'Raindrop Prelude'. Valldemossa is also the birthplace of Santa Catalina Thomàs, the much loved and only saint of Mallorca.
Having attracted an artistic community over the years, you'll see that property in Valldemossa serves as an ideal base to paint and write. The little townhouses that line the streets are quaint, and though while small on the outside, often stretch back far to a sweet garden or terrace area. It is quiet in Valldemossa, thanks to its laid-back community and peaceful scenery in the Sierra de Tramuntana mountains. However, the summer months do see a sharp spike in tourists, and new-comers to Valldemossa should prepare for crowds and queues June to mid-September.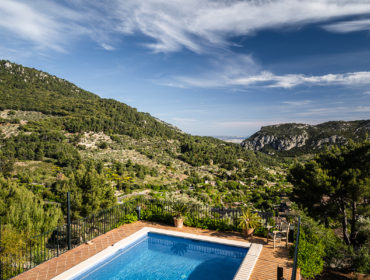 From grand estates such as the S'Estaca Estate, to lavish villas in George Sand, property in Valldemossa is some of Mallorca's most exclusive.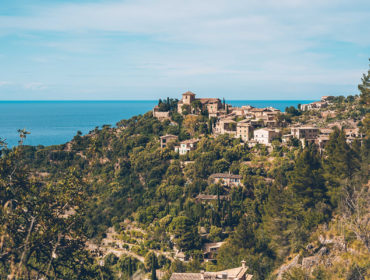 Majestic mountains and picturesque villages form the Serra de Tramuntana, where many people choose to escape the rat race and enjoy tranquility.
Good to know about Valldemossa
Local language
Spanish (Castellano), and Catalan are the official languages of the island, some German and English are also spoken due to tourism.
Main Industry
Tourism became the main industry in Valldemossa following on from Chopin's famous stay in 1838. It's a popular place for day trippers and as a stop off point for cyclists and hikers touring through the Serra de Tramuntana mountains.
International Schools
There is a great choice of international schools nearby. Escola Global is a 10-minute drive away from the centre and caters for primary & secondary. Green Valley International School in Son Rapinya is a 20-minute drive, Bellver International College and Baleares International College in Palma are 25-minutes away, and Kind Richard III College and Agora International School in Portals are about 25-minutes.
Distance
25-minute drive to the airport
20-minute drive to Palma
15-minute drive to Hospital Universitari Son Espases
55-min drive to Port de Pollença.
Transport
Bus: The 210 runs every 2 hours from Estacio Intermodal in the centre of Palma to Valldemossa and takes 30 minutes.
Parking: There are 3 car parks in the town, as well as metered street parking. The roads that run through the centre of the town past the houses are for permit holders only.
Taxi: A taxi ride from Palma takes around 20-minutes and costs around 30-35€
Port de Valldemossa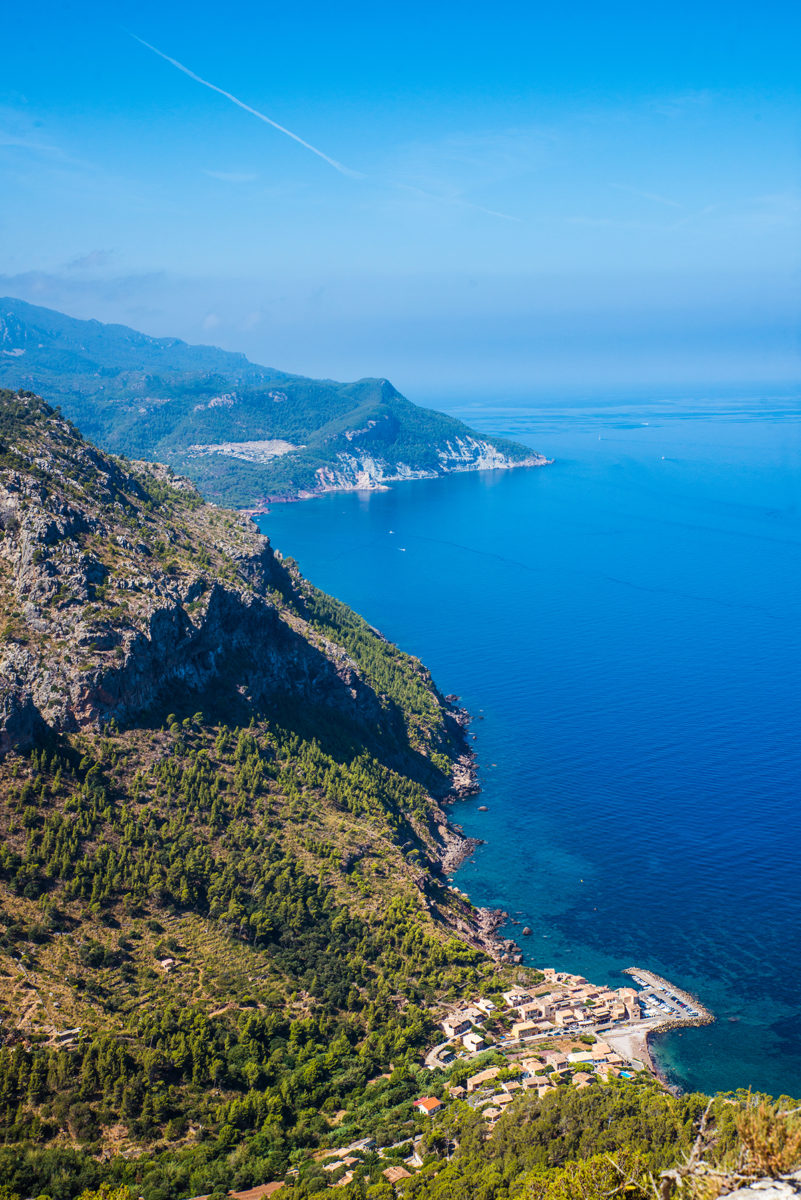 A 15-minute drive from the town down a winding, hairpin road, leads you to this hidden, quaint little port. The drive can be a challenge but certainly worth it!
The spectacular scenery evolves as you descend down the mountainside to the sea, through sweet smelling pines, bird song and the odd adventurous goat. There are no shops here, it really is all about location, tranquility and wonderful nature.
The port with its pebbly beach is one of few along the northwest coast that offers sheltered anchorage for visiting yachts, making it an ideal place to drop anchor in the summer and head to shore to enjoy a paella by the sea, at its only restaurant, Restaurante Es Port de Valldemossa.
The lure of its landscape attracts hikers and cyclists, who find thrill in the challenge of a 400m climb in just a distance of 6km.
Valldemossa in photos
fg_lazyload
Valldemossa
Valldemossa streets
Orígenes Cafe
Valldemossa streets
Valldemossa
Ca'n Molinas bakery
Valldemossa streets
Coca de patata and hot chocolate at Ca'n Molinas
Valldemossa
Aromas Restaurant
Art Gallery Valldemossa
Valldemossa
Experience Valldemossa
To experience Valldemossa is to revel in the natural bounty of life. There is much to discover, from wandering around the boutique shops and cafes on its old cobbled streets, the Sunday Market, to the scenic mountain and coastal trails. It's the perfect base from which to explore the scenery at weekends.
Whether driving or biking, the MA-10 road towards either Banyalbufar or Deià will spoil you with divine views out over the sparkling sea and coastline, from viewpoints such as Mirador de s'Escaleta or the Mirador Estate, which includes the Archduke Ludwig Salvator's former residence Son Marroig and the iconic rock formation below of Sa Foradada. On the way back, be sure to stop off at the ancient olive groves of the Son Moragues estate for the taste of the Tramuntana, in a bottle of their 100% organic olive oil. You can book a tour as well through their website, and hear all about how the olive oil is produced.
The 4 hour circular hike up the popular mountain El Teix will lead you through forests of oak and evergreen, the main attraction being the Cami S'Arxiduc for the divine coastal views. After watching the glorious sunset, supper with friends at Es Taller is the perfect way to unwind further, before walking home in the warm evening air, filled with the perfume of Mediterranean flora.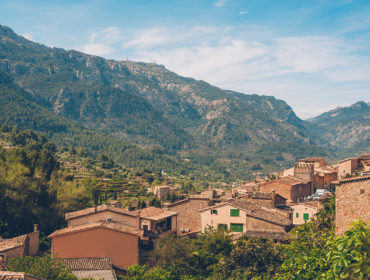 Did your favourite town in Mallorca make the list? Check out Helen Cummins' selection of the prettiest towns on the beautiful island of Mallorca.
Events in Valldemossa
Chopin Festival
Every Sunday throughout August, Valldemossa honours Chopin and his famous stay in the Monastery. International musicians perform stunning piano recitals of his work, in wonderful, ambient evening concerts.
Sunday Market
Between 9am – 3pm every Sunday, fruit, vegetables, textiles, crafts, gifts, plants and flowers are on sale at the Valldemossa Market, attracting visitors from all over the island.
Festes de la Beata
Mallorca's beloved Saint Catalina Thomàs is honoured on the 28th July each year. This fiesta is the most treasured festival for residents as she was born in the town in 1533. People from all over flock to the streets to watch the 'Procession of the Beateta', take part in parades around the statue of the Saint, sing traditional songs such as 'Sor Tomasseta', and dance Mallorcan Boleros, while children travel through the streets on floats, throwing out sweets and confetti to the crowds.
Festes de Sant Bartomeu
The second most important fiesta of the town is that of Sant Bartomeu, the patron saint of Valldemossa. Concerts and sporting events take place in the town, including performances in the cloisters of the Real Cartuja.
Artdemossa Fair
Each July, Valldemossa's streets and squares are filled with local musicians, artists, artisans, poets, photographers, and gastronomical delights, as Valldemossa celebrates its artistic and cultural heritage.
Restaurants in Valldemossa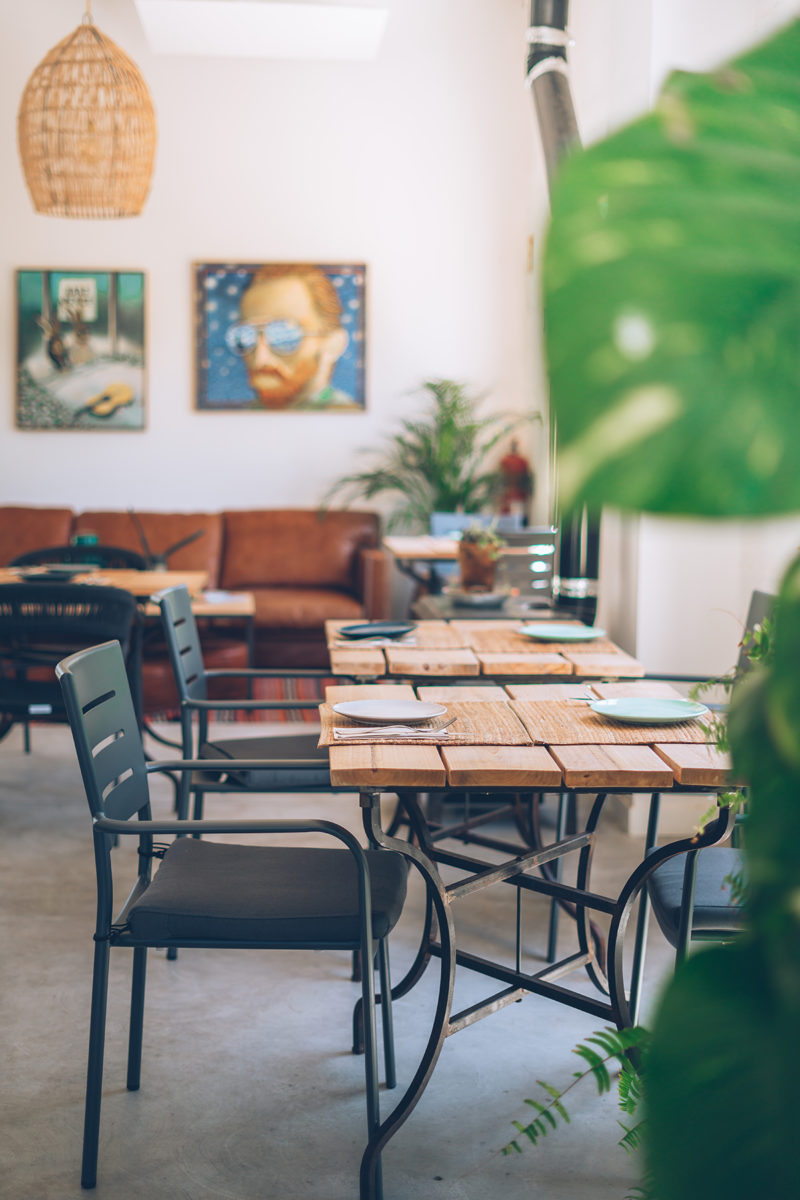 Es Taller is a pretty cool restaurant tucked away in a former mechanics garage. Chef Nicolás Gago Aubert is as highly regarded by locals as his international menu, with a diverse selection of fresh international flavours such as Octopus Carpaccio, Iberico Pork, and Pad Thai. The space itself is relaxed, light and airy and the food is prepared in full view from the open kitchen. Booking is highly advised at this popular local haunt.
Located in the heart of Valldemossa is QuitaPenas, a 100 year old Mallorcan botega. It's a rustic, unpretentious, genuine place where you can enjoy lunch, warm and friendly service, simple and delicious authentic Mallorcan cuisine and local beers served in the old bodega. They are famous for pa amb oli. Try it with sobrasada, local cheeses or figs.
Restaurante Valldemossa in Hotel Valldemossa is the elegant choice. From lazy sunny lunches, to romantic candlelit suppers under the monastery with live music at weekends, dining on the terrace with the wonderful views is a splendid place to unwind and enjoy their fine Mediterranean cuisine. Fresh produce comes from their own garden and delectable s'Olivar de Valldemossa olive oil from their own olive trees. Try the Mallorcan lamb, delicious!
Nightlife in Valldemossa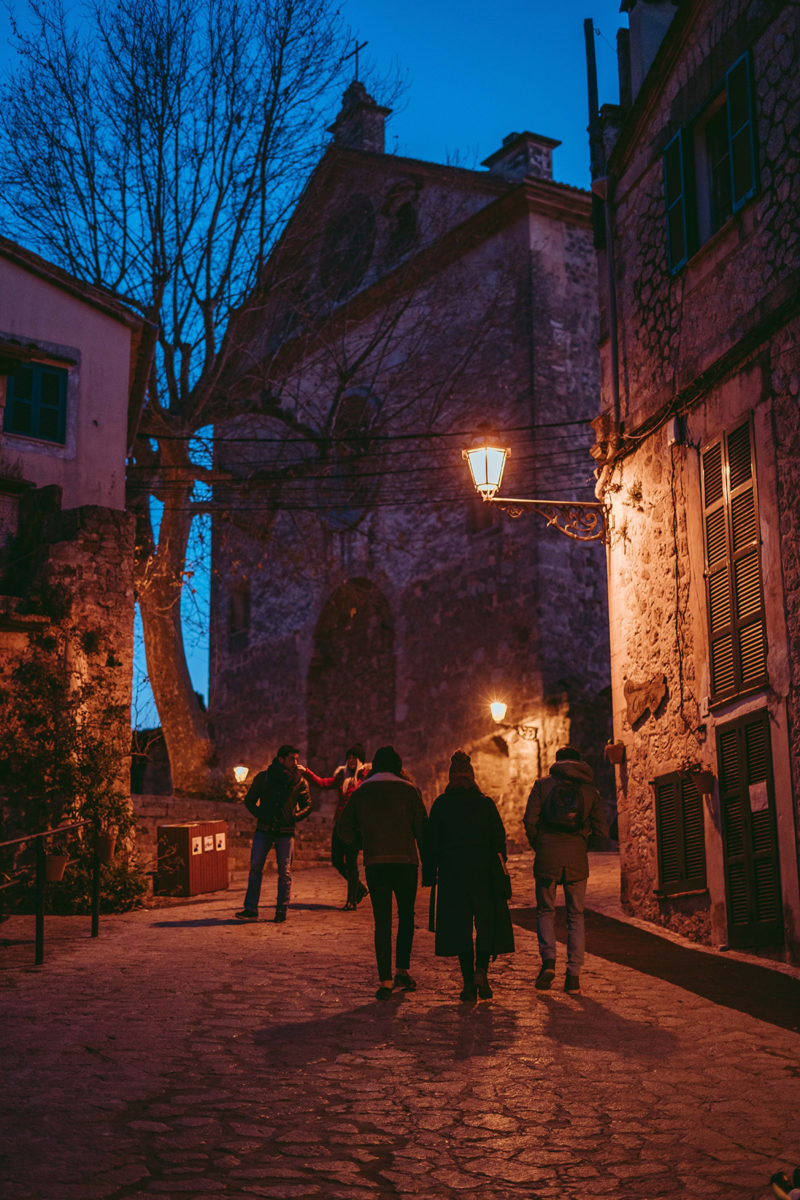 This tranquil, scenic mountain town is just that and the nightlife here is quiet and relaxed. An evening out in Valldemossa is best spent enjoying a pre-dinner aperitif on the terrace at Bar S'Olivera or Bar Cappuccino followed by a laid back meal with friends, perhaps some traditional Mallorcan and Mediterranean cuisine at Can Morio, Es Roquissar or Casa de Sa Miranda.
For live music and dancing, head to Valldemossa's only lively venue Underground Bar on Carrer Marquès de Vivot afterwards.
The terrace at Restaurant Valldemossa is a wonderful place to enjoy the ambience of this charming mountain town, particularly by candlelight in the evening after sunset.
For a really tranquil evening, head down the mountainside to Port de Valldemossa for a drink overlooking the sea but be careful not to drink too much as the journey back up is challenging at the best of times!
Hotels in Valldemossa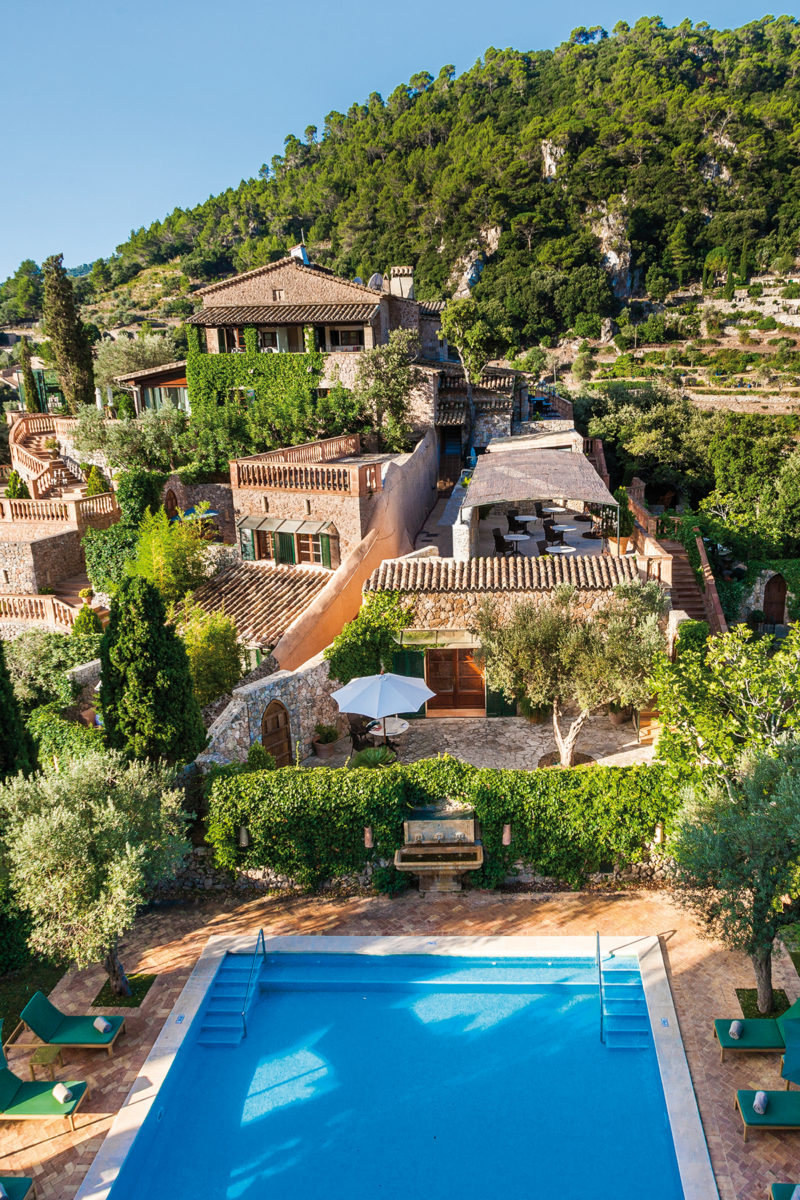 On the old road from Palma to Valldemossa lies a very special place, Agroturismo Son Viscos Hotel. Now run by Michael Roberts and his wife Maria, travellers have been staying at this unique resting stop since ancient times. Filled with antiquities that the couple have been importing for years and sell through their 'Obsolete Antique Furniture Store'. The gardens surrounding this 4 bedroom hotel are some of the most beautiful on the island.
For romance, the spectacular boutique Hotel Valldemossa, perched up on a hill overlooking this magical town will not disappoint. Their 12 uniquely designed bedrooms offer total luxury, as well as stunning vistas over the Carthusian Monastery, surrounding majestic Tramuntana landscapes and out as far as Palma Bay.
The word 'Mirabó' translates as 'beautiful view, and Hotel Mirabó de Valldemossa does not disappoint. Its privileged position, 500m above the Valldemossa valley in the heart of the Serra de Tramuntana, offers peace, tranquility and inspiration. The estate originated as a farm and olive groves in 1503 before the current family purchased it in 1898.
Finca Son Brondo offers Mallorcan charm and history overlooking the beautiful valley. This manor estate dates back to Moorish times in the 13thC and the hotel is filled with grand signs of its ancient past whilst offering the best of modern comforts. It's a truly special location.
Finding a Property in Valldemossa
Buy property in Valldemossa and you will live alongside some of the most exclusive addresses on the island, as well as amongst the most striking, ancient and enchanting scenery in Mallorca.
From smaller renovated houses amongst the charming old cobbled streets of the town to traditional Mallorcan fincas and historical manor country estates, and luxury villas in secluded locations that offer breathtaking views over the northwest stretch of mountains, valleys and coastline.
The latest prime address is on the Urbanisation George Sand Estate, just outside the town above the coastline. There is no doubt that real estate for sale in Valldemossa offers some of the most desirable authentic property on the island.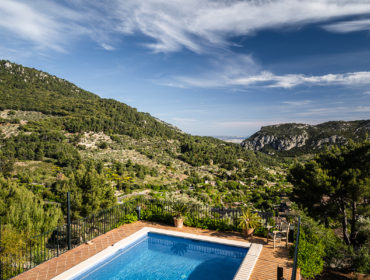 From grand estates such as the S'Estaca Estate, to lavish villas in George Sand, property in Valldemossa is some of Mallorca's most exclusive.
Business and Work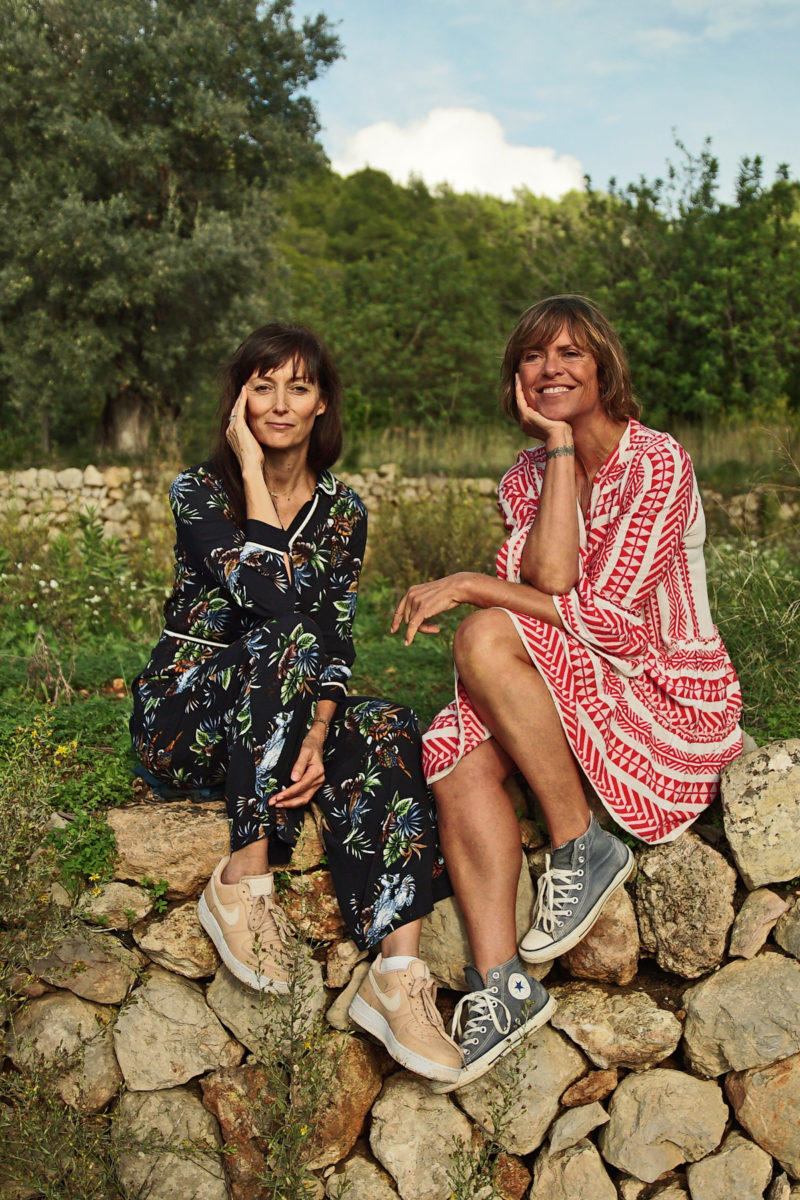 With just 2.000 inhabitants, the town offers little in terms of work other than shops, bars and restaurants. As with most small towns on Mallorca, work relies heavily on the tourist industry.
Palma is just a 20-minute drive away and the airport 25 minutes, making it an easy commute for work in the city. Plenty of people with high powered jobs move their families to the area to take advantage of the unbeatable quality of life, whilst commuting to and from work. Of course, being able to work from home is a privilege that is becoming the norm and is, by far, the best way to enjoy living in such a beautiful place.
For those who want to immerse themselves into history, culture and nature, the 700-year old Son Moragues Estate are working towards recovering ancient olive groves with 10,000 trees on 100 hectares of land, through stewardship programs. The team at Son Moragues is leading an ambitious regeneration project which they hope will inspire others on the island to do the same. The olive trees have been cultivated with the native variety, meaning that the olive oil produced on this estate comes from the same trees that the Archduke would have enjoyed, 150 years ago.
Alongside producing olive oil, the estate is also being used to make olive tea. Katja Wöhr from Flor Sal d'es Trenc and Kate John, known as Dos Alquemistas, harvest the olive leaves and make a very popular range of lattes, powders and infusions.
People: Locals & celebrities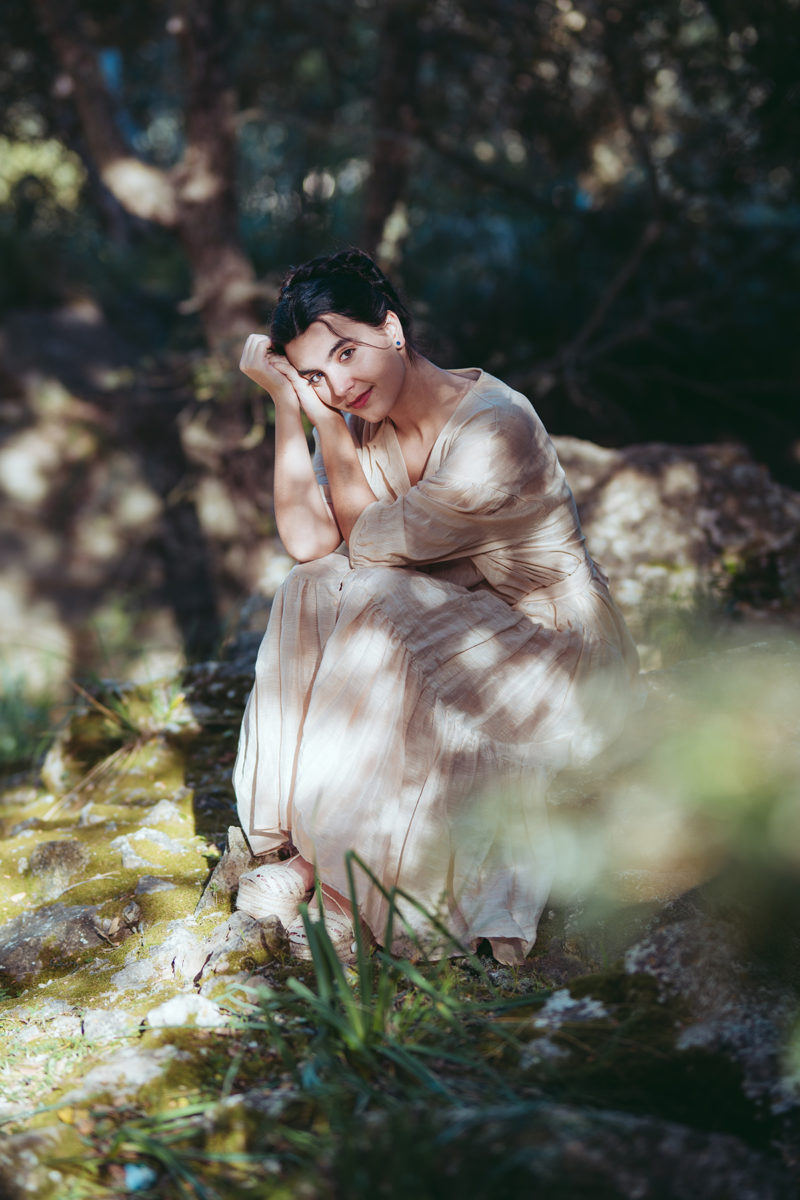 Residents of Valldemossa have included many famous faces over the years, including 13th century poet, writer and mystic Ramon Llull, Chopin, Hollywood actor Michael Douglas (owner of the exclusive S'Estaca Estate close to Port Valldemossa) and fellow American artist Natasha Zupan. Step inside the S'Estaca Estate in an exclusive interview with Diandra Douglas, who reveals all sides to family life in the impressive home.
Local singer, 22-year old Júlia Colom, has also brought fame to the town through her incredible vocals. She is passionate about keeping traditional Mallorcan songs relevant by sharing them all over the world. So far her beautiful voice has taken her to stages in New York, Portugal, Barcelona, India, Berlin and Scotland. There is a lot of support amongst locals that Júlia sings far and wide, sharing the dialect Mallorquín and songs from the land.
Last Word
This enchanting mountain town and its spectacular scenery evokes the desire to wanderlust round every one of its corners, cobbles, trails and pathways. It's a wonderful place to lose yourself in and easy to see why it's the most visited town on the island.Living in Valldemossa is about connecting to the landscape, to its past, yet remaining truly present through the inspiration that's laced through every aspect and element.
A place to unwind, be inspired by the rich bounty of its surroundings and appreciate its timeless culture, once experienced, your heart and imagination are captured, forever.