The Valldemossa estate Son Moragues hosted a special event on the first day of spring 2017, introducing invited guests to the meticulously maintained 700-year-old finca and its luscious organic extra virgin olive oil.
Guests were driven to a restored hilltop 'casita' on the estate for an outdoor tutored tasting of the critically acclaimed Son Moragues oil. Another expedition led to a private coastal 'mirador', where the hosts served delicious 'empanadas' and 'cocarrois'.
Under a canopy of trees, Amsterdam-based mixologist Kristian Jagerman prepared a specially created cocktail, incorporating Son Moragues olive oil.
After visiting the estate's 'tafona' (olive press), guests – including Fernando P Arellano (of the two-Michelin-star Zaranda) – sat down to an al fresco three-course Mallorcan lunch and wine.
Address details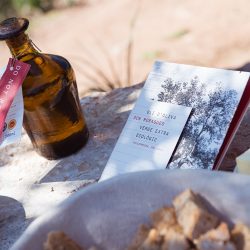 Son Moragues
Av. Lluis Salvador Cilimingras, s/n, Valldemossa