Have you ever tried a Mallorcan olive? Not the round ones, the Spanish table olive or the Manzanilla, but the one which is matt green with an elongated shape and slightly bitter taste. Just like the island where it is grown, the Mallorcan olive is bursting with a character of its own, very distinct taste!
The tradition of olive-growing on Son Moragues dates back 700 years to the 14th century when the Moragues family started cultivating the olive groves between Valldemossa and Deià in the Tramuntana mountains. The estate became famous thanks to Archduke Ludwig Salvator of Austria who first stepped on Mallorcan soil in the summer of 1867 and acquired numerous plots of land around Valldemossa. Son Moragues was at the centre of his agricultural work and his olive oil won its first international award in 1888 at the world fair in Barcelona. The Archduke was a progressive man: a non-conformist, keen traveller, passionate scientist and visionary who was a keen advocate for preserving the environment and its local agriculture and culture. This made him Mallorca's first cultural ambassador and even today he is still regarded as one of the most important figures in the island's history. It is precisely this spirit that continues to live on at Son Moragues.
For a decade, Son Moragues has employed a team to preserve the olive groves and ensure they remain an important part of the cultural landscape in the Serra. Ancient knowledge is now being used to bring ancient traditions into the 21st century. The nature conservation and sale of the products supports the preservation of the Serra de Tramuntana which has long been declared a UNESCO world heritage site.
"It's all about cycles" explains Uta Werner. "The olive groves of the Serra Tramuntana are the perfect example of the harmonious existence between man and nature." Together with her colleague Joe Holles, she is leading the regeneration project on Son Moragues in which 10,000 olive trees are scattered across 100 hectares of land. They view agriculture from a holistic viewpoint and strive for trees, animals, plants and insects to be seen as one all-encompassing ecosystem. "We cultivate and preserve the trees of our predecessors and use similar techniques." With no costs or efforts spared, 50 km of dry-stone walls were restored to its traditional structure to provide the trees with a natural water reservoir. Each individual, wild-growing olive tree (Ollastre) has been enriched with the "Mallorcan variety" so that the oil from Son Moragues still originates from the same trees that the Archduke used – without any use of pesticides or chemicals. "Sheep eat the shoots which grow at the foot of the trees and take the sap from them" explains Uta.
In 2006 the change to ecological farming began. "Since then we have noticed a clear increase in the diversity of the species as well as the fertility of the soil" she explains. "Ecological farming makes an important contribution to the protection of the environment and the regeneration of rural regions as projects such as these catch the interest of young people."
The olives on Son Moragues are still harvested by hand and processed in the oil mill using the cold extraction method. The oil is filled into hand-blown glass bottles by the traditional Mallorcan company Gordiola – the same bottles the Archduke used for his Malvasian wine. Everything, right down to the smallest detail, has been thoroughly thought-out as the 'saviours' of Son Moragues maintain everything to the highest standard. "We want Son Moragues to become a flagship project for regeneration!"
Address details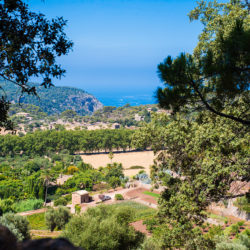 Son Moragues
Av. Lluis Salvador Cilimingras s/n, Valldemossa