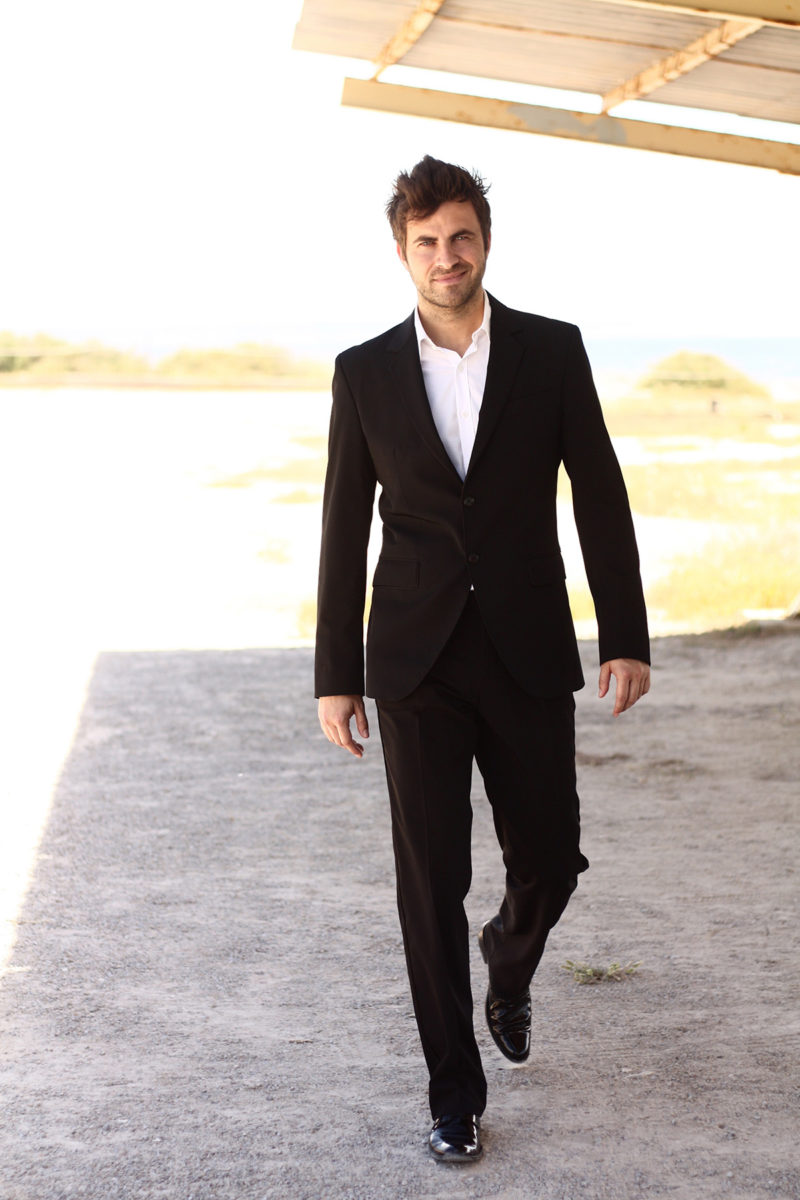 For seven years, David Gómez has been lighting-up the Mallorcan music scene in his own inimitable way. The pianist has earned a hard-won reputation thanks to his candle-lit concerts at scenic venues such as the lighthouse at Andratx and Capdepera castle. Invariably, they are sold out.
Tall and with piercing blue eyes, David exudes the self-confidence of someone who has been in the limelight for as long as he can remember. Now 38, he played his first recital at the tender age of 14. He was nervous, he admits, "and those nerves never go away".
He recalls: "Whenever guests came over, my mother would ask me to play for them and I loved doing so. Music is a language and as such you use it to express yourself. It would be senseless if I sat at a piano for eight hours and then didn't play to communicate with others, you need to reach out to someone, into their heart – without that, it has no meaning."
He began his first tour in 1998 and has since played in Asia, Latin America and Australia as well as in such emblematic concert halls as the Concertgebouw in Amsterdam and Carnegie Hall in New York, venues that have a "massive name but are more for your CV". That's why he prefers to play in settings that have more of a visual impact, such as lighthouses and church ruins. "I find theatres very cold. I don't enjoy them as much as places where I feel really comfortable," David says.
The inspiration for the candlelit concerts comes from his time in Holland, where "people arrive home from work and light candles for their dinner". He adds: " I prefer indirect light that's why I use the 200 candles because I feel much more comfortable expressing my music."
David was born in Switzerland to Spanish parents but the family moved to Mallorca when he was three years old. He went back to Switzerland, however, to study at the Geneva Conservatory.
"My father was a gardener and I come from a humble family," he says. "My mother played the accordion in a group but that's as far as my musical background goes.
"Learning music is very expensive here. You have to try 20-times harder to succeed. Music should be as important in schools as learning English. It's a language like any other that develops the mind and your inner creativity. Knowledge here of classical music is basic: they know Chopin because he lived here, Mozart because they've seen the movie and Beethoven because he was deaf." He adds: "Many concerts in Mallorca are almost empty, no one goes. It's a shame."
Being a pianist and Mallorcan, David is keenly aware of the legacy of Fréderic Chopin, the Polish composer who along with his French lover, Georges Sand, lived in Valldemossa for a year in the 1830s. He says: "I hope to play Chopin's Sonata No. 2, which has the Funeral March, in a cemetery next year. Imagine all those candles in the cemetery?
"I have composed a piece for piano and accordion – I played it for the first time last year in the gardens at La Cartuja in Valldemossa – that's dedicated to Georges Sand; it's called The Garden. I play the piano with my left hand and the accordion with my right at the same time.
"These pieces have a cinematographic character that are on a CD called The Island, and they are all dedicated to aspects of Mallorca, such as a sunset at Son Marroig."
David may be willing to offer a critique of musical tastes but he has nothing to reproach about his Mallorcan upbringing. "I don't think I would have liked growing up in Switzerland," he says. "It's a country that offers you many possibilities but I wouldn't change the Mediterranean climate for anything in the world. I've worked and lived in England and Holland, and in those countries, the arts are better than here.
"Some of the best moments I've had in concerts here have been with German and Dutch audiences. Germans are more sensitive about music because it's a part of their culture since childhood. Think of all the composers Germany has produced: Schubert, Beethoven, Bach… there's no comparison with Spain. In Vienna, for example, I went into a record store and the classical music section was the biggest of all."
Indeed, his favourite composer is Bach. He says: "I can spend hours playing him, the balance between rhythm, colour and harmony is so great that it's impossible to tire of him. He's the only composer who when I'm playing him – apart from being a challenge – I feel so at ease with."
Is there anything else he'd really like to do, I ask, thinking of maybe playing the Coliseum or the Alhambra. "My dream would be to do a soundtrack for a Woody Allen movie," comes the unexpected reply. As always, David is thinking big.