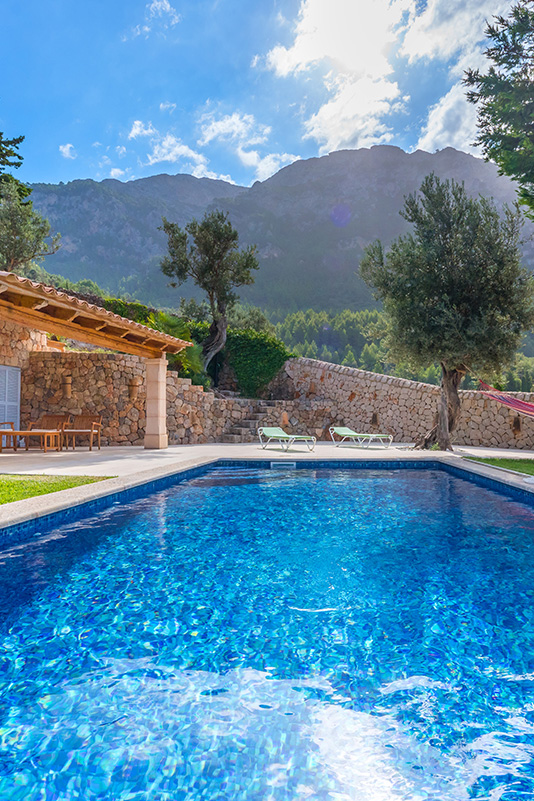 This region is dominated by the spectacular Serra de Tramuntana mountain range, Mallorca's backbone and a UNESCO World Heritage site. There are many picturesque villages dotted along the winding roads of the Tramuntana, with Port Andratx forming the western end, all the way along to Pollensa in the northeast. Come across small romantic townships such as Deia, Fornalutx and Valldemossa, and traditional villages like Soller, Alaro, Santa Maria del Cami, or even Pollensa where there is life all year round, good restaurants, shops and traditional festivities.
With a favourable climate and breathtaking views from every angle, it's no wonder well-to-do foreigners have been coming here for centuries, taking up residence in the summer months. Whether looking for an exclusive neighbourhood such as Andratx, or an artistic vibe such as that of Deia, the stunning backdrop in each location will be a constant theme. Terraced fields, traditional stone buildings, iconic green shutters, and narrow cobblestone lanes typify a Serra de Tramuntana township, with beautiful, detached countryside fincas and manors peppering the outskirts. In choosing to purchase property here you will experience an authentic Mallorcan lifestyle with island locals whilst still having a good balance of ex-pats to mix with.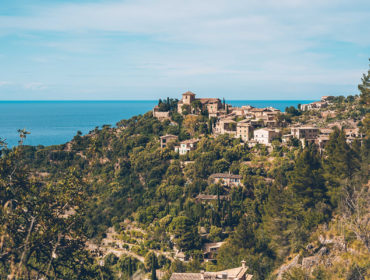 Majestic mountains and picturesque villages form the Serra de Tramuntana, where many people choose to escape the rat race and enjoy tranquility.
Where to buy a property in the Serra de Tramuntana
Sóller
Cosmopolitan Soller is popular among foreign residents for good reason. Culture and authenticity combined with fabulous mountain views as well as close proximity to the port and beach make for a dream Mediterranean setting. Properties here range from prestigious homes originally built for nobility, to typical traditional townhouses, and stone finca country homes as you head out of the centre.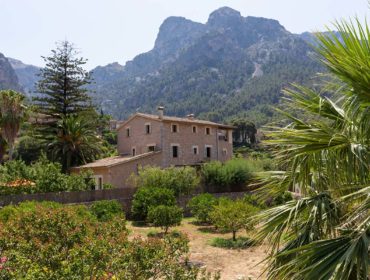 Over the past decade, Sóller has become increasingly popular amongst international buyers. Its pretty, quaint and has two sandy beaches close by .
Fornalutx
The architecture of Fornalutx has remained largely unchanged over hundreds of years, which is a huge part of the appeal of this very pretty ancient village. Rustic townhouses ooze character with original Mallorcan features, whilst on the outskirts you will find larger detached family homes with land and swimming pools, old stone fincas, and more modern luxury properties.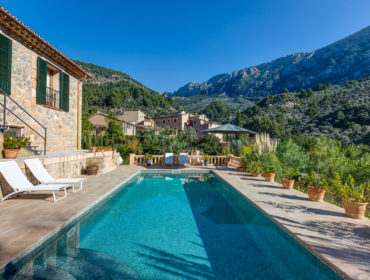 Browse our list of rural villas, fincas and old stone country houses and who knows, you might just find your new home in the heart of pretty Fornalutx.
Valldemossa
The exclusive village of Valldemossa sits perched on ancient terraces, surrounded by mountains and coastline. Beautiful traditional Mallorcan architecture featuring honey-hued sandstone combined with its privileged location and natural beauty makes this unique picturesque village very popular amongst property buyers.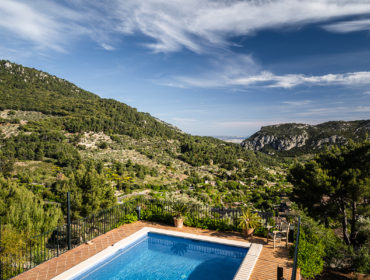 From grand estates such as the S'Estaca Estate, to lavish villas in George Sand, property in Valldemossa is some of Mallorca's most exclusive.
Deiá
Deiá is one of the most sought after (therefore pricey) locations on the island when it comes to property. Celebrity buyers and the artistic set are particularly drawn to this charming village which is made up of authentic townhouses connected by narrow winding lanes and dry-stone walls, alongside luxury mountain-top villas. Its elevated position affords spectacular views of the coastline, making it one of the most beautiful places on Mallorca.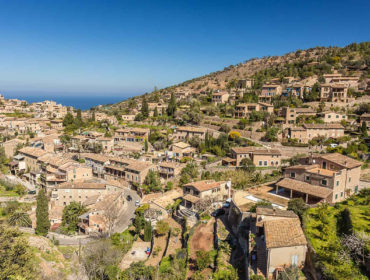 Will it be a rustic townhouse in the centre of Deià? Or buying a large estate with views overlooking Cala Deià? Find out all you need to know about buying a property in Deià!
Alaró
Alaró exudes old-fashioned charm and rural character. The narrow streets are edged by traditional drystone walls, and much of the village's architecture is based on golden Mallorcan stone. Authentic features are the norm: green shutters, terracotta roofing, and interiors with flagstones and oak beams. On the village outskirts you will find some of Mallorca's most luxurious fincas and country estates, where one of the biggest selling points is space and expansive plots of land.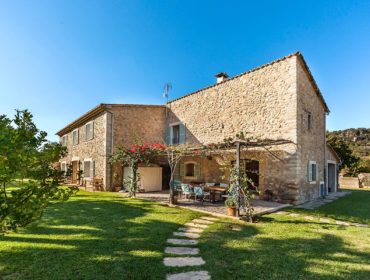 Alaró offers properties for those either seeking a rustic finca with land or a charming period townhouse.
Santa Maria del Cami
Santa Maria is gaining in popularity amongst property buyers, especially by those who value its close proximity to bustling Palma while still retaining a traditional Mallorcan village atmosphere. In the village itself you will find a mix of traditional and modern townhouses and apartments, while the outskirts feature rural country homes, high-end fincas, and manor estates nestled between the many vineyards of the Binissalem region.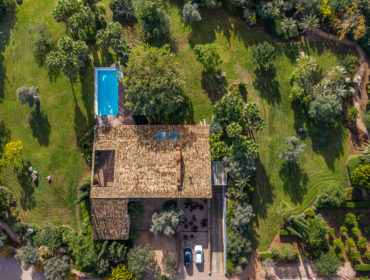 Santa Maria's location at the foot of the Serra de Tramuntana allows its residents to benefit from stunning scenery and an abundance of hiking routes.
Banyalbufar
Near Esporles sits Banyalbufar, a tranquil town where properties are built into the hillside boasting wonderful sea views. The village has charming, uniformed townhouses, whilst the outskirts are made up of rustic style properties. Banyalbufar currently benefits from lower property prices compared with other Tramuntana mountain villages such as Deià and Valldemossa and is set to increase in popularity.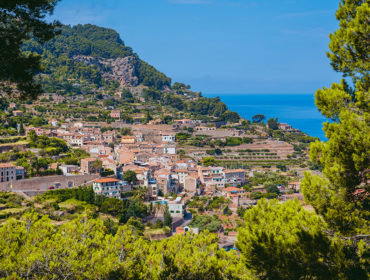 Banyalbufar is defined by its mountain slopes, where properties are built into the hillside. The terrain is beautiful, given its close proximity to the sea.
Esporles
Esporles is a lovely quiet village which boasts the beauty of the mountainous landscape as well as easy driving distance to Palma. It is a great year-round location for permanent residents as it is not a mainstream tourist spot, and some of the island's top fincas and country estates, both modern and historic can be found here. Stunning properties are nestled into the mountainside, and some even have their own vineyard or olive grove.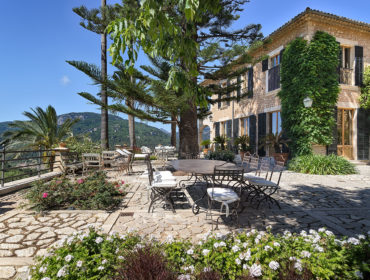 Buy property in Esporles, in the heart of the UNESCO Serra de Tramuntana mountain with easy access to Palma, the airport and the west coast.
Pollensa
Pollensa is a low-key and peaceful year-round village boasting a stunning combination of coast, beaches and mountains on its doorstep. The historical centre is generally made up of townhouses and villas, mostly traditional in style with original features, whilst the surrounding countryside is dotted with fincas and villas in both modern and classic Mallorcan styles.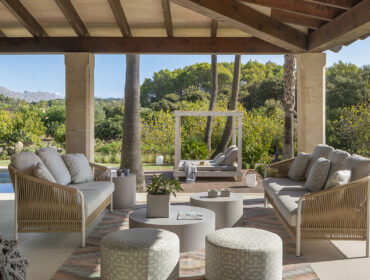 Favoured by those interested in a second home, property for sale in Pollensa attracts a high number of foreigners looking for the Mediterranean life.
Advantages to buying a property in the Serra de Tramuntana:
Close to the scenic mountains, great hiking and cycling trails and routes are plentiful and easily accessible for outdoors enthusiasts.
As a UNESCO World Heritage site, the surrounding nature and wildlife is protected.
The villages of the Serra de Tramuntana give you easy access to an authentic Mallorcan lifestyle, and village life all year round. The ancient townships are beautifully preserved.
Most villages have a nice balance of international and local residents.
Many of the villages remain relatively untouched by the tourist industry, offering peace and tranquillity.
The villages play host to some of the island's best markets on a weekly basis.
Lots of sunshine even in the winter months, and close to traditional wine-growing areas.
There is a rich offering of excellent restaurants across the Serra de Tramuntana.
A range of historic as well as architecturally modern properties in the villages and the outskirts.
Depending on where your property is, there is good public transport, however you would require a car.
Some things to bear in mind
Building licenses and plots are restricted due to the rules preserving the environment. Planning regulations are very tight, with long waiting times for permission and limited design options.
In the summer months some of the more popular villages can become crowded with an influx of foreigners, tourists, hikers and cyclists, conversely the winter months can be very quiet and uneventful.
Parking can be a challenge, with narrow streets around the town centres making access difficult.
Most of the international schools located near Palma, meaning a lengthy daily commute for school aged children.
Although there can be good public transport depending on where your property is, a car is essential in the region.
The temperature in the mountains tends to be a few degrees less and can feel damper than in other parts of the island.
Although the views are spectacular in the Serra de Tramuntana, properties with views of the coastline can be very expensive.
Most of the good restaurants and hotels close in winter.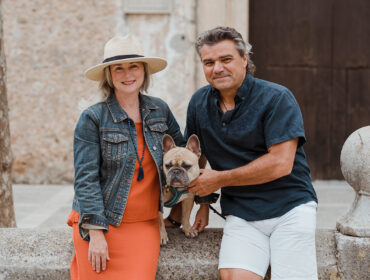 For two years and counting, Erika and Rick Butler have been searching for their dream Mallorcan home. Here they share their experience.
Serra de Tramuntana Price Guide
APARTMENT:
400.000 -1.000.000 €
3-4 BEDROOM HOUSE:
700.000 – 1.500.000 €
5+ BEDROOM HOUSE:
2.000.000 € – 6.000.000 €
(Please bear in mind that prices are subject to change)
Types of property in the Serra de Tramuntana
In the Villages
In the mountain villages of the Tramuntana authentic ancient architecture prevails. Each village exudes its own charm and character, built into the stunning landscape and surrounded by dry stone walls and terraces of olive and fruit trees. The townhouses and apartments predominantly keep with traditional Mallorcan features. The exteriors feature well-preserved blonde stone, terracotta roof tiling and wood shuttered windows, often with a cute patio terrace or outdoor space. New apartments are thoughtfully constructed in keeping with the original houses but boast modern interiors and comforts. Historic properties have often undergone a renovation, lovingly restored to showcase exposed wooden beams, original stonework, and sometimes beautiful flagstone flooring. Property developers can come across wonderful finds such as centuries old fireplaces and elaborate tiling during a restoration. Those who buy in the villages of the Tramuntana are most definitely lovers of rural character and rusticity.
On the Outskirts
As you head out of the village centres along the winding mountain roads you will see rural country homes, high-end fincas, and manor estates nestled into the sierra. The higher up the property is, the more impressive the view and the price of such properties reflects this.
A number of the countryside chalets and villas were built in the 70s and 80s with Mediterranean style architecture. The more traditional country houses are often old rustic fincas that have been redeveloped with extensions, some with modernised interiors and others keeping with the original style. Many of these properties boast expansive grounds with Mediterranean gardens, pools, terraces, and outdoor kitchens. You may even find a property complete with vineyard, olive grove or natural spring. If you desire to own a rural retreat and get back to nature, perhaps with farm animals, a vegetable garden or an orchard then this is an ideal area.
RULES AND REGULATIONS
Nowadays there are very strict rules and guidelines in place. It is imperative that for any construction or major renovation planning permission is requested. It is best to check with an architect or directly with the town hall to ascertain what can and cannot be done on a specific property. For village properties you might find that the façade of the house (road facing) cannot be altered, whilst the rest of the property can. Additionally, the hillier it gets the more protected the grounds are so in these situations it is also advisable to check on legalities and possible infractions.
Currently you may only build up to 300m2. There are a few plots remaining with an old license allowing builds up to 500m2, and these are in high demand so expect to pay double the price in the top locations – around € 1.2-2 million.
Serra de Tramuntana property features
What the Experts Say About Property in the Serra de Tramuntana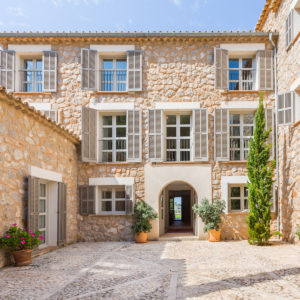 "Properties in the Serra de Tramuntana are solid, full of character and charm, constructed with natural elements such as stone and wood. Renovation is required to follow the same style to protect the origin and culture. Even new apartments follow the same style of natural stone from Binissalem for example, with exposed beams and stone walls."
Ana Martin McShane, Living Blue Mallorca
Trusted real estate agents in Serra de Tramuntana
See below for more Villas for sale in Mallorca!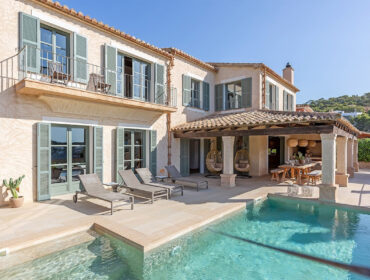 Discover the best Mediterranean villas for sale in Mallorca handpicked by Dr. Helen Cummins and team of local property experts.