Named the "most beautiful village in Spain" twice in recent history, the Fornalutx we see today began to take shape after the Catalan conquest back in the 13th century. Great efforts to preserve the village's cultural, natural and rural Mallorca heritage mean Fornalutx has remained largely unchanged over hundreds of years. Its antiquated architecture is an attribute which attracts visitors and tourists from all over, as well as many expats who choose to put down roots on the island. Despite its popularity the village is home to just 700 inhabitants, with recent population growth mainly coming from an influx of Northern Europeans, predominantly semi-retired British and Swedish purchasing holiday homes or settling more permanently.
Fornalutx's allure comes from the tranquil slower pace of life and the village's authentic, unspoiled charm. Ancient winding alleyways and traditional stone houses are flanked by the jaw dropping mountainous landscape and tumbling terraces of vineyards, olive groves and orchards. In the village itself you will find pretty townhouses with plenty of character and original features, while the outskirts are peppered with larger fincas as well as newer villas with private land.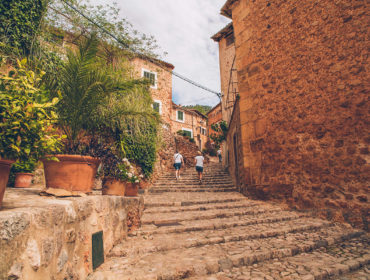 Fornalutx, known as Mallorca's prettiest village, lies in a declivity amongst the highest mountains of the Serra de Tramuntana mountain range in Mallorca.
Properties for sale in Fornalutx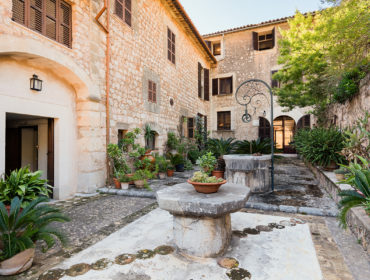 Built over 200 years ago, this luxury mansion in Fornalutx is where time has stood still. It's a rare investment opportunity you won't want to miss!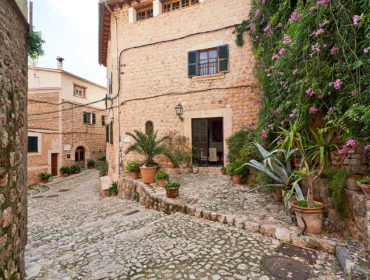 Live the authentic rural life in Fornalutx by investing in this sweet village house dating back to 1260.
Where to buy a property in Fornalutx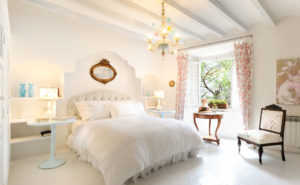 As a little village, there are not specific and defined zones in Fornalutx as such. The old centre is known for its typical Mallorquin townhouses, especially around the main square – Plaza de España, where you will also find several cafés and the general store. Prices can vary in a small area, however, depending on the property's level of modernisation and position in the village.
The main residential streets within 150-metres of the square are Calle de Sant Joan, Calle Esglesia, Calle de Sant Sebastiá or the Calle del Metge Mayol which is actually a long stone staircase lined with old houses. Additionally, there are some properties around the Torrent de Fornalutx, and as you head out of the village you will find larger fincas and villas dotting the landscape.
Advantages to buying a property in Fornalutx:
The ancient properties are full of character and the township is beautifully preserved and authentic.
There are beautiful mountain views from every part of the village, including magnificent outlooks of Puig Mayor– the island's highest peak.
Peace and tranquillity. Fornalutx is a place where you can truly disconnect from your busy daily routine.
As a UNESCO World Heritage site, the nature and wildlife surrounding the village is protected.
There are a good selection of local restaurants and a supermarket open all year round.
Residents are a mix of nationalities alongside local Mallorquins meaning there is a great community vibe.
Some things to bear in mind
Houses located in the old centre are difficult to reach by car. Getting around on foot is a must.
No sea views. However, the nearest beach is Port de Sóller which is approximately 9km away.
In the summer months the village can become crowded with an influx of foreigners, tourists, hikers and cyclists.
During the winter the village is very sleepy and quiet, although livelier Sóller is only 5-minutes by car.
Second homes and holiday residences may be a bit inactive during the winter period.
Fornalutx is a very small village and with limited development potential real estate can be in short supply compared to nearby Sóller.
Fornalutx Price Guide
APARTMENT:
300.000-400.000 €
3-4 BEDROOM HOUSE:
800.000 – 1.500.000 €
5+ BEDROOM HOUSE:
2.000.000 € +
(Please bear in mind that prices are subject to change)
Types of property in Fornalutx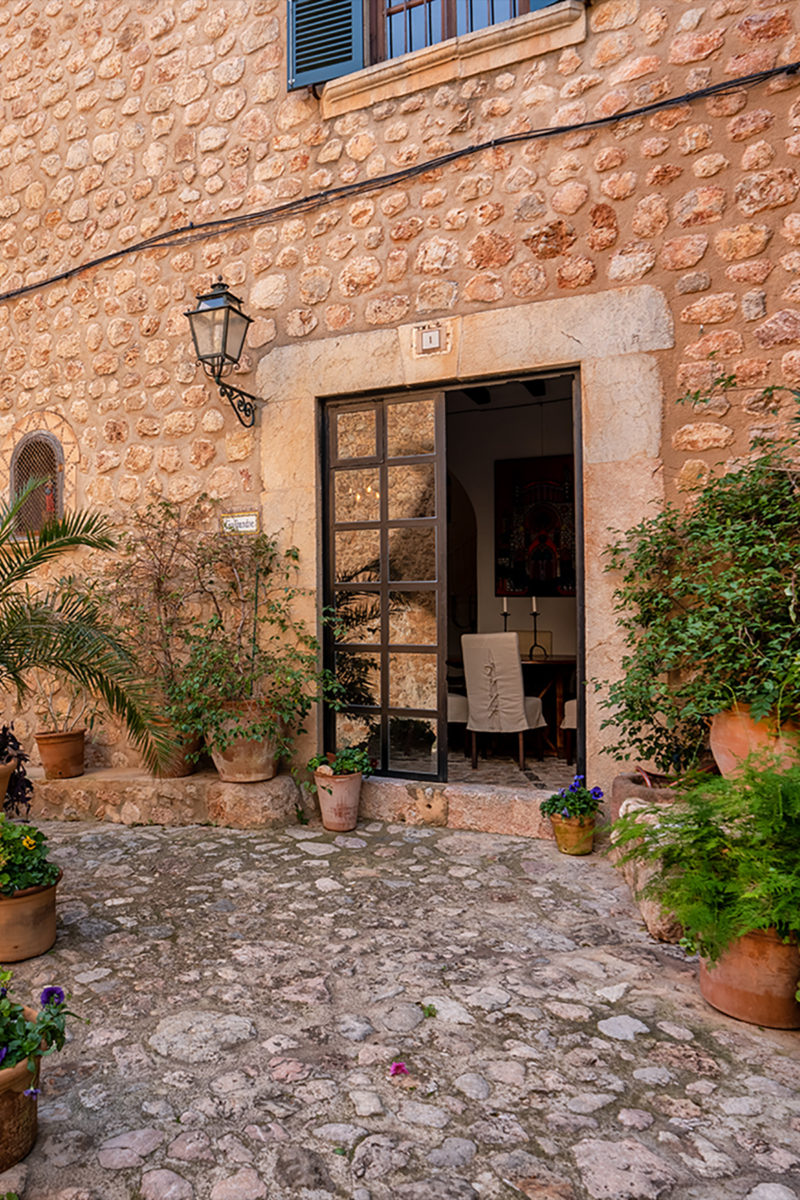 In the Village Centre
Fornalutx village provides wonderful examples of typical Mallorcan mountain buildings. These centuries old stone townhouses and small fincas dominate the town's centre, many accessible via the quaint and charming "steps of Fornalutx". Traditional green painted wooden shutters, Arabic red roof tiles, and old carved wooden doors adorn the ancient houses, and colourful plants in pots bedeck the facades along the cute alleyways. The townhouses often have a small courtyard or roof terrace (some with a pool), perfect for enjoying the plentiful sunshine and spectacular mountain views abounding from every point in the village.
On the Outskirts
The surrounding countryside of Fornalutx offers a greater variety of properties including larger detached family homes with land and swimming pools, as well as small charming stone fincas with original features, and more modern large luxury properties. Many boast Mediterranean gardens with pretty flowering cacti and cascading Bougainvillea blooms in vivid magenta. The privileged position of properties on this part of the island allow for breath-taking 360-degree views over the Serra de Tramuntana mountains and Sóller valley. The surrounding farmland and scenic terraces are pervaded with olive groves and citrus trees.
RULES AND REGULATIONS
Fornalutx is BIC (Bien de Interés Cultural), which means it is considered to be a very important and valuable cultural asset due to its ancient buildings. The authorities therefore want to preserve the authenticity of the village with urban restrictions. As a highly protected area, all renovation/building works must be approved not only by the Town Hall of Fornalutx but also by the department of "Patrimonio" of the Consell of Mallorca (central Government of Mallorca). In general terms you can only renovate the existing legal buildings, and there are very few plots remaining to construct new houses in the heart of the village (which is urban land). This is less of an issue on the outskirts which is agricultural land, however authorisation for construction may still prove difficult. A good real estate agent should be able to address all basic concerns and give a potential buyer the necessary assurance prior to purchasing a house or a land plot.
What the Experts Say About Property in Fornalutx
"The natural surroundings of this countryside village provide an incredible view of the Tramuntana and Puig Mayor, the highest mountain in Mallorca (1440m +). With great local amenities Fornalutx is a quiet and inspirational village which is also protected by UNESCO and has received many rewards for its untouched atmosphere. Take the time to enjoy the annual festival in September while drinking a beverage on the Plaça de Espanya."
Laurent Mathieu, Casas Mallorca Real Estate
"There are so many highlights of living in Fornalutx. Eat on the sunny terraces of 'Can Antuna' or 'Es Turo' with spectacular views, and after the meal take a lovely walk through the old part of the village. During the high season enjoy an evening drink in the busy central square – what we call the 'communication centre of the village'- the ambience is amazing! Also, a 'must-do' is to witness the breath-taking sunsets in the restaurant 'Es Mirador de Ses Barques' while enjoying a great traditional Mallorquin food."
Borja López Muñoz de Baena, Sóller Studio
Trusted real estate agents in Fornalutx
See below for more Villas for sale in Mallorca!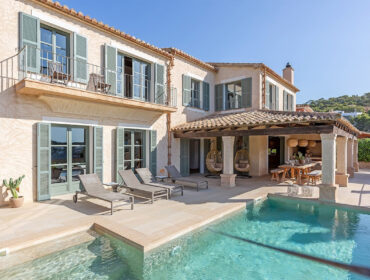 Discover the best Mediterranean villas for sale in Mallorca handpicked by Dr. Helen Cummins and team of local property experts.