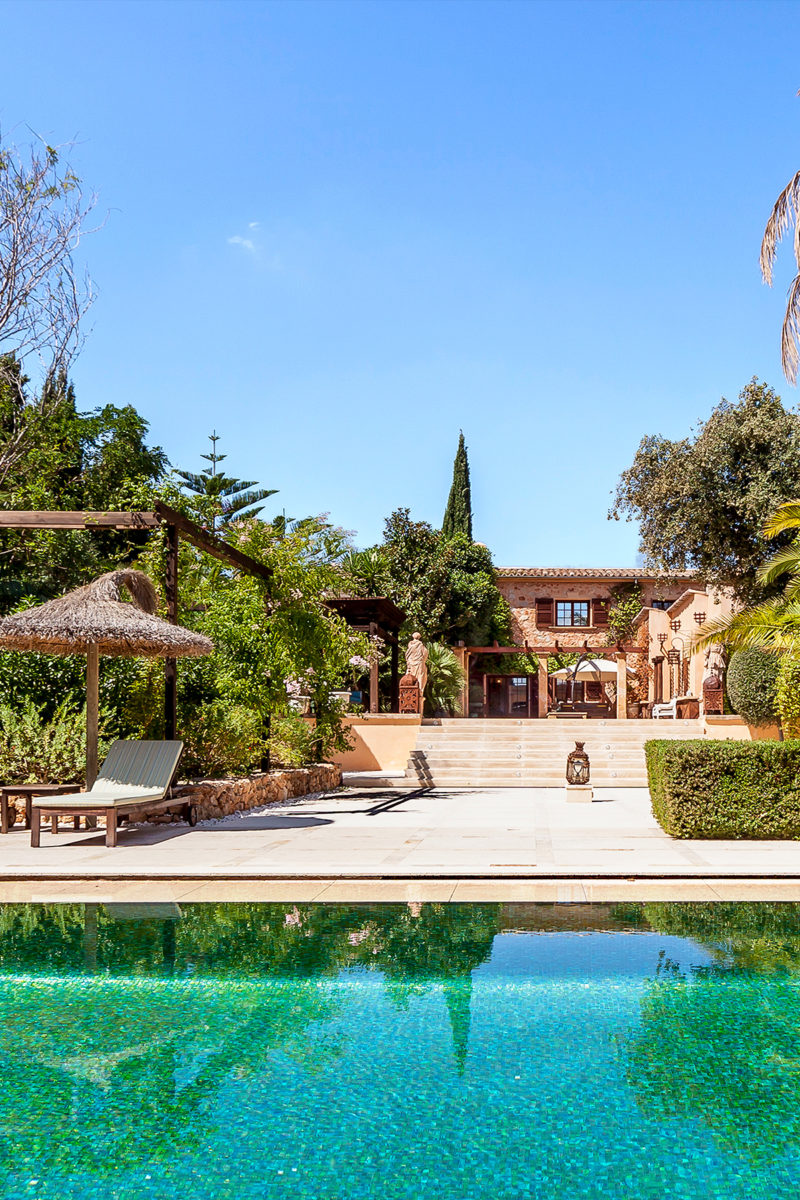 The small town of Santa Maria del Cami has a wonderful rural charm whilst still be very well connected to Palma and all of the associated urban conveniences. Set at the foot of the breath-taking Tramuntana mountain range and nestled amongst the many small and medium sized family run vineyards of the Binissalem region, it is unsurprising that in recent times the picturesque village's popularity has steadily grown as a place to settle.
The residents of Santa Maria del Cami are a real cross section of society showing its universal appeal and injecting a cosmopolitan vibe whilst retaining the air of a traditional Mallorcan village. Daily life on the ancient streets of Santa Maria see young parents who have just moved to the area mingling with older generations of Mallorcan residents whose families have been there for centuries.
Foreigners are often attracted to Santa Maria wanting an authentic holiday retreat or second home, and come mostly from Germany, England and Scandinavia. Older couples and families settle into Santa Maria for a simpler way of life, and a smattering of yacht workers also choose to put down roots here, perhaps wanting a taste of inland Mallorca away from the sea.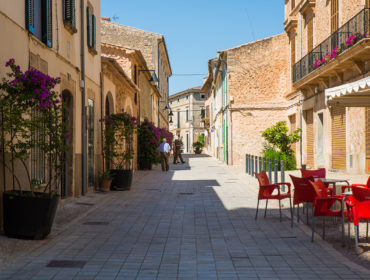 Your guide to Santa Maria in Mallorca. We cover all the highlights of living in this small town giving you insider tips from a locals perspective.
Due to its increasing popularity, property in Santa Maria del Cami is more and more in demand. The townhouses and apartments in the village centre as well as the larger fincas and estates on the outskirts are quickly being snapped up.
Where to buy a property in Santa Maria del Cami:
The Village Centre & Market Square
The village centre and main square of Santa Maria is the hub where locals convene daily to run their errands or enjoy a catchup over a coffee and fresh pastry. Although small, the village boasts many boutiques, cafés, restaurants and shops, providing all the basic necessities for village life. In terms of residential property, the centre itself is mainly populated with typical Mallorcan townhouses. Some have already been tastefully reformed to international standards, ensuring that the classic old charm and character is maintained, whilst others are still in need of refurbishment – ideal for investors. A handful of high-end apartments can be found in converted old town palaces and are available for sale from between 400.000€ and 1.2€ million euros.

Cami de Coanegra & Cami es Raiguer
These particular zones on the Santa Maria outskirts are peppered with large and exclusive country estates and rural properties set on sizeable plots of land. Often stone clad but with modern interiors and finishes, these well-appointed properties usually cost between 2.5 and 6 million euros. Taking a hike through Cami de Coanegra and Cami es Raiguer allows you to be privy to a few of the islands most stunning and elegant privately-owned estates or 'possessions' including Son Torrella, Son Oliver, Son Roig and Son Pou. These historic properties have previously been working farms and are set on dramatic landscapes surrounded by nature, orchards and olive groves.
Advantages to buying a property in Santa Maria del Cami:
Santa Maria del Cami is very well connected to the city centre of Palma. By car it is just 25-minutes, and by train just 15-minutes.
There are excellent international schools in the area. Right in Santa Maria del Cami is the Montessori School of Mallorca and less than a 15-min drive away is The Academy International School.
Great hiking and cycling trails and routes are plentiful and easily accessible for outdoors enthusiasts.
There is a good selection of amenities, restaurants and shops open all year round.
As part of the Binissalem wine region there are many family run vineyards and wineries to enjoy, such as Macià Batle with its traditional Mallorcan vines.
Santa Maria has a typical and authentic Mallorcan village feel, but with a nice balance of international and local residents.
The village plays host to one of the islands best markets every Sunday.
Some things to bear in mind
Living in Santa Maria is living in the countryside, so getting to the beach is not quick and easy.
As with many of the island's small villages, the winter months can be very quiet and uneventful.
Building licenses and plots are restricted due to the rules preserving the environment.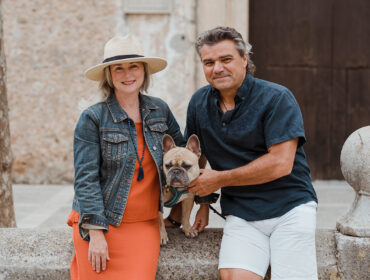 For two years and counting, Erika and Rick Butler have been searching for their dream Mallorcan home. Here they share their experience.
Santa Maria del Cami Price Guide
APARTMENT:
300.000 -1.000.000 €
3-4 BEDROOM HOUSE:
400.000 – 2.500.000 €
5+ BEDROOM HOUSE:
1.000.000 € – 8.000.000 €
(Please bear in mind that prices are subject to change)
Types of property in Santa Maria del Cami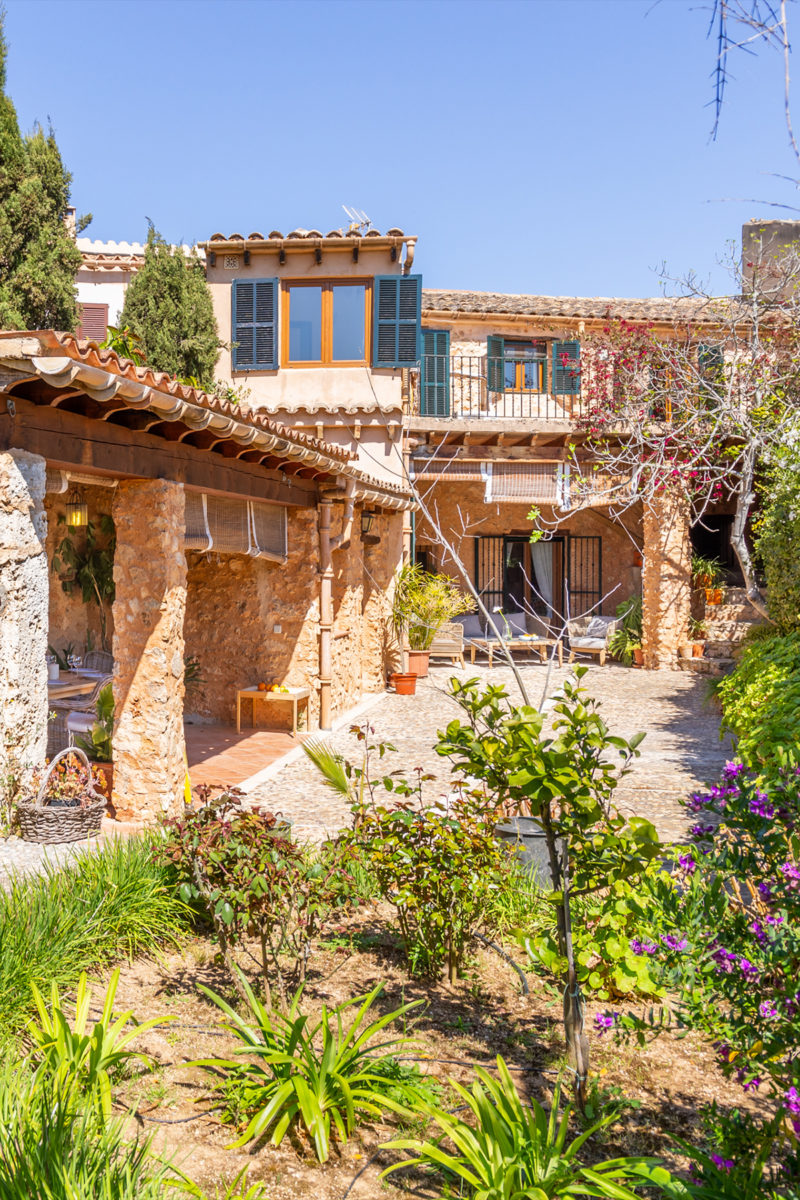 IN THE VILLAGE
Santa Maria is almost viewed as another 'barrio' of Palma due to its proximity to the bustling capital. As such high-end penthouses and apartments can be priced above what one might expect for a small village (yet still below Palma Old Town prices). You can find a mix of traditional and modern townhouses and apartments, yet all keep the traditional outward look of an authentic Mallorcan village with charming rustic facades of preserved blonde stone. In the village these properties start at around 300.000 €, fetching up to 1.300.000 € for luxury apartments in reformed palaces.
A 3 to 4-bedroom house in the village that needs to be reformed can start at around 400.000 €, but if the property has undergone work and renovations prices begin at 650.000 € and go up to 2.500.000 €. These houses typically feature lovely exposed wooden beams and visible interior stone walls, whilst the exteriors are stone clad and complete with ancient arches and picturesque Mediterranean gardens.
ON THE OUTSKIRTS
The outskirts of Santa Maria offer rural country homes, high-end fincas, and manor estates benefiting from extensive grounds and expansive views. These properties can range from 1 million to 8 million euros depending on quality, size, positioning and legality.
RULES AND REGULATIONS
If undertaking a new build in Santa Maria it is important to be aware that you can now only build up to 300m2 maximum. Some building plots do still exist with an old license allowing one to build up to 500m2, but these are in high demand and will cost double the price. For top locations expect to part with 1.2 to 2 million euros. Additionally, the more hills and slopes there are on the land often means the grounds will be more protected, so it is advisable to check on legalities and possible infractions.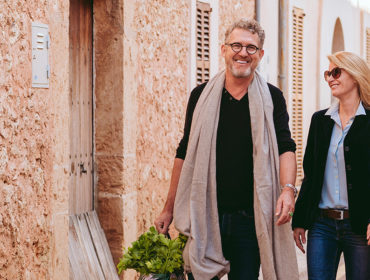 Since leaving the white sands of the West Indies behind, the Horsman family have found contentment on Mallorca, surrounded by nature and local culture.
What the Experts Say About Property in Santa Maria del Cami
"Santa Maria is especially great for hiking in the cooler months. I recommend the walk towards Coanegra as its flat and also suitable for children. Have lunch or dinner in Living Dreams or Fellini, a local pizzeria which serves delicious Italian food. For shopping visit the Alice vom Baum boutique, an international designer who spent many years in India. She designs and sells her high-quality clothes, and also designs properties. The ecological market on Sunday by the square is fantastic. They have a large selection of organic food and it is always a nice ambience to meet a friend and have a coffee – a perfect start into the day."
Mandy Fletling, Living Blue Mallorca
Trusted real estate agents in Santa Maria del Cami
Photos provided by Living Blue
See below for more Villas for sale in Mallorca!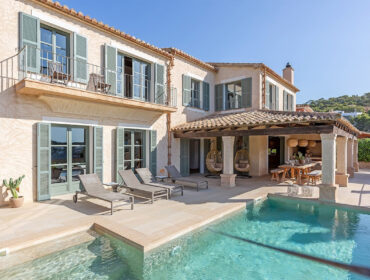 Discover the best Mediterranean villas for sale in Mallorca handpicked by Dr. Helen Cummins and team of local property experts.