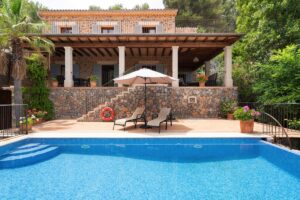 This 4-bedroom, new build luxury family villa in Deià is a unique property located in a privileged area in Mallorca. The views overlooking the majestic Deià bay and the Serra de Tramuntana are exceptional and would suit anyone looking to invest in a cosy home away from the limelight. Unlike other properties for sale in Deià, this house has been made using traditional limestone and the builders have stayed loyal to Mallorcan heritage.
This property is ideal for someone looking to purchase a mountain hideaway in Mallorca, either as a holiday home to relax in the summer or as a permanent family home. Deià is popular with artists and creatives. This development is located in the bay's area, 10 minutes away from the village, which provides exceptional access to the sea within walking distance.
Property Interior
Inside, this property has been decorated in classic neutral colours with traditional flooring. Beautiful original beams also feature throughout. There is a light and relaxing ambiance which is noted as soon as you step into the property.
The beautiful home is distributed over 3 floors, with an elevator and stairs connecting them. There are 4 bedrooms in total which all come with an en suite. There is a spacious living/dining area and a quality fully furnished kitchen, with breathtaking views and direct access to the covered terrace.
One of the highlights of the property its is luxury amenities. The property has a large garage that fits up to 4 cars, a heated indoor pool, a jacuzzi and a gym area. Everything you need to enjoy all the pleasures of living in Mallorca without leaving this wonderful home.
Property Exterior
The property has around 585m2 of outside area, including a stunning pool overlooking the sea, easy-to-maintain Mediterranean gardens and a huge sun terrace, perfect for enjoying the summer sun and taking in the sea breeze!
Property Location
The quaint village of Deià needs very little introduction when it comes luxury property in Mallorca. The long list of celebrities that have bought in the area confirms its star appeal. The style of architecture here is reflective of an authentic Mallorca, which marries beautifully with its UNESCO Serra de Tramuntana surrounds. Deià is a village for the privileged few that desire to live somewhere under the radar. Cala Deià is a 30-minute walk from the village.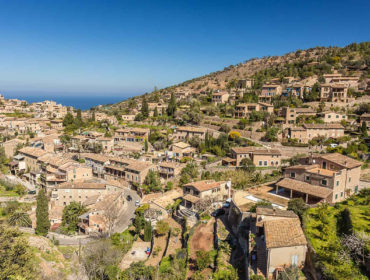 Will it be a rustic townhouse in the centre of Deià? Or buying a large estate with views overlooking Cala Deià? Find out all you need to know about buying a property in Deià!
Local Amenities
There is very little on offer within Deià itself, since it only has one main street. Shops, cafés and restaurants are available but they are few and far between. However, the local grocery store, bakery and pharmacy are loved by the close-knit village community. For a wider variety of shops and services, a visit to nearby Sóller is recommended (20-minutes by car) or Palma (45-minutes by car).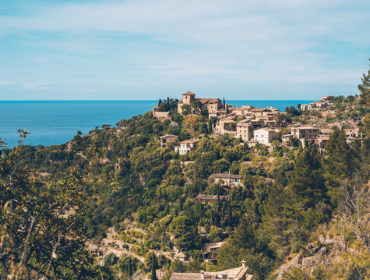 Set in a particularly pretty corner of the Tramuntana mountains, the traditional village of Deià combines picture postcard images with high-society connections.
What we love about this property
"Its incredible views overlooking the sea and the Serra de Tramuntana mountains."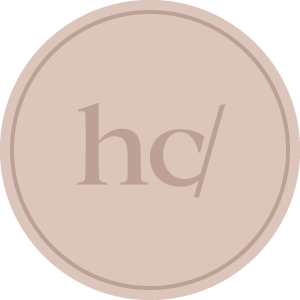 Tell me more about this property!
The real estate agency selling this property will be happy to answer any questions you may have. Simply fill in the form below and the agent will get back to you shortly.
See below for more Villas for sale in Mallorca!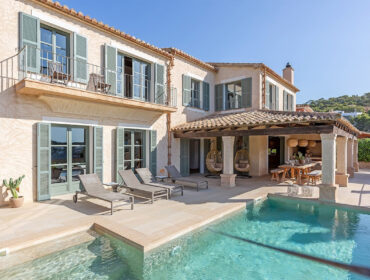 Discover the best Mediterranean villas for sale in Mallorca handpicked by Dr. Helen Cummins and team of local property experts.