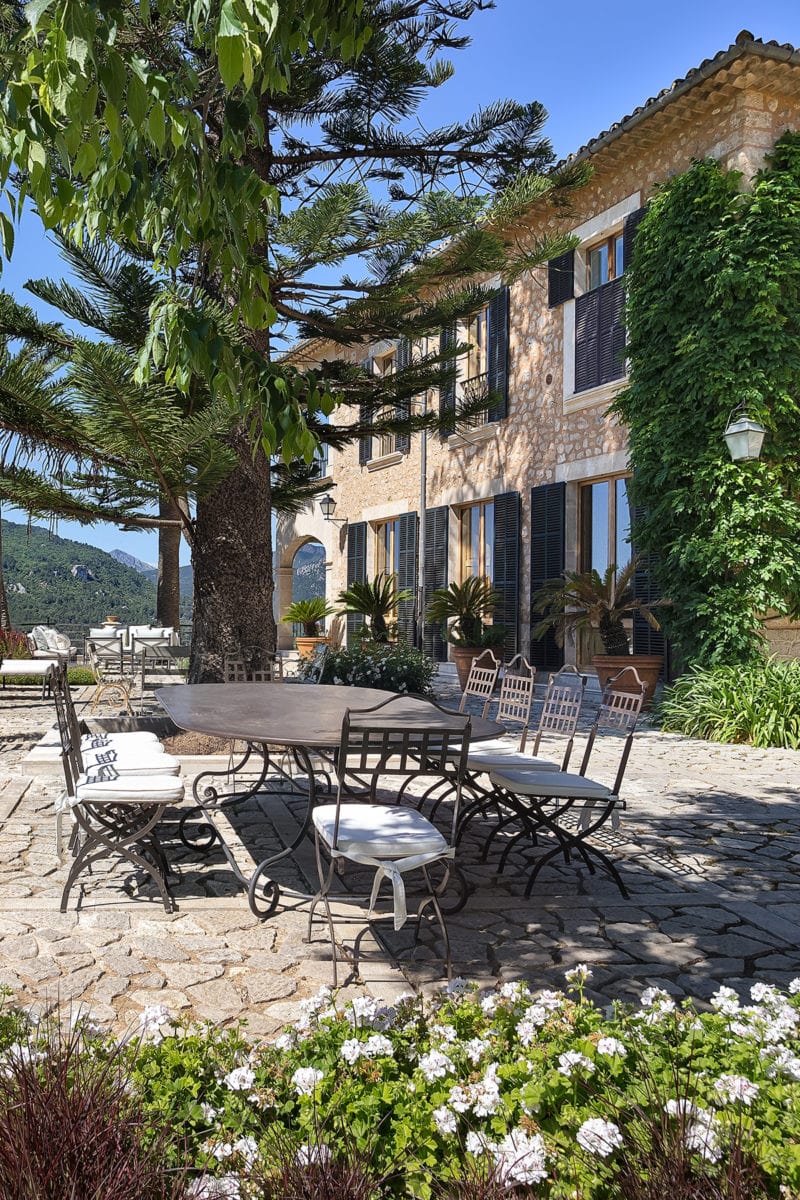 Esporles boasts the beautiful UNESCO heritage protected Serra Tramuntana mountains combined with proximity to Palma – perfect for commuters and nature lovers alike. With year-round village life, and fast roads into Palma – residents can be in the city or the airport in approximately 20 minutes. This has made it increasingly popular and a great place to invest in property.
The village is pretty and on the outskirts there are beautiful areas that boast ample space and mountain views. From Es Verger to Son Capaspre, there are a whole host of stunning country fincas nestled into the mountainside, some with their own vineyard or olive grove.
It is no surprise that many Swedish, German, Dutch and French are attracted to the quietness of the village combined with the beauty of the mountains, locally farmed produce, outdoor sports, plus the accessibility, not only to Palma, but to the west coast too. Those with a passion for wine and olive production are drawn to this area as for its fertile terrain for arable farming. Home buyers can even purchase property and have a bespoke winery installed.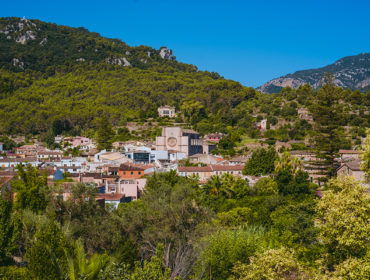 Those with a passion for wine and olive production love living in Esporles, given it has some of the best terrain the island has to offer.
The social life is active here and residents are friendly, but not showy – it is more discreet and private than a lot of places on Mallorca. It is popular with yachting professionals with school children and, in Es Verger, legendary singer Annie Lennox owns a house. As a UNESCO site, house prices can be expensive, but are better value than villages like Alaró and Valldemossa.
Properties for sale in Esporles
WHERE TO BUY PROPERTY IN ESPORLES
THE VILLAGE
The village consists of Calle de sa Rectoria, the long main street flanked on both sides by majestic Spanish plane trees, the residential neighbourhood of Son Trias rising up to the west side, plus property behind the stream. The main street boasts a uniform row of charming, well-kept townhouses on-looking the square which plays host to the market every Saturday. Behind it is Son Trias, an urbanisation that features both modern and old architecture with views of the mountainside. On the east side, properties are older, which consist of Mallorcan townhouses with gardens. More property is sold here when compared to the larger homes available in the outskirts.
ES VERGER
Es Verger is a very quiet and beautiful mountain area approximately 10 minutes' drive heading south from the village. Rural retreats are peppered along the road and hillsides, from smaller properties, recently built country houses, to historic fincas and manor houses. This is where you'll find some of the most expensive country houses in the area, with acres of land and, in some cases, a vineyard. The best-known vineyard and olive oil producer is located in the valley, Bodega Es Verger. The grand Posada Marques 16th century hotel is also located here and residents love popping in for dinner. From the top of the Es Verger mountain you get views over the bay of Palma and, descending, the road that leads towards Puigpunyet.
SES ROTGETES
Labelled by some as the 'young professionals' neighbourhood, this is an urbanisation on the road from Esporles to Palma, five minutes' drive from the village and not far from the University campus. This area has a small number of properties for sale and has become very multi-cultural. Swedish, German, French, British and Spanish families are attracted to the 15-minute drive to Palma while being positioned in nature. Just across is LoftOtel Canet hotel and Quay restaurant, which are loved by local families.
SON CAPASPRE
Similar to the nearby areas of Son Quint and Sa Granja, Son Capaspre is known for its wine and olive oil production. This area is located above the village, full of pine and olive trees as well as lots of sun. You'll find mostly large rural fincas and country estates with expansive land here. Properties at the top of the mountain are, unsurprisingly, the most expensive given their views overlooking Palma.
Advantages to buying a property in Esporles:
Magnificent mountain views and access to outdoor activities
Only a 20-minute drive to Palma
Well-functioning village with good year-round infrastructure
A range of historic as well as architecturally modern properties in the village and the outskirts
Unlike Valldemossa, not all properties are required to have a stone front, so there are opportunities for styling and differentiation to suit the buyer
Traditional wine and olive growing area with Es Verger Bodega
Lots of sunshine even in the winter months
Multi-cultural with a range of resident nationalities
Located close to Valldemossa and Puigpunyet
18-minute drive from the beach at Port de Canonge
No mass tourism, there is agritourism instead
Escola Global International school nearby plus a range in nearby Palma
Some things to bear in mind
Because of the mountains, properties that are north facing will be in the shade, so check the orientation of the property before buying
Many of the properties outside of the village cannot be rented out due to Mallorcan legislation that was imposed over the last few years. Unless a rental license exists prior to the legislation, rural properties cannot apply for a touristic licence
There is a long wait time for building licenses
Parking is seldom in the village if you don't have a garage
Although there are buses to Palma, a car is essential in the Esporles area
Esporles price guide
4 BEDROOM VILLAGE HOUSE
€395,000 – €850,000 +
NEW BUILD 4 BEDROOM COUNTRY HOUSE
€3,000,000 +
6 BEDROOM COUNTRY ESTATE 
€5,500,000 +
(Please bear in mind that prices are subject to change)
Types of property in Esporles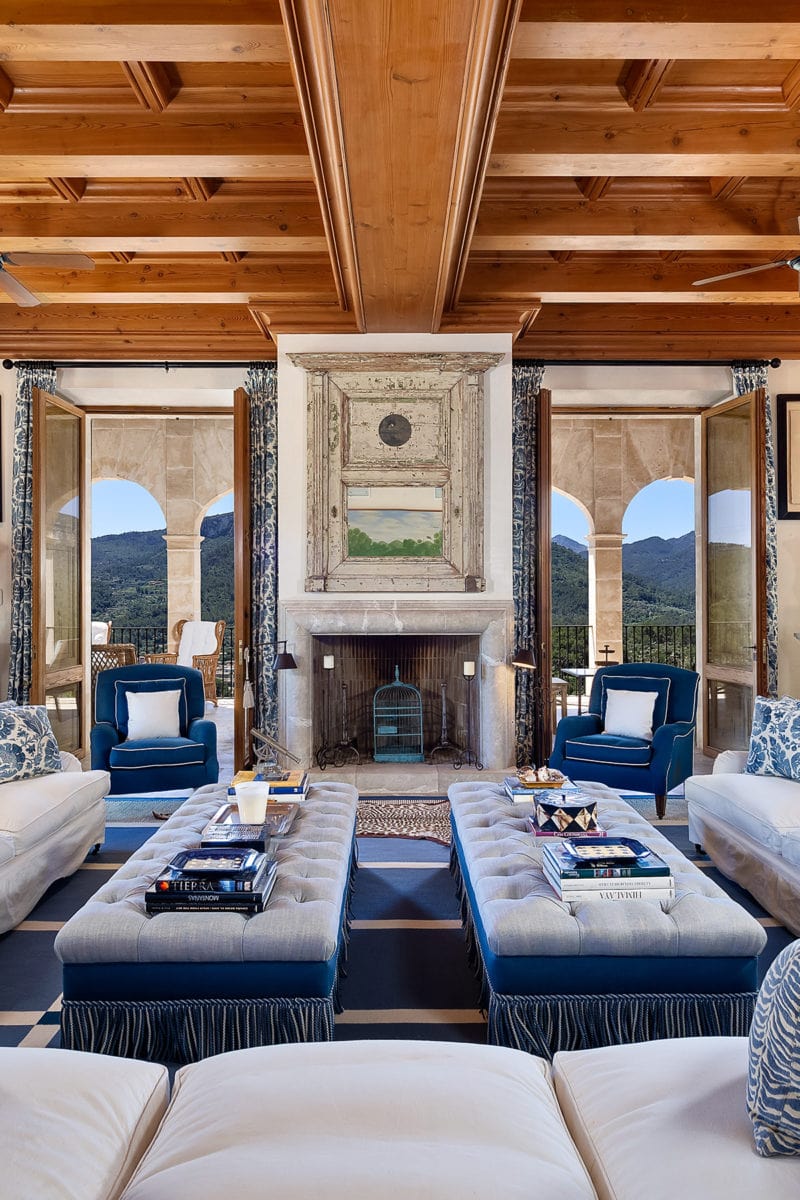 IN THE VILLAGE
The majority of village houses are authentic with lots of character, stunning mountain views and many are refurbished to a very good standard. They range from townhouses to chalets and the classic architecture uses well-preserved blonde stone and most have a patio terrace. Historic properties were built with the typical Mallorcan roof and Tramuntana chimney and some feature 300-year-old walls. It therefore goes without saying that people who buy in the village appreciate rustic and rural character. Son Trias is an urbanization that features both modern and old architecture – here you will see some modern, detached gated residences and many homes have fabulous views of the terraced mountainside.
ON THE OUTSKIRTS
Outside of the village, from Es Verger to Son Capaspre, space is king and there are country fincas and grand estates nestled into the mountainside with expansive areas of land, some with their own vineyard or olive grove. The higher up the property is, the more impressive the view and thus, more expensive to buy. Homes at the top of the mountain in Es Verger and Son Capaspre boast views back to Palma. The properties here are all historic in architecture and range from a four-bedroom finca to a grand country manor house with around 12 hectares of land. Ses Rotgetes is a newer urbanization in the outskirts of Esporles and has a mixture of some traditional alongside some modern detached houses. The latter tend to be loft-like angular fincas and can feature large, contemporary shaped swimming pools.
RULES & REGULATIONS
Whilst in Es Verger or San Capaspre a modern style property cannot be constructed, the urbanizations of Ses Rotges and Son Trias offer more flexibility. It is no surprise that modern complexes are not seen in Esporles and a consultation with a project management company is highly recommended to ensure that your plans are in accordance with local building regulations. Many of the properties outside of the village cannot be rented out due to Mallorcan legislation that was imposed over the last few years. Also, if you buy a property with a vineyard and wish to produce wine, certain licences are required.
What the experts say about buying property in Esporles
"The Esporles area produces excellent wine and I specialise in developing and managing vineyards for clients with properties here. There are a small number of estates for sale in Es Verger, and towards Banyalbufar. These beautiful agricultural properties attract international buyers interested in producing or investing in wine and I work closely with them to plant a vineyard or olive grove, facilitate the requisite licences and production."
Jaume Fullana, Owner, Mallorca Vineyards
"Generally speaking, most buyers are looking for homes in the countryside. Esporles offers very charming stone townhouses and chalets, many of them hundreds of years old and most of them have been renovated. The combination of authentic village living and an international community is very appealing. The area is within the UNESCO protected Tramuntana Mountains, just 20 minutes from Palma. Buyers are attracted by the tranquillity and often enjoy hiking, cycling or climbing here."
Mandy Fletling, Managing Director, Living Blue 
Trusted real estate agents in Esporles