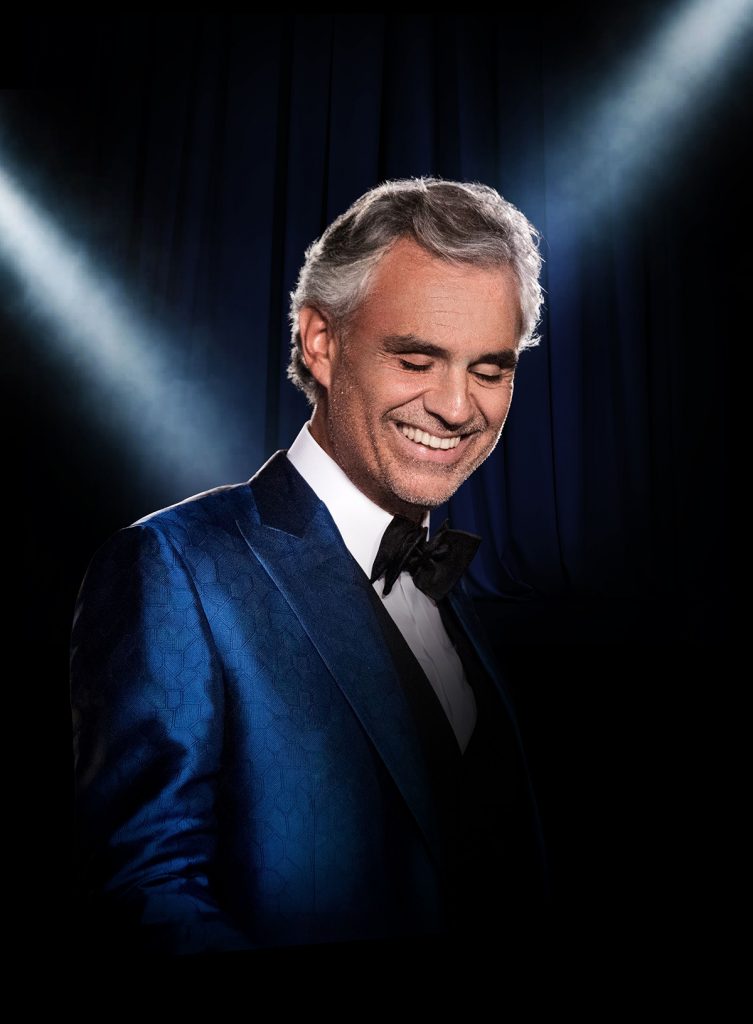 He has performed for four US Presidents, three Popes, the British Royal Family and many world leaders, in venues ranging from NYC's Central Park and London's Royal Albert Hall to the Pyramids in Cairo and under the Eiffel Tower in Paris. As one of the most significant artists of our times, he has sold an incredible 80 million-plus albums worldwide.
But his journey to the top wasn't an easy one… Who would have thought he struggled to achieve such heights of fame?
Elizabeth Taylor famously stated that his voice brought her out in 'golden goose bumps', while Céline Dion, with whom he's collaborated, said "If God had a singing voice, he would sound like Andrea Bocelli."
And the accolades just keep rolling in… Andrea has won countless coveted awards, been made a Grand Officer of the Order of Merit of the Italian Republic and been named one of People Magazine's 50 Most-Beautiful People. Astronaut Umberto Guidoni included Andrea's 'Bocelli' album in his seven kilos of baggage allowance for his shuttle mission into space, and Andrea himself has made it into the Guinness Book of World Records and even been honored with a sought-after star on the Hollywood Walk of Fame.

So, how did it all begin? The Italian tenor says his first 'musical hero' was Beniamino Gigli, the Italian opera singer and 'hero' of passionate stories Andrea was told by an uncle, who greatly admired the most-famous tenor of that generation. "He was soon followed by other greats, Mario Del Monaco, Enrico Caruso, Giuseppe Di Stefano and Mario Lanza… and, of course, Franco Corelli, who was, and still is today, my greatest source of inspiration," Andrea tells me.
Andrea grew up on his family's farm in the sun-soaked hills of Tuscany. Discovering his passion for music at an early age, he realized he had a very special talent when he was just seven years-old. "I could instantly recognize all the famous voices of the time," he explains. "I used to listen and learn the great arias, and then tried to emulate the great interpreters, singing loudly with them in our living room. I was always told I had a pleasant voice by relatives and friends, who often asked me to sing for them. Their insistence led me to think that singing might, one day, become my profession."
Self-taught from a very young age, he says he started to deal seriously with the discipline of singing as a young adult. At 14, he enjoyed his first success in a singing competition, performing the famous song, O Sole Mio. "As a teenager, I used to play the piano, singing what I loved most. My studying became more systematic and serious when I entrusted myself to the Italian composer, Maestro Luciano Bettarini. Years later, I had the honor of perfecting my craft with Franco Corelli."
From the courtroom to the stage
To fund his singing lessons, Andrea would perform in piano bars. He studied law at university and went on practise it, but the stage still beckoned, despite the knockbacks. "I came to fame late, at 35 years-old, after experiencing many doors closed in my face and many dashed hopes."
Andrea is now the biggest-selling artist in the history of classical music. From Tosca and Carmen to Madame Butterfly and Roméo & Juliette, the opera king has covered them all and more. With such humble beginnings and so many disappointments, did he ever think he would one day become a world-famous tenor and achieve the phenomenal success he has today? "I never abandoned the dream of making music my profession, even when I was at university and singing in bars… But reality, in my case, has exceeded a thousand times even my rosiest fantasies!"
So, what's the secret to his outstanding success? "Success follows inscrutable paths. Were it not so, we could build a career just by planning it in advance. Besides, success may be on your side today and leave you tomorrow. It seems I can touch people's hearts through my singing and I am the first to be astonished (and grateful) for the kindness I receive from the public in every part of the world. To succeed in my field, it's necessary to have, at the very least, a pleasant voice. But a pleasant voice is only one of the necessary ingredients; you also need willpower, spirit of sacrifice, stamina, and even a pinch of narcissism."
He says, for him, singing is a 'sweet privilege'. "To perform in front of an audience – whether it comprises heads of state or family and friends, 100,000 people or a small group of children –  is a way to share a gift that Heaven has given me. It is the simplest, and most direct, way to have a relationship with others, to win their affection and give back as much and as intensely as possible."
The eternally-humble tenor says the numerous accolades he receives can put on the pressure. "Receiving honors is both a reason for satisfaction and embarrassment because prizes have to be deserved, and the more you receive, the higher the expectation on the part of the public." He says the biggest challenge of his career is meeting those expectations. "The main challenge is to put all of myself at the service of music, using my voice at its best through continuous technical and interpretation refinement."
He reveals the most rewarding aspect is the love and support from his fans. "Without a shadow of a doubt, it is the affection of my audience."
The globally-renowned star says singing is the only way he feels able to express himself fully. "My primary school teacher once warned me, 'Always remember, Andrea, that God has given you a gift, and of this gift you have no merit'. Over the years, I have tried to honor my gift with much dedication, seriousness, and with honesty and conscience. But life is also about other important aspects. So, I try to be a good father, a good companion and a good person who expresses his ethical convictions with simplicity in daily life, even beyond music."
A very modern tenor… with old-fashioned training
The self-described "modern but old-fashioned tenor" has performed at prestigious events including the Oscars and the UEFA Champions League Final, and has collaborated with the crème de la crème of the music world, including Jennifer Lopez and Céline Dion. Along with classical music, Andrea also records pop albums, with the album Cinema among recent recordings, and has taken to the stage with other contemporary artists, including former Pussycat Doll, Nicole Scherzinger and Mary J. Blige.
Andrea reveals he has many 'dream' operas he likes to perform. "All the compositions by Giacomo Puccini, a good selection from Verdi and Pietro Mascagni, and many of the French 19th-century works."

When in Rome…
Andrea's no stranger to hobnobbing with Hollywood heavyweights. He once fulfilled his 'American dream' when he staged a concert in front of the Statue of Liberty to an audience including Leonardo Di Caprio, Robert De Niro, Al Pacino and Cameron Diaz.
Andrea absolutely raves about Rome… What does he love most about the city? "Rome is an immense open-air museum. It is the historical, artistic and institutional heart of my beloved Italy, and is an inexhaustible treasure trove of wonders… even culinary ones!"
As for his favorite places and venues around the world, he says each context has its own advantages. "I appreciate operatic theaters because of their acoustics… They are magical places, where humanity is told and where its values are expressed. They offer the possibility of avoiding using electronic amplification devices. Nevertheless, I appreciate large arenas because I always perceive a very intense wave of positive energy from such vast audiences and such spaces allow me to disseminate my music preferences on a large scale."
A Hollywood star
Alongside the tour, there's a movie in the making… Based on Andrea's amazing life, The Music of Silence features an all-star cast, including Antonio Banderas and Game of Thrones star, Toby Sebastian, and is accompanied by songs which Andrea composed as a young boy.
"Sometimes, it seems a paradox to me that my life may be considered so interesting to the point of making it into a movie! The film is currently being edited and I'm feeling confident about the quality of the result, given the esteem I have for the director, Michael Radford, the author of great masterpieces like Il Postino: The Postman, and for the actors that this project has brought together."
Performing for Pavarotti
A particularly fond memory for Andrea is his performance at his late great friend Luciano Pavarotti's wedding ceremony, where he sang a beautiful rendition of Ave Maria. "It was a marvelous, generous, brilliant, cheerful and touching wedding ceremony… just like the groom. Although there were over 600 guests, it was intimate and worldly. It was a concert of feelings, in his home city, Modena. The fact that Pavarotti chose me to perform at such a delicate and important moment of his life was, for me, a further testimony of his esteem and of his genuine friendship. Although ten years have elapsed since his death, I still miss him very much."

Time out in Tuscany
As for Andrea, home is a spectacular villa in Forte dei Marmi on the Tuscan coast, just north of the city of Pisa. Spending most of the year abroad for professional purposes, he says this is his ideal spot for a vacation. "I love spending my rare moments of rest in the country village where I was born, or simply staying in my house by the sea with my wife and my children."
Despite being born with poor eyesight, and becoming blind in a football accident when he was 12, audacious Andrea lives life to the full and adores an adventurous lifestyle. Along with singing, his passions include horse-riding, skiing and surfing. "That's right! Although I have had to moderate my taste for challenges and strong emotions that, in my youth, made me quite daring, above all in the field of sports. When I have time to unwind, I love the sea, I love sailing on my boat and swimming, too. I am a football fan and also love boxing, I am an avid reader and am fond of writing poems and playing chess."
The ABF's Voices of Haiti
Andrea supports not only his own children, but underprivileged kids around the world. The prolific philanthropist is committed to spreading messages of positivity, hope and perseverance and set up The Andrea Bocelli Foundation (ABF) in 2011, giving the less fortunate a better future.
The ABF comprises many different people from all over the globe, united on a mission to fight poverty in developing countries and to empower people from poor communities. Andrea and his ABF recently created The Voices of Haiti choir, offering children the rare opportunities to perform with famous artists. "This is a recent challenge but it is a winning one. The study of music, and of singing in particular, is, in my opinion, a fundamental instrument for making every soul fruitful, including the bright souls of the children of Haiti, who live lives totally different from ours."
He says he strongly believes that solidarity is the only intelligent response to inequality. "This belief has led me to create a foundation conceived like a living laboratory, where every drop has its weight in everyday action, and where even the smallest contribution must be enhanced," he explains.
With his favorite motto 'Do no evil, have no fear!', Andrea is a strong believer in faith. He admits that life has been very generous to him, both personally and professionally. "For many years now, I have tried to honor this extraordinary miracle which is life, in the desire to always stay on the path of 'good' and to cultivate faith, which I consider the greatest gift. My life, like that of most people, is not free from mistakes, but I have no particular regrets."
Article written by: Angela Sara West
DISCOVER MORE CELEBRITIES LIVING ON MALLORCA