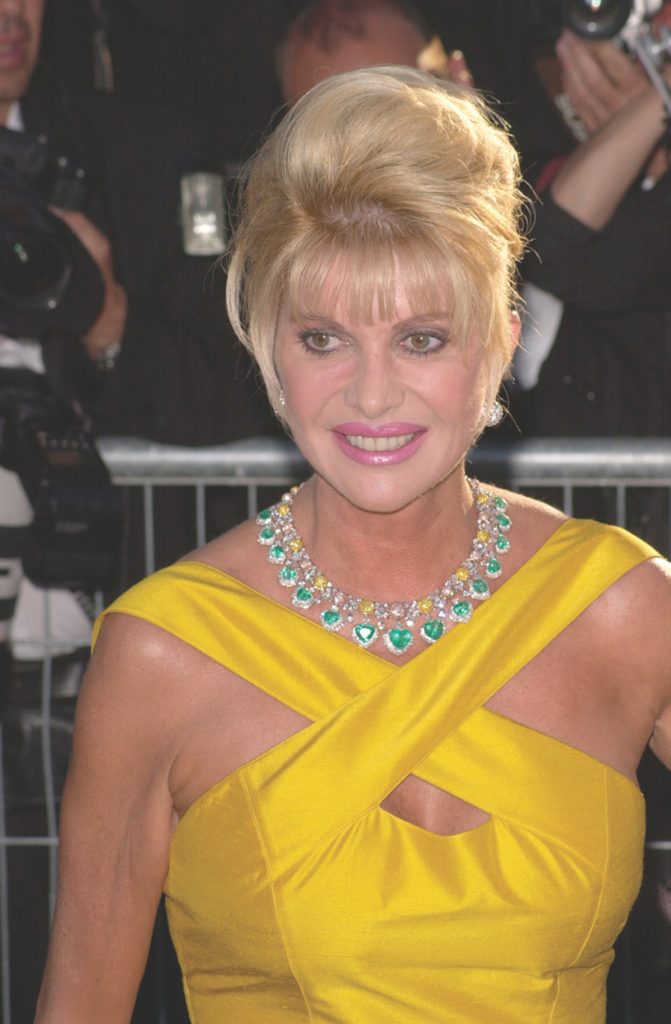 While married to Donald Trump, she became the Vice President of Interior Design for the Trump Organization, responsible for all of the interior design of Trump's real estate. She took on the role of Chief Executive Officer and President of Trump's Castle Hotel and Casino as well as the Plaza Hotel in New York, which under her leadership, was recognised as 'The Best Luxury Hotel in the USA'.
She went on to build her own empire after the marriage ended in divorce in 1992 and by 1997, her clothes range was worth $50m a year. Among her many illustrious projects, such as her successful perfume and cosmetics company, Haute Couture and jewellery line, she's also just launched a new 'Legends Wines' collection, somehow finding the time to make appearances for many charities.
With homes in New York City, London, Palm Beach, Miami and St. Tropez, each of her resplendent residences illustrate her exceptional, stylish sense of design. A perfect example of professionalism, motherhood and ambition, she firmly believes that hard work and faith can get you anywhere and strives to promote leadership and motivation through her work and image, serving as a role model for women throughout the world.
What attracted you to the Côte d'Azur?
I've always loved the south of France ever since I first visited. I've been coming here for many years. Donald and I visited as newlyweds and over the years I grew to love it more and spent more and more time here every summer. It's a magical place…I love the colours, warm weather and carefree freedom of it all.
What gives St. Tropez that magical ingredient?
The light, sounds, food, superb rosé wine, beaches, the people…just everything! The whole port area's a place to have fun, relax, eat, drink and be merry. There are many superb beaches. I'm a water baby…put me beside the water and I'm in and out. I love to sail, parasail, jetski and swim all day…it's paradise!
How often do you visit?
I now spend about four months a year here. Generally, it's long weekends fitted in between my busy work schedule.

Could you describe your property?
I bought a small, 100-year-old fisherman's house right in the heart of the village in 2004. I've since added new 'apartments', so I'm converging and having so much fun!
Did you face any difficulties purchasing here?
No, buying was simple. Just get a great real estate lawyer who knows how to weave his way through the various laws and codes.
As the ex-Vice President of Interior Design for the Trump Organisation, how did you decorate and furnish your French residence?
It's terracotta-coloured with turquoise shutters. The lounge has wrought-iron lamps and furniture and a big open fireplace. I chose strong, Mediterranean colours for the 'Moroccan Room', all warmth and vibrancy. It's casual but elegant, has the latest high-tech gadgets and a low-beamed seating area dressed with colourful cushions. I wanted it as somewhere to truly relax, spread out and enjoy being with friends…something informal and warm…and it fits the bill.
You have a very hands-on approach with your homes and development projects and your penchant for antiques and Italian Morano glass is apparent…
Yes, I enjoy browsing antique shops and shows and choosing everything myself.
Do you feel like you're one of the locals here now?
Yes, it's great. I have the 'special key' that allows me to drive in spots forbidden to tourists. The 'natives' greet me as a friend. It's a lovely spot to feel at home.
How's your French?
I speak six languages, some totally fluently, others well enough to understand and be understood. The more I'm in France, the better my French gets. I'm not fluent, but I can manoeuvre through and get all I need.
Any downsides to this fashionable hotspot?
Only too much sunshine, too many parties, too much fabulous food and wine, too many good friends visiting from around the world…it's wonderful…there are no downsides!  It's my summer home-away-from-home. I'm in love and plan to be here for a long, long time.
Which other big names do you socialise with in St. Tropez?
Everyone – Elton John, Joan Collins, Mike Tyson, Diddy, Beyoncé…

You host a big party here every summer…
Yes, usually I hold it in a big 'parc' and everyone comes and brings their friends. I've also held it at L'Escale in the port, which could only host 110 friends. I loved it! It meant that I personally knew everyone and could talk, dance, sing and enjoy myself with them…it was a fabulous party. I also love the Red Cross Ball in Monte Carlo. It's full of tradition and ceremony.
Any funny stories that have happened to you on the Côte d'Azur?
So many, but one of the most frightening was a few years ago when I was driving with my Mom and some young men came up alongside, wanting me to pull over. I was very suspicious as to why they wanted me to stop, so, instead of slowing down, I sped away (in a Ferrari!) Later, it was all over the papers that gangs of young carjackers were stopping unsuspecting people. Scary…
You were a championship skier in the Czech Republic. Do you ski in France?
Of course! I love Chamonix, Crans-Montana…that whole area. I also love Aspen and St. Moritz. Skiing's still my passion and my kids are good skiers, too.

Finally, describe your perfect day in St.Tropez…
I arise early, take a morning stroll, pick up fresh fruit, bread and milk and have a wonderful cappuccino or espresso. I head home to check the overnight faxes from my New York office, make a few 'phone calls and catch up with my European friends. Then, it's to the beach for lunch and a swim, followed by coffee with friends. Back home to change and around 9ish, it's off to dinner or a party…another wonderful day. Bon voyage à St. Tropez! See you there!
Article written by: Angela Sara West