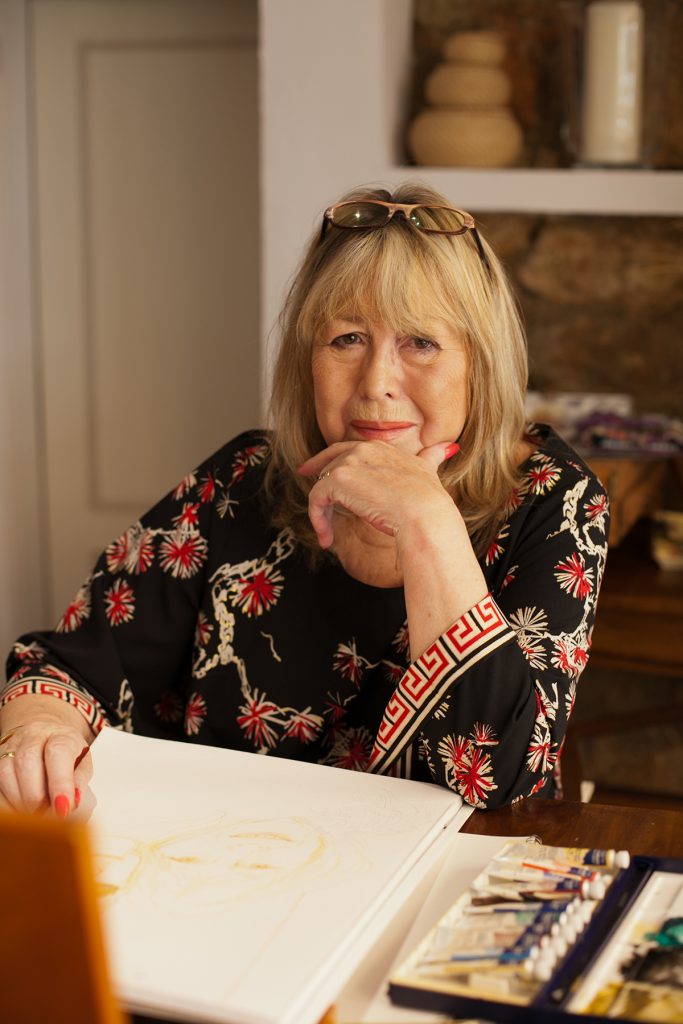 When she became famous in the '60s for being the wife of a Beatle, Cynthia Lennon's own artistic talent was overshadowed. Jan Edwards finds out more about the Mallorca-resident illustrator.
It began with a ballerina. Aged 11, Cynthia Powell entered an art competition in the 'Liverpool Echo' newspaper. "I drew a ballerina, sent it in and won a pound," she recalls. She attended Junior Art School from the age of 12. At 17, she went to Liverpool Art College (where she met John Lennon). "I've never ever had a goal in life, apart from wanting to do art and get my qualifications. I thought I'd take a teacher's diploma and teach."
Falling pregnant with John's child changed all that. "I don't want to talk about The Beatles anymore," says the author of the books 'A Twist of Lennon' and 'John'. We're at her Bendinat home, where her illustrations are everywhere: on the walls, in the room she uses as her studio, and spread out on tables for us to see. There are designs she did for Vantona Viyella textiles, and the packaging for her 1980s' perfume 'Woman'.
Her favourite medium is watercolour pencils, in black and white or sepia. "I'm not a painter: I'm an illustrator, a linear artist. I do lines." Unlike many artists living on Mallorca, she is inspired and fascinated by people, rather than scenery. Which is her most representative work? "That's a hard one.

At the age of 40, when I lived in north Wales, a teacher friend at Wrexham College persuaded me to go back to college. All the students were really young and all the teachers were the same age as me. It was magical." She had creative freedom and was able to learn more. "To answer your question, I think the black and white pictures I did there."Cynthia's Cumbrian Cats illustrations could easily be the basis of a picture book. She drew them in the '80s, while living in Cumbria (after her third divorce) with Jim Christie and their five cats. "One was a rescue that had been caught in a gin trap," she recalls. The vet put his legs in plaster and he recovered, but the trap had cut part of his face off. "He was truly ugly, and we called him GT, for gin trap . . . or gin and tonic!" She laughs as she sips said drink. "He became part of the family."
In 2002, Cynthia married her fourth husband, Barbadian nightclub owner Noel Charles – a long-term friend of her multi-talented son. Julian Lennon suggested that they move from Normandy to Mallorca – where he also was looking for a place to live – and they came to Bendinat.
In March 2013 Noel lost his life to cancer. His widow's pain over the past 18 months is still evident, even though she laughs heartily at times. "It never goes, darling, that's all I can say," she says. "Today I'm content. But content doesn't last for ever – it can last for just half an hour, an hour . . . two hours. At this particular point, I am content."
Cynthia has had domestic help from a young Ukrainian couple for the past seven years. "They live with their little boy at the bottom of the garden," she says, making them sound like something from a fairy tale. "When Noel was really ill, Natalie and her husband Andreas were like angels. If God doesn't come, he sends." The couple's affection for her is evident: their son, who is six this month, is named Julian. Her affection for them was expressed in her recent drawing of the young family.

"When I lost Noel, my brain was all over the place," Cynthia says. "That's why I did the picture. It was therapeutic. It made me feel calm. It made me feel positive."
She doesn't have aspirations to become a famous artist: "Just to satisfy my creative urges and take my mind off a lot of things I want my mind taken off." She believes that any degree of talent should be used. "I had all those years of training, with so many interruptions.
Now all of a sudden, and tragically, I have the space to start again. Even if it's just one picture from the heart, I would like Noel to be proud of me; I'd like Julian to be proud of me. The artist is starting over.
DISCOVER MORE CELEBRITIES LIVING ON MALLORCA