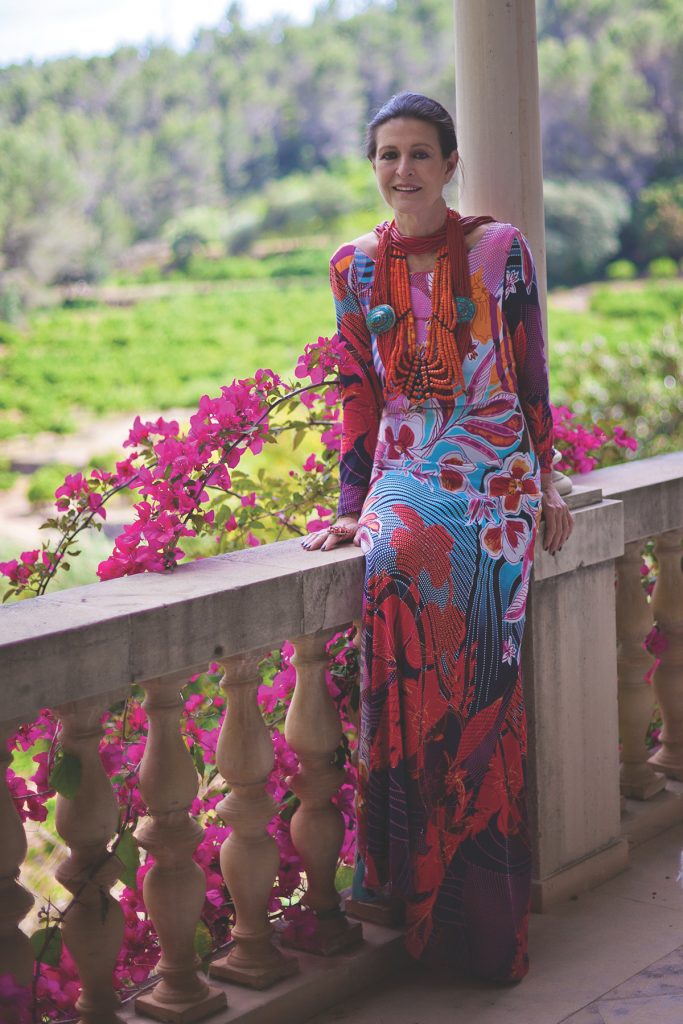 Renowned hostess to international personalities, former president of the Spanish Red Cross, and a dedicated philanthropist who supports various different social projects on Mallorca, Cristina Macaya is generous and optimistic. But above all she is a woman of action. Soledad Bescós introduces us.
Cristina López de Mancisidor (Madrid, 1945) is usually known by her husband's surname, Javier Macaya, father of her four children, Sandra, Cristina, Javier and Maria. She feels her children "have turned out very well" and they have given her 17 grandchildren.
She is extraordinarily modest and humble, and doesn't like to take credit for the fact that she presided over the Spanish Red Cross for 11 years and created the Sorteo del Oro, a lottery which guarantees permanent funding for its charitable work, or the Women Together prize she was awarded by the United Nations in 2006 in recognition for her work to improve the conditions of women imprisoned with their children which involved the building of a special unit for mothers, or even her involvement with Proyecto Hombre, an organisation dedicated to the treatment and prevention of drug dependency founded and presided over by local priest Tomeu Catalá.
It is not surprising to discover that she is related to Jean Lafitte, a well known French privateer who fought in the English-American battles of 1812. These buccaneer origins probably have something to do with the extraordinary courage she exhibits in her everyday life. An admirer of art, she poses for our photographer next to one of the many sculptures distributed throughout her house by the artist Pep Canyelles.
At Es Canyar, the estate she has been living in for more than 20 years, she has welcomed a long list of well known guests; Bill Clinton and his family, the Duke and Duchess of Kent, the Princes of Monaco, Carlos Fuentes, Michael Douglas, Gwyneth Paltrow, Van Morrison, Valentino, and many more.

However, Cristina loves people in general –her friends love her- and visitors to her house are a veritable mix of people from all walks of life. Her father was Galician and her mother from Seville, and her family was originally from the Basque country; "I have been very influenced by my Galician and Basque roots, and my character is very much Sevillian – I love to party".
But Sevillians are also well known for their generosity.
Generosity is something you are born with, although in some cases generosity is selfishness. You are generous because you have been lucky in life, and even though you have had some difficult experiences, in general your life has been positive. That's when you think that the minimum you can do is help those who have been less fortunate. I am especially lucky in that I am an optimist and when something happens to me, I accept it immediately and react in a positive way. Many people have a problem accepting things; it can be very difficult to do.
How did you meet Tomeu Catalá?
I was lucky enough to meet him at the christening of one of my granddaughters, and we became good friends; he is one of life's gifts. I admire him very much.
And you began supporting his project.
He does all the work, I don't do much, just support him in every way I can because he deserves it and has dedicated his body and soul to the project. Tomeu is very strong and boasts a beautiful mix of humanity and toughness which is very difficult to come across. You need a lot of discipline to be able to deal with people who are ill, who are suffering from drug addiction or who, in some cases, have even been in prison. Tomeu is also able to transmit an immense sense of peace.
How is the construction of the new Proyecto Hombre centre progressing?
It is partly built but it still needs to be paid. We are working on it and it is progressing well. It went through a rough patch due to the current economic situation but we have been lucky enough to benefit from very generous support from everyone we have approached.
Are you also involved in other causes?
There a lot of people affected by Chronic Fatigue Syndrome on the island; an illness which is still largely unknown and misunderstood. I was named president of the association a while back and today we are going to be visited by a specialist from Barcelona, who will attend to patients at one of the Red Cross' centres. I am not very disciplined, but I am responsible and I like action. I am good at looking at a problem or difficult situation and trying to fix it without dwelling on it; I go into direct action. I am also a patron of the Yannick and Ben Jakober Foundation, two artists who have been very generous with the island and who have given it an extraordinary artistic legacy.
Do you think human beings are generally charitable?
There is a bit of everything. But we should be. There are people who exhibit solidaridity naturally and others who need to go through something difficult in order to realise how important it is to be surrounded by affection and people who support you. Life is generally difficult.

There are people who think that only 'rich ladies who lunch' are able to support charities and organise fund raising events.
That's just silly. I have never been one to organise fundraising parties, I prefer to socialise with my friends and have a laugh, life is hard enough without dwelling on sadness all the time. I prefer promoting projects in a professional way, much like a business and providing my own funding. This is especially the case when you are running a program and there are a series of people depending on you.
Do you need to be good with people in order to succeed?
More than being good with people, you need to believe in people. When a person ends up complicating things for a project or lets me down, I am always surprised. I have never lost a friend, and if something goes wrong, I usually think it has been my mistake. Everyone has a good side but in order to reach it you have to be positive, and trust them.
I always ask my interviewees what attracted them to Mallorca.
I loved the beauty of the island, the quality of life, and the Mallorcan people have always been very polite, friendly and affectionate with me. I am very happy here and I feel very much at home. When I first got here I didn't know hardly anyone but now I am totally integrated. Everything I can say is positive and I have been here 22 years now.
What is your favourite thing to do?
What I like the most is to live life.
DISCOVER MORE CELEBRITIES LIVING ON MALLORCA
Photos by Samnatha Hemsley