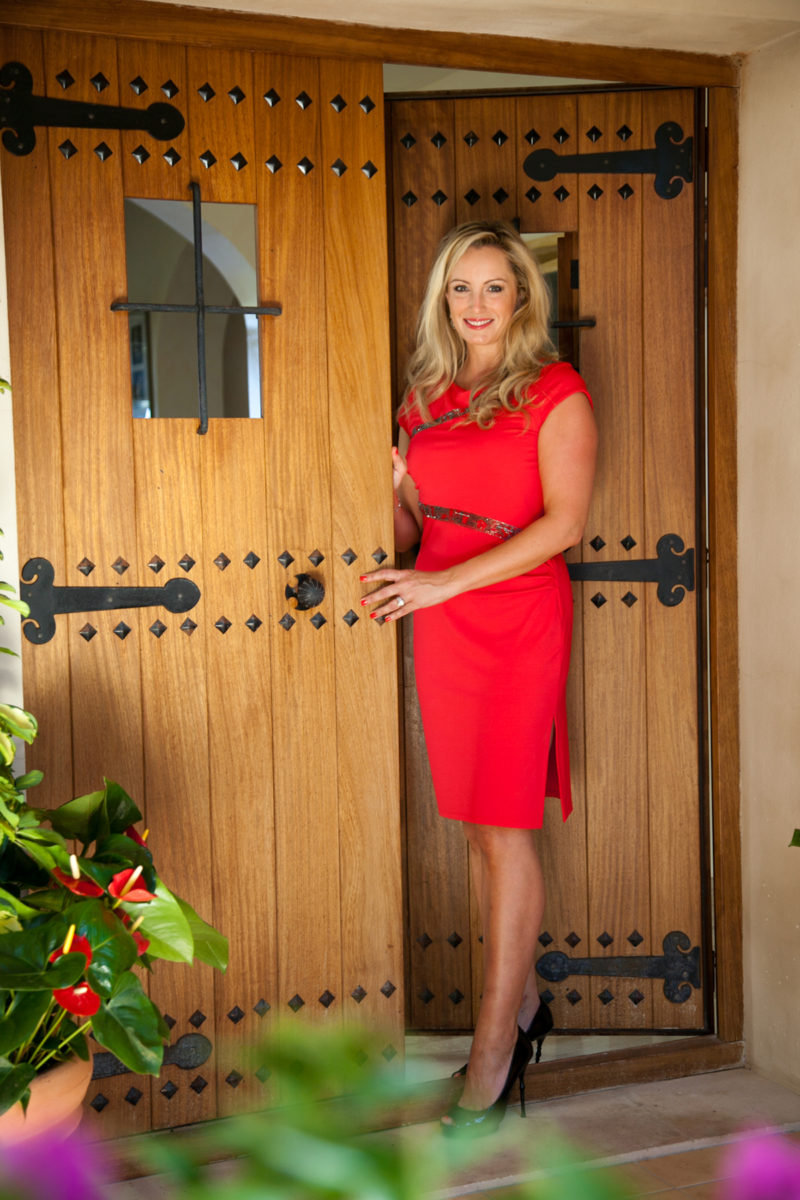 Former Real Madrid player Steven McManaman and his family have their second home in Son Vida, Mallorca. In a rare interview, his wife Victoria tells abcMallorca about her life today.
Their main home is in England, where Steven is now a football pundit for BT Sport television. But Mallorca holds a special place in Victoria and Steven's hearts: they married in Palma's Cathedral; Steven played his first game for Real Madrid here. Living in Madrid, they wanted a holiday home and, after looking at properties all over Mallorca, they fell in love with the Son Vida house they bought and completed in 2000.
It was an easy hop from Madrid. "We could come for the night, and meet friends for dinner." After moving back to England they came for several months at a time, but two of their three children are now in school. "Now it's the summer holidays and whenever we can. The different seasons are gorgeous."
Privacy and security were paramount when choosing a property: "There was a lot of media attention because Steven played for Real Madrid, and I felt that once you drive onto Son Vida, with the security guards, there's that reassurance."

The family enjoys the outdoor life here. "When we first went back to England, what really affected me was the weather – the grey cloudy drizzly days in Manchester. The children don't want to go out in the garden." She likes the Spanish attitude towards kids.
"Restaurants, bars, everywhere, they're welcome. The children can eat out with us late, and they know how to behave in restaurants – because they've done it from a young age. As a family destination, Mallorca has everything."
Many of their friends are now buying properties here or repeatedly visiting the island. "Some who used to go to Ibiza are saying that Ibiza's 'lost it' and the prices have become ridiculous. Here you can still go out and have a wild night out with friends if you want to, but there's more than just that."
Their Son Vida home has enough bedrooms to accommodate visiting family, but is not huge. "We wanted it to be low maintenance, not too big, just comfortable. It's got a nice swimming pool and lovely terraces where it's shaded and breezy."
The former barrister – who enjoys renovating properties – is currently working with Annee de Mamiel, a natural health expert. Victoria is passionate about both the "inspirational woman" and de Mamiel's natural products. After each of her first two pregnancies Victoria suffered an unpleasant and painful autoimmune disease, for which she was prescribed steroids. "After Lara (my second) was born, I was suffering from angioedema and a friend put me in contact with Annee."
The renowned facial acupuncturist in London – with a closed waiting list – also offers a range of bespoke treatments and natural products, including the cult bestseller Altitude Oil, which so impressed Richard Branson that it is given to guests departing his Neckar Island. "Annee did general acupuncture on me that set me on a path of healing that I hadn't considered before. Natural medicine cured me. In preparation for my third baby I did everything she advised, and didn't get a third autoimmune disease. I think she's amazing."
Victoria is a fantastic advertisement for de Mamiel: her clear glowing skin shows no sign of the minor stresses any mum of three young children faces. "Because the products smell amazing, you have this ritual when you're applying them. You stop and breathe in deeply, even if it's just for three breaths. I have my facial oil next to the bed and massage it in last thing at night. It helps you have the best night's sleep too!" Victoria is now helping Annee with brand development, marketing and PR.

Victoria's move to Madrid with Steven meant leaving the bar, but her chambers said they would hold her position open for her return. She loved life in Spain, found a great job within weeks, and quickly learned the language. When they moved back to England, thoughts of a family were in her mind, so it made no sense to return temporarily to the bar. "The longer it's gone on, the less inclined I am to go back." She does miss the adrenaline of standing up in court, and admits she's a good arguer. "But as long as I'm passionate about things I'm involved in, I get that drive." Victoria is in the enviable position of being able to balance her work projects with being a mum.
It's obvious when you meet Victoria that she is highly intelligent, as well as being a naturally beautiful woman with presence. What does she think of the term WAGS (wives and girlfriends of footballers)? "I hate it. When I was a footballer's girlfriend and wife, that term didn't exist. It's a stereotype that everybody gets labelled with, but it's like any profession there's a mixture of all kinds of girls who are married to footballers. Driven girls, ambitious girls, intelligent girls, a mixture of everybody, and just tarnishing everybody in the same way is a little unfair."
What does home mean to her? "From my experiences of living abroad, your home can be anywhere you feel happy and safe, where you can relax. I don't know where my home will be in 10 years' time. It could be Mallorca. I know the island inside out, and the schools are amazing. I could easily live here but Steven's work is in the UK and we'd miss out on family time with him. So now's not the right time. But maybe one day it will be… and that will be fab."