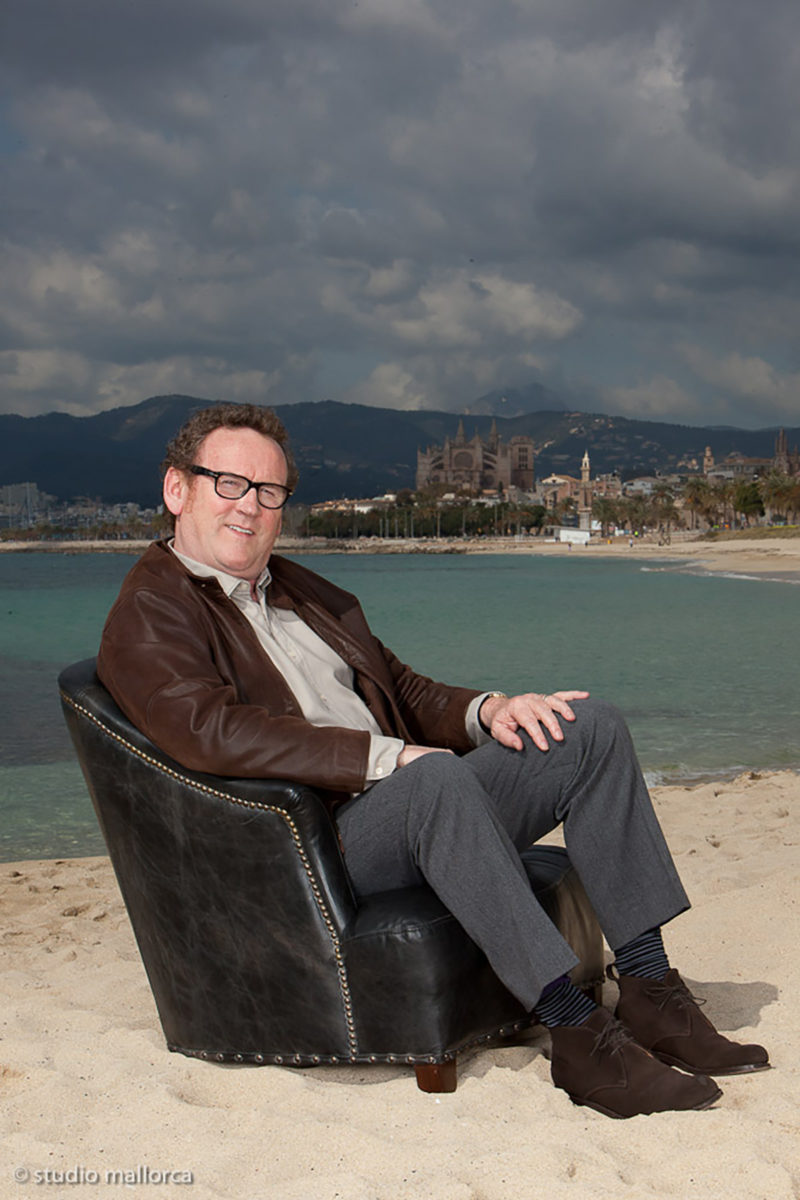 To legions of devoted Star Trek fans, he'll always be Chief Miles O'Brien, but the Dublin-born actor's 34-year prolific screen career has featured numerous TV and film roles – including the pivotal character in The Perfect Stranger, which has just had its Mallorca premiere.
"I knew from my early teens that I wanted to be an actor," Colm tells me, over coffee at Nassau Beach Club. "My dad sometimes took us to Dublin's Abbey Theatre and I loved the experience." He was also influenced by films: "The wonderful Lindsay Anderson movie If, with Malcolm McDowell, affected me on so many levels." He liked the idea of interesting stories with something to say "because I was very political." To this day, his favourite movie is still Bertolucci's Novecento (1976), a historical political film.
The sci-fi genre gave Colm an enduring role. He'd just moved to LA when he auditioned for Star Trek: The Next Generation: "They liked me but didn't know how to use me. O'Brien wasn't originally part of the crew, the role kind of developed over a period of months." In 1992, he accepted a full-time contract on Star Trek: Deep Space Nine. Eager fans still flock to Star Trek conventions: "We finished the show in '99, but still they go on," he laughs, admitting he rarely attended. "You know, you were in a spacesuit all week, so you didn't want to look at ill-fitting bad spacesuits at the weekend!" He will attend the "huge" London convention next month.
Of all his roles, he's very fond of The Barrytown Trilogy. "As an actor, you don't often get the opportunity to play the same character three times and, when the writing's as good as Roddy Doyle's, it's a real pleasure." The films were The Commitments, directed by Alan Parker (voted best Irish film of all time, in 2005); The Snapper and The Van (both directed by Stephen Frears).
The Perfect Stranger was shot mostly around Orient and Bunyola. "It's about a stranger who arrives in a small village late at night and moves into an old abandoned shop," Colm explains. "The locals think he's going to re-open it, and kind of want to get their 10 cents-worth in about what he should sell. He doesn't speak Spanish or Mallorcan – I hardly speak at all in the film – so it's a mystery what's going on.
"It's a 'slice of life' story – a comedy about people misunderstanding each other. But it's also moving. His interesting relationship with two troubled local kids is very touching. And he's completely unaware that he's a catalyst for the locals becoming more interested in their village!"
Mallorcan director Toni Bestard (Bunyola) – winner of two Goyas – wanted Colm to play Mark O'Reilly, without knowing that the actor lived in nearby Sóller. His wife Ines Glorian was costume designer. "Her background is mostly in fashion, but she's worked in theatre and TV commercials. We pulled in favours from everybody to get this film made and her experience was badly needed."
Ines's experience of Mallorca holidays brought them here in search of a new home: "I just fell in love with the place. It wasn't what I expected at all."
He believes that The Perfect Stranger will change international audiences' perceptions of Mallorca: "People who saw it at screenings at film festivals like Palm Springs were astonished that the scenery was so lush and beautiful." He believes there's a perfect relationship between the film industry and tourism: "They kind of feed into each other," he says. "People love to go and visit places where a film's been made.
"Spain's big disadvantage is the lack of tax breaks for those who come here to film. In the past five or six years, I've worked everywhere in Eastern Europe and all these places have tax breaks. They're an incentive to get film companies to come and spend money." Madrid, take note.
Colm has two more films opening soon: Bel Ami with Uma Thurman and Kristin Scott Thomas, and Whole Lotta Sole, with Brendan Fraser. Soon he'll spend five months in Canada, shooting the second season of AMC TV series Hell on Wheels, set in the 1860s. "The best writing I've seen in the past five years is in television. The language of my character's dialogue is fantastic. I get to say things like 'there will be perfidy of epic proportions!' When was the last time you heard 'perfidy'?"
What does he miss when he's away? "The ease of life here," he replies instantly. "Shops closing in the afternoons drove me nuts initially, but then, I thought, why can't I wait three hours? What's the problem, eh? Having clicked into that mentality, it's been one of the things I really appreciate here. And the siesta is the most wonderful thing in the world." The hardworking actor certainly earns his midday nap . . .