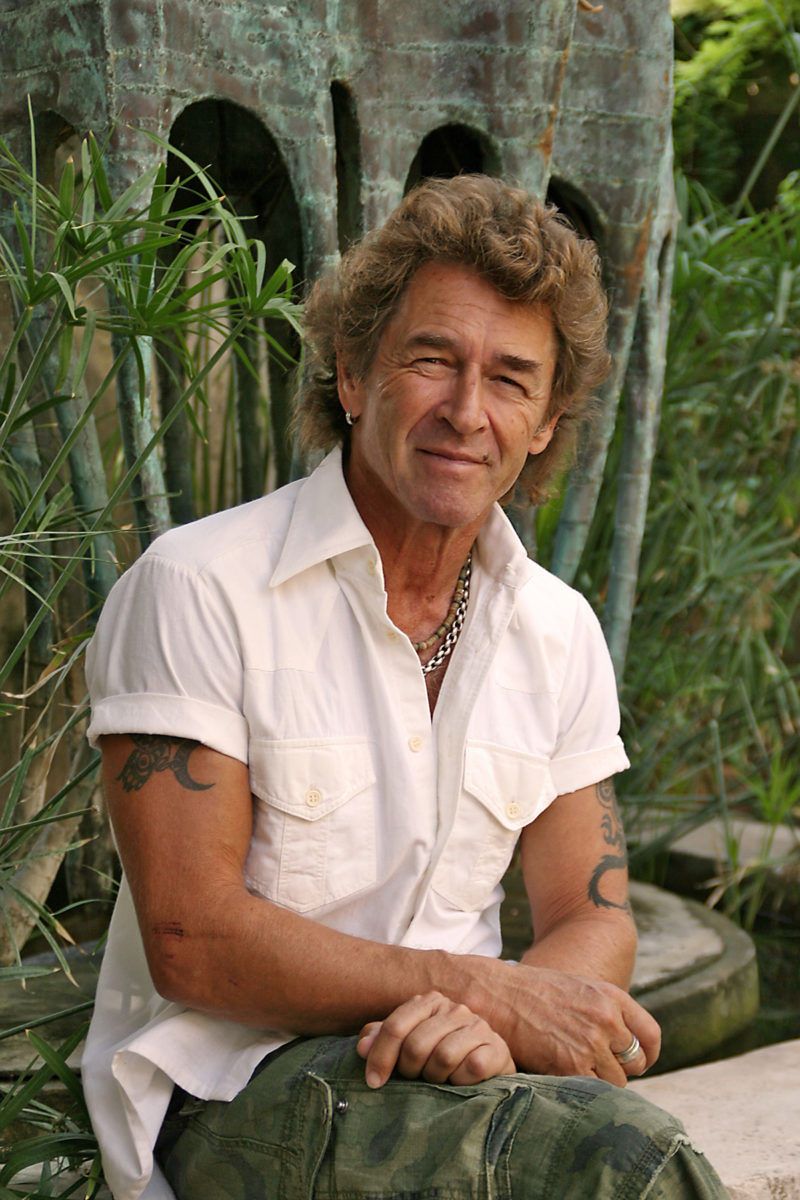 I am sitting in my car, heading for Pollensa, lost in memories. This is because I am not just going on a trip to nowhere, but am on my way to Peter Maffay, a man who has influenced part of my infancy. Well, it was not my bedroom which was full of his posters, but the room of a girl living with my grandmother. But to tell the truth: I have sung many of his songs at karaoke nights. In Germany, there is just no escaping Peter Maffay. After all, he is not only a singer who has sold more than 40 million records, but also a guy, who gets involved, who tries to make the world a better place.
When I arrive, Peter Maffay is sitting at his computer, naked from the waist up, showing his tattoo-covered body, a real rock star! He looks up and greets me: "Hi, I'll be with you in a minute." A few moments later he shows up, wearing a white shirt: "Great to see you." We are sitting in the beautiful patio of the house of the Medico Sureda foundation. While Peter pours me a glass of water, he seems to be miles away from me, even though he is sitting right next to me and is very polite. "What do you want to talk about?" he asks, and I would like to say: "About everything." I am curious about the man Peter Maffay, who has been dominating German charts for more than 35 years, who unites continents on his stage, and who is committed to securing the future for the next generation.

However, our time is limited. That is why I try to focus on Mallorca and the Finca Ca'n Llompart. Here, children traumatized by serious disease, abuse, and loss of a parent as well as underprivileged children are treated and cared for. The funds for this project are generated by the Peter Maffay Foundation in Germany. Since 2003, up to 250 children a year have the opportunity to draw new strength and broaden their horizon on this finca. "I believe that the main task of the foundation is to provide an opportunity to the children. To give them the possibility to have a better life. To get to know our bakery and dairy, to see how we grow vegetables and sell them in the local market. If you are from Berlin-Marzahn, you think that milk comes from a carton. To touch a goat you feel that it is a living creature, with a soul. Only then can you understand the value of food from ecological agriculture. To understand that it does not make sense to pollute the earth. They are only small impulses, but in these children's small minds and hearts, they can mark a beginning, the beginning of a different way of thinking, a different attitude."
Peter Maffay emphasises his words. It is obvious how important this project is to him. I ask him how close he feels to the children."I am not always with them, and I don't carry my guitar around. But when I am there, we talk about our lives. I ask them what they are doing, how they are. I might say, 'Kids, who wants to go and pick lemons, and all of them will shout: 'Us!' So then I tell them, 'Come on, put on your gloves, there are thorns, and the lemon grove is over there.' I then explain to them how to pick the lemons without harming the tree."
It is obvious that this man knows exactly what he is talking about. "I am not a landowner. I don't own a checked sports jacket or riding boots. We have built all the infrastructure here ourselves. I have been doing it for more than 10 years now, that's how I have learned a lot of stuff. For instance, when we were building a stable for the sheep or goats, it seemed right to get to know more about these animals." By now, I feel that Maffay has arrived here, that he is now really sitting beside me. Children are the future, of course, but what will be the future of the children? "Children are the growing energy. It's the adults' main responsibility to guarantee them a future worth living for. We are generating the conditions in which they will have to live, and only they will be able to sort out our mistakes."

This makes sense. But where does his involvement come from. What is Peter Maffay's philosophy? "The founder of the boy scouts, Robert Baden Powell – and by the way the namesake of the ship which the children can use – once said: Leave the world in a better state than you found it. I just love that. Do not use too much, do not pollute too much, create something. I have not always lived according to that philospophy, it is not something that you decide overnight. Everything needs some time to develop."
It is really interesting to talk to this far-sighted man. I want to know why he, his wife Tania and their little son Yaris are living in Pollença in Mallorca, of all places. "For me, Pollensa is something special. I first came across it at the beginning of the 70s, when a friend invited me over. I never got away from it. The light here is amazing, and so is the quality of life. I have always felt this way, so it was obvious to contemplate whether it could become our home. And now it is home."

And what does the committed singer Peter Maffay do in his holidays? "Basically, one thing follows the other. My holiday always take place in between. In Spain, this is easier to do. Just think about us sitting here and chatting away – which is really enjoyable, that is part of my relaxation. In the morning, I go into town and have my breakfast at the market square. This is my holiday. I have a lot of administrative stuff on my desk, for example the Christmas CD which we have just produced. When I am done, around two, three or four p.m. I take a car, bicycle or bike and drive to the sea and take a dip. That's holiday for me. I would not be able to do this in Germany."
I could have talked with him for hours, but my time with Peter Maffay has come to an end. Maffay is authentic. A singer with great social commitment. I think that's something worth supporting.