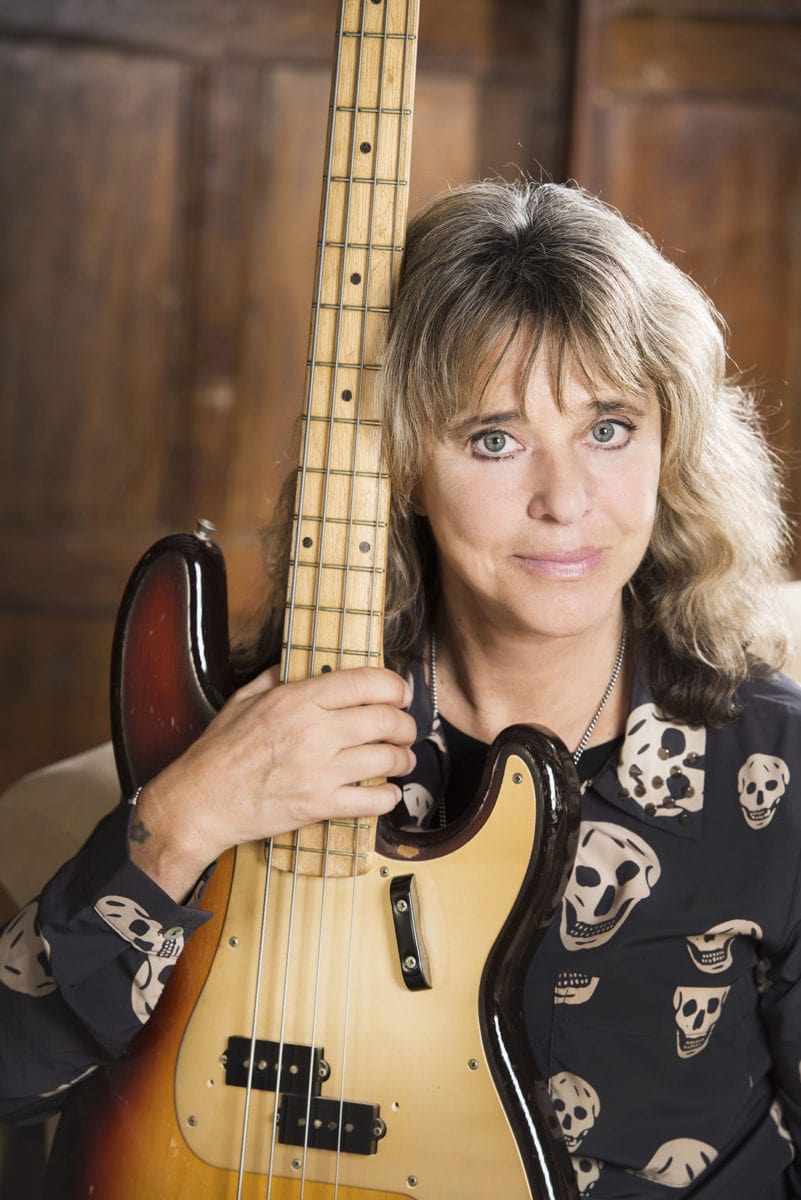 Over forty years on and the raunchy rock chick is stronger, wiser and even feistier than those legendary days of the 70's when she took to the stage: a 5-foot fireball clad in black leather, brandishing an enormous bass guitar and belting out her famous hit Can the Can. Some called the hell-raiser a female Mick Jagger. These days, apart from a few laughter/character lines, Suzi appears as youthful as ever. She has maintained her girlish figure; wears denim with style and still looks terrific poured into black leather.
Last time we met two years ago near her home in Mallorca, Suzi had just launched her new CD Back to the Drive. I didn't ingratiate myself by making the gross mistake of asking what had prompted her comeback. "I've never been gone," she replied firmly. "I do between 60-90 gigs a year. I never stopped." Oops. Since then, following the exciting launch last summer of her autobiography Unzipped, the number has almost doubled. Exhausting world tours included Germany, England and Australia: last month in one week alone she performed in Denmark and the Czech Republic.
What motivates her to keep working and touring? "I am an entertainer in my heart and soul. It's what makes me tick and complete my life cycle. The moment I have to put a fake smile on my face to get through a show: that will be the time to stop."
However, "rock star" only describes a part of her distinguished career. "Actually I have done a little bit of everything, including the lead role Annie Get your Gun in London's West End. I wrote a musical and starred in it, and recently had my own talk shows on radio and television. Did you know my BBC rock radio show was nominated for a Music Broadcaster of the year award?" she added, before continuing that she'd also starred in TV series such Minder, Dempsey and Makepeace and Absolutely Fabulous. Most famous was her debut acting role in 1977 as Leather Tuscadero in the cult series Happy Days, where she played the female equivalent of the Fonz. However, always the strong independent minded lady, after three successful years she refused the offer of a spin-off show for fear of being typecast. "It was enough. Time to move on. And I was proved right."
Despite her fame, Suzi remains unpretentious and solidly grounded with a lively sense of humour. "I always wanted to be famous and I always wanted to be normal, and I've achieved both" she tells me confidently. Indeed rather than hanging out with the usual showbiz crowd, she prefers to have friends from all walks of life. Her debut from song writer to author received good reviews and Unzipped is selling well. "Once I decided to write the book I did nothing except write solidly for three months. Only when it was finished did I emerge and realise I needed a haircut" she grinned. Then it was time to leave her home near London and return to her bolthole outside Palma.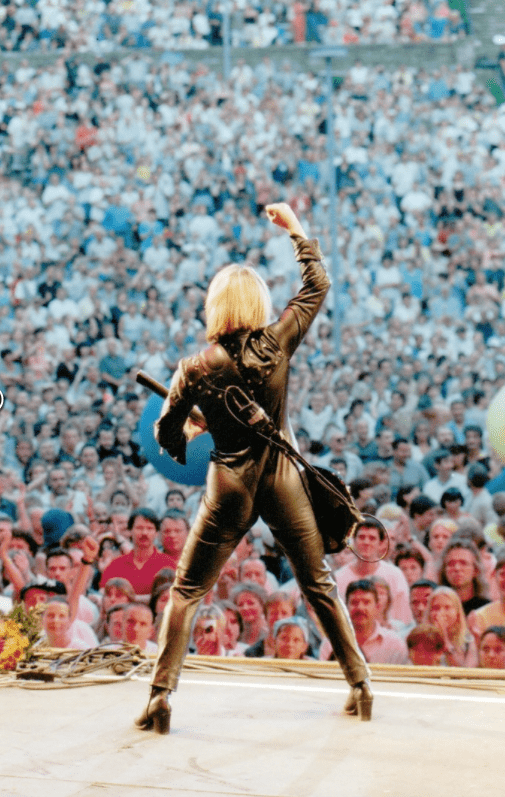 "I've been coming to Mallorca since I've been with my second husband (German concert promoter Rainer Haas) going on 15 years."
While I'm here I enjoy jogging, swimming, shopping and going out to eat. We used to stay with friends or in hotels in Illetas, but one day my husband and I were out running and found Bendinat, which seemed to offer everything we need. We fell in love with the show flat and the view over the bay and bought it exactly as it was. Now it's my chillout place. I come out whenever I find a slot, at least four times a year. I love the convenience of having everything ready when you get here. It's great being able to arrive, get off the plane and start to relax straight away. It's not hectic and I feel safe here. In summer I bring my grandaughter Amy."
Yes; Suzi is a rock granny and admits to being "besotted" with Amy, the six year-old child from her daughter Laura. (Suzi also has a son Richard.) Brought up in Detroit to a Hungarian mother and Italian father, family is all important to Suzi. Indeed, she started her career in a girl band with her sisters.
I often see her wandering around Puerto Portals. "I love the choice in Portals: it's the best for both shopping and eating. Although my favourite restaurant on the island is Koldo Rojo's in Palma."
The business has changed. What do you think of the current pop/rock bands? "There are a few good groups around such as Keane and Red Hot Chilli Peppers. Joss Stone is a real cutie. The one with real talent is Amy Winehouse because she's unusual. Unfortunately she is having a rough time of it."
After over forty years in showbusiness what would you still like to achieve? "I would like to do another album – write Unzipped 2. Then I'd like to write a novel and a film (I've done loads of TV and theatre) and celebrate 50 years in the business in 2014."
Where do you get your inspiration to write the lyrics for so many songs? "It hits you everywhere. I'm always writing down titles. You keep your ear open, tune in and suddenly it's there. I wrote Free the Butterfly for my first husband (lead guitarist Len Tuckey).I was ready to leave the marriage, but couldn't figure out how to tell him. So I wrote this song" Did he take the hint? I wondered. "No he didn't at the start" she giggled. "But it was the beginning of everything. After 22 years we got divorced. We're still the best of friends and he's even cooked us Christmas dinner the last couple of years." Certainly a testimony to Suzi's amiable nature and ability to maintain a balance between new and old.
Article written by: Angela Sara West