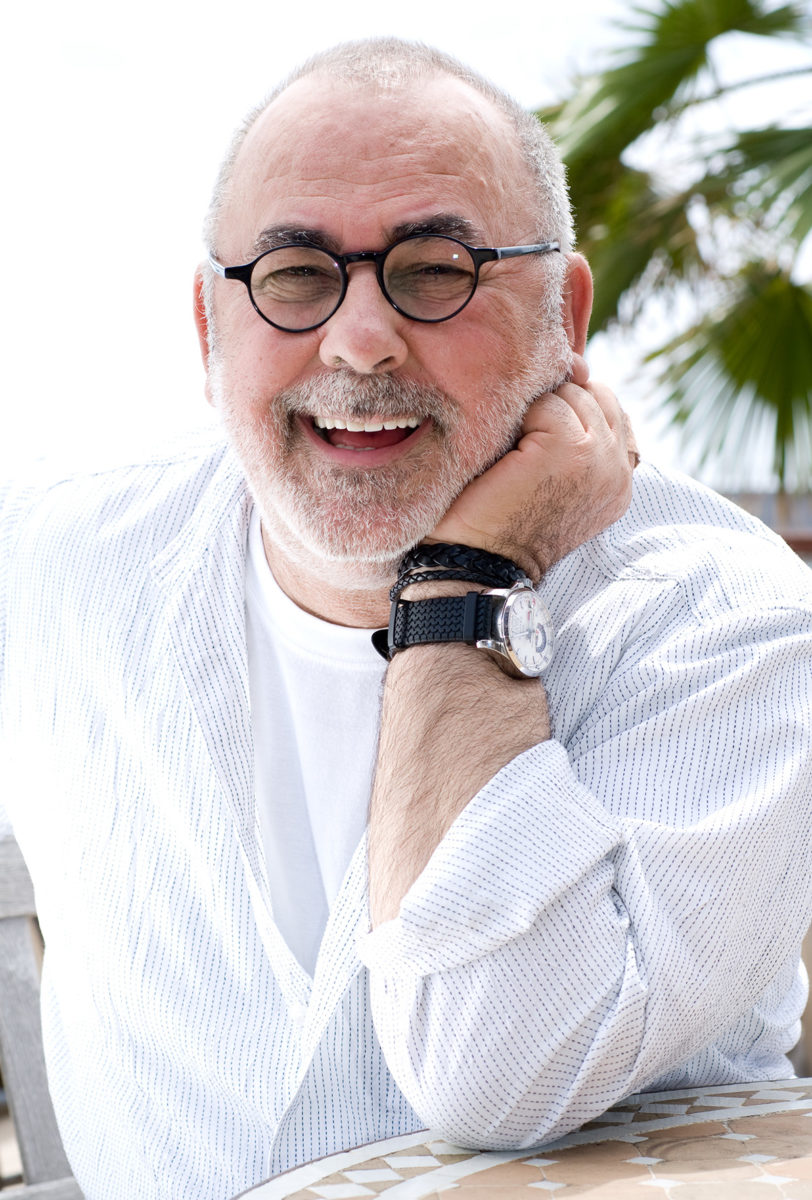 Flirting isn't a privilege of the young. Celebrity hairstylist Udo Walz, now 63 years old, looks as fresh as a daisy and is behaving in quite a forward way, while having lunch at Hotel Portixol in Mallorca on a Saturday afternoon. His boyfriend Carsten Thamm is giving him a look that seems to convey that he's not happy with this behaviour, but Udo clearly sees no reason why he shouldn't show his interest in any man he finds attractive.
The 'flirt machine' Walz doesn't allow himself to be confined by the conventions of others. With his stubbly beard, he's straightforward, relaxed, and charming – chatting briskly throughout the meal about topics as varied as charity, actresses with exceptionally beautiful hair, and uptight heterosexuals.Walz comes to Mallorca from time to time to look after his salons here. He no longer has an apartment on the island; hotels offer more comfort and none of the ties of owning a property.He's still cutting clients' hair – mainly at his salon in the Kempinski Plaza Hotel in Berlin. Udo Walz is an accessible hairstylist, whether his clients are superstars or people like you and me.This summer, one event is set to change his life. On July 28th – his 64th birthday – Udo Walz will marry his partner Carsten, at a register office in Berlin.
Some years ago you declared yourself against homosexual marriage. Why have you changed your mind?
I still think that a male couple needn't marry. A man and woman should only marry if they want to have children. If they don't want a family, then they should just live together, because so many marriages don't last. The reason I've changed my mind is that I suffer from diabetes and I want to put all my important affairs in order before it's too late. Carsten is my family. Without the legal process of marrying, he wouldn't even get the telephone call if anything happened to me.

How will you celebrate?
The international media hype surrounding our marriage – particularly in the USA and in Germany – has surprised me. Apparently, I'm the first male celebrity in Germany to have a same-sex marriage. We're organising a big celebration in Berlin. I love parties!

No doubt lots of stars have been invited?
Celebrities from all over the world have said they'll be coming – there'll be around 400 people attending.

Who'll be the witnesses for your marriage?
On my behalf, Barbara Becker and Patricia Riekel, chief editor of German magazine "Bunte". And for Carsten, the actress Bettina Zimmermann.

Will you still be appearing on TV?
I've recently produced an episode for the TV show "Spieglein, Spieglein"and there's a planned appearance on the German public channel ZDF. I'm actually quite booked up with engagements. One shouldn't ignore the media, because it's the media that creates celebrities.

How does your wealth make you feel?
Sometimes I have a guilty conscience. A few weeks ago I collected money for the Berlin-based children's home "Sonnenhof". On Mallorca, I've done charity work with Paris Hilton and with Goldie Hawn. It's important for celebrities to become involved with charity work and to talk about it in the media, to encourage others to do so too.

Why the guilty conscience then?
Because I have a wonderful life. My private life is a harmonious one, and my business is going well. Apart from the diabetes, I'm healthy. But all around me, I see a lot of people with lives full of problems. It eases my conscience being able to help a little bit.

Are there any long term projects?
I care for five godchildren. Recently, I acquired a new godchild in Manila and another in Africa. The latter's an orphan, whose parents died of Aids.

Aids is still a severe issue…
Yes. I'm on the German Aids committee. There are medical treatments available to prevent the onset of HIV, but these cost some 8,000 euros a month. I would be very happy if it were possible to distribute these drugs free of charge in Africa.

Are you faithful to your partner?
Yes, and I consider it essential for my companion in life to be faithful to me too. I'm not afraid of Aids primarily. But if there's no trust in a relationship it's better to split.

Is there a plan behind your professional success?
Ambition is not the only key. My own success is based on application and hard work. Unfortunately, I'm not a proverbial "saving Swabian" – otherwise I could stop working. (He laughs).

Which female celebrities have made a lasting impression on you?
They're all likeable. Recently, Helen Mirren and Gwyneth Paltrow came to my salon; both are fantastic. Whether it's Karen Mulder, Naomi Campbell or Carla Bruni, none of them behave like a diva with me. I always have a good laugh with them.

Are there no divas any more?
Divas have become extinct. Maria Callas and Sophia Loren were true divas. Nowadays being called a diva sounds negative. Opera singer Anna Netrebko could be a diva, but she's nice. Real celebrities, like Claudia Schiffer, Nadja Auermann or Gwyneth Paltrow, for example, always behave in an excellent manner.

Who has the most beautiful hair?
Catherine Deneuve, Julianne Moore, Meg Ryan, Andie MacDowell – their hair is so soft and shiny.

Has your work brought you friendships?
All women trust me and come back. Andie MacDowell taught me roller-skating in Los Angeles!

Are you a star yourself?
I don't see myself as a star. My life is not glamorous. Like anyone else, I go out for a walk with my dog and do my supermarket shopping. Sometimes the check-out girl recognises me. Once, one asked: "Even you come supermarket shopping?" "Even I need food," I replied.

Mallorca seems to be a special place for you?
Travelling with my work, I know almost the entire world. Mallorca, however, offers everything I need: beautiful mountains, beautiful beaches, magnificent water. In addition, my salons – one in the St Regis Mardavall and in Palma, require my attention. Palma fascinates me, because it's one of Europe's oldest Art Nouveau cities. I'm thinking about renting an apartment here again.

Where do you feel at home?
In Germany; it's an amazing country. Berlin is the only city I want to live in, because people there are quick-minded and creative. Furthermore, Chancellor Angela Merkel's new beauty is one of my greatest results. She really looks good now. I like her and I agree with her political views.

A celebrity hairstylist – is it a German phenomenon?
No. Frederick DeKay is a star in the US, and there are also famous hairstylists in England.

When will you retire?
Never. As long as I can breathe, I will cut people's hair. The boss always has to be the best in a company. I employ so many talented hairdressers and teaching them is an enjoyable challenge.

You´re said to be shy…
It's true that I'm a little bit timid. I never go to the movies or to a restaurant on my own. Like almost every creative person, I'm sensitive. My assertiveness has been growing over the years, but when I'm on my own, I'm very quiet. It's having an audience that makes me become brash!

Once you declared, that most men annoy you. Why?
I love women, their cleavage, their breasts. There are too many heterosexual men around making fools of themselves by insulting homosexuals. I believe, essentially, that they are afraid of becoming gay.
Once again, Udo Walz's mobile phone rings and he answers it. His voice becomes loud and animated as he chats with yet another celebrity friend. It's time to end our brief interlude with one of the world's most famous coiffeurs.