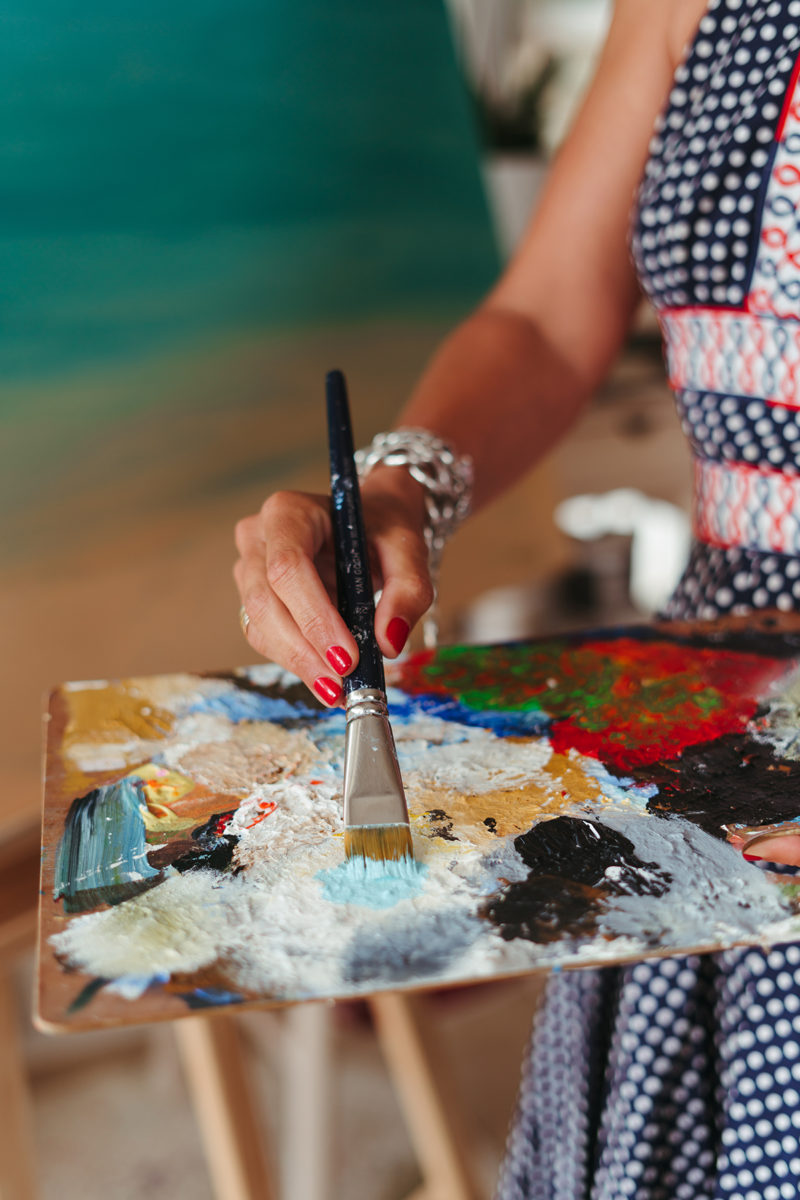 When you've settled into life in Mallorca and bought the property of your dreams, you'll want to add a touch of Mediterranean style to the interior. By getting to know the local art scene, you'll discover plenty of local and international talented artists living and working on Mallorca, providing you with the inspiration you need to decorate your new home.
There are some interesting artists based here who draw influence from a number of different art movements. As soon as you dip your toe into the world of art in Mallorca, you're likely to appreciate the diversity of artwork produced here. The bright Mediterranean light and beautiful Mallorcan coastline is an inspiration for artists from all over the world.
Many artists who relocate to Mallorca do so for its vibrant cultural scene. If you're a painter yourself, you'll feel right at home at the many art exhibitions, fairs and events that are held every year. Undoubtedly, Palma is the strongest pull for artists with galleries around every corner, but you'll also find pockets of artistic inspiration in smaller places like Alaro, Pollensa and Deiá. It's not surprising that artists in Mallorca tend to live in the quieter parts, with many choose to live nestled away in the Sierra de Tramuntana mountain range.
Many of the artists below can be visited at their Mallorcan studios where they will be happy to take you on a tour of their work and show you what is available for purchase. In the renovation of her home in Son Vida, editor Dr Helen Cummins sought creative inspiration from some of the artists below including Francesca Martí and Joan Avila (see below).
Local artists in Mallorca
Francesca Marti
Francesca Marti is one of Mallorca's most beloved artists. She was born in Sóller where she still lives and works. She emerged on the Spanish art scene in the early 1990s and her work quickly became internationally-recognised. Never limited to just one medium, Francesca works in paint, sculpture, photography, video, performance and music. If you want a piece of art that is politically-charged and unafraid of highlighting the issues facing our society, then you'll be fascinated by Francesca's Believers – an army of sculptures who walk the walls.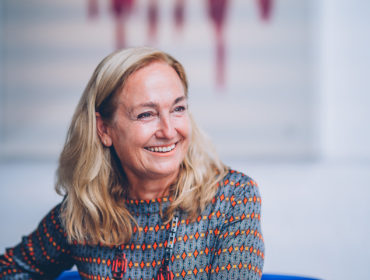 Award-winning artist Francesca Martí discusses her exhibition 'Energy Ray' and how it discusses themes surrounding communication.
Joan Avila
Joan Avila has become something of a Mallorcan celebrity known for his striking paintings on wood using acrylic and resin paint. His style is described as a mix of Graffiti-style and Lettristique. He's celebrated as a real master craftsman without exhibiting any awards to his name.  Joan is based in Barcelona, but much of his work can be found in Palma.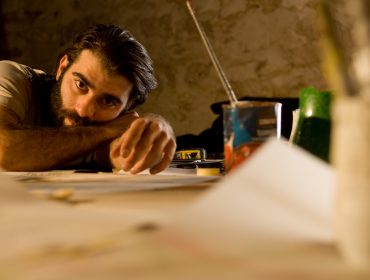 Until his critically-ill father passed away in 2006, Joan Ávila Fuster used to visit him…
Arturo Rhodes
Ask anyone who lives in Deià if they know of a good artist, and the name Arturo Rhodes is likely to arise first. Born in London in 1944, Arturo studied at the Watford School of Art and then travelled extensively in the 60s. A lucky encounter in Deià led him to renting a house in the village and the rest he says is history! His surreal paintings are witty, funny and famously story-based. Collectors of his work include Sir Roger McGough, Lord Andrew Lloyd Webber, Sinéad O'Connor, Sir Richard Branson, and John Cleese.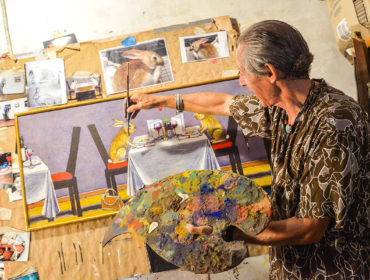 The eccentric English artist Arturo Rhodes is a favourite of many well-known celebrities who are regular visitors to the Tramuntana area – once you have met him, you will never forget him!
Grason Rotowsky
American artist Grason Rotowsky is based the tiny hamlet of Jornets, just outside of Inca. It is here the Expressionist artist carries out his work in a colourful studio made up of huge canvases and sea of paint pots. Attracted by Mallorca's slower tempo, Grason made the move from Manhattan with his wife Lo to embark on a more rustic life, where creativity could flow. "My works are physical representations of the extruded subconscious. Fragments of memories, experiences and imagination come forth…" says Grason.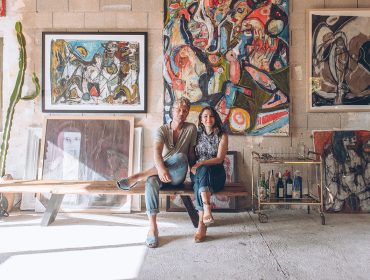 Exchanging the buzzing New York metropolis for the sedate Mallorcan countryside, painter Grason Ratowsky has found the perfect retreat for exploring his creativity – and starting a family.
Barbara Weil
Colourful artist Barbara Weil made the move to Mallorca in 1967 from Holland after choosing to settle in Port Andratx with her husband and four children. Barbara studied art at the Art Institute of Chicago and is known on the art scene for her use of bright block colours. Her painting and sculpture studio overlooks the sea in Port Andratx and was designed by the famous architect Daniel Libeskind. The studio itself is just as impressive as the artwork inside and is well-worth visiting if you're in Port Andratx.
Barbara Weil sadly passed away in 2018, but her creative energy lives on through her studio which is still open to the public.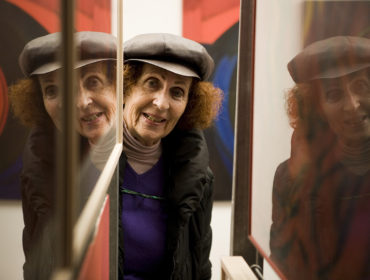 The artist & sculptor Barbara Weil has lived in Puerto Andratx for over 40 years. Architect Daniel Libeskind was the perfect choice to build her studio.
Cecilie Sheridan
After moving to Deià almost 50 years ago, local artist Cecilie Sheridan is firmly rooted in the village's art community. She is one of Deià's most active artists, who alongside her late husband George Sheridan, positioned the luxury hotel Belmond La Residencia at the heart of their creative circle. Over the years, Cecilie and George have created some of the most amazing artwork, most of which is now positioned with pride at Belmond La Residencia. Cecilie also organises exhibitions at the hotel's Sa Tafona Art Gallery which introduces a new artist every couple of weeks. She also runs the Deià Walk and Talk art tour – available for hotel guests staying at the Belmond La Residencia.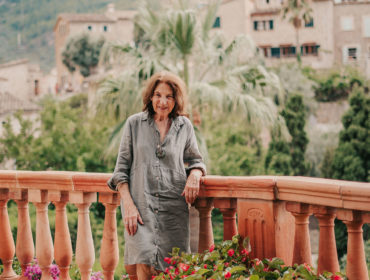 Artist Cecilie Sheridan talks about her creative work at the Belmond La Residencia and the inspiring collection that fills its walls.
Understanding the local art scene is one of the best ways to feel more integrated in Mallorca. By visiting a local artist, you can access another perspective and perhaps view the island in a way you hadn't considered previously. The artists above have helped redefine the art scene in Mallorca, so that the island is recognised for being more than just its beach bars and clubs. When you look deeper, Mallorca is a place of cultural movement. Underneath its sparkling veneer, there is a whole body of artists working hard to push boundaries and show us what authentic Mallorca is really about.
If you would like to know more about living in Mallorca and what the Mediterranean lifestyle offers, then sign up to the hc/ newsletter which includes all the latest island recommendations and top tips for living here.