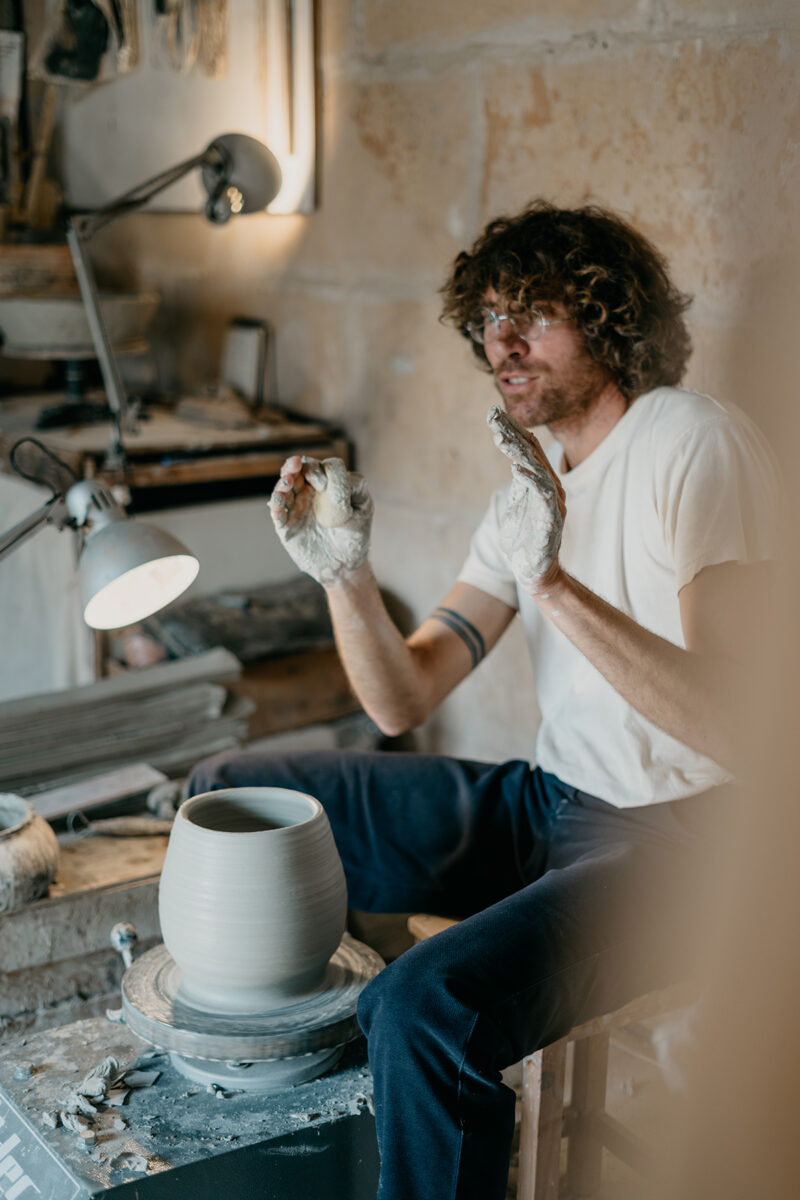 Working in his small ceramics studio, miles away from the nearest urban settlement is the Mallorcan artist Jaume Roig. He is a ceramicist by name, but paintings of moon-like spheres and animal sculptures lean the walls, implying that Jaume is a thinker above all else. His pieces have been picked up by LOEWE, showcased in London, filled numerous luxury hotel spaces in Mallorca and exhibited at ABA Art Lab. Now, he is opening a new gallery, this time in New York, where he hopes to take his handmade pieces to the global stage. Not forgetting his honest approach to matter and life forms too.
A family of ceramicists
Sat at his potter's wheel, Jaume is busy reshaping a heavy hand of clay. "I thought it would be good to show you how it works," he says, openly sharing his trademark approach. He is toweringly tall but leans over the wheel with ease, shaping the clay into form. He explains that his heart has always been in ceramics, following the work of his mother and brother. "I come from a whole family of ceramicists and potters, it's always been in my life," he says. "Although I'm not so delicate like my mother and her flowery plates. What I do is much heavier," he adds, pointing to the planet-shaped casts on the floor. They're huge in size (standing until Jaume's knee) and resemble two roughly-shaped moons. His paintings too, echo the same dusty white colours and circular template.
Never just one thing
Jaume's work is loved for its reinterpretation of shape. With his bare hands, he creates objects that look both hollow and solid, almost dream-like but rooted in nature at the same time. In 2019, Jaume was commissioned by the luxurious Can Aulí in Pollensa to create a wall display combining thousands of small ceramic pots in shaded whites. From a distance, his work might be compared to a pebbly shoreline but to say that Jaume is inspired by the Mediterranean coastline (or just one concrete thing) would be an error. "I don't believe in God. I believe in the soul of things. You don't have to go anywhere to get inspiration, you can find it right where you are. It's never about just one solid concept. If ideas change, so does our reality."
Each ceramic piece by Jaume is carefully made in his workshop near Ses Salinas and then heated in an oven at over 1000 degrees. When times are busy, his little room is full of thousands of pieces carefully positioned for drying and polishing. When the workload lightens, Jaume enjoys tending to his sheep and preserving the local landscape with his partner, textile artist Adriana Meunié. "All the rules are in your head. I take each day as it comes, sharing my passion with Adriana but ultimately making my own journey too," he says, turning off his potter's wheel and pondering his work. Another creation set to make a lasting impression.
Jaume Roig
Jaume Roig
Jaume Roig
Jaume Roig
Text by Rosie Foot
Photos by Sara Savage