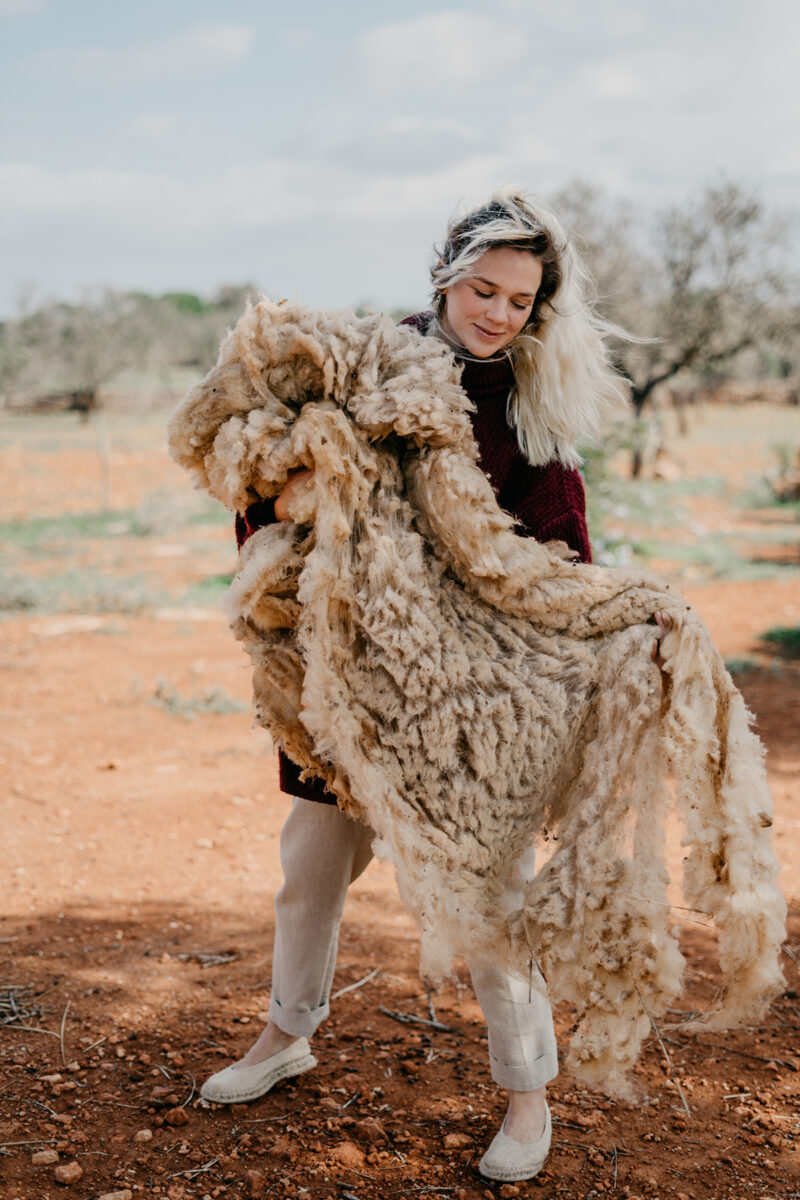 On the outskirts of Ses Salines in a small, stone-built farmhouse is where Adriana Meunié lives with her pet goat, Henry Petit and a generous stock of wool and grass. Her life is simple, laid-back and characteristic of the Mallorcan heritage, which she shares with partner Jaume Roig and flock of sheep. However, recent times have proven busy with Adriana's work being commissioned all over Mallorca and as far as the USA, Sweden and the UK (including Harrods in London). Her beautiful works, involving dry cuts of leaves and native grasses are naturally drawing attention, which Adriana maintains is for their "raw, native Mallorcan beauty."
Inspired by form
After studying fashion in Barcelona in 2014, Adriana returned to her home island of Mallorca. She originally grew up in Cala Llombards, the small coastal town of Santanyí to a family of American and French descent. Her background in fashion had already planted the seed for working with fabrics, but it was an off-day looking at a sheared sheep's coat that changed everything. "It was led out on a chair and I just remember looking at its shape and form. The way it folded over the arms of the chair intrigued me." Sheep's wool is one of Adriana's primary materials, which she washes, dries and styles into shape and then attaches to canvas. The same technique is applied to rope, grass and leaves too, which Adriana can spend up to three weeks braiding into artwork.
Preserving material
Some of Adriana's pieces can be seen in Mallorca at the minimalist masterpiece Es Raco d'Artà and luxury retreat Can Cera. At these hotels, Adriana collaborated with esteemed local architects Toni Esteva and Luis Fernández to bring the authentic feeling of Mallorca into the world of five-star accommodation. Es Raco d'Artà in particular is defined by organic fabrics, offering the perfect base for Adriana to showcase her pieces. "If you look at the way the grass moves, it is just perfect as it is. Being able to preserve a material like that while working with someone like Toni Esteva was a real honour."
Although Adriana's work is reflective of rural Mallorca, she insists that contrast is what makes her pieces so strong in image. "When I make my pieces, I often think of people in the city. At Hotel Can Cera in Palma for example, we worked my tapestry into the grandiose style of the hotel. Rustic materials are great at creating pause," she says, thinking of those with full diaries and busy schedules. Following her line of thought, we ask about her own agenda and she smiles. "I have a waiting list of several months long of various pieces big and small," she says, working in rhythm with the natural world around her. Constant, steady, yet wildly creative.
Text by Rosie Foot
Photos by Sara Savage