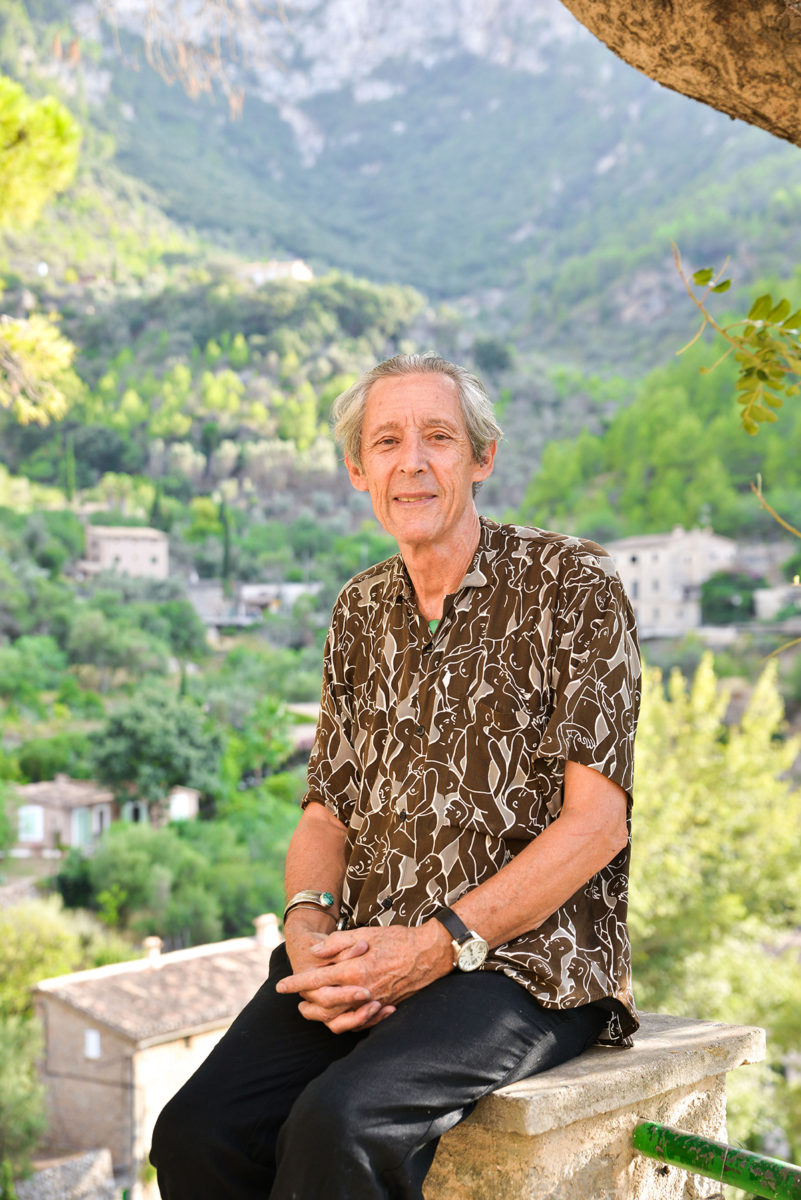 Once you've met him, you'll never forget him. Any Deià resident could probably direct you to Arturo Rhodes's studio: down a winding lane past the Archaeological Museum, and eventually up steep steps to the old green-shuttered stone-built house. The building appears unremarkable, until we step inside . . .
We've entered Arturo's seemingly chaotic studio/home. The well-known artist is tall, slender, tanned, bohemian, and unmarried; he doesn't smoke or drink, and practises yoga, rather than housework. His paintings fill the walls; others are stacked, leaning against vertical surfaces. Our eyes take in pinned-up press cuttings and notes, numerous books, and empty jars and yoghurt pots (useful receptacles for an artist). "It might not look like it, but I know exactly where everything is," he says. "The only problem is that I don't know where I am myself!"
His life began in London, in 1944. He studied at Watford School of Art in the '60s then travelled – Europe, Asia, Australia, and the USA – until 1981, when he moved to Mallorca to paint. After a year in Africa in the '90s, he returned to Deià "completely broke", sleeping in his car. A lucky encounter led to him renting the just-vacated house from a woman looking for a Spanish tenant; although he failed to convince her he was native, her son (who worked at La Residencia and had seen his work) vouched for him. "Deià is a really good place for doing anything creative," says Arturo.
His surreal paintings are witty. "This is where the humour comes from," he says, producing a folder of cartoons he did for 'The New York Times', while in America. "They'd give me a written story and I'd have 24 hours to come up with a cartoon. It was a really difficult job, but very well paid, so I only had to do one or two drawings a week and I was living like a king."
He now works mainly with acrylics. During a recent visit to Morocco, he found "mindblowing" pigments; the emblematic Mogadon Blue dominates an unfinished painting of the artist looking for his inspiration. "I work on four or five paintings at a time and then, when I get bored or stuck with one, I switch to another."
Art history, literature, personal encounters, and even conversation snippets inspire Arturo's story-based paintings. He likes following clues in detective novels, and is a voracious clue-collector for his art – recording these on his compact camera, or in his home-made notebooks. He also uses his Apple Mac in pursuit of stories. Told "to go with the flow" on two occasions (by different women), he researched the expression; a themed-exhibition was born.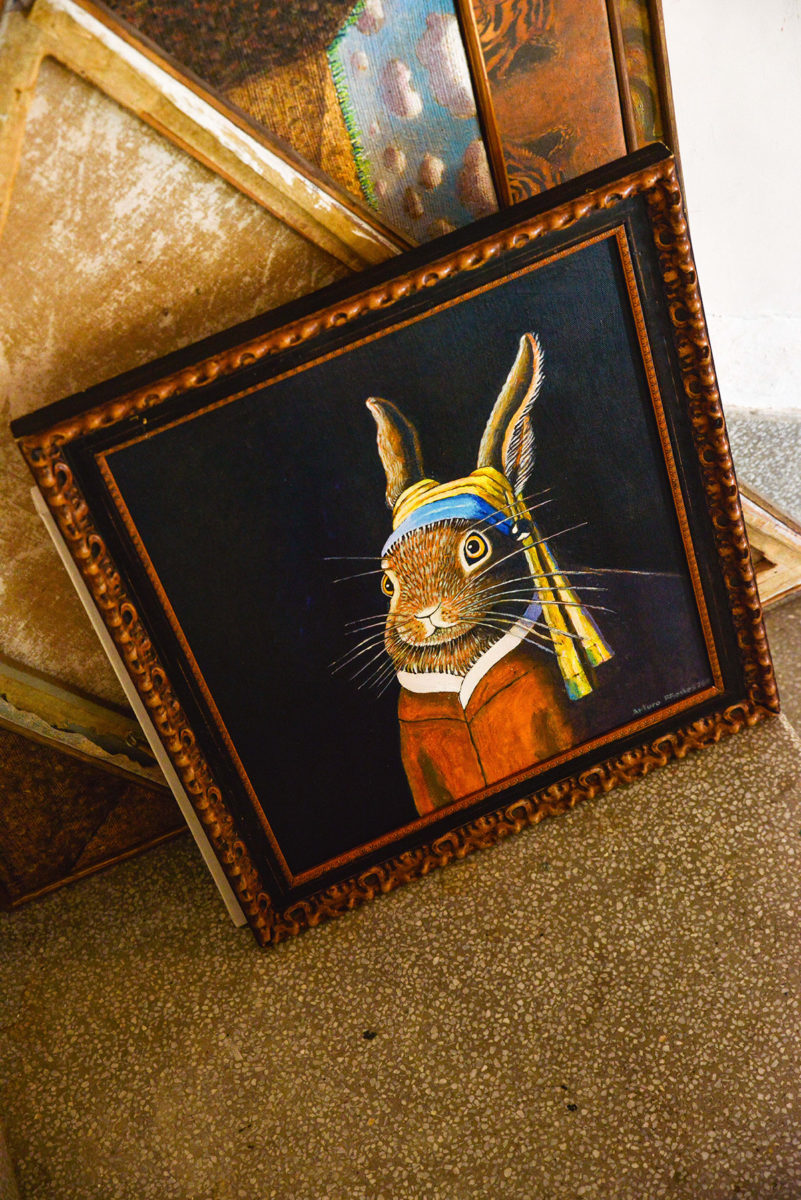 We see paintings inspired by Vermeer, and by 'Alice in Wonderland'. Alice was the theme of an exhibition he had a few years ago: "Her innocence is faced with the corruptions and reality of the world. She's on the point of becoming an adult and comes face to face with distortion." And the self-portraits? "That's a kind of neurosis," he explains.
He produces a huge green apple 'hat', worn at this year's annual themed exhibition at Belmond La Residencia. "I always make a hat, a performance, and a speech – that's why so many people come to the openings." Five hundred came this August; the 40 bottles of wine he'd bought ("from Lidl, a really good South African, and only 3,20€ a bottle!") were finished within 20 minutes.
The exhibition was about the capacities of the iPhone. The 'eye-phone' that Arturo made for the performance is genius. "You can talk to yourself in the future and in the past," he explains. "In my speech I connected the future 'me' with the 'me' that was developing in my mother as a baby; they were talking to each other and to me in the present moment. It was really a freaky thing but the audience LOVED it!"
His work is thought-provoking, as art should be, but meeting him at his studio makes it even more interesting. "As I get older, more people come," he says. "I say come in, have a look. They have a tea or something."
Collectors of Arturo's work include Sir Roger McGough, Lord Andrew Lloyd Webber, singer Sinéad O'Connor, Sir Richard Branson, and actor/comedian/writer John Cleese. He recently spent an evening in Deià with Cleese, "laughing and stuff."
An hour in Arturo's company is great fun, but also reveals a complex personality. A therapist once taught him about acceptance. "That's how you can begin to manage yourself. Changing things and throwing things out doesn't really work," he says. "The chaos of this house relates to the creative process I'm involved in." Let's hope he never chooses to de-clutter
Photos by Sara Savage