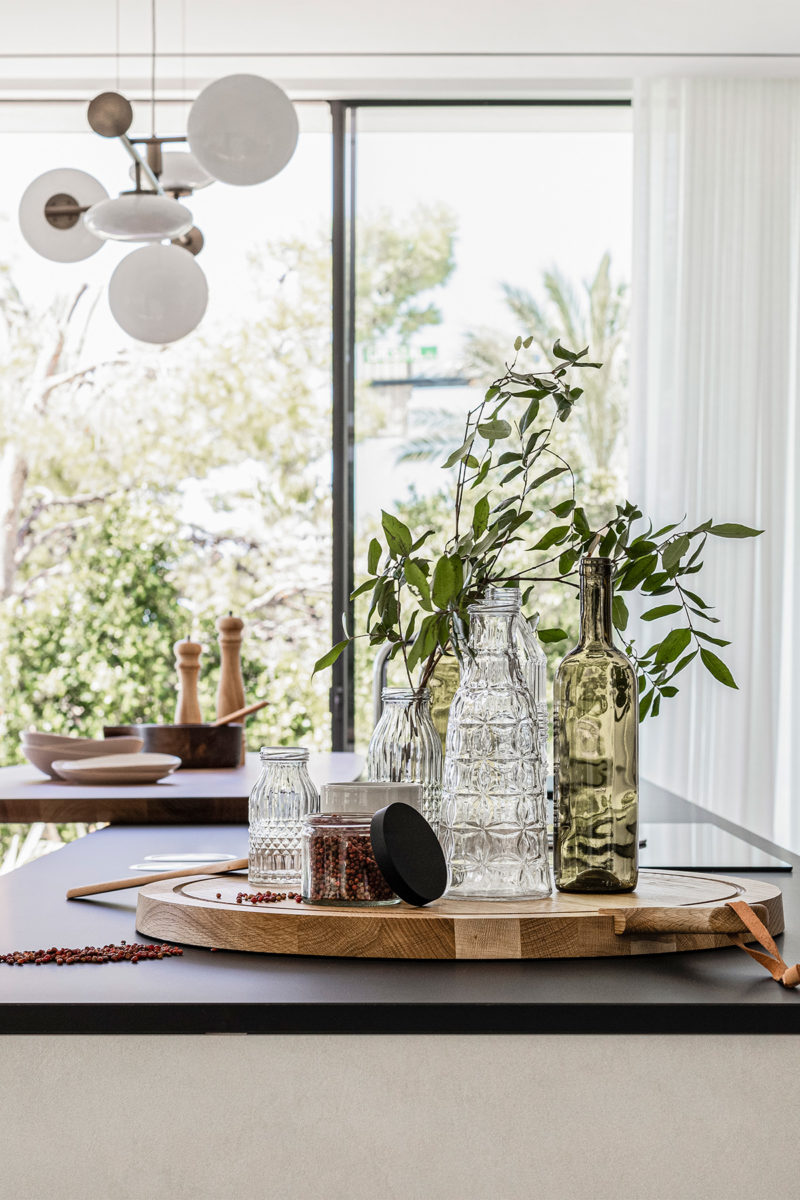 So you've moved to Mallorca for the Mediterranean way of life, to enjoy more time with your family, bask in the sunny weather and eat delicious Spanish cuisine. However, your new Mallorcan villa or finca, while beautiful in many ways, is not reaching your expectations in the kitchen. What you need is a designer that can put together a welcoming Mediterranean kitchen interior – one that encourages your family to gather round, share some tapas and spend time together.
Luckily on Mallorca, we are graced with a thriving interior design sector that brings international designers from all over the world. If you are unsure of what kitchen design to choose, be rest assured that there is plenty of portfolios to choose from. In fact, all the designers selected below, custom-build their kitchens to suit your home.
Therefore, there is no limit to what a local designer can achieve. With the right concept in mind, your dream Mediterranean kitchen can be tailor-made to match your vision. Whether it be a contemporary island unit or a more rustic outdoor dining area, your designer kitchen in Mallorca is on the cusp of being created.
What makes a great kitchen designer?
There are lots of kitchen designers to choose from in Mallorca but what makes the professionals stand out from the rest is their ability to listen to your needs and curate your design accordingly. What really counts is if your designer can customise rather than replicate. Look out for creative intuition and a curiosity to know more about your home. A good kitchen designer will want to know about where you live, your lifestyle in Mallorca and how the kitchen will predominantly be used.
Another thing to check is whether or not they use sustainable materials. A good kitchen designer will know which woods and stones are sustainable and will be able to advise on which materials work best for you and your budget. If they have been certified by the FSC even better.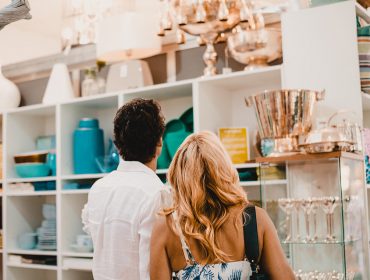 Based on years of local knowledge and first-hand experience, find out the the best furniture stores to visit in Mallorca, chosen by editor Helen Cummins.
How long will it take to enjoy my designer kitchen?
This will depend on which materials are selected and if they're being imported to Mallorca from abroad. From paper to construction, most kitchen designers will be able to turn around the design in 2-3 weeks.
Once the kitchen has been installed, with most providers you will get at least a 5 year guarantee on function and quality and an inspection after a year.
How much does a designer kitchen cost in Mallorca?
Once you have chosen your Mallorca interior designer, then the real fun begins.
A designer kitchen in Mallorca will be made bespoke using the best quality materials. With this in mind, prices usually start around 40,000 euros and from there, the sky is the limit. Cabinet interiors, handles, sinks and fixtures will all add up and the choice of electrical equipment will also affect the price. A complete designer kitchen can be in the figure of 100,000 euros.
Recommended Kitchen Designers in Mallorca
Birgit Müller
Originally from Münsterland, the epicentre of German kitchen creation, Birgit Müller has worked in Mallorca for the past twenty years. She opened her first studio in 1999 in Port Andratx and the second in Palma followed in 2005. Modern kitchens are her trademark; in which she forges advanced technology with sleek designs. However, underneath all the gloss and elegance, Birgit maintains that a Mediterranean kitchen is all about bringing people together. Therefore, comfort comes first, as does sustainability, which you'll always find in a Birgit Müller kitchen. Her work has been FSC-certified since 2010.
Cocinart by Espacio Home Design
Under the Espacio Home Design brand is Cocinart, an upmarket kitchen brand used by a large number of homeowners in Mallorca. The designers behind Espacio Home Design are the Torrens brothers, who originally started their design journey at a small carpentry shop in Vilafranca. In the 1970s, Juan Torrens went to Germany to learn as much as he could about designing kitchens. When he returned he took his new knowledge of kitchen design and applied it to classic Mediterranean living. The result was Cocinart. A luxury high end brand with a speciality in outdoor kitchens and natural materials.
ST-ONE Baleares
In 2020, ST-ONE Baleares opened its doors in Port Andratx, supplying Mallorca with even further variety of German kitchen design. The owner Klaus Sladko, believes in prioritising natural stone above any other material, resulting in a brand that is rustic yet elegant. World-class kitchen suppliers are chosen by ST-ONE and include Blanco, Liebherr, Gaggenau, Strasser and Bora. Their team in Port Andratx match their luxury designs with in-depth knowledge, and prioritise designing a kitchen that facilitates your needs. As part of the ST-ONE package, you receive a thorough analysis at home, where measurements are logged and different variations of stone are tested.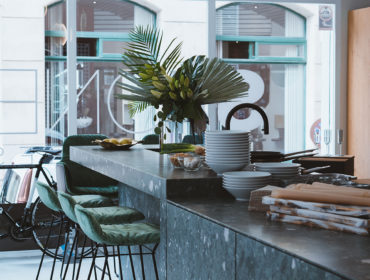 The launch of ST-ONE Baleares in Port Andratx was celebrated with an open day where visitors explored their range of natural stone kitchens and appliances.
Villa Wesco
One of the most impressive places to buy a designer kitchen in Mallorca is without a doubt at Villa Wesco in Santa María. While the location feels very Mediterranean, all the kitchens are manufactured in Arnsberg, Germany and are specifically-made for outdoor use. Each kitchen is custom built and weather-proof thanks to their clever combination of aluminium, compact and ceramic. Director Ana Lado awaits your visit at her beautiful showroom, complimented by palm trees and infinity pool. As well as their Mallorca store, Villa Wesco are also based in the Sauerland region of Germany.
LEIGHT Cocinas de Nopper
Christian Nopper started making kitchens in his father's garage in the Black Forest. Since his humble start, the carpenter has built the company to over 50 employees, distributing kitchens throughout Germany, Switzerland and Austria. Christian selects top-end brands to work with, such as Gaggenau and Lacanche. The LEIGHT showroom in Son Bugadelles in Santa Ponsa offers the ideal opportunity to see Christian's range, which infuse natural materials with clean, sleek finishes. His kitchen fittings are creative, and the ways in which his carpentry team are able to store utensils, groceries and wine is impressive.
Stork Design
Founded in 1858 in Germany, Stork Design is an all-round furniture and interior design company, supplying kitchens amongst other things too. Their knowledge in luxury kitchens goes back decades, where the company have consistently worked with the best minds in design, fittings and carpentry. These include the manufacturers SieMatic, Zeyko, Next125 and Contur alongside their own team of in-house kitchen specialists. Their showroom is based in Son Bugadelles in Santa Ponsa, where you'll find over 900 square metres of design inspiration.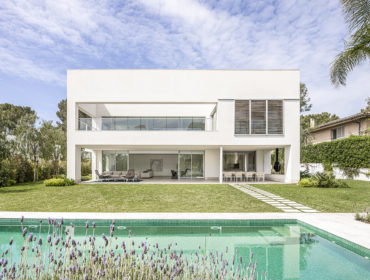 Tasked with the complete interior design for this project, Stork drew on top international brands to showcase both the pilot property and their talents.
Examples of designer kitchens in Mallorca
If you're in need of inspiration of which kitchen design to choose in your home, take a look at some of the work below. These kitchens have been built for real homes in Mallorca and include some of the finest examples of what your Mediterranean kitchen could look like with the help of one of our recommended designers. One of these examples includes the designer kitchen of editor Helen Cummins who chose to work with Cocinart by Espacio Home Design during the renovation of her Son Vida home.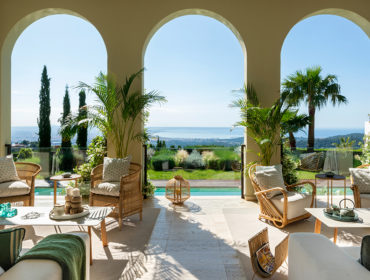 After three years of redesign and input from designer Andrea Pussin and gardener Stephen Woodhams, Helen's home in Son Vida is ready to be enjoyed.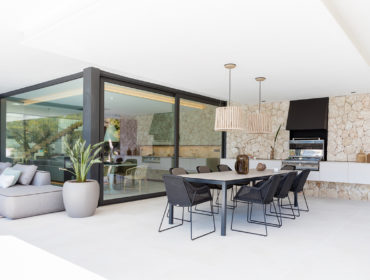 Step into this chalet in Santa Ponsa and be inspired by the work of Espacio Home Design who have created one smooth kitchen/barbecue area.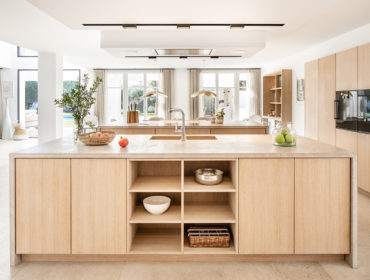 This Espacio Home Design project in Bendinat brings together an open-plan kitchen with two island units and a cosy cinema to relax in when evening comes.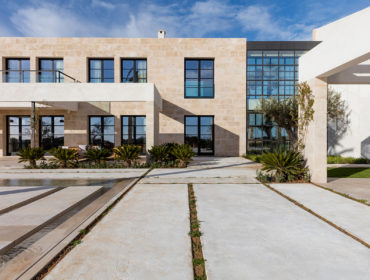 Espacio Home Design complete some of their best kitchen work in Santanyí which fuses together brands such as Gaggenau, Gutmann and Miele.
If you've recently bought a home in Mallorca, the chances are you're getting used to the Mediterranean way of life. Very quickly, you'll see that social dining is an integral part to living in Spain and a lot of time is spent dedicated to good food, good wine and of course, good company. Therefore, implementing a designer kitchen that facilitates this social need is important to feeling settled in Mallorca. You'll want to create spaces in your home that let in the Mallorcan sun, bring together your friends and family and encourage a relaxed atmosphere.
For more about living in Mallorca and how to settle into your new way of life, sign up to the hc/ newsletter where every month editor Dr Helen Cummins shares her personal recommendations to getting the most out of living in the Mediterranean.