The opening of the ST-ONE Baleares flagship store provided visitors on Mallorca the chance to view their collection of natural stone kitchens. Klaus Sladko, Ole Bestmann and team welcomed everyone with cool drinks and delicious tapas. At lunchtime, German chef Emmerich Reutter presented the audience with a cooking demonstration, showcasing ST-ONE Baleares' countertops and appliances.
Natural stone kitchen islands and BORA cooktops are amongst the collection at the new store, which can be fitted by the ST-ONE Baleares in-house carpenters. Owner Klaus Sladko and his team are happy to be on the island and look forward to building luxury stone kitchens on Mallorca.
"If you love good food, you've come to the right place," says Klaus, who also has plans to open a Gourmet Cooking School as part of ST-ONE Baleares.
Address details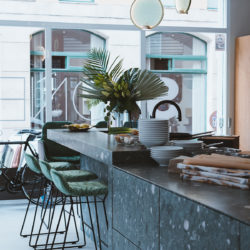 ST-ONE
Isaac Peral, 52, Port d'Andratx