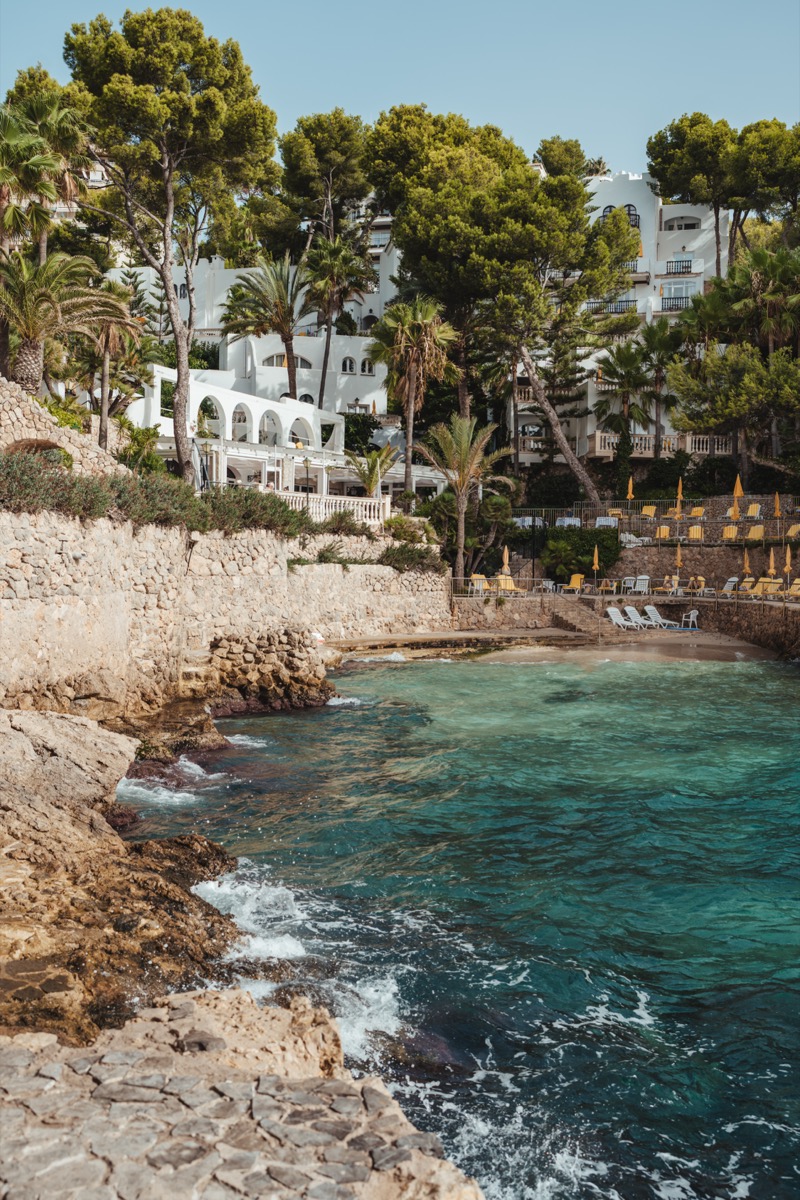 The coastal residential area of Bendinat has long been one of the most sought-after locations in Mallorca. Those fortunate enough to own property here extol the advantages of this picturesque area between Palma and Puerto Portals. Naturally blessed with rolling, wooded countryside and steep hillsides offering dramatic sea views, peppered with clusters of high-quality residential areas and exclusive private villas, it is abundant in beauty and lifestyle benefits.
While there are a few exclusive, luxury hotels in Bendinat, this small corner of the island is home to long-term residents all year round and does have a sense of community. There is a small centre with shops, restaurants and cafes catering to vacationers and the village's permanent population, who can also make use of a gym, veterinarian, and medical centre.
The golf course, Real Golf de Bendinat, is one of the best in Spain; there is a tiny but beautiful beach, and the area even has its own imposing 19th-century castle, adding a heady dose of historic romance. This area, part of the municipality of Calvia, offers peace and serenity without, for some, feeling too quiet. Plus, all the attractions of Palma and the bustle of Puerto Portals are easily accessible, each just a ten-minute drive away.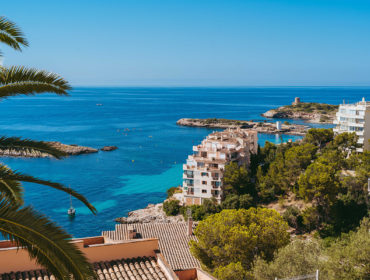 With its abundance of luxury villas, world-class golfing and air of serenity, the neighbourhood of Bendinat stands out as one of Mallorca's most exclusive.
While the real estate itself is attractive, the surroundings seemingly encompass it all, with plenty of amenities and conveniences, all with sea breezes under 300 days of sunshine.
Where to buy a property in Bendinat
Old Bendinat

Almost every urbanization in Bendinat could be considered prestigious, but upmarket Old Bendinat is one of the most obviously so. Close to the seafront, the main roads comprising this area are the long, snaking Avenida de Rossegada and Avenida de Bendinat: green, immaculately-maintained boulevards with gated private villas.
Central Bendinat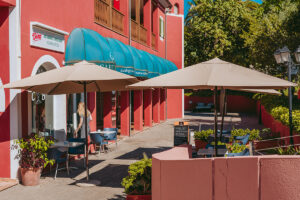 Almost every urbanization in Bendinat could be considered prestigious, but upmarket Old Bendinat is one of the most obviously so. Close to the seafront, the main roads comprising this area are the long, snaking Avenida de Rossegada and Avenida de Bendinat: green, immaculately-maintained boulevards with gated private villas.
Sa Vinya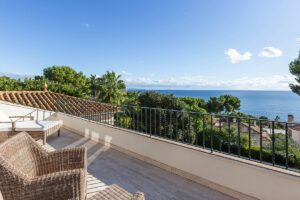 Also easily accessible on foot from the centre with its restaurants and amenities is the charming Sa Vinya complex. Much in demand, properties here consist of luxury low-riseapartments and elegant terraced houses, all in a sunny, sympathetic design with ample green space.
Bendinat Golf Course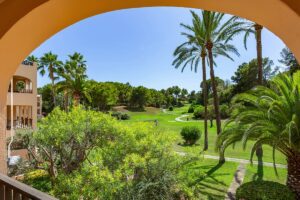 As you would expect, the environment surrounding Bendinat's renowned golf course is meticulously well-kept. Bendinat Golf is a special development made up of impressive villas and smart apartment communities, such as the Olinto complex. Homes occupy commanding positions high above the attractive facilities set in a pine valley, with panoramic views of the course, the sea, the castle and the Tramuntana mountains.
Advantages to buying a property in Bendinat:
Stunning coastal setting with sea, beach and mountain views.
Superbly well-positioned for access to Palma, Puerto Portals and the rest of the southwest.
Year-round international community
Established infrastructure with schools, shops, gym, medical centre, dentist and vet clinic.
Very walkable, especially if you choose a community close to the centre, with beach, cafes, restaurants all steps away.
Quiet, relaxed, safe atmosphere well suited to families and those seeking a peaceful lifestyle.
Sun-drenched southwest location with wonderful sunsets.
Some things to bear in mind
The last few years saw a vertiginous increase in prices in the area.
Owing to demand, available property is quite limited and prices are extremely high.
While the area has a low population density, its resort nature attracts high numbers during summer.
The beach, though very pretty, is small and packed with sunbathers in high season.
Public parking can be a headache.
Bendinat price guide
2-3 BEDROOM HOUSE:
€600,000 to €1,450,000
4 BEDROOM FAMILY HOUSE:
€790,000 to €5,900,000
5+ BEDROOM PROPERTY:
€1,000,000 to €30 million
(Please bear in mind that prices are subject to change)
Types of Property in Bendinat
Some of the most jaw-dropping homes on the island lie in Bendinat. Here, the sprawling country estates and traditional fincas of the interior are replaced by unrestrained modern luxury villas. Multi-million-euro residences come in the shape of individual private villas and sleek penthouses. Architecturally speaking, the area represents a good mix of Spanish colonial-style buildings and contemporary minimalism.
Since the appeal of the area lies in the natural drama of the verdant landscape, homes have mostly been designed to blend in. Most apartment complexes eschew over-the-top grandeur in favour of a more understated aesthetic. One of the top motivators for purchasing a property in the southwest is to enjoy the sunny outdoor lifestyle, and the majority of homes – from more modest apartments to prime villas – prioritise exterior living spaces.
Buying a building plot in Bendinat can be an excellent investment opportunity. Mercifully, extensive development has been curtailed along this stretch of coast thanks to stricter building regulations than exist in other parts of Spain.
What this also means though is that obtaining planning permission is a lengthy, in-depth process. It can take anything between six months to two years to be granted a building permit, and it is vital to enlist the services of an experienced architect or construction firm with knowledge of the area. The alternative to starting right from the beginning is to choose a plot which already has a valid building permit.
Inspiring Local Properties in Bendinat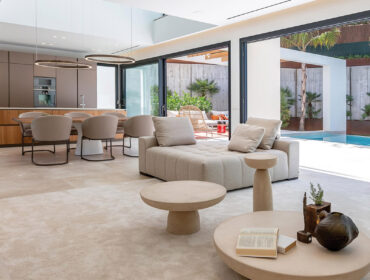 Mallorcan family-run firm Mobles Riera have expanded their designer furniture business into interior design projects, and with impressively assured results.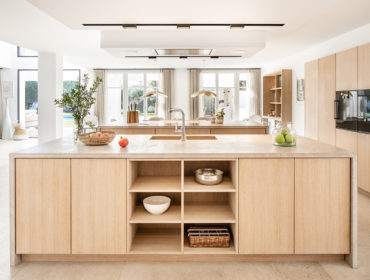 This Espacio Home Design project in Bendinat brings together an open-plan kitchen with two island units and a cosy cinema to relax in when evening comes.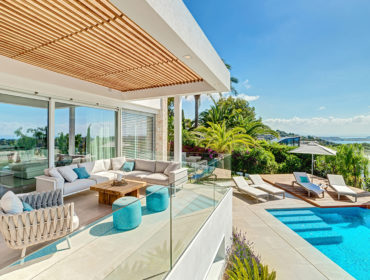 If you are planning to buy or build a family home on Mallorca then this magnificent villa maybe just the inspiration you need for a modern, practical main residence or holiday home.
What the experts say about buying property in Bendinat
"Bendinat is considered the absolute best area to live, the Knightsbridge or Manhattan of Mallorca. Well-heeled residents of beautiful traditional and modern villas with manicured gardens, bordering the Mediterranean coast in Old Bendinat love this area for its proximity to Palma and tranquil setting."
"The luxurious Hotel Bendinat dating from 1952 offers a stunning location with views for a meal or sundowner.  Nearby, within a five-minute drive, there is a much wider variety of places to eat and drink at Portals village and Puerto Portals."
"In the newer part of Bendinat, close to the Real Golf de Bendinat 18-hole golf course, luxury villas boast elevated sea views and there are also several gated communities with apartments available for a lower price range. Prices in this area for apartments range from 450,000 euros up to 3 million euros. Villas can fetch up to 30 million euros for a first sea line property."
Lucy Adamson, of hc/ Mallorca Living.
See below for more Villas for sale in Mallorca!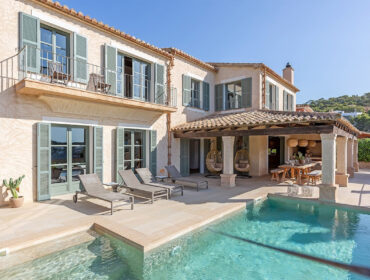 Discover the best Mediterranean villas for sale in Mallorca handpicked by Dr. Helen Cummins and team of local property experts.